Mesothelin is a differentiated antigen found in normal mesotheliocytes. It is rarely expressed in normal tissues, but it is highly expressed in mesothelioma, lung cancer, pancreatic cancer, breast cancer, ovarian cancer and other tumors [1]. Therefore, mesothelioma may become an important target for cancer treatment.
3. Expression of Mesothelin
Mesothelin is expressed in mesothelial cells of the normal pleura, pericardium and peritoneum, and it has the lowest expression on the surface of epithelial cells of the trachea, ovaries, testes, tonsils and fallopian tubes. In addition, as a cell surface antigen associated with tumor invasion, it is also highly expressed in a variety of tumor tissues, mainly including mesothelioma, ovarian and pancreatic adenocarcinoma.
3.1 Expression of Mesothelin in Malignant Tumors
MSLN was found to be overexpressed in a variety of cancers.
Currently, the overexpression of mesothelin has been observed in mesothelioma, ovarian cancer, lung cancer, esophageal cancer, pancreatic cancer [5], gastric cancer, cholangiocarcinoma, endometrial cancer, thymic cancer, colon cancer and breast cancer.
The expression frequency and distribution of MSLN vary with tumor subtypes. MSLN was found to be expressed in 90% of epithelioid malignant pleural mesothelioma, 69% of lung adenocarcinoma, 60% of breast cancer and 46% of esophageal cancer [6].
In cancer cells, MSLN expression may be in the lumen/membrane or cytoplasm. The expression location of MSLN in different types of tumors is also different. In mesothelioma tumors, MSLN expression was uniformly distributed on the cell surface.
In lung adenocarcinoma, MSLN is expressed in both cytoplasm and cell surface.
Cytoplasmic expression was more common than membrane expression in gastric cancer.
MSLN is also expressed in solid tumors such as thyroid, kidney and synovial sarcoma tumors.
4. The Biological Function of Mesothelin
Researchers have studied MSLN knockout mice and found that these knockout mice showed normal development, reproduction, and blood cell counts [7]. This indicates that mesothelin is not required for normal growth and reproduction of mice. Because of this, the biological function of mesothelin has not been known so far.
Studies have shown that mesothelin may play a role in adhesion. With the deepening of research on tumor, mesothelin has been found to play an important role in the development of various tumors. Overexpression of MSLN activates NF-κB, MAPK and PI3K pathways and induces apoptosis or promotes cell proliferation, migration and metastasis by inducing activation and expression of MMP7 and MMP9.
Abnormal expression of MSLN plays an important role in tumor cell proliferation, adhesion and drug resistance.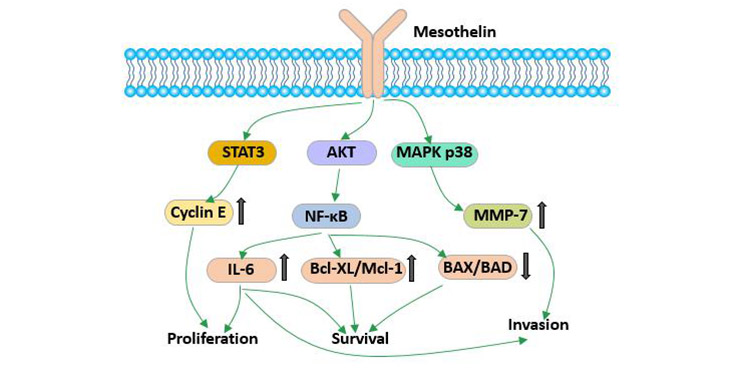 Figure 3 The biological function of mesothelin
4.1 Cell Proliferation and Cell Cycle
In the study of pancreatic cancer, it was found that mesothelin can promote tumor cell proliferation. Silencing the mesothelin gene in pancreatic cancer tumor cells can inhibit proliferation.
Mesothelin can inhibit cell cycle by slowing down cell entry into S phase [8].
Excessive expression of mesothelin can continuously activate the NF- kappaB signaling pathway and produce high levels of IL-6, thereby activating transcriptional protein Stat3, resulting in increased expressions of cyclin E and cyclin-dependent kinase 2 (CDK2). This eventually accelerated the cell transition from G1 to S.
4.2 Cell Adhesion and Metastasis
Studies have shown that mouse embryonic fibroblasts 3T3 transfected with mesothelin are more strongly attached to the culture dish and are more difficult to remove from the cell surface than untransfected cells, suggesting that mesothelin may be involved in cell adhesion.
In the study of ovarian cancer, Rump et al. [9] showed that the high affinity interaction between MSLN and CA125 resulted in heterogeneous adhesion between cells and promoted the metastasis of ovarian cancer cell lines. The expression of MSLN and the increase of serum SMRP level are related to the progress of tumor, the increase of stage and the decrease of overall survival rate.
4.3 Drug Resistance
Mesothelin can increase the tolerance of cancer cells to drugs [10] [11].
Studies have shown that mesothelin expression is different in chemotherapeutic sensitive and drug-resistant patients with ovarian cancer, and the expression of mesothelin is significantly elevated in drug-resistant patients. After down-regulating mesothelin expression, the chemosensitivity of ovarian cancer resistant cell lines was also significantly improved, which reversed cell resistance to some extent.
Studies have shown that mesothatin may block taxol-induced tumor cell apoptosis by simultaneously activating PI3K/AKT and MAPK/ERK pathways. This is one of the causes of cell resistance induced by mesothelin.
Mesothelin gene may be regulated by molecules of Wnt signaling pathway [12]. In tumors with sustained activation of Wnt signaling pathways, such as ovarian cancer and pancreatic cancer, the expression of mesothelin increased.
References
[1] Paolo B, Sara C. Amatuximab and novel agents targeting mesothelin for solid tumors [J]. OncoTargets and Therapy, 2017, Volume 10: 5337-5353.
[2] Chang K. Characterization of the antigen (CAK1) recognized by monoclonal antibody K1 present on ovarian cancers and normal mesothelium [J]. Cancer Res, 1992, 52(1): 181-186.
[3] Manzanares M, Campbell D J W, Maldonado G T, et al. Overexpression of periostin and distinct mesothelin forms predict malignant progression in a rat cholangiocarcinoma model [J]. Hepatol Commun, 2018, 2(2): 155-172.
[4] Burt B M, Lee H S, Rosen V L D, et al. Soluble Mesothelin-Related Peptides to Monitor Recurrence After Resection of Pleural Mesothelioma [J]. Annals of Thoracic Surgery, 2017, 104(5): 1679.
[5] Argani P. Mesothelin is overexpressed in the vast majority of ductal adenocarcinomas of the pancreas: Identification of a new pancreatic cancer marker by serial analysis of gene expression (SAGE) [J]. Clin Cancer Res, 2001, 7.
[6] Morello A, Sadelain M, Adusumilli P S. Mesothelin-Targeted CARs: Driving T cells to Solid Tumors [J]. Cancer Discovery, 2015, 6(2).
[7] Bera T K, Pastan I. Mesothelin Is Not Required for Normal Mouse Development or Reproduction [J]. Molecular and Cellular Biology, 2000, 20(8): 2902-2906.
[8] Guadalupe A M, Beate P, Calderón-Aranda Emma S, et al. Biomarkers for Predicting Malignant Pleural Mesothelioma in a Mexican Population [J]. International Journal of Medical Sciences, 2018, 15(9): 883-891.
[9] Rump A, Morikawa Y, Tanaka M, et al. Binding of Ovarian Cancer Antigen CA125/MUC16 to Mesothelin Mediates Cell Adhesion [J]. Journal of Biological Chemistry, 2004, 279(10): 9190-9198.
[10] Bharadwaj U, Marin-Muller C, Li M, et al. Mesothelin confers pancreatic cancer cell resistance to TNF-α-induced apoptosis through Akt/PI3K/NF-κB activation and IL-6/Mcl-1 overexpression [J]. Molecular Cancer, 2011, 10(1): 106.
[11] Cheng W F, Huang C Y, Chang M C, et al. High mesothelin correlates with chemoresistance and poor survival in epithelial ovarian carcinoma [J]. BRITISH JOURNAL OF CANCER, 2009, 100(7): 1144-1153.
[12] Moon R T, Prieve M G. Stromelysin-1 and mesothelin are differentially regulated by Wnt-5a and Wnt-1 in C57mg mouse mammary epithelial cells [J]. BMC Developmental Biology, 2003, 3(1): 1-10.
[13] Bast R C. Status of tumor markers in ovarian cancer screening [J]. Journal of clinical oncology: official journal of the American Society of Clinical Oncology, 2003, 21(10 Suppl): 200s.
[14] Villena-Vargas J, Adusumilli P S. Mesothelin-targeted immunotherapies for malignant pleural mesothelioma [J]. Annals of Cardiothoracic Surgery, 2012, 1(4): 466.
[15] Pastan I, Hassan R. Discovery of Mesothelin and Exploiting It as a Target for Immunotherapy [J]. Cancer Research, 2014, 74(11): 2907-2912.
[16] Hassan R, Ebel W, Routhier E L, et al. Preclinical evaluation of MORAb-009, a chimeric antibody targeting tumor-associated mesothelin [J]. Cancer Immunity, 2007, 7: 20.
[17] Grosso F, Scagliotti G V. Systemic treatment of malignant pleural mesothelioma [J]. Future Oncology, 2012, 8(3): 293-305.
[18] Pogue S, Chen X, Alexander S, et al. Fully human antimesothelin antibody drug conjugate demonstrates antitumor effects in human lung cancer models [J]. Clinical Cancer Research, 2008, 14(15 Supplement): A13-A13.
[19] Kolyvas E, Rudloff M, Poruchynsky M, et al. Mesothelin-targeted immunotoxin RG7787 has synergistic anti-tumor activity when combined with taxanes [J]. Oncotarget, 2017, 8(6): 9189.
[20] Beatty GL, Haas AR, Maus MV, et al. Mesothelin-Specific Chimeric Antigen Receptor mRNA-Engineered T Cells Induce Antitumor Activity in Solid Malignancies [J]. Cancer Immunology Research, 2015, 3(2): 217.
[21] Adusumilli P S, Cherkassky L, Villena-Vargas J, et al. Regional delivery of mesothelin-targeted CAR T cell therapy generates potent and long-lasting CD4-dependent tumor immunity [J]. Science Translational Medicine, 2014, 6(261): 261ra151-261ra151.