CD antigens, also known as cell surface antigens of leukocytes or cluster of differentiation, are molecules originally defined as being present on the cell surface of leucocytes and recognized by specific antibody molecules, but now including some intracellular molecules and molecules present on cells other than leucocytes. They are important for immune reactions of organisms. As lymphocytes mature, they express different protein receptors on the cell surface, which can aid in determining the type and maturation stage of the cells being examined. These proteins or antigen markers are called Clusters of Differentiation.
1. Nomenclature
CD nomenclature has been universally adopted by the scientific community, and is officially approved by the International Union of Immunological Societies (IUIS) and sanctioned by the World Health Organization (WHO). It provides a unified designation system for monoclonal antibodies (mAbs), as well as for the cell-surface molecules they recognize. This nomenclature has been established by the Human Leukocyte Differentiation Antigens (HLDA) Workshops. The latest research shows that more than 370 CD unique clusters and subclusters have been identified [1]. As it shows in the Table 1.
Table 1. HLDA workshops
| Workshop | City | Year | CDs assigned |
| --- | --- | --- | --- |
| I | Paris | 1982 | 1-15 |
| II | Boston | 1984 | 16-26 |
| III | Oxford | 1986 | 27-45 |
| IV | Vienna | 1989 | 46-78 |
| V | Boston | 1993 | 79-130 |
| VI | Kobe | 1996 | 131-166 |
| VII | Harrogate | 2000 | 167-247 |
| VIII | Adelaide | 2004 | 248-339 |
| IX | Barcelona | 2010 | 340-364 |
| X | Wollongong | 2014 | 365-371 |
*the content of Table 1 is derived from Wikpedia.
Additionally, Cell populations are very popular with using a '+' or a '−' symbol to indicate whether a certain cell fraction expresses or lacks a CD molecule. For example, a "CD34+, CD31−" cell is one that expresses CD34, but not CD31. This CD combination typically corresponds to a stem cell, as opposed to a fully differentiated endothelial cell. Some cell populations can also be defined as hi, mid or low (alternatively bright, mid or dim), indicating an overall variability in CD expression, particularly when compared to other cells being studied [2]. A review of the development of T cells in the thymus uses this nomenclature to identify cells transitioning from CD4mid/CD8mid double positive cells to CD4hi/CD8mid.
2. Classification
As mentioned in the former section, currently, more than 370 CD unique clusters and subclusters have been identified. And how to classify these CD according to their characteristics is also an important factor in the field of immunology. Here, we classify a part of CD molecules based on their main locality, including B cells, T cells and NK cells.
2.1 B Cells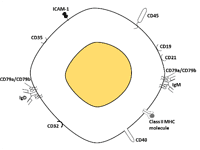 The CD antigens of B cells surface
B cells, also known as B lymphocytes (so-called because they develop in bone marrow), are a type of white blood cell of the lymphocyte subtype and produce antibodies. The discovery and characterization of B cells occurred in the mid-1960s and early 1970s with experimental animal models, clinical evaluation of patients with immune deficiency diseases, and the nascent technology of cell surface molecule characterization [3]. For markers of the B-cell surface, up until approximately 1980, the molecular architecture of the B-cell surface was known to consist of membrane-bound Ig, complement component receptors, and Fc receptors [4]. Over the past 25 years, approximately 10 B cell–specific cell surface molecules have been identified by mAbs, with non–B-cell expression identified for some following their original characterization. And they are called CD antigens. In this part, we numerate several special markers of B cells surface.
CD19
CD19, also known as B-lymphocyte antigen CD19 or B-Lymphocyte Surface Antigen B4, appears early and is expressed by essentially all B-lineage cells in the whole process of its differentiation and regulates intracellular signal transduction by amplifying Src-family kinase activity. However, CD19 is not a series specific because it may also exist at low levels in monocytes or monocyte-like cells and in some myeloid leukemia.
CD20
CD20, also called B-lymphocyte surface antigen B1, is a linear molecule with four transmembrane domains and is the first mature B cell specific molecule described by Nadler and colleagues [5]. The function of CD20 is still unknown, although there are indications that it may be involved in ion transport, especially chloride ions. The molecule is the first highly successful biotherapy target for anti-CD20 monoclonal antibodies in the treatment of B-lineage malignancies.
CD21
CD21, also known as Complement receptor type 2, is a long molecule rich in cysteine repeat sequences and can be used as a complement receptor. In mature B cells, it captures immune complexes and takes them to the vicinity of BCR for potential epitope recognition and B cell activation during humoral immune response. CD21 also is the C3d and Epstein-Barr virus receptor that interacts with CD19 to generate transmembrane signals and inform the B cell of inflammatory responses within microenvironments. The expression of CD21 on some t cells is very low, which may lead to the occurrence of Epstein-Barr virus associated T cell lymphoma [6].
CD22
CD22, also known as B-cell receptor CD22, is a member of IGSF. IGSF is a heterodimer of two very similar chains with five or seven extracellular domains and long endocytic tails carrying ITAM and antagonistic ITIM. Both molecules appear to be produced by differential splicing of the same transcripts. CD22 was initially expressed in the cytoplasm of B-cell progenitor cells and then reached the surface of the cells. CD22 is also expressed on basophils. CD22 functions as a mammalian lectin for α2,6-linked sialic acid that regulates follicular B-cell survival and negatively regulates signaling.
CD23
CD23 is a II type transmembrane glycoprotein with an extracellular C terminal like lectin. It is a low-affinity receptor for IgE expressed on activated B cells that influences IgE production. The extracellular part of the cell can be dissected and signals of proliferation are provided to the B cell. It also participates in cell-cell interaction through its adhesive properties.
CD24
CD24, also called Signal transducer CD24, was among the first pan-B-cell molecules to be identified, but this unique GPI-anchored glycoprotein's function remains unknown. Signaling could be triggered by the binding of a lectin-like ligand to the CD24 carbohydrates, and transduced by the release of second messengers derived from the GPI-anchor [7].
Additionally, there are several other CD antigens as the marker of B cell surface, including CD40, CD72 and CD79a, b.
2.2 T Cells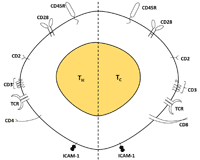 The CD antigens of T cells surface
T cells, also known as T lymphocyte (so-called because they develop in a small organ called the thymus gland), are a type of lymphocyte (a subtype of white blood cell) and responsible for a variety of other immune responses. These responses include: directly attacking foreign substances such as bacteria, viruses, or foreign tissues, augmenting the B cell response and producing substances called cytokines that direct responses and activities in other immune cells.
Generally speaking, there are two broad categories of T cells in your body: Helper T-cells and Cytotoxic T-cells. Helper T-cells (TH cells), also known as CD4+ T cells because they express the CD4 glycoprotein on their surfaces, assist other white blood cells in immunologic processes, including maturation of B cells into plasma cells and memory B cells, and activation of cytotoxic T cells and macrophages. Cytotoxic T-cells (TC, Killer T-cells), also known as CD8+ T cells since they express the CD8 glycoprotein at their surfaces, destroy virus-infected cells and tumor cells, and are also implicated in transplant rejection. In this section, we list several CD antigen makers of T cell and hope these makers can give you help.
CD4 and CD8
CD4 and CD8 are co-receptors of TCR. They examine whether the peptides presented to TCR in the grooves of MHC molecules are exogenous peptides related to II MHC or endogenous peptides associated with class I MHC. T cells are mostly single-positive. A small number of double positive and double negative. CD4dim expression was also seen in monocytes.
CD2
CD2 is a pan T-cell antigen, also known as LFA2, which binds to the erythrocyte surface ligand CD58. Its main function is adhesion and signal transduction.
CD3
The marker of T cell is TCR or T cell receptor, which is a single heterodimer consisting of α chain and β chain, or γ chain and δ chain. Each of these chains belongs to the IGSF and has constant and variable domains. The variable domain consists of VDJ and VJ segments, which are located on chromosomes 7 and 14. In order to express on the cell surface and activate T cells after recognition of antigens, TCR requires CD3 complexes, and CD3 molecules associated with TCR carry 10 ITAM. They act as dimer signaling molecules δ ε, γ ε and ζ or ζ m, respectively, and can be phosphorylated by Src- family kinases Lck as the earliest signals for antigen recognition. We usually detect early T cells by intracellular CD3, which depends on the detection of ε chain. It is worth noting that this also recognizes some NK cells.
CD1a
CD1a belongs to the family of MHC I antigens and can present lipid antigens to T cells, thus mediating adaptive immunity to many microbial lipid antigens. CD1a is a characteristic of mature T cells located in the thymic cortex. It belongs to a checkpoint molecule, with which it is no longer possible to differentiate into NK or DC. The molecule is also expressed in the epidermal Langerhans cells.
CD5
CD5 is a pan-T antigen, a type I transmembrane glycoprotein, belonging to the scavenger receptor superfamily rich in cysteine. CD5 is expressed from early T cell precursors. In addition, a small number of B cell subsets (B1) also expressed CD5. This molecule appears to have a negative effect on TCR and BCR signal transduction, thus participating in some tumor proliferation.
2.3 NK Cells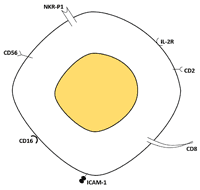 The CD antigens of NK cells surface
NK cells, also known as natural killer cells, are a type of cytotoxic lymphocyte critical to the innate immune system. Small granules in their cytoplasm contain special proteins such as perforin and proteases known as granzymes. NK cells have long been thought to lack surface antigens and are known as "bare lymphocytes". In fact, NK expresses a large number of receptors.
CD16 and CD56
The two antigens most commonly used to define NK cells are: CD16 and CD56. The CD16 on NK cells is the same as the extracellular molecules previously described on granulocytes, but it is completely transmembrane and has the cytoplasmic tail of ITAM instead of being attached through GPI anchors. CD56, also known as neural cell adhesion molecule, originally identified on nerve cells, has five extracellular distal IGSF domains and two proximal fibronectin like III domains. CD56 is capable of homologous dimerization between two cells or on the same cell. It provides important signals for synaptic growth and neuromuscular interaction. The effect of CD56 on NK cells may be adhesion. The expression level of CD56 divides NK into cytotoxic NK cells (CD56 weak) and cytokine NK cells (CD56 strong). CD56 was also expressed on activated CD3+ T cells.
CD94
The surface of NK cells is displayed in the form of homodimer or heterodimer with NKG2A. MHC I molecule HLA-E antigen has selective affinity. Once CD94-NKG2A complex binds to ligand, it has strong inhibition ability to NK cells. Although CD94 and dimer have different mechanism of action, they also have inhibition ability. It may be related to virus evading NK cells.
CD160
It was expressed in the form of GPI or transmembrane on cytotoxic NK cells, gamma/delta T cells and a small portion of CD8 bright αβ T containing granzyme and perforin. It can also be expressed in CD8+ T in small intestinal epithelium. In NK cells, CD160 is mainly expressed in cytotoxic subsets (CD56dim/CD16+), which enhances cell activation and cytotoxicity, and activates the secretion of IFN-γ, IL-6, IL-8, and TNF-α. Some B cells in CLL can express CD160. This enhances cell survival and activation, leading to IL-6 production.
3. CD Antigens in Cancer Diagnosis and Treatment
CD Antigens, also known as CD markers, are not merely markers on the cell surface. CD Antigens, can act in numerous ways and are important for immune reactions of organisms. They often act as receptors or ligands important to the cell, initiating a signal cascade and altering the behavior of the cell. Some cluster of differentiation antigens do not play a role in cell signaling, but have other functions, such as cell adhesion.
In addition to monitoring infection and immune status, CD antigens can be used to detect the abnormal growth of cells known as a neoplasm [8]. Neoplasms may be benign malignant (cancerous) or precancerous and have CD markers that scientists can use to identify them. As mentioned in the Nair Anila KA's study, CD99 can diagnosis the neoplasm as a CD marker.
CD markers not only play a key role in the diagnosis of cancer, they also can help identify which types of treatment may be most successful and measure how effective the treatment is by monitoring changes in the relevant CD markers. Moreover, researchers are today able to create a type of defensive protein, known as a monoclonal antibody (mAb), which is matched to a specific CD antigen [9]. These cloned antibodies mimic those produced by the body and can be used to fight cancer in a form of treatment known as htargeted immunotherapy [10].
References
[1] Georgina Clark, Hannes Stockinger, et al. Nomenclature of CD molecules from the Tenth Human Leucocyte Differentiation Antigen Workshop [J]. Clin Transl Immunology. 2016, 5(1): e57.
[2] Ho IC, Tai TS, et al. GATA3 and the T-cell lineage: essential functions before and after T-helper-2-cell differentiation [J]. Nature Reviews Immunology. 2009, 9 (2): 125–35.
[3] Good RA, Zak SJ. Disturbances in gamma globulin synthesis as experiments of nature [J]. Pediatrics. 1956, 18:109-149.
[4] Tucker W. LeBien and Thomas F.Tedder. Blymphocytes: how they develop and function [J]. Blood.2008, 112(5):1570-80.
[5] Stashenko P, Nadler LM, et al. Characterization of a human B lymphocytespecific antigen [J]. J Immunol. 1980, 125:1678-1685.
[6] Messina JP, Gilkeson GS, et al. Stimulation of in vitro murine lymphocyte proliferation by bacterial DNA [J]. J Immunol. 1991, 147:1759-1764.
[7] Suzuki T., Kiyokawa N, et al. CD24 induces apoptosis in human B cells via the glycolipid-enriched membrane domains/rafts-mediated signaling system [J]. J. Immunol. 166:5567-5577.
[8] Nair Anila KA, Nayak N, et al. Solid-pseudopapillary neoplasm of the pancreas: A classical presentation with unique paranuclear dot like immunostaining with CD 99 [J]. Indian J Pathol Microbiol. 2015, 58(3):365-7.
[9] Behnes M, Bertsch T, et al. Diagnostic and prognostic utility of soluble CD 14 subtype (presepsin) for severe sepsis and septic shock during the first week of intensive care treatment [J]. Crit Care. 2014, 18(5):507.
[10] Miserocchi E, Pontikaki I, et al. Anti-CD 20 monoclonal antibody (rituximab) treatment for inflammatory ocular diseases [J]. Autoimmun Rev. 2011, 11(1):35-9.