An outbreak of SARS-CoV-2 infections has caused a pandemic associated with COVID-19. As the research on the mechanism of the virus invasion is deepening, some potential mechanisms have been revealed. In early February, the key to the SARS-CoV-2 invading human cells was determined: the SARS-CoV-2-S binds to ACE2 on the cell surface (more information); In mid-February, TMPRSS2 in human cells can cleave ACE2 and the cell surface protease of spike protein, which played an "assist" role in the virus invasion process (more information); In March, a second invasion pathway was discovered: CD147 on the cell surface (more information).
Recently, on 20 October 2020, two papers have been published on the Science at the same time. Two scientific research teams have that in addition to the well-known ACE2 receptor, another receptor called Neuropilin-1 (NRP1) on host cells will also interact with the S protein of the SARS-CoV-2 [1] [2]. This breakthrough discovery not only helps us to understand why the SARS-CoV-2 is more infectious and causes more complicated symptoms than SARS virus, but also points out new potential targets, which are of great significance for the development of anti- SARS-CoV-2 drugs.
So what is Neuropilin-1? And how does SARS-CoV-2 invade human body via Neuropilin-1? You can find these information in the following reading.
1. What is Neuropilin-1?
Neuropilin-1, also known as vascular endothelial cell growth factor 165 receptor (VEGF165R), CD304, belongs to the neuropilin family. Neuropilins (NRPs) were first discovered by Takagi et al. in frozen sections of nerve tissues of Xenopus laevis by immunofluorescence staining, and confirmed to be a non-tyrosine kinase transmembrane glycoprotein. NRP-1 was first discovered and paid attention to in the NRPs family.
NRP-1 is divided into two forms, membrane neuropilin-1 (mNRP-1) and soluble neuropilin-1 (sNRP-1). NRP-1, known to all, usually refers to mNRP-1. As the figure 1 shows, mNRP-1 has a larger N-terminal extracellular domain, a short transmembrane domain and a small intracellular cytoplasmic domain as a type I single pass transmembrane protein [3].
The extracellular domain consists of three parts: an N-terminal complement-binding CUB (a1/a2) domains, b1/b2 domains, and a meprin or MAM (c) domain [4]. The a1/a2 domains (or CUB domains) mediate protein–protein associations in the complement system. The b1/b2 domains have homology to the C1/C2 domains of coagulation factors V and VIII. The c domain is involved in receptor dimerization. The c domain is essential for NRP-1 co-receptor activities.
The short transmembrane helix domain contains a conserved GXXXG repeat sequence and was reported to mediate NRP-1 dimerisation potential, along with the c domain. The small cytoplasmic segment of NRP-1 lacks tyrosine kinase activity, but has a C-terminal SEA (Ser-Glu-Ala-COOH) motif that interacts with the PDZ protein, promoting intracellular signal transduction.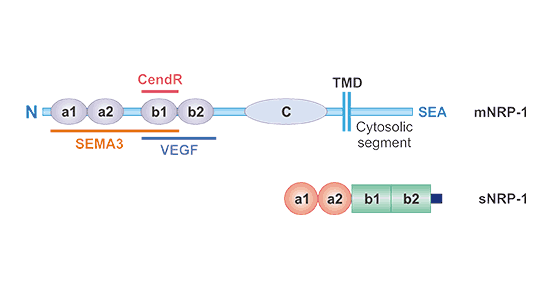 Figure 1. The structure of Neuropilin-1 (NRP1)
*This figure is derived from the publication on Current Pharmaceutical Design[3]
sNRP-1 is a protein with a relative molecular mass of about 9x104, which contains a1/a2 and b1/b2 domains, but lacks the c domain, transmembrane region, and intracellular region. It is produced by the NRP-1 gene Alternative splicing. It can be secreted outside the cell, enter the blood circulation, and bind to and inhibit VEGF, and therefore negatively regulating functions mediated by these pathways [5] [6]. However, the effects of sNRP-1s may be more complex than a straightforward decoy role, and the full extent of sNRP-1 functions have not been fully understood yet [7].
2. What is the Function of Neuropilin-1?
Neuropilins (NRPs) are single-transmembrane, non-tyrosine kinase surface glycoproteins that prevalent in all vertebrates and are highly conserved among species. It is known that there are two homologous NRP subtypes, namely NRP1 and NRP2. These two NRPs were originally discovered as neuron adhesion molecules. Later, they were found to be related to vascular biology. Normal embryonic blood vessel development requires NRP1 and NRP2 to participate in the formation of small lymphatic vessels and capillaries. Studies in the past 10 years have shown that NRP is a multifunctional protein that participates in a variety of biological processes other than nerve and blood vessel development. Among them, NRP1 plays a critical role in immunity and tumorigenesis.
The reason neuropilin-1 is a multifunctional signal transduction transmembrane protein is that neuropilin 1 acts as a co-receptor for a number of extracellular ligands, including Sema3 (binding to the a1/a2 and part of the b1/b2 domain of the NRP-1), growth factor VEGF-A/B/D/E, placental growth factor 2, HGF, TGF-B1, bFGF and PDGF, (binding to the b1/b2 domain of NRP-1 receptor) and membrane receptors (such as filamentous protein, VEGF receptor, PDGF receptor and TGF receptor, binding to NRP- 1 The b1/b2 and c domains of the receptor) [8] [9]. In addition, NRP-1 can interact with other transmembrane proteins such as integrins αvβ3 and β1 to activate a series of signal transfer pathways.
3. Neuropilin-1 and SARS-CoV-2 Invasion
At this point, you may wonder why NRP-1 is related to SARS-CoV-2 invasion. Yeah, don't worry, you will find the reason in the following reading.
Unlike other coronaviruses that cause common colds and mild respiratory symptoms, the SARS-CoV-2 caused COVID-19 is highly contagious and transmissible, and clinically atypical symptoms of COVID-19 also includes taste and smell disturbance, stroke, etc. But previous research results (ACE2, CD147 and TMPRSS2-S protein) are difficult to explain why the SARS-CoV-2 is easy to infect organs other than the respiratory system, such as the brain and heart? This question allows scientists to further study the SARS-CoV-2.
Unlike the SARS virus, the S protein of the SARS-CoV-2 presents a polybasic sequence motif, RRAR, at the S1/S2 boundary. This motif provides a furin (a host proprotein convertase) cleavage site [10] [11]. So the furin in the human body can cleave the S protein into two subunits, S1 and S2. When the researchers observed the SARS-CoV-2 S1 sequence, they found that a segment of the sequence was very similar to the protein sequence that interacts with NRP1 in human proteins. Based on this discovery, the researchers put forward a simple hypothesis: Can the SARS-CoV-2 S1 combine with NRP1 to further help the virus infect human cells? And then, two research teams confirmed this hypothesis by different methods.
One research team of Technical University Munich from Germany used cells cultured in vitro to prove that NRP-1 can promote viral infection in the presence of ACE2. A SARS-CoV-2 mutant with an altered furin cleavage site did not depend on NRP1 for infectivity. Moreover, pathological analysis of human COVID-19 autopsies revealed that SARS-CoV-2 infected cells including olfactory neuronal cells facing the nasal cavity positive for NRP1. Professor Simons explained that if ACE2 is regarded as the door to the cell, then NRP1 may be the factor that brings the virus to the door.
Another research team of University of Bristol from UK also determined the SARS-CoV-2 S1 binds to NRP1derectly by a series of structural and biochemical methods. More importantly, the two research teams used monoclonal antibodies against NRP1 or selective NRP1 inhibitors to prevent the interaction between S protein and NRP1 in the human cell lines cultured in vitro. The experimental results showed that the SARS-CoV-2 infectivity has been significantly reduced.
4. Neuropilin-1 and Cancer
Neuropilin 1 (NRP1) is expressed by neurons, blood vessels, immune cells and many other cell types in the mammalian body. It binds a range of structurally and functionally diverse extracellular ligands to modulate organ development and function. In recent years, several types of mouse knockout models have been developed that have provided useful tools for experimental investigation of NRP1 function, and a multitude of therapeutics targeting NRP1 have been designed, mostly with the view to explore them for cancer treatment [12].
In mice, NRP1 is selectively expressed on thymic-derived Tregs and hugely enhances immunosuppressive function. In humans, NRP1 is expressed on plasmacytoid dendritic cells (pDCs) where it aids in priming immune responses and on a subset of T regulatory cells (Tregs) [13] [14]. Preliminary studies have shown that NRP1 expression on T cells confers enhanced immunosuppressive activity [15]. NRP1 expression has also been identified on activated T cells and Tregs isolated from inflammatory microenvironments. These studies suggest that NRP1 might represent a novel T cell activation marker. Of clinical interest, NRP1 may enhance Treg tumor infiltration and a decrease in NRP1+ Tregs correlates with successful chemotherapy, suggesting a specific role for NRP1 in cancer pathology. As a therapeutic target, NRP1 allows simultaneous targeting of NRP1-expressing tumour vasculature, NRP1+ Tregs and pDCs [16] [17] [18].
It is currently known that anti-tumor therapy targeting NRP1 can be achieved with different tools, including sNRP-1, monoclonal antibodies, peptides and peptide mimics, small interfering RNA or microRNAs, and cell-penetrating peptides [19] [20]. NRP1 represents a promising new target for cancer therapies. Now, a monoclonal antibody named Vesencumab has been clinic phage I developed by Genentech Inc.
References
[1] James Daly et al. Neuropilin-1 is a host factor for SARS-CoV-2 infection [J]. Science. 2020.
[2] LUDOVICO CANTUTI-CASTELVETRI et al. Neuropilin-1 facilitates SARS-CoV-2 cell entry and infectivity [J]. Science. 2020.
[3] Lukui Chen, Guilong Zhang, et al. Neuropilin-1 (NRP-1) and Magnetic Nanoparticles, a Potential Combination for Diagnosis and Therapy of Gliomas [J]. Curr. Pharm. Des. 2015, 21(37): 5434-5449.
[4] Gu CH, Limberg BJ, et al. Characterization of neuropilin-1 structural features that confer binding to semaphorin 3A and vascular endothelial growth factor 165 [J]. J Biol Chem 2002, 277(20): 18069-76.
[5] Cackowski FC, Xu L, et al. Identification of two novel alternatively spliced neuropilin-1 isoforms [J]. Genomics 2004; 84(1): 82-94.
[6] Uniewicz KA, Cross MJ, et al. Exogenous recombinant dimeric neuropilin-1 is sufficient to drive angiogenesis [J]. J Biol Chem 2011; 286(1): 12-23.
[7] Belal Chaudhary, Yazan S. Khaled, et al. Neuropilin 1: function and therapeutic potential in cancer [J]. Cancer Immunol. Immunother. 2013.
[8] Graziani G, Lacal PM. Neuropilin-1 as Therapeutic Target for Malignant Melanoma [J]. Front Oncol. 2015, 3;5:125.
[9] Yaqoob U, Cao S, et al. Neuropilin-1 stimulates tumor growth by increasing fibronection fibril assembly in the tumor microenvironment [J]. Cancer Res. 2012, 72(16): 4047-4059.
[10] D. Wrapp, N. Wang, K. S. Corbett, et al. Cryo-EM structure of the 2019-nCoV spike in the prefusion conformation [J]. Science. 2020, 367, 1260–1263.
[11] M. Hoffmann, H. Kleine-Weber, et al. A multibasic cleavage site in the spike protein of SARS-CoV-2 is essential for infection of human lung cells [J]. Mol. Cell. 2020, 78, 779–784.e5.
[12] Claudio Raimondi, James T. Brash, et al. NRP1 function and targeting in neurovascular development and eye disease [J]. Progress in Retinal and Eye Research. 2016, 1-20.
[13] Romeo PH, Lemarchandel V, et al. Neuropilin-1 in the immune system [J]. Adv Exp Med Biol. 2002, 515:49–54.
[14] Tordjman R, Lepelletier Y, et al. A neuronal receptor, neuropilin-1, is essential for the initiation of the primary immune response. Nat Immunol. 2002, 3(5):477–482.
[15] Yuan Q, Hong S, et al. CD4(+)CD25(−)Nrp1(+) T cells synergize with rapamycin to prevent murine cardiac allorejection in immunocompetent recipients [J]. PLoS ONE. 2013, 8(4):e61151.
[16] Chaudhary B, Elkord E. Novel expression of Neuropilin 1 on human tumor-infiltrating lymphocytes in colorectal cancer liver metastases [J]. Expert Opin Ther Targets. 2015, 19 (2): 147-161.
[17] Bourbie-Vaudaine S, Blanchard N, et al. Dendritic cells can turn CD4+ T lymphocytes into vascular endothelial growth factor-carrying cells by intercellular neuropilin-1 transfer [J]. J Immunol. 2006, 177(3):1460–1469.
[18] Battaglia A, Buzzonetti A, et al. Neuropilin-1 expression identifies a subset of regulatory T cells in human lymph nodes that is modulated by preoperative chemoradiation therapy in cervical cancer [J]. Immunology. 2008, 123(1):129–138.
[19] Teesalu T, Sugahara KN, et al. Tumor-penetrating peptides [J]. Front Oncol. 2013, 3:216.
[20] Teesalu T, Sugahara KN, et al. C-end rule peptides mediate neuropilin-1-dependent cell, vascular, and tissue penetration [J]. Proc Natl Acad Sci USA. 2009, 106(38):16157–16162.