what is BSG?
Basigin (BSG), also known as CD147 or EMMPRIN, is a single-chain type I transmembrane (TM) glycoprotein that in human encoded by the BSG gene. BSG protein belongs to the immunoglobulin superfamily (IgSF). It is extensively expressed in cells of various tissues, including epithelia, neurons, lymphoid, and myeloid.
What is the feature of the BSG structure?
The BSG gene is mapped at chromosome 19p13.3, with about 12 kb in length. Different alternative splicing and different promoters creat four BSG variants, including BSG-1, BSG-2, BSG-3, and BSG-4. BSG-1 is confined in retina and contains three Ig domains: Do (retina-specific domain), D1 [(N-terminal constant 2-set arrangement)/IgC2], and D2 [(membrane proximal intermediate set)/IgI domain]. BSG-3 and BSG-4 only have a single Ig domain. BSG-2, generally called BSG, is the most abundant and best-studied isoforms, which is composed of a two Ig domain-containing extracellular region (IgC2 and IgI), a TM domain consisting an embedded Glu residue and a leucine zipper motif, and a C-terminal cytoplasmic domain. Different species and distinct BSG family members bear highly homolog linker, TM, and cytoplasmic portions and variable Ig domains. The TM domain And studies have shown that a flexible 5-residue linker domain of BSG confers a lot of domain mobility, which may facilitate the interaction between IgC2 domain and ligands or neighboring binding molecules by changing IgC2's orientation.
What is the function of BSG?
As a receptor on the host cells, BSG mediates the SARS-CoV-2 invasion of host cells through the binding with the viral spike protein (SP).
BSG is also involved in multiple physiological and pathological processes, such as spermatogenesis (BSG-1), the development of normal retinal, the stimulation of expression of MMPs (matrix metalloproteinases) & pro-inflammatory cytokines. Once BSG is out of regulation, it may contribute to tumorigenesis via subsequent deregulation of downstream proteins. The activity of BSG is modulated by membrane-linked co-factors, such as annexin II and caveolin-1. BSG also induces angiogenesis and invasiveness by respectively stimulating the synthesis of VEGF and MMP, and elicits drug resistance via the hyaluronan-mediated upregulation of ErbB2 signaling & cell survival pathway activities.
More reading you may be interested in…
Popular Product
Recombinant Human Basigin(BSG),partial (Active) (CSB-MP002831HU1)
Validated Data
Purity determined
by SDS-PAGE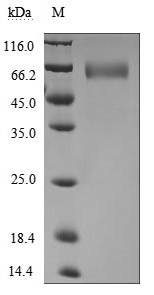 Greater than 95% as determined by SDS-PAGE.
The binding activity of antigen-antibody validated by functional ELISA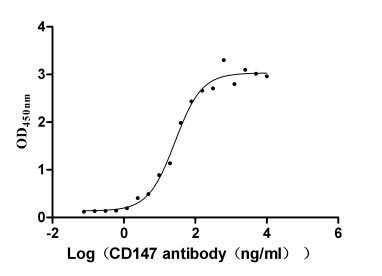 Immobilized CD147 at 2 μg/ml can bind Anti-CD147 recombinant Antibody, the EC50 is 21.95-33.12 ng/ml.
The following BSG reagents supplied by CUSABIO are manufactured under a strict quality control system. Multiple applications have been validated and solid technical support is offered.
BSG Proteins
BSG Proteins for Homo sapiens (Human)
BSG Proteins for Oryctolagus cuniculus (Rabbit)
BSG Proteins for Bos taurus (Bovine)
BSG Proteins for Cricetulus griseus (Chinese hamster) (Cricetulus barabensis griseus)
BSG Proteins for Gallus gallus (Chicken)
BSG Proteins for Rattus norvegicus (Rat)
BSG Proteins for Mus musculus (Mouse)