NK cells, also known as natural killer cells, are a type of cytotoxic lymphocyte that is essential for the innate immune system. It was discovered and named in 1975 for its morphological specificity and was developed from common lymphoid precursor cells in the bone marrow. NK cells play a major role in host rejection of tumor and virus-infected cells. They kill cells by releasing proteins called perforin and granzymes, resulting in programmed cell death of target cells.
NK cells can release a large number of cytokines and chemokines, including TNF-α, IFN-γ, IL-3, IL-10, GM-CSF, G-CSF, CCL2, CCL3, CCL4, CCL5 and XCL1.
1. In Vitro Culture of Natural Killer Cells
There are two main methods for in vitro culture of NK cells: trophoblast cell culture and pure factor cell culture.
Trophoblast cell culture: trophoblast cells (human tumor cells, i.e., human leukemia K562 cells) are cells that do not divide or proliferate but remain metabolically active. A variety of cytokines stably expressed on the cell membrane surface of the cell promote the targeted activation and expansion of natural killer cells in peripheral blood mononuclear cells.

Pure factor cell culture method: The cytokine is used to stimulate the mononuclear cells to develop in the direction of NK cells, and the corresponding cell culture medium is used to make the NK cells proliferate in a large amount. Currently added cytokines are mainly IL-2, IL-7, IL-15, IL-18, of which IL-2 and IL-15 are particularly effective.

This method has higher safety than the trophoblast cell culture method.

Figure 1 In vitro culture of natural killer cells
2. NK Cell Surface Marker
All cells have their own unique markers, which can be proteins, lipids, glycosylation, etc., which can be used to distinguish between different cell types.
Cellular markers can be expressed either extracellularly or as intracellular molecules. For a long time, NK cells were thought to lack surface antigens and were called "naked lymphocytes." It is now known that NK cells express a large number of receptors.
There are some differences in surface markers of NK cells in different species. The differences in NK cell expression surface markers in humans and mice are as follows:
Mouse: CD49b (clone DX5)
In addition, up to 80% of NK cells in humans also express CD8. Here are some of the markers for some NK cells.
NK cell markers can be divided into two types: intracellular markers and extracellular markers.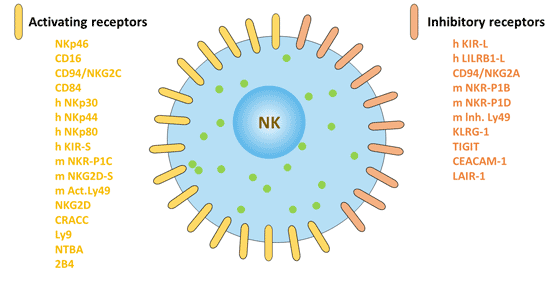 Figure 2 Surface markers of natural killer cells: activating receptors and inhibitory receptors
2.1 Intracellular Marker
Granulysin
Perforin
2.2 Extracellular Marker
2.2.1 CD16
CD16 is a surface receptor expressed by natural killer (NK) cells, and CD16 on NK cells is completely transmembrane, rather than linked by GPI anchors, with the cytoplasmic tail of ITAM. It is an immunoglobulin Fc receptor that can trigger cell killing effects, allowing NK cells to mediate antibody-dependent killing (ADCC) [1]. CD16 expression in NK cell is related to signal transduction subunit zeta, and CD16 activation of NK cells leads to zeta tyrosine phosphorylation.
2.2.2 CD56
CD56, also known as a neuronal cell adhesion molecule, is a 200-220 kDa glycoprotein expressed primarily on human NK cells and a small number of MHC-mediated T lymphocytes.
CD56 has five extracellular distal IGSF domains and two proximal fibronectin-like III domains.
CD56 provides an important signal for synaptic growth and neuromuscular interactions. The effect of CD56 on NK cells may be adhesion.
According to the different CD56 density on the surface of NK cells, human NK cells can be divided into two subsets, CD56 dim and CD56 bright.
CD 56 dim has cytotoxic activity to kill target cells, and is the main component of NK cells, accounting for about 90 %-95 % of NK cells. CD56 bright cells mainly secrete immunoregulatory factors, accounting for about 5 %-10 % of NK cells.
CD94 is displayed on the surface of NK cells as homotypic or heteromorphic to NKG2A. Once the CD94-NKG2A complex binds to the ligand, it has a strong inhibitory effect on NK cells. Although CD94 and dimers have different mechanisms of action, they also have inhibitory capabilities. It may be related to viruses that evade NK cells.
CD160 exists in the form of GPI or transmembrane, which is mainly expressed in the cytotoxic subsets of NK cells (CD56 dim / CD16 +).
In addition, it is also expressed on γ/δ T cells and a small fraction of CD8 Light αβT containing granzymes and perforin. It can also be expressed in CD8 + T in the intestinal epithelium.
In NK cells, CD160 enhances cell activation and cytotoxicity and activates the secretion of the cytokines IFN-γ, IL-6, IL-8 and TNF-α.
2.2.5 Other Surface Markers of NK Cells
CD2: CD2 is the surface protein of natural killer cells [2]. It is a NK cell trigger receptor with a size of 50-55 kDa and is also expressed in T cells. When bound to ligands on tumor cells, CD2 family members regulate the cleavage activity of natural killer (NK) cells and the production of inflammatory cytokines.
2B4 (CD244): a member of CD2 subset of the immunoglobulin superfamily molecule, expressed in natural killer (NK) cells and other white blood cells [3].
BAT: It distinguishes NK cells from other known subsets of T cells and B cells [4].
CD45: The role of cell surface phosphatase CD45 in NK cell development and activation of receptors in intracellular signaling is a key enzyme in inducing NK cell responses [5].
CD57/HNK1: CD57 is a natural killer (NK) cell marker that reacts with human leukocytes including all natural killer (NK) cells in peripheral blood.
CD69: CD69 is an NK cell activation marker [6]. It forms dimers on the surface of activated T cells, B cells, natural killer cells, neutrophils and platelets, and is a type II membrane glycoprotein associated with the natural killer cell activation antigen family. It plays a key role in NK cell function and helps maintain NK cell activation.
CD107a: A functional marker for identification of natural killer cell activity [7].
CD161: NK cell activation marker [6].
CD335/NKp46: a cell surface receptor activated by NK cells.
CD314 (KLRK1): It expressed in natural killer (NK) cells, activating the innate immune response of NK, leading to cytotoxic activity. It participation in NK cell-mediated bone marrow transplant rejection and may regulate the differentiation and survival of NK cells.
Dipeptidase IV: surface marker of human natural killer cells.
Helix Pomatia Receptors: the first simple and reliable marker detected on NK cells may be useful for purifying this cell type.
LAT (linker for activation of T cells): LAT is a 36-38 kDa complete membrane protein that plays an important role in T cell activation and ACTS as a novel immunohistochemical marker for T cells, NK cells, mast cells, and megakaryotes.
Ly24 (pgp-1): marker expressed on the surface of mouse natural killer cells.
Ly49H: is a NK cell activating receptor unique to C57BL/6 (B6) mice.
NKG2A and NKp80: specific natural killer cell markers in rhesus and pigtail monkeys.
3. The Function of NK Cell Surface Receptor
NK cells are mainly derived from bone marrow lymphoid stem cells, accounting for about 10% of lymphocytes in the body, and mainly distributed in peripheral blood and peripheral lymphoid tissues [8].
Depending on the structure, NK cell surface receptors can be divided into immunoglobulin superfamily and C-type lectin superfamily. According to different functions, NK cell surface receptors can be divided into killer cell activation receptors and killer cell inhibition receptors. The inhibitory receptor expressed on the surface of NK cells maintains the tolerance of NK cells to the host's own normal tissue cells. The activating receptors expressed on the surface of NK cells can bind to the corresponding ligands on the surface of the target cells, and stimulate the killing effect of NK cells.
The balance of signals mediated by activated receptors and inhibitory receptors affects the killing activity of NK cells on tumors [9].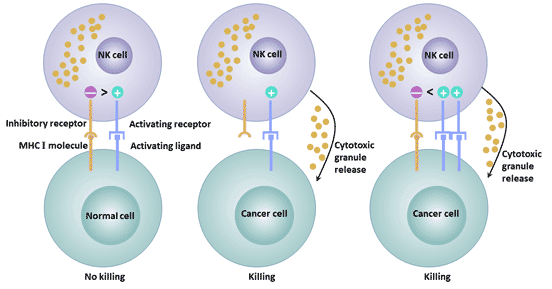 Figure 3 The different functions of activated and inhibitory receptors
4. Anti-Tumor Immune Mechanism
NK cells exert their anti-tumor functions mainly in two ways: immune clearance and immune surveillance.
Immune clearance mainly includes the following three mechanisms:
It kills tumor cells by releasing cytotoxic particles. NK cells can release perforin and granzyme, which can induce tumor cell lysis and apoptosis by changing the osmotic pressure of target cells and activating the apoptosis-related enzyme system.
The target cell apoptosis system is activated by cell surface synthesized proteins to kill tumor cells. Activated NK cells express FasL and TNF-α, which bind to the corresponding receptor Fas (CD95) and TNFR-1 on the surface of tumor cells to form Fas trimer and TNF-R trimer, and initiate apoptosis system of target cells and kill target cells.
Target cells are killed by antibody-dependent cell-mediated cytotoxicity (ADCC). This is the process of targeted NK cell killing target cells with IgG as the intermediate bridge. NK cells can recognize tumor cells that specifically bind to IgG antibodies through surface CD16 molecules, and CD16 interacts with corresponding adaptor proteins containing "immunoreceptor tyrosine activation motifs" in NK cells to phosphorylate adaptor proteins. Thereby initiating intracellular signaling, activating NK cells to release perforin and granzymes to kill target cells.
In addition to the direct killing effect of NK cells themselves on tumor cells, activated NK cells can secrete a variety of cytokines, such as TNF, IFN, etc., which synergistically inhibit or kill tumor cells.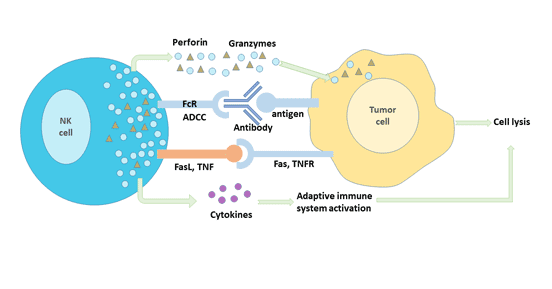 Figure 4 Anti-tumor immune mechanism of NK cells
5. NK Cells and Tumors
As an important part of the innate immune system, NK cells play an important role in tumor immunity. The expression of activated and inhibited receptors on the surface of NK cells determines their anti-tumor ability. NK cells have certain significance in inhibiting the growth and metastasis of lung cancer, breast cancer, colorectal cancer and other malignant tumors.
5.1 Lung Cancer
NK cells and perforin mediated cytotoxicity play a role in the prevention of lung cancer [10]. Decreased expression of granzyme and perforin is associated with lung cancer [11].
Immunotherapy of NK cells has found that activated NK cells can inhibit the growth of lung cancer cells. The occurrence of lung cancer is closely related to the decrease of NK cell number and activity. Therefore, improving NK cell activity and increasing the number of NK cells are important immunotherapeutic methods to prevent the occurrence and development of lung cancer.
5.2 Breast Tumor
The growth and metastasis of breast tumors are also closely related to the activity of NK cells. NK cell activity was significantly decreased in breast cancer patients, and the expression of surface activated receptors was restricted, while the level of inhibitory receptors was significantly increased [12].
5.3 Leukemia
The expression of inhibitory receptor NKG2A in NK cells of leukemia patients was significantly increased, while the activated receptor NKP46 was significantly decreased, which reduced the NK cell killing activity [13].
By regulating the expression of NK cell surface receptors, its activity can be altered and its immune function enhanced. Therefore, enhancing the immune activity of NK cells by regulating the expression of NK cell receptors is the main research direction of leukemia immunotherapy.
6. Application of NK Cells in Tumor Immunotherapy
According to the anti-tumor immune mechanism of NK cells, tumors can be treated by corresponding methods.
6.1 Antibody-Mediated Cytotoxicity of NK Cells
It is based on antibody-dependent cell-mediated cytotoxicity (ADCC). It can target killing tumor cells or enhance the ADCC effect of NK cells.
For example, CD137 monoclonal antibody can increase the expression of CD137 in NK cells, and as an activation signaling molecule, it significantly enhances the ability of NK cells to degranulate, secrete IFN-γ and anti-tumor activity [14].
CCR4 monoclonal antibody increases the ADCC effect of NK cells [15].
These results indicate that antibodies based on ADCC have a broad prospect of development and application.
6.2 KIR-HLA Mismatch between Donor and Recipient and Anti-Tumor Effect of NK Cells
NK cells can not only produce immune tolerance to normal cells in the body, but also kill tumor cells.
For normal cells, NK cells recognize HLA class I molecules through surface-inhibiting KIR receptors, transduce killing inhibitory signals, and prevent NK cells from killing normal cells.
For tumor cells, the surface lacks HLA-I signaling molecules and is easily recognized and attacked by NK cells. A KIR-HLA mismatch between donors and recipients can cause heterologous reactivity of NK cells, activating donor NK cells to kill recipient cells.
When applied in the treatment of myeloid leukemia and lymphocytic leukemia, this method can effectively enhance the graft anti-leukemia effect [16] and improve the survival rate of patients.In the treatment of kidney cancer, gastric cancer, intestinal cancer, ovarian cancer and other solid tumors, good therapeutic effect has also been achieved [17].
References
[1] Vivier E, Morin P M, O'Brienm C, et al. CD2 is functionally linked to the ζ‐natural killer receptor complex [J]. European journal of immunology, 1991, 21(4): 1077-1080.
[2] Lynn D J, Freeman A R, Murray C, et al. A Genomics Approach to the Detection of Positive Selection in Cattle: Adaptive Evolution of the T-Cell and Natural Killer Cell-Surface Protein CD2 [J]. Genetics, 2005, 170(3): 1189-1196.
[3] Boles K S, Stepp S E, Bennett M, et al. 2B4 (CD244) and CS1: novel members of the CD2 subset of the immunoglobulin superfamily molecules expressed on natural killer cells and other leukocytes [J]. Immunological reviews, 2001, 181(1): 234-249.
[4] Habu S, Hayakawa K, Okumura K, et al. Surface markers on natural killer cells of the mouse [J]. European journal of immunology, 1979, 9(12): 938-942.
[5] Huntington N D, Xu Y, Nutt S L, et al. A requirement for CD45 distinguishes Ly49D-mediated cytokine and chemokine production from killing in primary natural killer cells [J]. Journal of Experimental Medicine, 2005, 201(9): 1421-1433.
[6] Coulam C B, Roussev R G. Correlation of NK cell activation and inhibition markers with NK cytoxicity among women experiencing immunologic implantation failure after in vitro fertilization and embryo transfer [J]. Journal of assisted reproduction and genetics, 2003, 20(2): 58-62.
[7] Alter G, Malenfant J M, Altfeld M. CD107a as a functional marker for the identification of natural killer cell activity [J]. Journal of immunological methods, 2004, 294(1-2): 15-22.
[8] Cheng M, Chen Y, Xiao W, et al. NK cell-based immunotherapy for malignant diseases [J]. Cellular & molecular immunology, 2013, 10(3): 230.
[9] Peruzzi G, Masilamani M, Borrego F, et al. Endocytosis as a mechanism of regulating natural killer cell function: unique endocytic and trafficking pathway for CD94/NKG2A [J]. Immunologic research, 2009, 43(1-3): 210-222.
[10] Frese-Schaper M, Keil A, Yagita H, et al. Influence of natural killer cells and perforin-mediated cytolysis on the development of chemically induced lung cancer in A/J mice [J]. Cancer immunology, immunotherapy, 2014, 63(6): 571-580.
[11] Hodge G, Barnawi J, Jurisevic C, et al. Lung cancer is associated with decreased expression of perforin, granzyme B and interferon (IFN)‐γ by infiltrating lung tissue T cells, natural killer (NK) T‐like and NK cells [J]. Clinical & Experimental Immunology, 2014, 178(1): 79-85.
[12] Mamessier E, Sylvain A, Thibult M L, et al. Human breast cancer cells enhance self tolerance by promoting evasion from NK cell antitumor immunity [J]. The Journal of clinical investigation, 2011, 121(9): 3609-3622.
[13] Stringaris K, Sekine T, Khoder A, et al. Leukemia-induced phenotypic and functional defects in natural killer cells predict failure to achieve remission in acute myeloid leukemia [J]. Haematologica, 2014, 99(5): 836-847.
[14] Lin W, Voskens C J, Zhang X, et al. Fc-dependent expression of CD137 on human NK cells: insights into "agonistic" effects of anti-CD137 monoclonal antibodies [J]. Blood, 2008, 112(3): 699-707.
[15] Kanazawa T, Hiramatsu Y, Iwata S, et al. Anti-CCR4 monoclonal antibody mogamulizumab for the treatment of EBV-associated T-and NK-cell lymphoproliferative diseases [J]. Clinical Cancer Research, 2014, 20(19): 5075-5084.
[16] Cooley S, Weisdorf D J, Guethlein L A, et al. Donor selection for natural killer cell receptor genes leads to superior survival after unrelated transplantation for acute myelogenous leukemia [J]. Blood, 2010, 116(14): 2411-2419.
[17] Re F, Staudacher C, Zamai L, et al. Killer cell Ig‐like receptors ligand‐mismatched, alloreactive natural killer cells lyse primary solid tumors [J]. Cancer, 2006, 107(3): 640-648.