Signal transducer and activator of transcription 3 (STAT3) is a latent cytoplasmic transcription factor [1]. It is interesting that STAT3 was discovered because of its role in the acute-phase response, which is the only capacity that STAT3 function in vivo can be clearly ascribed to its activity as a transcription factor [2]. Nevertheless, since its discovery, the STAT3 transcription factor has been extensively studied for its function as a transcriptional regulator. Importantly, it is widely known that STAT3 plays important roles in cancer related mechanisms. Thereby, STAT3 has become a hot topic in recent years. So what is the function of STAT3 in the signaling pathway? What's the importance of STAT3 related signaling pathways in tumorigenesis?
1. What is the Function of STAT3?
First and the foremost, STAT3 mediates cellular responses to interleukins (e.g. IL6), KITLG/SCF, leptin (LEP) and other growth factors (like FGFR1, FGFR2, FGFR3, and FGFR4) [3-5]. Once activated, STAT3 could recruit co-activators (like NCOA1/SRC1 or MED1) or mediate the effects of LEP on melanocortin production, body energy homeostasis, and lactation [7, 8]. Besides, STAT3 promotes the cell differentiation (e.g. Th17 or Treg) [9] and genes expression (e.g. CCND1) [10]. Without stimuli, STAT3 is mainly present in the cytoplasm. Cytoplasmic STAT3 represses macroautophagy by inhibiting EIF2AK2/PKR activity [11].
Of note, mounting evidence suggested that STAT3 regulates diverse biological functions in pathogenesis of diseases. Compared to other STAT family members, STAT3 is considered as a higher potential target for tumor therapy given its immunosuppressive effects [12, 13]. Inhibition of STAT3 overexpression not only blocks the overproliferation of tumor cells, but also boosts the body's immune system against tumors, which may provide a novel new biomarker for cancer therapy.
2. STAT3 Signal Transduction Pathways
Upstream cytokine and growth factors can activate STAT signaling pathway. STAT3 signaling pathways can modulate the transcription of genes, which are involved in the regulation of a variety of critical biological activities, particularly in tumor related mechanisms. Here, the well-known IL-6/JAK/STAT3 signal pathway and recently discovered STAT3 signal transduction pathways are introduced.
2.1 IL-6/JAK/STAT3 Pathway
It is well-known that the JAK/STAT3 pathway is typically considered the most crucial signaling pathway in the activation of STAT3 [14]. Notably, IL-6 is the well-characterized upstream cytokine. The signal transduction of IL-6 involves the activation of JAK, then leads to the activation of transcription factor STAT3 [15].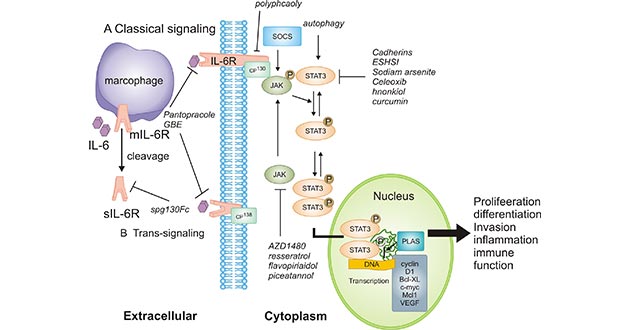 Figure 1. IL-6 leads to the activation of JAK/STAT3
*This figure is derived from the publication on International journal of oncology [16]
Specifically, STAT3 will be phosphorylated and then forms dimers when activated by upstream signaling pathways such as JAK, epidermal growth factor receptor and IL-6R activation. As shown in Figure 1, the activated STAT3 complex will then translocate from the cytoplasm to the nucleus, which promotes transcription of STAT3 target genes including cyclin D1, Bcl-xL, c-myc, Mcl1 and vascular endothelial growth factor (VEGF) by combining with consensus DNA elements.
Accumulating evidence suggested that the IL-6/JAK/STAT3 signaling pathway is aberrantly hyperactivated in patients with chronic inflammatory conditions and in those with haematopoietic malignancies or solid tumours, such as breast, colorectal cancer.
2.2 α2β1/JAK/STAT3 Pathway
A recent study published on Cancer Management and Research suggested a connection between α2β1/JAK/STAT3 signaling pathway and osteosarcoma progression [17].
Researchers found that type I collagen could facilitate the activation of JAK/STAT3 signals through integrin α2β1, which elicited tumor-sustained growth and cancer relapse. In tumor-bearing mice model, integrin α2β1 signals inhibitor significantly suppressed the osteosarcoma cells proliferation and their tumorigenic ability, which improved the outcome of chemotherapy/radiotherapy [17].
Taken together, the findings implied that type I collagen could mediate osteosarcoma cells stemness up-regulation through an integrin α2β1/JAK/STAT3 signaling pathway, eventually leading to tumor growth and development.
2.3 mTOR/HIF-1α/PKM2/STAT3 Pathway
Another research revealed the new mechanism of mTOR/HIF-1α/PKM2/STAT3 signaling pathway in oral squamous cell carcinoma (OSCC). Researchers firstly found that metformin (a drug used for treatment of type 2 diabetes) inhibited CoCl2-induced epithelial-mesenchymal transition (EMT). Subsequently, they observed that the expression levels of mTOR, HIF-1α, PKM2 and STAT3 in the EMT process were inhibited by metformin. It suggested that metformin restrained CoCl2-induced EMT in OSCC by inhibiting the mTOR/HIF-1α/PKM2/STAT3 signaling pathway [18].
2.4 FGF19/JAK2/STAT3 Pathway
The last one reported the role of FGF19/JAK2/STAT3 signaling in hepatocellular carcinoma (HCC). The results from the research suggested that SHBs (small surface antigens, the most abundant HBV viral protein) expression was associated with activation of EMT and FGF19/JAK2/STAT3 signaling in HCC tissues [19].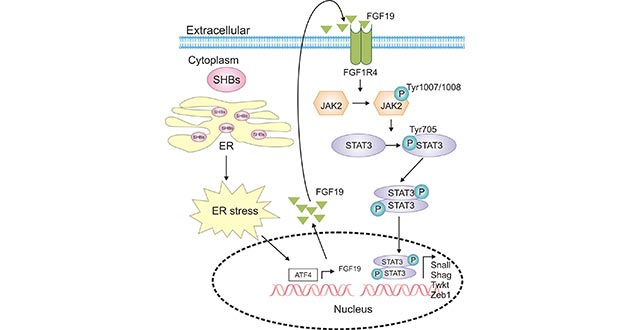 Figure 2. SHBs promotes activation of JAK2/STAT3 signaling
*This figure is derived from the publication on Cancer Letters [19]
As demonstrated in Figure 2, SHBs expression in HCC cells increased the expression and secretion of fibroblast growth factor 19 (FGF19). Moreover, the released FGF19 activated JAK2/STAT3 signaling, which induced the EMT process in HCC [19].
3. The Roles of STAT3 in Cancer
Ample solid evidence has indicated that STAT3 is crucial immune activation regulators and promoting the production of immunosuppressive factors, which are associated with a variety of cancer types, including brain, lung, pancreatic, renal, colorectal, endometrial, cervical, ovarian, breast and prostate cancer, melanoma, glioma, head and neck squamous cell carcinoma, lymphoma and leukemia [16]. Importantly, in the tumor microenvironment (TME), STAT3 activity in tumor cells supports multiple hallmarks of cancer, including increased secretion of immunosuppressive factors such as IL-6, IL-10 and EGFR, which can activate STAT3 [20].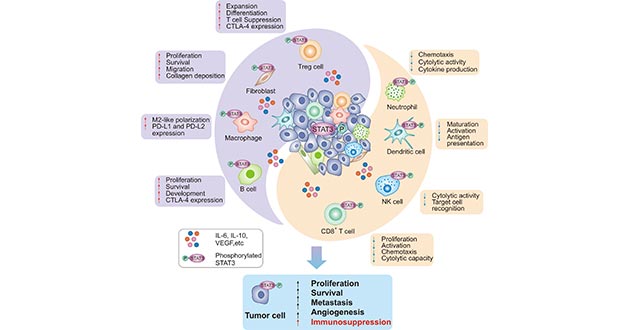 Figure 3. STAT3 induces the immunosuppression in the tumors
*This figure is derived from the publication on Molecular Cancer [20]
As shown in Figure 3, on the one hand, STAT3 favors the accumulation and enrichment of immunosuppressive Treg cells and B cells, as well as the polarization of M2-like macrophages, which leads to the immune escape. On the other hand, STAT3 in CD8+T cells, NK cells and neutrophils restrained anti-tumor activities. These effects have positioned STAT3 as an arisen potential promising target for cancer immunotherapy.
4. Recent Advances of STAT3 in Anticancer Therapies
To date, many endeavors have been made to target STAT3 for the development and application of new drugs. These approaches are devised to inhibit STAT3 directly by peptides, small molecules and decoy oligonucleotides, or indirectly by blocking upstream signaling pathways such as IL-6 and JAK2 pathways [20, 21]. Albeit direct targeting of STAT3 has proven to be considerably challenging, three STAT3 inhibitors have been approved by FDA thus far: BBI608 (Napabucasin); Pyrimethamine; Celecoxib. Among them, BBI608 is only direct inhibitor of STAT3. Moreover, FDA has approved BBI608 as an orphan drug for treatment of gastric and pancreatic cancer based on the promising results in clinical trials. Given the huge potential of STAT3 in cancer therapy, more pharmaceutical companies are working on the STAT3 targeting and focusing on new drug designs. Studies of relevant inhibitors ongoing clinical trials are introduced in below [20]
Therapy
Type
Agent
Indication
Phase
Direct inhibitors
Small molecules
BBI608 (FDA approved)
Advanced malignancies
I/II
CRC
III
Celecoxib (FDA approved)
CRC
III
C188-9
BC, CRC, HNSCC, HCC, NSCLC, GAC, Melanoma, Advanced cancer
I
OPB-111077
Acute myeloid leukemia
I
Advanced HCC
I
OPB-31121
Advanced cancer, Solid tumors
I
HCC
I/II
OPB-51602
Malignant solid tumors
I
Hematological malignancies
I
Nasopharyngeal carcinoma
I
Pyrimethamine (FDA approved)
CLL, Small lymphocytic lymphoma
I/II
Oligonucleotides
AZD9150
Lymphoma
I/II
STAT3 decoy
Head and neck cancer
0
Indirect inhibitors
JAK1/2
AZD-1480
Solid tumors
I
CYT 387
Myelofibrosis
I/II
PMF, Post-PV, Post-ET MF
III
Ruxolitinib (FDA approved)
Myelofibrosis
II
JAK2
LY2784544
Myeloproliferative neoplasms
II
SB1518
Myelofibrosis
III
EGFR
Cetuximab (FDA approved)
Metastatic CRC
I/II
Panitumumab (FDA approved)
Advanced CRC
II
Metastatic CRC
IV
FGFR
Ponatinib (FDA approved)
CML
II
CML, ALL
II
IL-6R
Siltuximab (FDA approved)
Multiple myeloma
II
Tocilizumab (FDA approved)
HCC
I/II
VEGF
Bevacizumab (FDA approved)
Metastatic CRC
II
VEGFR
Apatinib
Lung carcinoma
II
VEGFR, PDGFR
Sorafenib (FDA approved)
Advanced HCC
IV
VEGFR, PDGFR, c-KIT
Sunitinib (FDA approved)
Clear cell renal carcinoma
II
Pancreatic neuroendocrine tumor metastatic
II
SRC, ABL
Dasatinib (FDA approved)
Chronic-phase CML
IV
SRC
Bosutinib (FDA approved)
CML
II
KX2-391
Bone-metastatic, Castration-resistant PCa
II
Combination
Direct inhibitors and ICB
AZD9150, Durvalumab (anti-PD-L1)
NSCLC
II
PC, CRC, NSCLC
II
Advanced solid tumors, Metastatic HNSCC
I/II
Diffuse large B-cell lymphoma
I
BBI608, Nivolumab (anti-PD-L1)
Metastatic CRC
II
BBI608, Pembrolizumab (anti-PD-1)
Metastatic CRC
I/II
Indirect inhibitors and ICB
Apatinib, SHR-1210 (anti-PD-1)
Melanoma
II
Bevacizumab, Atezolizumab (anti-PD-L1)
Unresectable HCC
III
Cetuximab, Pembrolizumab (anti-PD-1)
Recurrent or metastatic HNSCC
II
Dasatinib, Ipilimumab (anti-CTLA-4)
GIST, Stage III /IV soft tissue sarcoma
I
Dasatinib, Nivolumab (anti-PD-L1)
Philadelphia chromosome positive ALL
I
Ruxolitinib, Pembrolizumab (anti-PD-1)
Hematological malignancies
II
Metastatic stage IV TNBC
I
Sorafenib, BGB-A317(anti-PD-1)
HCC
III
Sorafenib, Nivolumab (anti-PD-L1)
Advanced or metastatic HCC
II
Indirect inhibitor and CAR-T
Tocilizumab, CAR-T 19
Lymphoblastic leukemia
NA
Additionally, STAT3 was considered as one of hot top10 specific immuno-oncology targets in the 2019 analysis, reported on Nature Reviews Drug Discovery. It further suggested that much research has focused on targeting STAT3 to provide alternative strategies for cancer therapies. Moreover, it said that the global cancer immunotherapy market is set to reach about $30 billion in 2019 and will steadily rise to about $100 billion by 2022. This is expected to be driven largely by use of the potential targeting agents. Considering that, targeting STAT3 not only holds great promise for significant advancement in cancer treatment but also indicates the broad potential market of STAT3-targeted agents.
References
[1] Loh, Chin-Yap, et al. "Signal transducer and activator of transcription (STATs) proteins in cancer and inflammation: functions and therapeutic implication." Frontiers in oncology 9 (2019): 48.
[2] Levy, David E., and Chien-kuo Lee. "What does Stat3 do?" The Journal of clinical investigation 109.9 (2002): 1143-1148.
[3] Wang, Yuxin, et al. "STAT3 activation in response to IL-6 is prolonged by the binding of IL-6 receptor to EGF receptor." Proceedings of the National Academy of Sciences 110.42 (2013): 16975-16980.
[4] Cokic, Vladan P., et al. "JAK-STAT and AKT pathway-coupled genes in erythroid progenitor cells through ontogeny." Journal of translational medicine 10.1 (2012): 116.
[5] Gatius, Sonia, et al. "FGFR2 alterations in endometrial carcinoma." Modern Pathology 24.11 (2011): 1500-1510.
[6] Saxena, Neeraj K., et al. "Leptin-induced growth stimulation of breast cancer cells involves recruitment of histone acetyltransferases and mediator complex to CYCLIN D1 promoter via activation of Stat3." Journal of Biological Chemistry 282.18 (2007): 13316-13325.
[7] Zhang, Yan, et al. "Melanocortin potentiates leptin-induced STAT3 signaling via MAPK pathway." Journal of neurochemistry 110.1 (2009): 390-399.
[8] Augustine, Rachael A., Sharon R. Ladyman, and David R. Grattan. "From feeding one to feeding many: hormone‐induced changes in bodyweight homeostasis during pregnancy." The Journal of physiology 586.2 (2008): 387-397.
[9] Chaudhry, Ashutosh, et al. "CD4+ regulatory T cells control TH17 responses in a Stat3-dependent manner." Science 326.5955 (2009): 986-991.
[10] Luo, Jianfei, et al. "Constitutive activation of STAT3 and cyclin D1 overexpression contribute to proliferation, migration and invasion in gastric cancer cells." American journal of translational research 9.12 (2017): 5671.
[11] Shen, Shensi, et al. "Cytoplasmic STAT3 represses autophagy by inhibiting PKR activity." Molecular cell 48.5 (2012): 667-680.
[12] Yu, Hua, Marcin Kortylewski, and Drew Pardoll. "Crosstalk between cancer and immune cells: role of STAT3 in the tumour microenvironment." Nature Reviews Immunology 7.1 (2007): 41-51.
[13] Huynh, Jennifer, et al. "Therapeutically exploiting STAT3 activity in cancer—using tissue repair as a road map." Nature Reviews Cancer 19.2 (2019): 82-96.
[14] Johnston, Paul A., and Jennifer R. Grandis. "STAT3 signaling: anticancer strategies and challenges." Molecular interventions 11.1 (2011): 18.
[15] Johnson, Daniel E., Rachel A. O'Keefe, and Jennifer R. Grandis. "Targeting the IL-6/JAK/STAT3 signalling axis in cancer." Nature Reviews Clinical Oncology 15.4 (2018): 234.
[16] Wang, Shu-Wei, and Yue-Ming Sun. "The IL-6/JAK/STAT3 pathway: potential therapeutic strategies in treating colorectal cancer." International journal of oncology 44.4 (2014): 1032-1040.
[17] Wei, Daiqing, et al. "Extracellular Collagen Mediates Osteosarcoma Progression Through an Integrin α2β1/JAK/STAT3 Signaling Pathway." Cancer Management and Research 12 (2020): 12067.
[18] Yin, Weihuang, et al. "Metformin inhibits epithelial-mesenchymal transition of oral squamous cell carcinoma via the mTOR/HIF-1α/PKM2/STAT3 pathway." Oncology Letters 21.1 (2020): 1-1.
[19] Wu, Shuxiang, et al. "Small hepatitis B virus surface antigen promotes malignant progression of hepatocellular carcinoma via endoplasmic reticulum stress-induced FGF19/JAK2/STAT3 signaling." Cancer Letters (2020).
[20] Zou, Sailan, et al. "Targeting STAT3 in Cancer Immunotherapy." Molecular Cancer 19.1 (2020): 1-19.
[21] Sen, Malabika, et al. "First-in-human trial of a STAT3 decoy oligonucleotide in head and neck tumors: implications for cancer therapy." Cancer discovery 2.8 (2012): 694-705.