Leukemia inhibitory factor (LIF) is a cytokine which belongs to the IL-6 superfamily. LIF derives its name from its ability to inhibit proliferation of myeloid leukemia cells in culture [1]. As the research of LIF progresses, accumulating evidence have shown that LIF does not only play a role in leukaemia. So what is LIF and its function? How does it perform its biological function? And apart from leukaemia, what other diseases is it associated with?
1. How was the LIF Discovered?
It has been 33 years since the discovery of LIF. In 1969, during the in vitro construction of spontaneous myeloid leukaemia lines from SL strains of mice, researchers discovered that cultures of normal cells induced the differentiation of M1 leukaemia cell lines into mature macrophages or granulocytes. The researchers collectively referred to these unknown inducing components of the culture fluid as Differentiation Stimulating Factor, or D-factors (D-factors) [2]. In 1981 [3] and 1984 [4] scientists identified MGI-2 (Macrophage and Granulocyte Inducing-2) and a D-factor from cultures of mouse Krebs sarcoma cells and mouse L929 fibroblasts, respectively. Both induced M1 myeloid leukaemia cells without stimulating the proliferation of normal haematopoietic cells.
In 1987, Donald Metcalf's laboratory at the Walter and Eliza Hall Institute (WEHI), Royal Melbourne Hospital, Australia, isolated a protein from mouse Krebs sarcoma cell cultures that induced the differentiation of mouse M1 myeloid leukaemia cells. The protein was named Leukemia Inhibitory Factor (LIF) because of its ability to inhibit the proliferation of M1 myeloid leukaemia cells. It was also found that this protein did not stimulate the proliferation of normal myeloid precursor cells. Donald Metcalf et al. concluded that LIF was the same substance as MGI-2 and D-factor, as they both had in common the ability to induce the differentiation of mouse M1 myeloid leukaemia cells into macrophages. At this point, the LIF protein was officially discovered and named, with MIG-2 and D-factor as its aliases. Subsequently, the Donald Metcalf laboratory cloned the genes expressing mouse LIF and human LIF in 1987 and 1988 respectively [5] [6].
2. What is the Structure of LIF?
As the Figure 1 shows, the human and mouse LIF genes are located on chromosomes 22q14 and 11A1-A2, respectively, and are 6.0 and 6.3 kb in length, containing three exons of 61/3, 592/3 and 136 amino acids [7], with a highly conserved sequence in the coding region and 78-94% homology. Disulfide bonds within the molecule may play an important role in maintaining the structure and biological activity of the LIF molecule. The molecular weight and charge of LIF vary depending on the degree of glycosylation, with a molecular weight of 38-64 kDa and an IP of 8.6-9.2. The biological function of LIF in vitro appears to be independent of the degree of glycosylation, but it remains to be determined whether glycosylation affects the stability and function of LIF in vivo. Human and mouse LIF are 78% homologous at the amino acid level and human LIF has similar activity against murine-derived cells, whereas mouse LIF has a weak effect on human cells.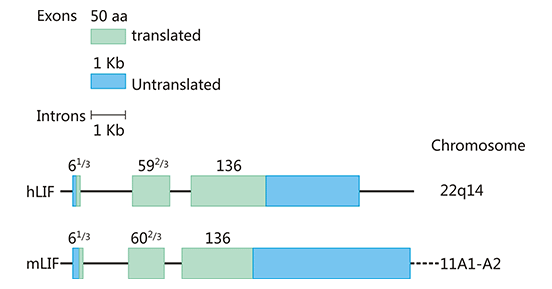 Figure 1. The structure of human and mouse LIF gene
*This diagram is derived from reference 7.
3. How does It Perform Its Biological Function?
Currently, LIF expression has been found in activated T cells, monocytes, glial cells, liver fibroblasts, bone marrow stromal cells, embryonic stem cells, thymic epithelial cells and many other cells. It is an interleukin 6 class cytokine that affects cell growth by inhibiting differentiation. LIF action appears to be mediated through a high-affinity receptor complex composed of a low-affinity LIFRβ (also known as LIFR) and a high-affinity converter subunit, gp130. LIFRβ is a single pass transmembrane domain-containing protein and is the tallest of the "tall" cytokine receptors, containing eight distinct domains in its extracellular segment [8] [9].
The binding of LIF to the LIFRβ results in the non-covalent association of the complex with gpl30 to create the high-affinity heterodimeric receptor complex (Figure 2). In most cell types the formation of the high-affinity complex between LIF, LIFRβ, and gpl30 is required for signal transduction. The heterodimeric receptor complex itself has no intrinsic tyrosine kinase activity. But the cytoplasmic domains of LIFRβ-gp130-LIF trimeric complex associate with at least three members of the Janus (JAK) kinase family, in particular, JAK1, JAK2, and TYK2. The activated JAK kinases then stimulate at least three signaling pathways by phosphorylation, including the STAT pathway, p21ras/MAP kinase pathway, and PI-3 kinase pathway.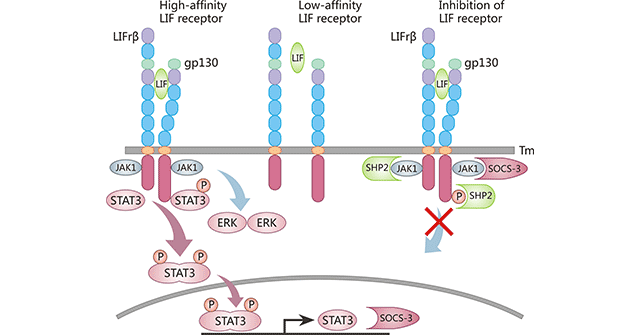 Figure 2. Structure of the LIF receptor and activation of the JAK-STAT3 signaling pathway
*This diagram is derived from reference 10.
As the figure 2 shows, the soluble cytokine LIF binds to the low affinity LIFRβ-gp130 (center) making them dimerize to form the high affinity LIFRβ-gp130-LIF complex (left panel). This recruits the JAK kinases (Jak1) which auto-phosphorylate each other and in turn recruit the transcription factor STAT3. STAT3 is phosphorylated, dimerizes and enters the nucleus. The LIFRβ-gp130-LIF complex can also activate the ERK and PI3K pathways as well. The STAT3 phosphorylated dimer binds to the promoters of various genes including SOCS3, initiating their transcription. SOCS3 protein can bind to the LIFRβ-gp130-LIF complex and block JAK kinase activity, so inhibiting the LIF mediated STAT3 signaling pathway (right panel).
4. LIF and Diseases
Leukaemia inhibitory factor (LIF), a cytokine with a variety of functions, is involved in the induction of hematopoietic differentiation in normal and myeloid leukemia cells, induction of neuronal cell differentiation, regulator of mesenchymal to epithelial conversion during kidney development, and may also have a role in immune tolerance at the maternal-fetal interface. As its name implies, diseases associated with LIF include Leukemia and Myeloid Leukemia. Besides leukemia, increasing studies have implied that LIF also has a powerful function in cancer, such as pancreatic and breast cancer.
4.1 LIF and Leukaemia
Leukaemia develops when the process of proliferation and differentiation of haematopoietic cells is out of control. Scientists have been searching for cytokines or drugs that can promote the differentiation of leukaemic cells and at the same time inhibit their proliferation for the treatment of leukaemia [11].
Despite LIF is identified as a myeloid leukemia-differentiation-inducing factor, it has surprisingly few effects on haematopoietic cells. LIF often shows inhibitory effects on tumor cells in the haematopoietic system and induces the differentiation of these tumor cells. In mouse, LIF inhibits the proliferation of leukaemia M1 cells and induces their transformation into a macrophage phenotype, such as expressing Fc receptors and acquiring phagocytic capacity. LIF also has a super-inducing effect on the differentiation of monocytes. LIF synergizes with GM-CSF, G-CSF or IL-6 to inhibit the growth and induce the differentiation of HL-60 and U937 cells. LIF enhances the mitogenic effect of IL-3 on hematopoietic stem cells, the precursors of megakaryocytes, and increases the number of megakaryocytes and platelets in vivo. LIF also promotes the proliferation of myogenic cells.
4.2 LIF and Cancer
The leukemia inhibitory factor (LIF) is a cytokine involved in a number of physiological processes including regulation of cell differentiation, renewal and survival. LIF (and LIFR) expression has been noted in many solid tumors including breast, skin colorectal and nasopharyngeal cancers. LIF is involved in a number of key processes underlying cancer growth and progression including immunotolerance, PNI, chemo and radioresistance, cancer stem cell-like phenotype maintenance, EMT, and TME development (Figure 3).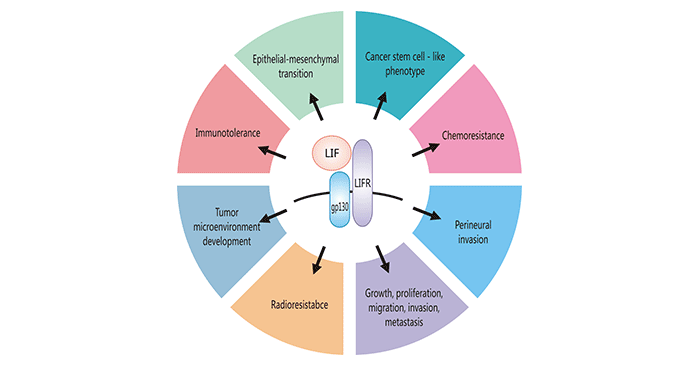 Figure 3. Cancer-promoting cellular functions of LIF
*This diagram is derived from reference 10.
As mentioned before, LIF is a widely expressed cytokine with diverse patterns of glycosylation. And LIF receptors are found in many different tissues including the liver, central nervous system, macrophages, bone, kidney, placenta, ICM of the blastocyst and the uterine epithelia. LIF can phosphorylate STAT3 through a number of reactions. Then, phosphorylated STAT3 forms dimers and translocates into the nucleus, where it activates targeted gene transcription. LIF-JAK/STAT3 is a recognized signaling pathway for pancreatic ductal adenocarcinoma (PDAC), CRC, ovarian cancer and non-small lung cell cancer (NSCLC). Beside, LIF was also shown to activate alternative signaling pathways e.g. YAP/TEAD and AKT/mTOR [13].
Taking PDAC as an example, there are several results of preliminary studies supporting its role also in the mechanisms of PDAC promotion. In the PDAC, accumulating studies indicate that LIF acts as an autocrine factor secreted by CAFs and able to self-stimulate regardless of TGF-β. Moreover, it also acts as a paracrine stimulator of ECM remodeling, recruitment of TME components and pancreatic cancer cells growth [14] [15].
References
[1] Catalán, Victoria (2018). Obesity || Inflammatory and Oxidative Stress Markers in Skeletal Muscle of Obese Subjects. , (), 163–189.
[2] Ichikawa Y. Differentiation of a cell line of myeloid leukemia. J Cell Physiol. 1969; 74(3):223-34.
[3] Lipton JH, Sachs L. Characterization of macrophage- and granulocyte-inducing proteins for normal and leukemic myeloid cells produced by the Krebs ascites tumor. Biochim Biophys Acta. 1981; 673(4):552-69.
[4] Tomida M, Yamamoto-Yamaguchi Y, Hozumi M. Purification of a factor inducing differentiation of mouse myeloid leukemic M1 cells from conditioned medium of mouse fibroblast L929 cells. J Biol Chem. 1984; 259(17):10978-82.
[5] Gearing DP, Gough NM, King JA, et al. Molecular cloning and expression of cDNA encoding a murine myeloid leukaemia inhibitory factor (LIF). EMBO J. 1987; 6(13):3995-4002.
[6] Gough NM, Gearing DP, King JA, Willson TA, et al. Molecular cloning and expression of the human homologue of the murine gene encoding myeloid leukemia-inhibitory factor. Proc Natl Acad Sci U S A. 1988; 85(8):2623-7.
[7] Katherine A.Fitzgerald, Luke A.J.O'Neill, Andy J.H.Gearing, Robin E.Callard. The Cytokine FactsBook and Webfacts (Second Edition). 2001, Pages 346-350.
[8] Gearing DP, Thut CJ, VandeBos T, et al. Leukemia inhibitory factor receptor is structurally related to the IL-6 signal transducer, gp130 [J]. EMBO J. 1991 Oct; 10(10):2839-48.
[9] Nicola NA, Babon JJ. Leukemia inhibitory factor (LIF) [J]. Cytokine Growth Factor Rev. 2015 Oct; 26(5):533-44.
[10] Stewart, Colin L. (2018). Encyclopedia of Reproduction || Leukemia Inhibitory Factor. , (), 405–411.
[11] Hozumi M. Fundamentals of chemotherapy of myeloid leukemia by induction of leukemia cell differentiation. Adv Cancer Res. 1983; 38:121–169.
[12] Wrona E, Potemski P, Sclafani F, et al. Leukemia Inhibitory Factor: A Potential Biomarker and Therapeutic Target in Pancreatic Cancer [J]. Arch Immunol Ther Exp (Warsz). 2021. Feb 25; 69(1): 2.
[13] McLean K, Tan L, Bolland DE, et al. Leukemia inhibitory factor functions in parallel with interleukin-6 to promote ovarian cancer growth [J]. Oncogene. 2019 Feb; 38(9):1576-1584.
[14] Fu Y, Liu S, Zeng S, et al. The critical roles of activated stellate cells-mediated paracrine signaling, metabolism and onco-immunology in pancreatic ductal adenocarcinoma [J]. Mol Cancer. 2018 Feb 19; 17(1):62.
[15] Ligorio M, Sil S, Malagon-Lopez J, et al. Stromal Microenvironment Shapes the Intratumoral Architecture of Pancreatic Cancer [J]. Cell. 2019 Jun 27; 178(1): 160-175.e27.