Toll-like receptors (TLRs) is a type I transmembrane protein, can identify different pathogen associated molecular patterns (PAMPs), belongs to the surface of the pattern recognition receptors (PRRs). Toll-like receptors play a key role in the innate immune system. They are the first line of defense against pathogen invasion and play a key role in inflammation, immune cell regulation, survival and proliferation.
4. TLRs Signaling Pathway
Activation of the TLR signaling pathway results from the TIR domain in the cytoplasm. In the signaling pathway downstream of the TIR domain, there are at least two different pathways in the Toll-like receptor signal cascade, one is the myeloid differentiation factor 88 (MyD88)-dependent pathway, and the other is MyD88 non- Dependent approach [12].
4.1 Key Components of The TLRs Signaling Pathway
4.1.1 MyD88
MyD88 molecules are important transduction proteins in the TLRs pathway, which are composed of 296 amino acid residues. It has death domain (DD) at the N-terminal and Toll/ IL-1R domain (TIR) at the C-terminal.
The C-terminal TIR domain of MyD88 can bind to the TIR domain of the membrane receptor and transmit signals to the downstream. The death domain of MyD88 N-terminal interacts with the death domain of the downstream adaptor molecule IL-1 receptor-associated kinase (IRAK) to form a receptor complex to further recruit downstream signaling molecules.
Among all TLRs, TLR5, TLR7, TLR8 and TLR9 can directly interact with MyD88; while TLR1/2, TLR2/6 and TLR4 require MyD88-adaptor-like protein (MAL) to interact with MyD88.
4.1.2 IRAK
IL-1R-associated kinase (IRAK) is a serine-threonine kinase associated with IL-1R, which is a central regulatory molecule for early signal transduction of Toll/ IL-1R [13]. The N-terminus of the IRAK protein is a death domain that interacts with MyD88. IRAK4 is responsible for recruiting IRAK-1 and phosphorylating IRAK-1, thereby triggering a cascade of phosphorylation events.
4.1.3 TRAF6 and TAKI
Tumor necrosis factor recepter-associated factor 6 (TRAF6) is a member of the tumor necrosis factor receptor-associated factor (TRAF) family that mediates the cytokine signaling pathway [14]. TRAF6 protein contains two TRAF domains (TRAF-N and TRAF-C). The TRAF-N domain mediates TRAF dimer protein formation and the TRAF-C domain is responsible for interaction with the adaptor protein.
Upon activation of TLRs, TRAF6 is recruited to the receptor complex and activated by IRAK-1 binding to the TRAF-C domain of TRAF6. TRAF6 mediates the synthesis of the K63 ubiquitin chain and further activates transforming growth factor activated kinase (TAK1).
4.2 MyD88 Dependent Pathway
MyD88 includes the N-terminal death domain, the intermediate region, and the TIR domain at the C-terminus. When stimulated, the TIR domain of the C-terminus of MyD88 binds to the TIR domain of the membrane receptor, and the N-terminal death domain of MyD88 can interact with the death domain of IRAK to recruit IRAK to TLRs. IRAK is activated by phosphorylation, and hyperphosphorylated IRAK-1 enters the cytosol, which activates the cascade of signal transduction pathways by recruiting TRAF-6, ultimately activating JNK and NF-κB. Activation of NF-κB results in the production of a variety of cytokines and chemokines that ultimately kill invading pathogens.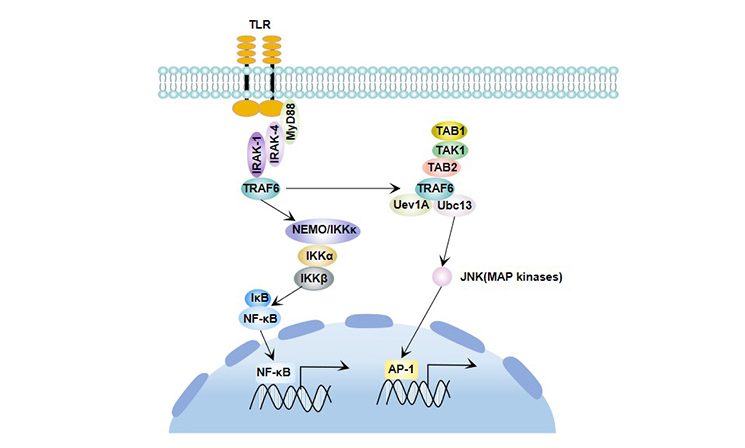 Figure 3 MyD88-dependent signaling pathway
4.3 MyD88 Non-Dependent Pathway
In addition to the myd88-dependent pathway, the TLRs signaling pathway also has non-myd88-dependent pathways.
In TLR4 related studies, it is found that in addition to MyD88, TIR adaptor molecules of TLR4 also contain TIR domain-containing adaptor protein (TIRAP). In LPS signal transduction, TIRAP, together with TRIF and TRAM, regulates the activation of MyD88 non-dependent pathway regulatory genes [15]. TRIF and TRAM regulate the activation of interferon regulatory factor 3 (IRF3) to control the induction of IFN-β and the expression of interferon regulatory genes.
TLR3 and TLR4 are Toll like receptor family members that can activate both MyD88 dependent and MyD88 independent pathways.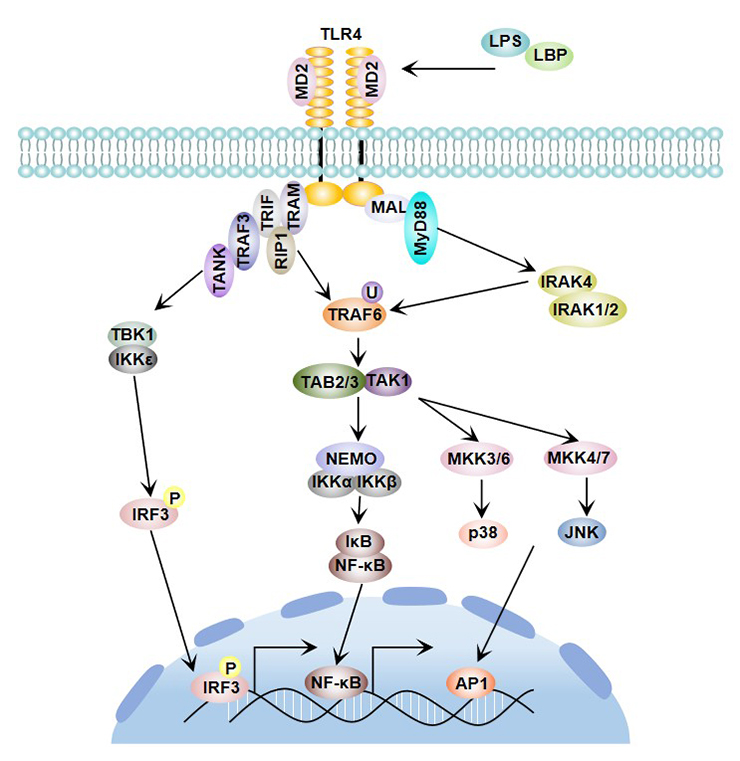 Figure 4 TLR4 signaling pathway
5. TLRs and Disease
5.1 TLRs and Asthma
Allergic asthma is a chronic respiratory inflammatory disease involving mast cells, eosinophils and T lymphocytes. Most of the Toll receptor (Toll - like receptors, TLRs) expression in airway and airway epithelial cells.
Studies have shown that single nucleotide polymorphisms of TLR1 are closely associated with high serum levels of interleukin 6 (IL-6), tumor necrosis factor (TNF-α), and interleukin 1β (IL-1β) [16].Activation of TLR2 triggers a Th2 immune response that plays a key role in asthma [17].
In addition, TLR3 [18], TLR4 [19] and TLR6 [20] were all associated with asthma.
5.2 TLRs and Post-Transplant Disease
TLRs have an important impact on transplant-related rejection, infection, and graft failure. The level of messenger RNA (mRNA) in some TLRs is significantly elevated in renal transplant recipients with acute rejection and is closely related to inflammatory response [21]. Cirrhosis after liver transplantation in patients with hepatitis C is associated with TLR3 and TLR7/8 dysfunction.
5.3 TLRs and Liver Cancer
Bacterial infection can cause liver damage, the mechanism is very complex, TLRs are closely related to liver damage caused by bacteria. Gram-negative bacteria and Gram-positive bacteria signal transduction through TLR4 and TLR2, respectively, causing the release of pro-inflammatory cytokines such as TNF-α, IL-1 and IL-6, resulting in liver inflammation damage.
Currently, liver cancer (HCC) has become the second most common cause of malignancy worldwide. The signaling pathway of the toll-like receptor family (TLRs) is associated with the progression of HCC. TLRs can recognize the pathogenic microbial molecules as ligands and mediate the activation of various cells and the secretion of various cytokines in the liver through binding with ligands, thus affecting the occurrence and development of HCC.
The Toll-like receptor (TLR) family not only recognizes pathogen-associated molecular patterns (PAMPs) but also recognizes and binds to damage signal-related molecular patterns (DAMP). When environmental factors cause hepatocyte necrosis, TLRs can stimulate the inflammatory response through the MyD88 signaling pathway, which binds to hepatocyte necrosis products, and eventually forms HCC [22].
5.4 TLR and Malignant Tumor
In addition to the expression in immune cells, TLR is also highly expressed in a variety of malignant tumor cells, especially in inflammatory tumor cells.
As an important sensor of cell damage, tissue repair and tissue remodeling, TLR is closely related to the occurrence and development of tumors. It has dual functions of anti-tumor and tumor-promoting. TLR high expression in inflammatory tissue can stimulate the body's innate immunity and acquired immunity, fight inflammation but also inhibit the occurrence of tumors; In tumor tissue, TLR protects tumor cells from the immune system. TLR plays an important role in the occurrence, development and treatment of tumors.
References
[1] Medzhitov R. A human homologue of the drosophila toll protein signals activation of adaptive immunity [J]. Nature, 1997, 388.
[2] Beutler, Bruce. Inferences, questions and possibilities in Toll-like receptor signalling [J]. Nature (London), 2004, 430(6996): 257-263.
[3]Botos I, Segal D, Davies D. The Structural Biology of Toll-like Receptors [J]. Structure, 2011, 19(4): 447-459.
[4] Yang R B, Mark M R, Gurney A L, et al. Signaling events induced by lipopolysaccharide-activated Toll-like receptor 2 [J]. The Journal of Immunology, 1999, 163(2): 639-643.
[5] Takeuchi, O. Discrimination of bacterial lipoproteins by Toll-like receptor 6 [J]. International Immunology, 2001, 13(7): 933-940.
[6] Takeuchi O. Differential roles of TLR2 and TLR4 in recognition of gram-negative and gram-positive bacterial cell wall components [J]. Immunity, 1999, 11.
[7] Alexopoulou L. Recognition of double-stranded RNA and activation of NF-kappaB by Toll-like receptor 3 [J]. Nature, 2001, 413.
[8] Hayashi F, Smith K D, Ozinsky A,et al . The innate immune response to bacterial flagellin is mediated by Toll-like receptor 5 [J]. Nature, 2001, 410(6832): 1099-1103.
[9] Hemmi H, Kaisho T, Takeuchi O, et al. Small anti-viral compounds activate immune cells via the TLR7 MyD88-dependent signaling pathway [J]. Nature Immunology, 2002, 3(2): 196-200.
[10] Heil F, Hemmi H, Hochrein H, et al. Species-Specific Recognition of Single-Stranded RNA via Toll-like Receptor 7 and 8 [J]. Science, 2004, 303(5663): 1526.
[11]Coban C, Ishii K J, Kawai T, et al. Toll-like receptor 9 mediates innate immune activation by the malaria pigment hemozoin [J]. Journal of Experimental Medicine, 2005, 201(1): 19-25.
[12] Akira S. Toll-like receptors : critical proteins linking innate and acquired immunity [J]. Nat Immunol, 2001, 2.
[13] Li S, Strelow A, Fontana E J, et al. IRAK-4: A novel member of the IRAK family with the properties of an IRAK-kinase [J]. Proceedings of the National Academy of Sciences of the United States of America, 2002, 99(8): 5567-5572.
[14] Arch R H, Gedrich R W, Thompson C B. Tumor necrosis factor receptor-associated factors (TRAFs)---a family of adapter proteins that regulates life and death [J]. Genes & Development, 1998, 12(18): 2821-2830.
[15] Hoshino Y, Honma S, Jones R W, et al. A porcine G9 rotavirus strain shares neutralization and VP7 phylogenetic sequence lineage 3 characteristics with contemporary human G9 rotavirus strains [J]. Virology, 2005, 332(1): 177-188.
[16] Hammad H, Chieppa M, Perros F, et al. House dust mite allergen induces asthma via Toll-like receptor 4 triggering of airway structural cells [J]. NATURE MEDICINE, 2009, 15(4): 410-416.
[17] Bezemer G F G, Sagar S, Van Bergenhenegouwen J, et al. Dual Role of Toll-Like Receptors in Asthma and Chronic Obstructive Pulmonary Disease [J]. Pharmacological Reviews, 2012, 64(2): 337-358
[18] Meng L, He X, Zhu W, et al. TLR3 and TLR7 Modulate IgE Production in Antigen Induced Pulmonary Inflammation via Influencing IL-4 Expression in Immune Organs [J]. PLOS ONE, 2011, 6(2): e17252.
[19] M. Adcock I, Papi A, Contoli M,et al. Molecular Mechanisms of Respiratory Virus-Induced Asthma and COPD Exacerbations and Pneumonia [J]. Current Medicinal Chemistry, 2006, 13(19): 2267-2290.
[20] Kormann M S D, Depner M, Hartl D, et al. Toll-like receptor heterodimer variants protect from childhood asthma [J]. Journal of Allergy and Clinical Immunology, 2008, 122(1): 86-92.e8.
[21] Dessing M C, Bemelman F J, Claessen N,et al. Intragraft Toll-like receptor profiling in acute renal allograft rejection [J]. Nephrology Dialysis Transplantation, 2010, 25(12): 4087-4092.
[22] Arii S, Teramoto K, Kawamura T, et al. Characteristics of recurrent hepatocellular carcinoma in Japan and our surgical experience [J]. Journal of Hepato-Biliary-Pancreatic Surgery, 2001, 8(5): 397-403.
[23] Hemmi H, Kaisho T, Takeuchi O, et al. Small anti-viral compounds activate immune cells via the TLR7 MyD88–dependent signaling pathway [J]. Nature Immunology, 2002, 3(2): 196-200.