Tumor immune micro-environment includes a wide range of complex interactions between tumor cell, immune cells (antigen presenting cells, T cell, NK cell, B cell, etc.), and tumor stroma. Host immune response against tumor is a result of competition between inhibitory and stimulatory signals. Immune checkpoints are important immune regulators in maintaining immune homeostasis and preventing autoimmunity and consist of inhibitory and stimulatory pathways that maintain self-tolerance and assist with immune response.
Generally speaking, immune checkpoints are restricted by a variety of inhibitory receptors and ligands during the process of the immune system to recognize and clear tumors. Such molecular interactions promote the transmission of inhibitory signaling pathways. Under normal circumstances, the immune checkpoint can maintain immune tolerance by regulating the intensity of the autoimmune reaction. When the body is attacked by the tumor, the activation of the immune checkpoint can inhibit autoimmunity, which is beneficial to the growth and escape of tumor cells. Immune checkpoint therapies act by blocking or stimulating these pathways and enhance the body's immunological activity against tumors. Here, we describe the inhibitory and stimulatory pathways through related targets.
1. Inhibitory pathways
Binding of inhibitory receptors (such as CTLA-4 and PD-1/PD-L1) to cancer cell or Tumor micro-environmental ligands leads to T cell attenuation, which enables the tumor cells to avoid immune-mediated destruction. About the two hot targets, you can click here to view more information. Similarly, other inhibitory pathways have been identified and new blocking agents are being developed to induce immune reaction against malignant cells. These inhibitory pathways can be classified as T cell associated and non-T cell associated. In this review, we primarily focus on the T cell associated inhibitory pathways, and non-T cell associated inhibitory pathways involve TGF-β, KIR, PI3K γ and CD47. You can click here to obtain more details.
1.1 LAG-3 (CD223)
LAG-3 (also called CD223) and CD4 are homologous proteins. But LAG-3 binds to major histocompatibility complex class II (MHCII) with higher affinity. It is mainly expressed in activated T lymphocytes, B lymphocytes, natural killer cells (NK) and plasma cytoid dendritic cells (pDCs), and negatively regulates T cell function. As the Figure 1 shows, studies have shown that LAG-3 selectively up-regulates CD4 on the surface of Treg, and thus LAG-3 antibodies reduce Treg activity in vivo. Inhibition or knockdown of LAG-3 will abolish the inhibitory function of Treg on T cells. In addition, in the absence of CD4+ T cells, LAG-3 antibodies are able to increase the function of CD8+ T cells. When T cells are disabled or depleted, they will express a variety of immune checkpoint molecules. In chronic infection models and autoantigen recognition models, LAG-3 and PD-1 usually have co-expression. Coordinated inhibition of LAG-3 and PD-1 enhances the immune response, so current clinical trials of LAG-3 antibodies are used alone or in combination with PD-1.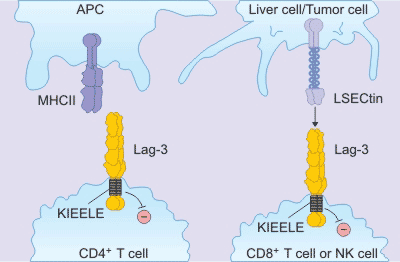 Figure 1. the mechanism of LAG-3
1.2 TIM-3
TIM-3 is a receptor protein of the TIM family and is expressed on the surface of T cells, Treg cells, and innate immune cells (dendritic cells, natural killer cells, and monocytes). TIM-3 has various ligands such as phosphatidylserine, galectin-9, HMGB1 and CEACAM-1.
Unlike other immune checkpoint molecules, TIM-3 is not up-regulated after T cell activation, and is up-regulated only in CD4+ helper T cell 1 (Th1) and CD8+ cytotoxic T cells, and participates in synergistic inhibition. Upon activation by its ligand galectin-9, TIM-3 inhibits the activity of effector T cells and causes peripheral tolerance. TIM-3 plays a key role in the loss of T cells in the tumor. TIM-3 is highly expressed in T cells of animals resistant to anti-PD-1 treatment. In an independent experiment, anti-TIM-3 antibodies inhibit the development of anti-PD-1 treatment resistance when used in combination with anti-PD-1 drugs.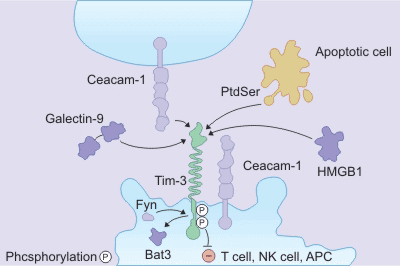 Figure 2. the mechanism of TIM-3
1.3 TIGIT
TIGIT (also known as Vsig9 or Vstm3 is an inhibitory receptor shared by T cells and NK cells containing Ig and ITIM domains. It is a type I transmembrane protein, including the extracellular domain of IgV and immunoglobulin tyrosine. TIGIT and CD226 (DNAM-1) compete for binding to ligands CD155 (PVR, NECL5) and CD113 (PVRL3, nectin-3). Blocking TIGIT in vitro enhances NK and T cell activation and degranulation levels. It also increases the secretion of cytokines such as IFN-γ; TIGIT expression is significantly up-regulated on NK and T cells in different mouse tumor models. As shown in the Figure 3.
Figure 3. the mechanism of TIGIT
2. Co-stimulatory pathways
As opposed to inhibitory pathways that attenuate the immune system, co-stimulatory molecules augment immunological responses against malignant cells. Malignant cells inhibit these pathways to promote tumorigenesis. Two types of co-stimulatory receptors have been discovered: the tumor necrosis factor receptor (TNFR) superfamily and the immunoglobulin B7-CD28 family. In addition to the expression of CD40 in antigen presenting cells (APC), the major co-stimulatory receptors are expressed on the surface of T, B or NK cells. Unlike immunological checkpoint inhibitors, which only need to bind receptors with high affinity, agonistic antibodies should mimic the binding mode between receptors and ligands to the greatest extent. In this part, we numerate an example of the two receptor families, respectively.
2.1 OX40
OX40, also known as CD134, ACT45, and TNFRSF4, is a member of the TNF receptor superfamily, mainly expressed by activated CD4, CD8 T cells, and Tregs, and in a lesser degree by neutrophils and NK cells. Whereas OX40L is expressed by dendritic cells, B cells, macrophages, and sites of inflammation. This molecule is 50 KD type I transmembrane glycoproteins. The outer N-terminal portion of OX40 is 191 amino acids, containing three intact and a slightly shorter cysteine region, while the intracellular region contains 36 amino acids. OX40, along with its ligand, OX40L, plays a pivotal role in activation, potentiation, proliferation, and survival of T cells and modulation of NK cell function.
As it shows in the Figure 4, because OX40 cannot be expressed by primary T cells as a co-stimulatory receptor, so its primary function is to act as a secondary co-stimulatory immune checkpoint molecule. OX40L also cannot replace cells by antigen, but it can be seen when it is activated. Binding OX40 to its own ligands modulates the activation and effector mechanisms of T cells.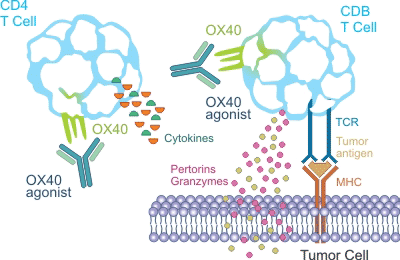 Figure 4. the mechanism of OX40
2.2 CD28
CD28 is a member of the B7-CD28 family receptors which mainly include CTLA-4, PD-1, CD28 and ICOS. Among them, CTLA-4 and PD-1 are co-suppressor receptors, and CD28 and ICOS are co-stimulatory receptors.
During T cell activation, the CD28 signal is produced following the activation of the TCR receptor and belongs to the second signal. The main ligands for CD28 are B7-1 and B7-2. B7-1 is expressed in the form of dimers on the cell membrane surface, which may contribute to the formation of a more stable signal complex, resulting in a stronger activation effect, while B7 -2 appears mostly as a monomer. CD28 recruits PI3K/AKT or RAS signaling through two motifs of the protein C-terminus, YMNM and PYAP. And it regulates the expression of related genes of T cells which play a key role in proliferation, survival and effector of T cells via downstream mTOR/NF-κB/NFAT or ERK, promoting T cell activation. Moreover, CD28 can also recruit and activate the protein kinase PKCθ, which also plays an important role in T cell activation and inflammatory cytokine IL-2 secretion.
In addition to the above pathways, there are also many other potential pathways. If you want to know more information, you can click here.