As described in the question- What is an immune checkpoint? Immune checkpoints are regulators of the immune system. These immune checkpoints are crucial for self-tolerance, which prevents the immune system from attacking cells indiscriminately. Proteins are large biomolecules, or macromolecules, consisting of one or more long chains of amino acid residues. Immune checkpoint proteins refer to a series of proteins coded by the gene of immune checkpoints.
Immunological checkpoint proteins play an important role in the field of cancer immunotherapy research, which is a series of molecules that produce co-stimulatory or inhibitory signals in immune responses. Cancer cells escape the immune system by weakening the immune response by making the immune checkpoint signal abnormal. Therefore, it is an important way to treat cancer by strengthening the immune response by agonists of co-stimulatory signals or antagonists of co-suppression signals to kill cancer cells. CUSABIO's R&D team has developed about 50 immune checkpoint related proteins. Please click here to view all of immune checkpoints.
Over more than 11 years, CUSABIO Protein Expression Platform has established five recombinant expression systems from prokaryotic to eukaryotic, and has also built unique in vitro E. coli expression system, which enables us to express transmembrane proteins that are usually quite difficult to express. The quality of our proteins is the cornerstone of our ability to serve our clients. For this reason, we invest tremendous resources in developing proteins, validating their application, controlling and improving quality. Each protein will undergo our standardized quality control process before shipped, which include concentration detection, purity detection, endotoxin removal, activity detection, et al. In addition to strict quality control, there are some reasons to choose CUSABIO's proteins.
There are several active immune checkpoint proteins confirmed by our strict quality control. As the Table 1 shows:
Table 1. The active immune checkpoint proteins from CUSABIO
| Product Name | Code | Uniprot ID | Source |
| --- | --- | --- | --- |
| Recombinant Human CD160 antigen(CD160) | CSB-AP005221HU | O95971 | Mammalian cell |
| Recombinant Human Tumor necrosis factor receptor superfamily member 5(CD40),partial | CSB-AP005171HU | P25942 | Mammalian cell |
| Recombinant Human Tumor necrosis factor receptor superfamily member 5(CD40),partial | CSB-AP005181HU | P25942 | Mammalian cell |
| Recombinant Human CD40 ligand(CD40LG),partial | CSB-AP005191HU | P29965 | E.coli |
| Recombinant Human Leukocyte surface antigen CD47(CD47),partial | CSB-AP005201HU | Q08722 | Mammalian cell |
| Recombinant Human Leukocyte surface antigen CD47(CD47),partial | CSB-AP005211HU | Q08722 | Mammalian cell |
| Recombinant Mouse Leukocyte surface antigen CD47(Cd47),partial | CSB-AP005351MO | Q61735-2 | Mammalian cell |
| Recombinant Human T-lymphocyte activation antigen CD86(CD86),partial | CSB-AP005161HU | P42081 | Mammalian cell |
| Recombinant Guinea pig Cytotoxic T-lymphocyte associated protein 4(CTLA4),partial | CSB-AP005121GU | H0VUB1 | Yeast |
| Recombinant Human Cytotoxic T-lymphocyte protein 4(CTLA4),partial | CSB-AP005231HU | P16410 | Mammalian cell |
| Recombinant Mouse Cytotoxic T-lymphocyte protein 4(Ctla4),partial | CSB-AP005301MO | P09793 | Mammalian cell |
| Recombinant Human Hepatitis A virus cellular receptor 2(HAVCR2),partial | CSB-AP005281HU | Q8TDQ0 | Mammalian cell |
| Recombinant Human Hepatitis A virus cellular receptor 2(HAVCR2),partial | CSB-AP005291HU | Q8TDQ0 | Mammalian cell |
| Recombinant Mouse Hepatitis A virus cellular receptor 2 homolog(Havcr2),partial | CSB-AP005341MO | Q8VIM0 | Mammalian cell |
| Recombinant Human Tyrosine-protein phosphatase non-receptor type substrate 1(SIRPA),partial | CSB-AP005271HU | P78324 | Mammalian cell |
| Recombinant Mouse Tumor necrosis factor receptor superfamily member 14(Tnfrsf14),partial | CSB-AP005311MO | Q80WM9 | Mammalian cell |
| Recombinant Human Tumor necrosis factor receptor superfamily member 4(TNFRSF4),partial | CSB-AP005241HU | P43489 | Mammalian cell |
| Recombinant Human Tumor necrosis factor receptor superfamily member 4(TNFRSF4),partial | CSB-AP005251HU | P43489 | Mammalian cell |
| Recombinant Mouse Tumor necrosis factor receptor superfamily member 4(Tnfrsf4),partial | CSB-AP005321MO | P47741 | Mammalian cell |
| Recombinant Mouse Tumor necrosis factor receptor superfamily member 4(Tnfrsf4),partial | CSB-AP005331MO | P47741 | Mammalian cell |
| Recombinant Human Tumor necrosis factor receptor superfamily member 9(TNFRSF9),partial | CSB-AP005131HU | Q07011 | Mammalian cell |
| Recombinant Human Tumor necrosis factor receptor superfamily member 9(TNFRSF9),partial | CSB-AP005141HU | Q07011 | Mammalian cell |
| Recombinant Human Tumor necrosis factor receptor superfamily member 9(TNFRSF9),partial | CSB-AP005151HU | Q07011 | Mammalian cell |
| Recombinant Human Tumor necrosis factor ligand superfamily member 4(TNFSF4),partial | CSB-AP005261HU | P23510 | Mammalian cell |
Partial active immune checkpoint proteins activity verification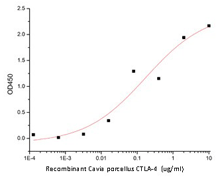 The ED50 as determined by its ability to bind Mouse B7-1 in functional ELISA is less than 0.4 ug/ml. (Code: CSB-AP005121GU)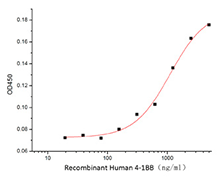 The ED50 as determined by its ability to bind Human TNFSF9 in functional ELISA is less than 50 ug/ml. (Code: CSB-AP005141HU)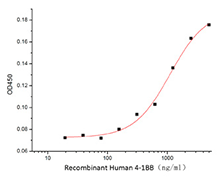 The ED50 as determined by its ability to bind Human SIRPA in functional ELISA is less than 20 ug/ml. (Code: CSB-AP005201HU)