Lymphocytes are the smallest white blood cells. It is an immune-recognition cell line produced by lymphoid organs. According to their migration, surface molecules and functions, they can be divided into three categories: T lymphocytes (T cells), B lymphocytes (B cells) and natural killer (NK) cells.
3. T Lymphocyte
T cells are antigen-specific lymphocytes derived from hematopoietic tissue and mature in the thymus. This is where their name comes from - thymus dependent lymphocytes. T cells can be divided into helper T cells (Th), cytotoxic T cells (Tc), and regulatory T cells (Treg). Changes in the Th/Tc ratio can alter the immune function of the body [8]. When stimulated by antigen, T lymphocytes are transformed into lymphoblasts and then differentiated into sensitized T lymphocytes, which are involved in cellular immunity. Its immune function is mainly anti-intracellular infection, tumor cells and allogeneic cells.
NKT lymphocytes are T lymphocyte subsets with NK cell characteristics [9], which have both the anti-tumor immune activity of T lymphocytes and the non-MHC limiting tumor-killing characteristics of NK cells [10].
NKT lymphocytes are important cells in the body against infection, tumor resistance, and regulation of autoimmune balance [11].
3.1 T Cell Surface Markers
In T lymphocytes, helper T cells can be further divided into Th0, Th1, Th2, Th3 (TGF-β), Th17 (IL17), etc.
The distinction between Th1 and Th2 can be made using a relatively specific marker CD antigen:
Th2---CD3+CD4+CD30+
Th1 cell surface markers also include IL-12β2R [12] and IL-18R [13].
The study found [14] that Th1/Th2 imbalance disorders are involved in a variety of disease processes, such as tumor immunity, transplant immunity and allergies.
In T lymphocytes, cytotoxic T cells (Tc) can be further divided into:
Tc1 (IFN-γ) and Tc2 (IL-4, IL-5, IL-10).
The relatively specific CD antigen markers that distinguish Tc1 from Tc2:
Tc1---CD3+CD8+CD30-
Tc2---CD3+CD8+CD30+
The following table is a surface marker for T lymphocytes.
Table 1 Main CD antigens and their distribution on T cell surface
| CD antigen | Distribution |
| --- | --- |
| CD2(ER) | All T cells and all NK cells |
| CD3 | Mature T cell |
| CD4(HIVR) | Th cell |
| CD8 | Tc cells, partial NK cells |
| CD25(IL-2R) | Activated T cell |
| CD28 | T cell |
| CTLA-4 | Activated T cell |
| CD40L | Activated T cell |
CD2, also known as LFA2, is an adhesion molecule that binds to sheep red blood cells (SRBC) and is also known as the sheep red blood cell receptor (E receptor). Its ligand is LAF3. It enhances adhesion between T cells and APCs or target cells, and promotes T cell recognition of antigens. Its cytoplasmic domain can be linked to a variety of tyrosine kinases and mediate signaling.
3.1.2 CD3
CD3 binds to the TCR transmembrane region to form a stable TCR-CD3 complex. In this complex, the TCR is responsible for recognizing the antigenic peptide-MHC molecular complex, and the CD3 molecule is responsible for transmitting the activation signal into the cell.
The cytoplasmic domain of the CD3 molecule contains an immunoreceptor tyrosine activation motif (ITAM) related to immune cell activation signal transduction, indicating that it is involved in immune cell activation.
CD4 is a T helper cell marker, which is a single chain transmembrane protein. The extracellular structure belongs to IgSF, and there are four IgSF domains. The first and second domains can bind to MHC class II molecules. CD4 acts as a co-receptor for the TCR-CD3 complex recognition antigen and participates in signal transduction by binding to the MHC class II molecule, p56lek kinase.
3.1.4 CD8
CD8 is a cytotoxic T cell marker, a heterodimer formed by the linkage of α and β chains by disulfide bonds, and the extracellular structure is an IgSF member. The cytoplasmic region of CD8 molecule can be combined with p56lek kinase to participate in signal transduction. CD8+T lymphocytes, which can specifically kill target cells, have anti-tumor, antiviral and important immunomodulatory effects, and their main function is to inhibit the immune response [15].
CD4 and CD8 molecules divide T cells into two distinct subpopulations. CD4 and CD8 are receptors of MHC class II or MHC class I molecules, respectively, and the changes in the number and ratio of CD4+ and CD8+ cells reflect the immune function status of the body.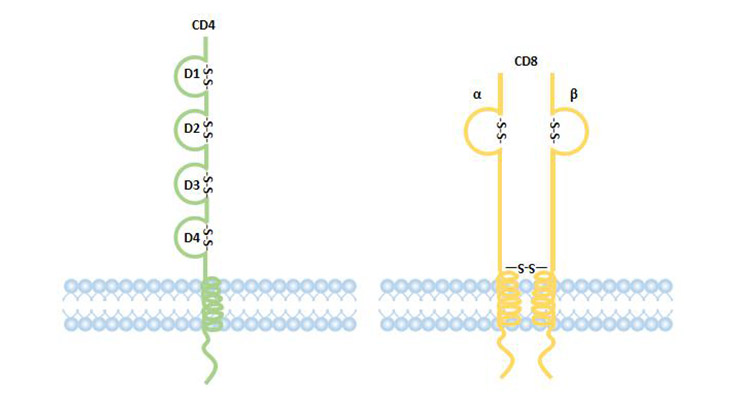 Figure 2 Structure of CD4 and CD8 coreptor
They are classic costimulatory molecules. Structurally, both are highly homologous and are homologous dimers formed by the joining of two polypeptide chains.
CD28: It is expressed in almost all CD4+ T cells, 50% CD8+ T cells. Plasma cells and partially activated B cells are also expressed.
CTLA-4: It expressed only on activated T cells.
The natural ligand of CD28 and CTLA-4 is B7 (CD80/CD86).
CD28-B7 (CD80/CD86) delivers a second signal of T cell activation (co-stimulatory signal).
CTLA-4 -B7 (CD80/CD86) gives activated T cell inhibition signal.
3.1.6 CD40L (CD154)
It belongs to the type Ⅱ transmembrane protein, mainly expressed in the activation of CD4 + T cells and CD8 + T cell surface. CD40L interacts with CD40 on the surface of B cells, providing synergistic stimulation signals to promote B cell proliferation, differentiation, antibody synthesis, and thymus-dependent antigen (TD-Ag)-induced immune responses.
3.1.7 Virus Receptors
Through these receptors, the virus can selectively infect a subset of T cells. For example, HIV can cause AIDS by infecting helper T cells (CD4+ cells).
3.1.8 Other Surface Markers
Interleukin receptors, integrin receptors, transferrin receptors, and the like.
References
[1] Niu J, Chang Y, Lu X, et al. Effect of dendritic cell vaccine therapy on lymphocyte subpopulation in refractory primary brain tumor [J]. Indian J Cancer, 2016, 52(4): 587-589.
[2] Hsieh CT, Luo YH, Chien CS, et al. Induced pluripotent stem cellconditioned medium suppressed melanoma tumorigenicity through the enhancement of Natural-Killer cellular immunity [J]. J Immunother, 2016, 39(4): 153-159.
[3] Lisse I M, Qureshi K, Poulsen A, et al. T-lymphocyte subsets and eosinophil counts in acute and convalescence chickenpox infection: a household study in Guinea-Bissau [J]. Journal of Infection, 2005, 50(2): 125-129.
[4] Yushchuk N D, Gadzhikulieva M M, Balmasova I P, et al. The role of immune factors in the progression of chronic kidney diseases in HIV infection [J]. Ter Arkh, 2015, 88(3): 56-61.
[5] Bravo Soto JA, Esteban De La Rosa RJ, Luna Del Castillo JD, et al. Effect of mycophenolate mofetil regimen on peripheral blood lymphocyte subsets in kidney transplant recipients [J]. Transplant Proc, 2003, 35(4): 1355-1359.
[6] Cho JH, Yoon YD, Jang HM, et al. Immunologic monitoring of T-Lymphocyte subsets and Hla-Dr-Positive monocytes in kidney transplant recipients: a prospective, observational cohort study [J]. Medicine (Baltimore), 2015, 94(44): e1902.
[7] Papamichail M. T and B Lymphocytes: Origins, Properties and Roles in Immune Responses [J]. Immunology, 1975, 28(1).
[8] Yasutomo K. The cellular and molecular mechanism of CD4/CD8 lineage commitment [J]. Journal of Medical Investigation Jmi, 2002, 49(1-2): 1.
[9] Godfrey D I, Macdonald H R, Kronenberg M, et al. NKT cells: what's in a name? [J]. Nature Reviews Immunology, 2004, 4(3): 231-237.
[10] Yamaguchi Y, Ohshita A, Kawabuchi Y, et al. Adoptive immunotherapy of cancer using activated Autologous lymphocytes-current status and new strategies [J]. Human Cell, 2010, 16(4): 183-189.
[11] Brigl M, Brenner M B. CD1: Antigen Presentation and T Cell Function [J]. Annual Review of Immunology, 2004, 22(1): 817-890.
[12] Rogge L, Barberis - Manino L, Biffi M, et al. Selective expression of an IL - 12 receptor component by human T helper 1 cells [J]. J Exp Med, 1997 , 185: 825-831.
[13] Xu D,Chan WL,Leung BP, et al. Selective expression and functions of IL - 18 recptor on T helper (Th) type 1 but not Th2 cells [J ]. J Exp Med,1998 ,188 (8): 1485-1492.
[14] Mosmann TR, Cherwinski H, BondMW, et al. Two types of murine helper T cell clone. I. Defination according to profiles of lymphokine activities and secreated proteins [J]. J Immunol, 1986 , 136: 2348-2357.
[15] Appay V, Lier R A W V, Sallusto F, et al. Phenotype and function of human T lymphocyte subsets: Consensus and issues [J]. Cytometry, 2008, 73A(11): 975-983.
[16] Yu Q M, Yu C D, Ling Z Q. Elevated Circulating CD19(+) Lymphocytes Predict Survival Advantage in Patients with Gastric Cancer [J]. Asian Pacific journal of cancer prevention, 2012, 13(5): 2219-2224.
[17] Aura M, Marcel C G, Andrea V, et al. Priming of NK Cell Anti-Viral Effector Mechanisms by Direct Recognition of Human Cytomegalovirus [J]. Frontiers in Immunology, 2013, 0-4.
[18] Krzywinska E, Allende-Vega N, Cornillon A, et al. Identification of Anti-tumor Cells Carrying Natural Killer (NK) Cell Antigens in Patients With Hematological Cancers [J]. EBioMedicine, 2015, 2(10): 1364-1376.
[19] Galazka G, Jurewicz A, Domowicz M, et al. HINT1 peptide/Hsp70 complex induces NK-cell-dependent immunoregulation in a model of autoimmune demyelination [J]. Eur J Immunol, 2014, 44(10): 3026-3044.
[20] Lay W H, Mendes N F, Bianco C, et al. Binding of sheep red blood cells to a large population of human lymphocytes [J]. Nature, 1971, 230(5295): 531-2.
[21] Brain P, Gordon J. Rosette formation by peripheral lymphocytes. II. Inhibition of the phenomenon [J]. Clinical & Experimental Immunology, 1971, 8(3): 441-9.
[22] Gopalakrishnan S, Sen S, Adhikari J S, et al. The role of T-lymphocyte subsets and interleukin-5 blood levels among Indian subjects with autoimmune thyroid disease [J]. Hormones (Athens, Greece), 2010, 9(1): 76-81.
[23] Harrington L E, Hatton R D, Mangan P R, et al. Interleukin 17–producing CD4+ effector T cells develop via a lineage distinct from the T helper type 1 and 2 lineages [J]. Nature Immunology, 2005, 6(11): 1123-1132.