Atherosclerosis
Cardiovascular disease (CVD) remains the leading cause of death worldwide, including myocardial infarction (MI), heart failure, stroke and claudication [1]. Atherosclerosis, the dominant cause of CVD, is mainly located in the intima of many middle sized and large arteries, especially where the vessels divide [2]. So what is Atherosclerosis? How it develops? And what are the symptoms and treatments? Please continue to read on…
1. What is Atherosclerosis?
Atherosclerosis is a narrowing of the arteries that can restrict blood flow. In atherosclerosis, the arteries are narrowed when fatty deposits called plaques build up inside. This narrows the channel within the artery – reducing blood flow. That lessens the amount of oxygen and other nutrients reaching the body. Plaques are made up fatty substances, cholesterol, calcium and fibrin.
2. How Does it Develop?
Atherosclerosis, a multifocal, smoldering, immunoinflammatory disease, is a slow, lifelong progression of changes in the blood vessels [3]. The atherosclerotic plaque is featured by an accumulation of lipids in the artery wall, together with infiltration of immunocytes (such as macrophages, T cells and mast cells) and the formation by vascular smooth muscle cells of a fibrous cap composed mostly of collagen. Early lesions called 'fatty streaks' consist of sub-endothelial depositions of lipids, macrophage foam cells loaded with cholesterol and T cells (Figure 1).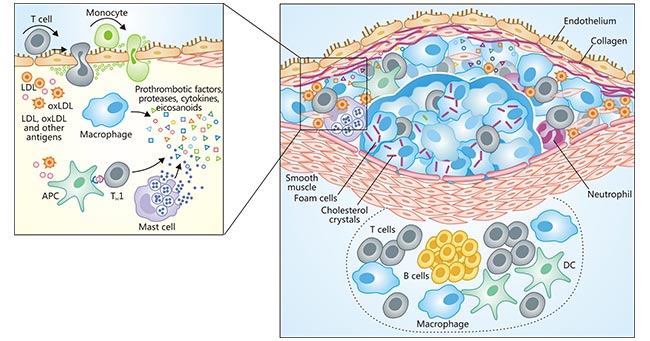 Figure 1. Immune components of the atherosclerotic plaque
*This diagram is derived from reference 4.
Over time, a more complex lesion develops, with apoptotic as well as necrotic cells, cell debris and cholesterol crystals forming a necrotic core in the lesion. This structure is covered by a fibrous cap of variable thickness, and its 'shoulder' regions are infiltrated by activated T cells, macrophages and mast cells, which produce proinflammatory mediators and enzymes [5]. Plaque growth can cause stenosis (narrowing of the lumen) that can contribute to ischemia in the surrounding tissue.
3. What are Symptoms of Atherosclerosis?
Generally speaking, mild arteriosclerosis may not have any symptoms until it severely narrows or totally blocks an artery, because plaque buildup happens gradually. Many people don't know they have the disease until they have a medical emergency, such as a heart attack or stroke. Symptoms of moderate to severe arteriosclerosis depend on which arteries are affected, including:
Heart. Symptoms include the chest pain or angina and shortness of breath;
Legs or arms. Narrowing of the leg arteries or arms from atherosclerosis is known as peripheral artery disease. Muscle weakness in your legs or arms from lack of blood circulation;
Brain. Confusion or dizziness can occurs if the blockage affects circulation to your brain;
Abdomen. When atherosclerosis narrows the arteries to the intestines, there may be dull or cramping pain in the middle of the abdomen.
4. What are the Stages of Atherosclerosis Development?
Researches have proved that there are three different stages of atherosclerosis (Figure 2). The first stages of atherosclerosis is the formation of the fatty streak on the endothelial lining (inner layer) of the arteries. This stage can sometimes be found in children as young as 10 years of age. The fatty streak phase alone does not cause any noticeable symptoms but can progress into a more dangerous phase of atherosclerosis called a fibrous plaque, a second stage of atherosclerosis.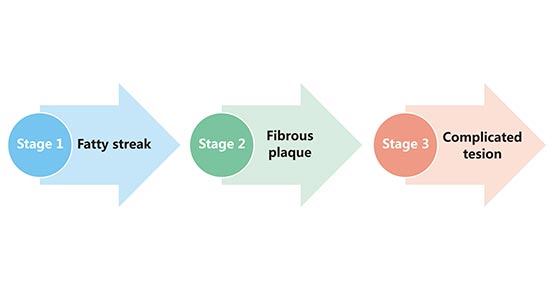 Figure 2. Stages of atherosclerosis
A fibrous plaque develops within the inner layer of the arteries, which consists of a huge number of macrophages, smooth muscle cells and lymphocytes. These types of cells are completely filled with accumulated cholesterol. As the fibrous plaque grows, it begins to protrude into the vessel causing narrowing of the lumen of the arteries as well as stagnation of blood flow in them. The final stage of atherosclerosis is called complicated lesion, which starts when a fibrous plaque ruptures, exposing the cholesterol and connective tissue under it, thus provoking an intense blood coagulation reaction (leading to the formation of multiple blood clots or thrombi).
5. What are the Treatments for Atherosclerosis?
Treatments for atherosclerosis usually include heart-healthy lifestyle changes, medicines, and medical procedures or surgery. Among of them, heart-healthy lifestyle changes involve heart-healthy eating, aiming for a healthy weight, managing stress, physical activity and quitting smoking. Sometimes, if lifestyle changes alone aren't enough to control your cholesterol levels, your doctor may discuss beginning statin or other medications treatment. These medications aim to lower your blood pressure and blood sugar levels, prevent blood clots and inflammation. Finally, if you have severe atherosclerosis, your doctor may recommend a medical procedure or surgery, including percutaneous coronary intervention (PCI), coronary artery bypass grafting (CABG) and carotid endarterectomy.
6. What are the Potential Targets of Atherosclerosis Treatment?
Studies show that atherosclerosis is a slow, complex disease that may start in childhood, although the exact cause is still unknown. Combining with the clinical data, we list several drugs of potential targets which have been approved for atherosclerosis treatment on the following table:
Target Name
Drug name
Originator company
Indications
HMGCR
Atorvastatin Calcium Hydrate
Pfizer
Type II hyperlipoproteinemia; hypercholesterolemia; Coronary artery disease
Fluvastatin Sodium
Novartis Ringaskiddy Ltd
Coronary artery disease; Atherosclerosis; Hypercholesterolemia; Dyslipidemia
P2RY12
Ticagrelor
Astrazeneca Ab
Stroke; Acute coronary syndrome; Myocardial infarction; Peripheral vascular disease
Clopidogrel Bisulfate/Aspirin
Sanofi-Aventis
Acute coronary syndrome; Thrombosis; Myocardial infarction; Angina pectoris
PCSK9
Alirocumab
Sanofi-Aventis
Atherosclerosis; Hypercholesterolemia; Dyslipidemia; Type II hyperlipoproteinemia
Evolocumab
Amgen Manufacturing Ltd,
Astellas Pharma Inc
Pure-sibling familial hypercholesterolemia; Atherosclerosis; Hypercholesterolemia; Dyslipidemia
COX-1
Tocopherol acetate
/
Atherosclerosis; Intermittent claudication; Venous thromboembolism; Diabetic retinopathy; Thrombosis
HMGCR (3-Hydroxy-3-Methylglutaryl-CoA Reductase) is the rate-limiting enzyme for cholesterol synthesis by catalyzing the conversion of (3S)-hydroxy-3-methylglutaryl-CoA (HMG-CoA) to mevalonic acid. It plays a critical role in cellular cholesterol homeostasis [6] [7].

P2RY12 (P2Y purinoceptor 12), a chemoreceptor for adenosine for adenosine 5' diphosphate (ADP), is 7-membrane-spanning proteins coupled to G proteins. They are activated by nucleotides, extracellular signaling molecules that are released from damaged cells or secreted via non‐lytic mechanisms during inflammatory, ischemic, and hypoxic conditions [8].P2RY12 plays a central role in platelet function, hemostasis, and thrombosis [9].

PCSK9 (Proprotein convertase subtilisin/kexin type 9) is an enzyme that binds to low-density lipoprotein receptors (LDL receptors), which stops LDL being removed from the blood, leading to an increase in blood levels of LDL [10]. PCSK9 also appears to modulate glucose intolerance, insulin resistance, abdominal obesity, inflammation, and hypertension.

COX-1 (Cyclooxygenase-1) is an integral membrane protein located primarily in the endoplasmic reticulum. It is a constitutive enzyme that converts arachidonic acid into PGG2, a key player in inflammation, while the subsequent peroxidase reaction converts PGG2 to PGH2 [11].
7. What are the Differences between Arteriosclerosis and Atherosclerosis?
Arteriosclerosis and atherosclerosis are not same. In fact, atherosclerosis is one of arteriosclerosis. I display the differences between atherosclerosis is one of arteriosclerosis from the following three sections:
Arteriosclerosis
Atherosclerosis
Definition
It is a non-inflammatory lesion of the arteries that causes thickening and hardening of the arterial walls, loss of elasticity, and narrowing of the lumen. It is a vascular disease that occurs with age, usually occurs in adolescence and worsens and develops in middle and old age. Arteriosclerosis will definitely appear with age, but the degree varies due to genetic and lifestyle reasons.
It is characterized by a thickening and hardening of the arterial wall and narrowing of the lumen starting from the intima as a chronic inflammatory lesion. It usually accompanies with accumulation of lipids and complex sugars, hemorrhage and thrombosis, followed by fibrous tissue proliferation and calcium deposition, and progressive metamorphosis and calcification of the middle layer of the artery.
Symptoms
Hardening of blood vessels and narrowing of the lumen of blood vessels throughout the body;
Decreasing in blood and oxygen supply to tissues and organs of the body, muscle atrophy and skin laxity;
Related to age.
Local lumen narrowing;
Do not related to age;
The main causes of ischemic diseases, including heart attack, angina pectoris, cerebral infarction, limb ischemia.
Process of development
Decreased endothelial function → thickening of the arterial wall → loss of elastic fiber curvature→ overall vascular stenosis without significant local bulging→ systemic aging disease
Vascular endothelial injury → lipid pattern → fibrous cap→atheromatous plaque→ vascular lipid obstruction→local ischemic disease
References
[1] WHO. Global status report on noncommunicable diseases 2010. In: Alwan A, editor. Apps. Who. Int. Geneva; 2010. pp. 1–176.
[2] Johan Frostegård. Immunity, atherosclerosis and cardiovascular disease [J]. BMC Med. 2013, 11: 117.
[3] Falk E. Pathogenesis of atherosclerosis [J]. J Am Coll Cardiol. 2006. 18;47(8 Suppl):C7-12.
[4] Göran K Hansson & Andreas Hermansson. The immune system in atherosclerosis [J]. Nature Immunology. 2011, 12 (3):204-212. [5] Hansson, G.K., Robertson, A.K.L. & Söderberg-Nauclér, C. Inflammation and atherosclerosis [J]. Annu. Rev. Pathol. 2006, 1, 297–329.
[6] Cuccioloni M, Mozzicafreddo M, Spina M, et al. Epigallocatechin-3-gallate potently inhibits the in vitro activity of hydroxy-3-methyl-glutaryl-CoA reductase [J]. J Lipid Res. 2011, 52(5):897-907.
[7] Brown MS, Goldstein JL. Multivalent feedback regulation of HMG CoA reductase, a control mechanism coordinating isoprenoid synthesis and cell growth [J]. J Lipid Res. 1980, 21(5):505-17.
[8] Jacobson KA, Deflorian F, Mishra S, et al. Pharmacochemistry of the platelet purinergic receptors [J]. Purinergic Signal. 2011; 7: 305–24.
[9] Cattaneo M. P2Y12 receptors: structure and function [J]. J Thromb Haemost. 2015, 13 Suppl 1:S10-6.
[10] Melendez QM, Krishnaji ST, Wooten CJ, et al. Hypercholesterolemia: The role of PCSK9 [J]. Arch Biochem Biophys. 2017, 625-626:39-53.
[11] Vanhoutte PM. COX-1 and vascular disease [J]. Clin Pharmacol Ther. 2009, 86(2):212-5.