Diabetes and Cardiovascular Disease
Diabetes is one of the most challenging diseases threatening human health in the 21st century, and cardiovascular disease (CVD) is the leading cause of death in people with diabetes. The risk of CVD for adults with diabetes is at least two to four times the risk in adults without diabetes [1]. A close link exists between diabetes and cardiovascular disease, which is the most prevalent cause of morbidity and mortality in diabetic patients. Cardiovascular risk factors such as obesity, hypertension and dyslipidemia are common in patients with DM, placing them at increased risk for cardiac events [2]. Here, we collect several popular questions about cardiovascular disease and Diabetes.
1. What is the Connection between Diabetes and Cardiovascular Disease?
Diabetes, a disease of glucose intolerance, is a chronic (long-lasting) health condition that affects how your body turns food into energy. Cardiovascular disease is a common complication of diabetes. As mentioned previous, a close link exists between diabetes and cardiovascular disease. The connection between diabetes and cardiovascular disease usually starts with high blood sugar levels. Over time, the high glucose in the bloodstream can damage the arteries, causing them to become stiff and hard. Fatty material that builds up on the inside of these blood vessels, a condition known as atherosclerosis. This can eventually block blood flow to the heart or brain, leading to heart attack or stroke. For people with diabetes, one of the aims of sugar control is to reduce the risk of cardiovascular disease.
2. What is the Pathogenesis of Cardiovascular Disease in Diabetes?
The pathophysiology of cardiovascular disease in diabetes is complex and multifactorial. Understanding these profound mechanisms of disease can help clinicians identify and treat cardiovascular disease in patients with diabetes, as well as help patients prevent these potentially devastating complications [3]. The mechanisms involved in the pathogenesis of cardiovascular disease in diabetes usually comprehend epigenetic changes and intracellular metabolic changes that result in oxidative stress, low-grade inflammation, and endothelial dysfunction (Figure 1).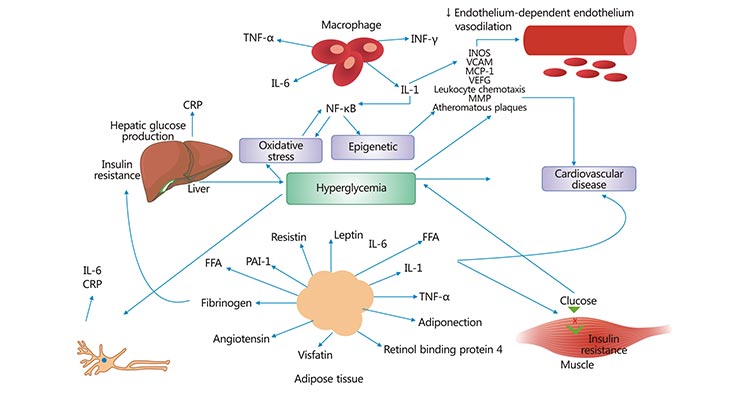 Figure 1. Pathogenesis of cardiovascular disease in diabetes
*This picture is derived from reference 4
2.1 Epigenetics
Currently, compelling evidence has linked epigenetic factors to many human diseases including diabetes and cardiovascular disease [5] [6]. Epigenetic factors could mediate the interplay between genes and environment resulting in activation or repression of genetic transcription, or even silencing the genetic transcription by different types of reactions. The most important epigenetic reactions affecting genetic transcription are acetylation and methylation. These reactions occur mainly in the tail of histones that are proteins where DNA is wrapped.
2.2 Oxidative stress
Oxidative stress is currently the unifying factor in the development of diabetes complications and usually occurs when the cellular production of reactive oxygen species (ROS) exceeds the capacity of anti-oxidant defenses within cells. Under normal conditions, ROS acts as signaling molecules for both physiological and pathophysiological properties. ROS is mainly produced in the vascular wall and mitochondria. The ROSs produced in the vascular wall are involved in various cellular events such as mitosis, apoptosis, migration, hypertrophy and extracellular matrix modification, and changes in gene transcription and protein synthesis.
2.3 Inflammation
Inflammation is a normal response to tissue injury or pathogen exposure and is a critical factor in the body's ability to heal itself or to fight off infection. Diabetes has long been considered a state of chronic, low-level inflammation [7], which is characterized by overexpression of cytokines produced by adipose tissue, activated macrophages, and other cells [8]. There is some evidence to suggest that this immune activation may precede insulin resistance in diabetic and pre-diabetic states and ultimately may be the factor that initially increases cardiovascular risk in these disease processes. Inflammatory mediators (such as TNF-𝛼, IL-1, IL-6, leptin, MCP-1, PAI-1, CRP, fibrinogen, RBP4, and adiponectin) are involved in signaling pathways, in insulin action, and perpetuation of inflammatory response [8]. These cytokines are involved in the chronic inflammatory process of the vessels wall, promoting lipid accumulation with consequent development of atherosclerosis and cardiovascular disease.
3. What are the Treatments of Cardiovascular Disease in Diabetes?
As mentioned previous, we can find almost all the risk factors associated with cardiovascular disease in diabetic patients, such as hyperglycaemia, dyslipidaemia, hypertension, high blood viscosity, etc. Diabetes is often accompanied by cardiovascular disease, which largely accelerates the risk and course of atherosclerotic heart disease, stroke, nephropathy and retinopathy. Clinical studies have shown that over 70% of patients diagnosed with diabetes eventually die from heart attacks. So what are the treatments of cardiovascular disease in diabetes? The treatments primarily focus on two points. One is blood pressure management, the other is blood lipid management.
3.1 Blood Pressure Management
Regarding of blood pressure management, all patients with diabetes combined with hypertension should consistently monitor their blood pressure at home. Your doctor will take antihypertensive treatments for you to control your hypertension.
Patients with diabetes combined with blood pressures more than 120/80 mm Hg should first be offered lifestyle interventions including weight loss in overweight and obese individuals, a low sodium, high potassium diet, reduced alcohol intake and increased physical activity.

In addition to lifestyle interventions, pharmacological treatment should be initiated to achieve blood pressure targets when the office blood pressure is more than 140/90 mm Hg.

For BP more than 160/100 mm Hg, a combination of two drugs or a single tablet combination should be initiated in addition to lifestyle interventions to achieve BP compliance and thereby reduce the incidence of cardiovascular events.
3.2 Blood Lipid Management
The blood lipid management usually involves three parts, including lifestyle interventions, lipid monitoring and statin therapy.
Lifestyle interventions. Patients with diabetes should be motivated to improve their lifestyle, including: weight loss in overweight and obese patients; reduction of saturated fatty acids, trans fatty acids and cholesterol intake; increased dietary intake of n-3 fatty acids, crude fibre and phytosterols; and increased physical activity. Patients with high triacylglycerols (more than 1.7 mmol/L) and low HDL cholesterol (less than 1.0 mmol/L in men and 1.3 mmol/L in women) should have increased lifestyle interventions and glycaemic management.

Lipid monitoring. For those not on lipid-lowering therapy, lipid levels should be recorded at the time of diagnosis of diabetes and assessed at 5-year intervals. Lipid levels should be tested every 4-12 weeks after initiation of lipid-lowering therapy or adjustment of treatment regimen and annually thereafter.

Statin therapy. High intensity statin therapy should be used in all age groups with diabetes mellitus combined with atherosclerotic cardiovascular disease (ASCVD), based on lifestyle interventions. For patients under 40 years of age with diabetes mellitus who are at high risk of other cardiovascular disease, moderate intensity statin therapy should be considered in addition to lifestyle interventions. For patients with diabetes without ASCVD, moderate-intensity statin therapy should be considered on the basis of lifestyle interventions. In patients with diabetes mellitus combined with ASCVD, if LDL more than 1.8 mmol/L remains after treatment with the maximum tolerated dose of statins, the addition of ezetimibe or preprotein convertase chymotrypsin 9 inhibitor should be considered.
References
[1] Lloyd CE, Kuller LH, Ellis D, et al. Coronary artery disease in IDDM. Gender differences in risk factors but not risk [J]. Arterioscler Thromb Vasc Biol. 1996 Jun; 16(6):720-6.
[2] Leon BM, Maddox TM. Diabetes and cardiovascular disease: Epidemiology, biological mechanisms, treatment recommendations and future research [J]. World J Diabetes. 2015 Oct 10; 6(13):1246-58.
[3] Dokken, B. B. The Pathophysiology of Cardiovascular Disease and Diabetes: Beyond Blood Pressure and Lipids [J]. Diabetes Spectrum. 2008, 21(3), 160–165.
[4] Alessandra Saldanha deMattosMatheus, Lucianne RighetiMonteiro Tannus, Roberta Arnoldi Cobas, et al. Impact of Diabetes on Cardiovascular Disease: An Update [J]. International Journal of Hypertension. 2013.
[5] A. El-Osta, D. Brasacchio, D. Yao et al. Transient high glucose causes persistent epigenetic changes and altered gene expression during subsequent normoglycemia [J]. The Journal of Experimental Medicine. 2008, 205 (10): 2409–2417.
[6] R. M. Millis. Epigentics and hypertension [J]. Current Hypertension Reports. 2011, 13: 21–28
[7] Pickup JC, Mattock MB, Chusney GD et al. NIDDM as a disease of the innate immune system: association of acute-phase reactants and interleukin-6 with metabolic syndrome X [J]. Diabetologia. 1997, 40:1286–1292.
[8] S. E. Shoelson, J. Lee, and A. B. Goldfine. Inflammation and insulin resistance [J]. Journal of Clinical Investigation. 2006, 116 (7): 1793–1801.