Microbial Modulation of Cardiovascular Disease
Cardiovascular diseases (CVDs) are a major cause of morbidity worldwide and are influenced by genetic, environmental factors and other adverse factors, and has various causes. Microbiota refers to the collection of microorganisms which live in coexistence within or on the host body. Recent studies have shown that the interaction of individualized microbial metabolism of the gut microbiome and individual immunity is closely related to the risk of developing cardiovascular diseases [1]. So what is the Human Gut Microbiome? And how does human gut microbiome cause cardiovascular disease? Please continuing to reading…
1. What is the Human Gut Microbiome?
Gut microbiota, the entire collection of microbes residing in our gut, can be considered as the largest "endocrine system" of our body. Bacteria and other microbes in the gut produce a number of substances that can be absorbed by the intestinal epithelium in the bloodstream and thus influence the function of several systems and organs. Some of the metabolites produced by gut flora are already biologically active, whereas others can be further metabolized by the host generating secondary mediators that influence the microbiota-host interaction [2].
2. What is Microorganism-associated molecular patterns Causing Cardiovascular Disease?
Research over the past decade has revealed an unexpected interplay between nutrient intake, gut microbial metabolism and the host to modify the risk of developing CVD. Microbial-associated molecular patterns are sensed by host pattern recognition receptors and have been suggested to drive CVD pathogenesis.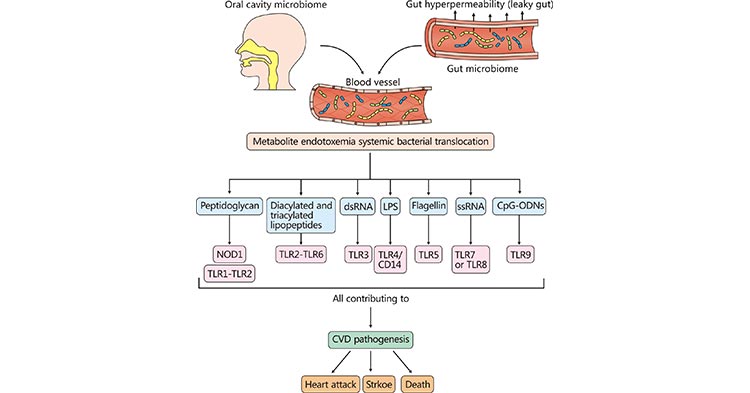 Figure 1. Direct engagement of pattern recognition receptors by microbial-associated molecular patterns driving CVD
*This picture is derived from reference 3
As the figure 1 shows, microbial-associated molecular patterns (MAMPs) can promote CVD via the direct engagement of host pattern recognition receptors (PRRs), promoting chronic inflammatory processes in the host. In the context of cardiovascular disease, dysbiosis in both the oral and gut microbiome can elicit local MAMP-PRR signaling within those microenvironments. In addition, systemic bacterial translocation can promote CVD by MAMP-PRR signaling in distant sites, including the liver and artery wall.
3. What is the Role of Gut Microbiome in the Progression of Cardiovascular Diseases?
The intestinal tract contains a large number of microorganisms, far exceeding the total number of human cells, which interact to form a complex organism, and some even consider the intestinal microecology as a human organism. Many factors affect the composition, metabolism and function of the microecology of the flora, starting from childbirth. Dysbiosis of the gut microflora can affect susceptibility to cardiovascular disease through a variety of factors such as hypertension, immune response, obesity, insulin resistance, and plaque formation, and they can also act on distal host organs through metabolites [4].
3.1 Gut Microbiome and Hypertension
Hypertension is the single largest modifiable cause of CVDs worldwide. It is a complex, multifactorial disease in which genetic predisposition and environmental factors contribute together to alterations in blood pressure (BP) regulation. BP regulation is one of the most complex physiological functions and depends on the combined action of many systems such as the cardiovascular, renal, neurological and endocrine systems. However, diet has an important role in the control of BP. The gut and its microbiota are important sites where these systems interact with diet. Indeed, it has been shown that dietary compounds may modulate the intestinal flora and thus raise or lower BP.
The first evidence suggesting the involvement of gut microbiota in hypertension pathogenesis was observed in rats on the effect of antibiotic treatment on blood pressure [5]. Recently, the study of Kaye David M et al. showed that dietary fiber produced short-chain fatty acids (SCFAs) after digestion by intestinal microorganisms and could exert cardiovascular protective effects by lowering blood pressure through its receptor GPR43/GPR109A-mediated signaling pathway. In addition, SCFAs can also increase the abundance of regulatory T cells (Treg) in the spleen by affecting DNA methylation, modulating immunity in mice and thus affecting cardiovascular health [6].
3.2 Gut Microbiome and Obesity
Obesity has reached pandemic proportions [7]. The increase in obesity and associated conditions such as T2D and dyslipidemia will significantly impact on cardiovascular health. Alterations in microbiota composition can contribute to the development of obesity through a variety of mechanisms, such as enhanced inflammation, lipid and bile acid metabolism, which can increase the amount of energy obtained from the diet or impair the synthesis of short-chain fatty acids.
Gut microbiota, which acts collectively as a fully integrated organ in the host metabolism, can be shaped by long-term dietary interventions after a specific diet. Pablo Perez-Martinez et al. have studied the changes in microbiota after 1 year's consumption of a Mediterranean diet (Med diet) or a low-fat, high-complex carbohydrate diet (LFHCC diet) in an obese population. Their results suggest that long-term consumption of the Med and LFHCC diets exerts a protective effect on insulin resistance by making different specific changes in the gut microbiota, increasing the abundance of the Roseburia genus and F. prausnitzii, respectively [8] [9].
3.3 Gut Microbiome and Atherosclerosis
Atherosclerosis is a chronic inflammatory disease characterized by vascular cell dysfunction and the accumulation of LDL particles in plaques. Staphylococcus species, Proteus vulgaris, Klebsiella pneumoniae and Streptococcus species have been identified in both of the atherosclerotic lesions and the gut of the same individual, which suggest the involvement of gut microbiota (GM) in atherosclerosis development [10]. Certain types of gut bacteria have been identified as novel contributors to the progression of atherosclerosis. The bacterial community in atherosclerotic plaque samples has been found to be correlated with clinical parameters such as total cholesterol, alanine aminotransferase and fibrinogen levels [11].
References
[1] Wang, D.D., Nguyen, L.H., Li, Y. et al. The gut microbiome modulates the protective association between a Mediterranean diet and cardiometabolic disease risk [J]. Nat Med. 11 February 2021.
[2] Gabriele G. Schiattarella, Anna Sannino, Giovanni Esposito, et al. Diagnostics and therapeutic implications of gut microbiota alterations in cardiometabolic diseases [J]. Trends in Cardiovascular Medicine. 2018.
[3] J. Mark Brown and Stanley L. Hazen. Microbiome series: Microbial modulation of cardiovascular disease [J]. Nat Rev Microbiol. 2018, 16(3): 171–181.
[4] Jin L, Shi X, Yang J, et al. Gut microbes in cardiovascular diseases and their potential therapeutic applications [J]. Protein Cell. 2020 Sep 28.6.
[5] Honour JW, Borriello SP, Ganten U, et al. Antibiotics attenuate experimental hypertension in rats [J]. J Endocrinol. 1985, 105:347–350.
[6] Kaye David M, Shihata Waled A, Jama Hamdi A, et al. Deficiency of prebiotic fiber and insufficient signaling through gut metabolite-sensing receptors leads to cardiovascular disease [J]. Circulation. 2020. 141: 1393-1403.
[7] Reilly JJ, El-Hamdouchi A, Diouf A, et al. Determining the worldwide prevalence of obesity [J]. Lancet. 2018, 391(10132):1773-4.
[8] Garcia-Rios, Antonio; Torres-Peña, Jose David; Perez-Jimenez, Francisco; Perez-Martinez, Pablo. Gut Microbiota: A New Marker of Cardiovascular Disease [J]. Current Pharmaceutical Design. 2017, 23(22).
[9] Haro C, Montes-Borrego M, Rangel-Zuniga OA, et al. Two healthy diets modulate gut microbial community improving insulin sensitivity in a human obese population [J]. J Clin Endocrinol Metab. 2016, 101(1): 233-42.
[10] Ott SJ, El Mokhtari NE, Musfeldt M, et al. Detection of diverse bacterial signatures in atherosclerotic lesions of patients with coronary heart disease [J]. Circulation. 2006, 113:929–937.
[11] Ziganshina EE, Sharifullina DM, Lozhkin AP, et al. Bacterial communities associated with atherosclerotic plaques from russian individuals with atherosclerosis [J]. PLoS ONE. 2016, 11:e0164836.