Heart Attack
Each year, approximately 715 000 Americans experience a heart attack, approximately 162 000 of which are fatal [1]. Of those who die, almost half die suddenly before they can get to a hospital. Every 40 seconds, someone in the US has a heart attack. Although a heart attack is a frightening event, if you learn the signs of a heart attack and what steps to take, you can save a life. So what is heart attack? How it develops? And what are the symptoms and markers? Please continue to read on…
1. What is Heart Attack and How Does it Develop?
A heart attack, also called a myocardial infarction, is caused by the flow of blood to the heart blocked, leading to provide not enough blood in the heart muscle. The blockage is most often a buildup of fat, cholesterol and other substances, which form a plaque in the arteries that feed the heart (coronary arteries). The disease caused by coronary artery, also called coronary artery disease (CAD) is the main cause of heart attack. Sometimes, a plaque can rupture and form a clot that blocks blood flow. The interrupted blood flow can damage or destroy part of the heart muscle (Figure 1). Heart attack can be fatal, but treatment has improved dramatically over the years.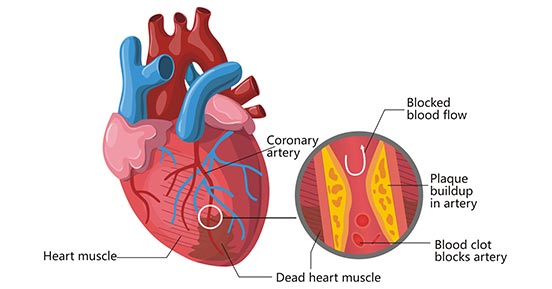 Figure 1. The diagram of heart attack
*This diagram is derived from National Heart, Lung, and Blood Institute.
2. What are Symptoms and Signs of Heart Attack?
Once mentioned heart attack, "sudden and intense" will come to mind first, like the "Hollywood" heart attack depicted in the movies where a person clutches his or her chest and falls over. However, not all heart attacks begin with it. Many heart attacks start as a mild discomfort in the center of the chest. The warning signs of a heart attack are as follows:
Chest pain or discomfort. Most heart attacks involve discomfort in the center or left side of the chest that lasts more than a few minutes or that goes away and comes back. It can feel like pressure, squeezing, fullness, heartburn or indigestion.

Upper body discomfort. Symptoms include discomfort in one or both arms, the back, shoulders, neck, jaw, or upper part of the stomach.

Shortness of breath. This symptom may happen before or accompany with chest discomfort. It can occur when you are resting or doing a little bit of physical activity.

Other signs of a heart attack may include: breaking out in a cold sweat, nausea and vomiting, Light-headedness or sudden dizziness.
Learn them, but also remember the following: Even if you are not sure it is a heart attack, you should still check it out promptly. This includes any sudden, new symptoms or a change in the pattern of symptoms you already have (for example, your symptoms become stronger, become more frequent, or last longer than usual).
3. What are the Risk Factors for Heart Attack?
Although the step-by-step process that leads to heart attack is not fully understood, about 47% of all Americans have at least one risk factor that raises their chances of having a heart attack [2]. Major risk factors, though, are well-known, and some can be controlled. Some of the most common risk factors for heart attack are:
Age. Aging is considered a major risk factor for heart attack. Men's age usually is 45 or older and women's age is 55 or older.

Smoking. This includes smoking and long-term exposure to secondhand smoke.

High blood pressure. Over time, high blood pressure can damage arteries that lead to your heart. It contributes to a heart attack by forcing the heart to work harder and harder until the heart stops working. High blood pressure that occurs with other conditions, such as obesity, high cholesterol or diabetes, increases your risk even more.

High blood cholesterol or triglyceride levels. A high level of low-density lipoprotein (LDL) cholesterol is most likely to narrow arteries. A high level of triglycerides, a type of blood fat related to your diet, also increases your risk of a heart attack. However, a high level of high-density lipoprotein (HDL) cholesterol may lower your risk.

Being overweight. Obesity is linked with high blood cholesterol levels, high triglyceride levels, high blood pressure and diabetes. Losing just 10% of your body weight can lower this risk.

Diabetes. Not producing enough of a hormone secreted by your pancreas (insulin) or not responding to insulin properly causes your body's blood sugar levels to rise, increasing your risk of a heart attack.

Family history of heart attacks. If your siblings, parents or grandparents have had early heart attacks (by age 55 for males and by age 65 for females), you might be at increased risk.

Lack of physical activity. Being inactive contributes to high blood cholesterol levels and obesity. People who exercise regularly have better heart health, including lower blood pressure.

Stress. You might respond to stress in ways that can increase your risk of a heart attack.
4. What Can I Do To Recover after a Heart Attack?
If you've had a heart attack, your heart may be damaged. This could affect your heart's rhythm and its ability to pump blood to the rest of the body. You may also be at risk for another heart attack or conditions such as stroke, kidney disorders, and peripheral arterial disease (PAD).
You can lower your chances of having future health problems following a heart attack with these steps:
Physical activity—Talk with your health care team about the things you do each day in your life and work. Your doctor may want you to limit work, travel, or sexual activity for some time after a heart attack.
Lifestyle changes—Eating a healthier diet, increasing physical activity, quitting smoking, and managing stress—in addition to taking prescribed medicines—can help improve your heart health and quality of life. Ask your health care team about attending a program called cardiac rehabilitation to help you make these lifestyle changes.
Cardiac rehabilitation—Cardiac rehabilitation is an important program for anyone recovering from a heart attack, heart failure, or other heart problem that required surgery or medical care. Cardiac rehab is a supervised program that includes
Physical activity.

Education about healthy living, including healthy eating, taking medicine as prescribed, and ways to help you quit smoking.

Counseling to find ways to relieve stress and improve mental health
References
[1] Ornato JP, Hand MM. Warning signs of a heart attack. Circulation [J]. 2014 Mar 18; 129(11):e393-5.
[2] https://www.cdc.gov/heartdisease/facts.htm, 2020