Hypoxia
Hypoxia is the deprivation of oxygen that reaches the tissues of the body, such as brain and heart. It is one of the deadliest injuries. It differs from hypoxemia and anoxia. Hypoxemia means an inadequate amount of oxygen traveling in the blood. Anoxia means entire absence of oxygen. Hypoxia may be due to hypoxemia or altitude sickness. There are different types of hypoxia, including hypoxic hypoxia, anemic hypoxia, stagnant hypoxia, histiotoxic hypoxia and metabolic hypoxia.
Hypoxia is a condition which induces significant changes in cardiovascular control mechanisms [1]. Activation of hypoxia-induced signaling mechanisms form an integral component in development of widely known CVDs (Figure 1). These mechanisms are activated as an adaptive response toward hypoxia, and involve a coordinated action of Transcription factors (HIF-1, NF-kβ), reactive oxygen species and downstream effector molecules, which can serve as therapeutic targets to control the development of the related disease [2].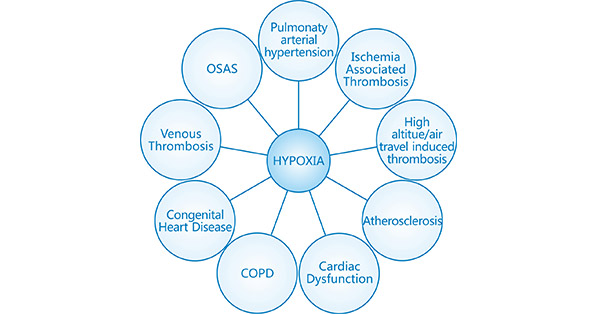 Figure 1. Commonly known CVDs with pathophysiology as a function of hypoxia signaling mechanisms
*This diagram is derived from reference 2.
CUSABIO lists most related molecules/targets and research reagents involved in hypoxia. You can click the following targets to view all products of them.
HIF1A (Hypoxia-inducible factor 1-alpha), a one component of Hypoxia-inducible factor-1 (HIF-1), contains an oxygen dependent degradation (ODD) domain. HIF-1 is a heterodimeric transcription factor consisting of a constitutively expressed-β subunit and an α-subunit [3]. HIF1A functions as a master transcriptional regulator of the adaptive response to hypoxia. Under hypoxic conditions, activates the transcription of over 40 genes, including erythropoietin, glucose transporters, glycolytic enzymes, vascular endothelial growth factor, HILPDA, and other genes whose protein products increase oxygen delivery or facilitate metabolic adaptation to hypoxia.

PPARA (Peroxisome proliferator-activated receptor α) is part of the subfamily of peroxisome proliferator-activated receptors. PPARα down-regulation and substrate switching are essential for the maintenance of contractile function of the hypertrophied heart [4], and there have been reports of decreased PPARα expression in the heart following in vivo hypoxia [5] [6] [7].

SMAD4 (Mothers against decapentaplegic homolog 4) deficiency was responsible for the enhanced migration of colon cancer cells with a corresponding increase in matrix metalloprotease 9 enhanced hypoxia-induced GLUT1 expression, increased aerobic glycolysis, and resistance to 5'-fluoruracil-mediated apoptosis [8].
References
[1] Savla, J. J., Levine, B. D., & Sadek, H. A. The Effect of Hypoxia on Cardiovascular Disease: Friend or Foe [J]? High Altitude Medicine & Biology. 2018, 19(2), 124–130.
[2] Gupta, N., & Zahid Ashraf, M. Hypoxia Signaling in Cardiovascular Diseases. Hypoxia and Anoxia. 2018.
[3] Semenza GL. Hydroxylation of HIF-1: Oxygen sensing at the molecular level. Physiology (Bethesda, Md.). 2004, 19:176-182.
[4] Young ME, Laws FA, Goodwin GW et al. Reactivation of peroxisome proliferator-activated receptor alpha is associated with contractile dysfunction in hypertrophied rat heart [J]. J Biol Chem. 2001, 276(48):44390-5.
[5] Lei L, Mason S, Liu D et al. Hypoxia-inducible factor-dependent degeneration, failure, and malignant transformation of the heart in the absence of the von Hippel-Lindau protein [J]. Mol Cell Biol. 2008, 28(11):3790-803.
[6] Heather LC, Cole MA, Lygate CA et al. Fatty acid transporter levels and palmitate oxidation rate correlate with ejection fraction in the infarcted rat heart [J]. Cardiovasc Res. 2006, 72(3):430-7.
[7] Cole, M. A., Abd Jamil, A. H., et al. On the pivotal role of PPARα in adaptation of the heart to hypoxia and why fat in the diet increases hypoxic injury [J]. The FASEB Journal. 2016, 30(8), 2684–2697.
[8] Papageorgis P, Cheng K, Ozturk S, et al. Smad4 inactivation promotes malignancy and drug resistance of colon cancer [J]. Cancer Res. 2011, 71(3):998-1008.