Blood Pressure Regulation
Blood consists of liquid (also called plasma) and solids (including red blood cells, white blood cells, and platelets). It plays a key role in transporting oxygen and nutrients to the cells and carrying away carbon dioxide and other waste products. Blood pressure (BP) is the pressure of circulating blood against the walls of blood vessels. Most of this pressure is caused by the heart pumping blood through the circulatory system. It usually refers to the pressure in the large arteries. Blood pressure is one of the most commonly measured clinical parameters and blood pressure values are major determinants of therapeutic decisions [1]. It is measured in millimeters of mercury (mmHg) above the surrounding atmospheric pressure.
Blood pressure regulation, a complex process, is regulated by several mechanisms that work in unison to maintain homeostasis. Rapid adjustments in blood pressure are regulated by the baroreceptor reflex, which act via the brain to influence the nervous and the endocrine systems. Intermediate and long term regulation of blood pressure is predominantly mediated by vasoactive compounds. Among of these mechanisms, the renin–angiotensin–aldosterone system (RAAS) is the most clear. RAAS is a hormone system [2] that regulates blood pressure and fluid and electrolyte balance, as well as systemic vascular resistance.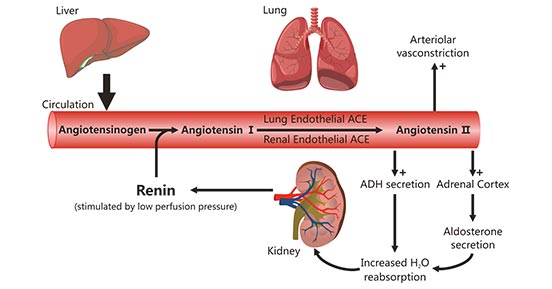 Figure 1. Renin–angiotensin–aldosterone system
*This diagram is derived from reference 2.
CUSABIO has been committed to developing and expanding this featured area, where we have the most comprehensive products involving blood cell antigens and blood pressure regulators. To learn more about the related products, please click on the following targets.
ACE2 (Angiotensin-converting enzyme 2), also known as ACAH, was identified as the first reported ACE homologue in 2000. The protein encoded by this gene belongs to the angiotensin-converting enzyme family of dipeptidylcarboxydipeptidases. Both ACE2 and ACE belong to the renin-angiotensin-aldosterone system (RAAS) and kallikrein-bradykinin system (KKS) families. More information of ACE2>>

AGT (angiotensinogen) is part of the renin-angiotensin system expressed in the liver and is cleaved by the enzyme renin in response to lowered blood pressure. This molecule also stimulates production of the hormone aldosterone, which triggers the absorption of salt and water by the kidneys. It play a critical role of regulating blood pressure and the balance of fluids and salts in the body.

NPPB (Natriuretic Peptide B), a secreted protein, functions as a cardiac hormone which plays a key role in mediating cardio-renal homeostasis. It may also function as a paracrine antifibrotic factor in the heart (By similarity). NPPB acts by specifically binding and stimulating NPR1 to produce cGMP, which in turn activates effector proteins that drive various biological responses.

SPTA1 (Spectrin Alpha, Erythrocytic 1) is a member of a family of molecular scaffold proteins that link the plasma membrane to the actin cytoskeleton and functions in the determination of cell shape, arrangement of transmembrane proteins, and organization of organelles.
References
[1] S. Magder. The meaning of blood pressure [J]. Crit Care. 2018, 22: 257.
[2] Chow, Jonathan H.; Galvagno, Samuel M.; Tanaka, Kenichi A.; et al. When All Else Fails. A & A Practice. 2018, 11(7), 175–180.