Coronary Artery Disease
In developed countries, coronary artery diseases (CAD) represent a common and serious disease. For example, CAD accounts for approximately 610,000 deaths annually (estimated 1 in 4 deaths) and is the leading cause of mortality in the United States [1]. It is the third leading cause of mortality worldwide and is associated with 17.8 million deaths annually [2] [3]. So what is CAD? How it develops? And what are the symptoms and treatments? Please continue to read on…
1. What is Coronary Artery Disease and How it Develops?
Coronary artery diseases, also known as coronary heart disease, is caused by plaque buildup in the wall of the arteries that supply blood, oxygen and nutrients to the heart. Plaque (Cholesterol-containing deposits) buildup causes the inside of the arteries to narrow over time (Figure 1). This process is called atherosclerosis. Plaque in your arteries and inflammation are usually to blame for coronary artery disease.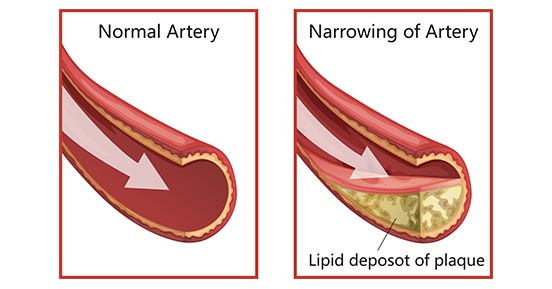 Figure 1. Drawing of how the coronary arteries get clogged up with plaque
*This diagram is derived from Wikipedia.
2. What are Types of Coronary Artery Disease?
There are three main types of coronary heart disease, including obstructive coronary artery disease, non-obstructive coronary artery disease, and coronary microvascular disease. Different types of coronary heart disease vary in causes, symptoms, diagnostic tests, and appropriate treatments. Coronary artery disease affects the large arteries on the surface of the heart. Obstructive coronary artery disease usually accompanies with narrowed or blocked vessels. Non-obstructive coronary artery disease usually accompanies with arteries which inappropriately constrict or malfunction after branching into tiny vessels, or are squeezed by overlying heart muscle. Many people have both obstructive and non-obstructive forms of this disease. The cause depends on the type of coronary heart disease. The condition may also have more than one cause, including plaque buildup or problems that affect how the heart's blood vessels work.
3. What are Symptoms of Coronary Artery Disease?
The most common symptom of coronary artery disease is chest pain (also called angina or angina pectoris) triggered by physical or emotional stress. It is also described as pressure, heaviness, tightness, aching, burning, numbness, fullness, or squeezing. This pain usually occurs on the middle or left side of the chest. It usually goes away within minutes after stopping the stressful activity. In some people, especially women, the pain may be brief or sharp and felt in the neck, arm or back. It can be mistaken for indigestion.
Besides, the other symptoms of coronary artery disease also includes shortness of breath and heart attack. If your heart can't pump enough blood to meet your body's needs, you may develop shortness of breath or extreme fatigue with activity. A completely blocked coronary artery will cause a heart attack. Women are somewhat more likely than men are to have less typical signs and symptoms of a heart attack, such as neck or jaw pain. And they may have other symptoms such as shortness of breath, fatigue and nausea.
4. What are the Risk Factors of Coronary Artery Disease?
Risk factors for CAD classify into modifiable and non-modifiable risk factors. Non-modifiable risk factors include age, gender, race and family history. CAD prevalence increases after 35 years of age in both men and women [4]. Men are at increased risk compared to women. Moreover, African Americans, Hispanics, Latinos, and Southeast Asians, are ethnic groups with an increased risk of CAD morbidity and mortality [5].
Modifiable risk factors have a smaller but still significant role, including hypertension, hyperlipidemia, diabetes mellitus, obesity and smoking. Among of them, hypertension and smoking were responsible for the largest number of deaths in a 2009 review comparing twelve modifiable risk factors [6]. Hyperlipidemia is considered the second most common risk factor for ischemic heart disease [7]. A 2019 article indicated that age, sex, and race captured 63 to 80% of prognostic performance, while modifiable risk factors contributed only modestly.
In addition to these traditional cardiovascular risk factors, novel risk factors have also been subject to research, involving non-alcoholic fatty liver disease (NAFLD), chronic kidney disease (CKD), systemic lupus erythematosus (SLE), rheumatoid arthritis (RA) and inflammatory bowel disease (IBD).
5. What is the Most Common Treatment for Coronary Artery Disease?
Choosing treatment of CAD depends on your health status and goals. There are three key approaches to treating heart disease, including lifestyle changes, medication and procedures to help open blood vessels. In terms of lifestyle changes, the same steps for preventing coronary artery disease are part of a treatment approach to forestalling further problems—that is, modify the many factors that are in your control, like diet, exercise, de-stressing and not smoking. In terms of medication, you may be prescribed medications to manage the risk factors for coronary artery disease, such as high blood pressure, high cholesterol, prediabetes and diabetes.
Regarding to procedures to help open blood vessels, several different types of surgeries (usually outpatient) may be done to repair damage to arteries, including coronary angioplasty, atherectomy and coronary artery bypass surgery (or coronary artery bypass graft). Among of them, coronary artery bypass surgery is more serious surgery, an artery or vein from another part of the body, such as the leg, is grafted onto the coronary artery to create a new route around a blocked section. More than one graft may be done at a time.
6. How to Prevent Yourself from Coronary Artery Disease?
Preventing coronary artery disease mainly forces on controlling the risk factors. It's never too late to effect change, though the earlier in life you do so, the greater the advantage. The common advices include:
Quit smoking—or never start. Smoking is considered one of the key risk factors for heart attack. Also steer clear of secondhand smoke.

Eat less of the foods that add to heart problems, and more of the foods that protect the heart. Aim for an eating plan that's low in saturated fats and trans fats, higher in monounsaturated and polyunsaturated the fats found in olive oil and fish, high in fiber (found in plant foods), and low in salt and sugar.

Become more active, and stay active, all through life. A good goal is at least 150 minutes (2.5 hours) of moderate exercise each week, or 75 minutes (1.25 hours) of vigorous aerobic exercise each week. Or aim to be active for 30 minutes a day, most days of the week.

Keep your weight within the normal range on a Body Mass Index (BMI) chart. If you're overweight, losing just 5 percent to 10 percent of your current weight will lower your risk of developing coronary artery disease.

Find healthy outlets for your stress. Some stress is unavoidable in life. But it tends to push us toward not-so-great habits (overeating, drinking and sitting too much).
References
[1] Friede A, O'Carroll PW, Thralls RB, Reid JA. CDC WONDER on the Web. Proc AMIA Annu Fall Symp. 1996:408-12.
[2] Brown JC, Gerhardt TE, Kwon E. Risk Factors For Coronary Artery Disease. 2020 Jun 6. In: StatPearls [Internet]. Treasure Island (FL): StatPearls Publishing; 2021 Jan–.
[3] Nichols M, Townsend N, Scarborough P, Rayner M. Cardiovascular disease in Europe 2014: epidemiological update. Eur Heart J. 2014 Nov 07; 35(42): 2929.
[4] Sanchis-Gomar F, Perez-Quilis C, Leischik R, Lucia A. Epidemiology of coronary heart disease and acute coronary syndrome. Ann Transl Med. 2016 Jul; 4(13): 256.
[5] Volgman AS, Palaniappan LS, Aggarwal NT, et al, American Heart Association Council on Epidemiology and Prevention; Cardiovascular Disease and Stroke in Women and Special Populations Committee of the Council on Clinical Cardiology; Council on Cardiovascular and Stroke Nursing; Council on Quality of Care and Outcomes Research; and Stroke Council. Atherosclerotic Cardiovascular Disease in South Asians in the United States: Epidemiology, Risk Factors, and Treatments: A Scientific Statement From the American Heart Association. Circulation. 2018 Jul 03; 138(1): e1-e34.
[6] Danaei G, Ding EL, Mozaffarian D, et al. The preventable causes of death in the United States: comparative risk assessment of dietary, lifestyle, and metabolic risk factors [J]. PLoS Med. 2009 Apr 28; 6(4): e1000058.
[7] Mozaffarian D, Benjamin EJ, Go AS, et al. American Heart Association Statistics Committee and Stroke Statistics Subcommittee. Heart disease and stroke statistics--2015 update: a report from the American Heart Association. Circulation. 2015 Jan 27; 131(4): e29-322.