Coagulation
Coagulation, also called clotting, is the process forming a blood clot. The understanding of the blood coagulation system has evolved over the recent years in anaesthetic practice [1]. The haemostatic system consists of four compartments, the vasculature, platelets, coagulation proteins and the fibrinolytic system [2]. Two pathways lead to the formation of a fibrin clot, the intrinsic and extrinsic pathway (Figure 1).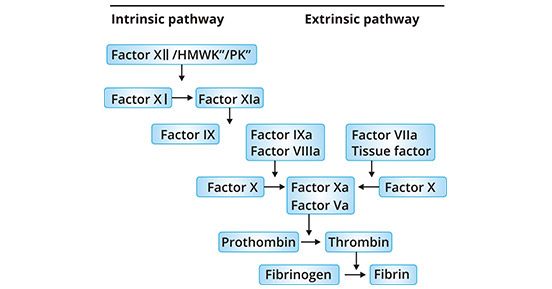 Figure 1. Classical coagulation cascade
*This diagram is derived from the publication on The Journal of the Royal College of Physicians of Edinburgh [2]
The coagulation cascade is initiated through either the extrinsic or intrinsic pathway. Both pathways result in the production of factor X, an enzyme that marks the beginning of the common pathway of coagulation, which culminates in the stabilization of a fibrin clot. CUSABIO lists most related molecules/targets and research reagents of coagulation, including coagulation cascade protease inhibitors, coagulation cascade proteases, coagulation factors, Kallikrein/Kinin systems and other coagulation cascade molecules.
Is Coagulation Good or Bad?
Coagulation, also called blood clotting, is a natural process that prevents excessive bleeding when a blood vessel is injured. Without it, you would be at risk of bleeding to death from a simple cut. But, blood clots also are not always so welcome inside the cardiovascular system, and even can be dangerous. A clot in the coronary arteries near the heart can cause a heart attack; one in the brain or the arteries serving it, a stroke. Beside of cardiovascular system, blood clots that form in the veins in your legs, arms, and groin can break loose and move to other parts of your body, including your lungs.
What is the Function of Coagulation?
Generally, the primary role of the coagulation system is to produce a stable fibrin clot at sites of injury. Platelets and proteins in your plasma work together to stop the bleeding by forming a fibrin clot over the injury. Over all, there are two critical functions of coagulation. One is that seals any breach of a human body's primary organ of protection against harmful. Another is that maintains the closed circuit integrity necessary for the body to deliver oxygen and nutrients to all of its tissues via the circulatory system. The process is prevalent in many nonhuman animals, and can be thought of as nature's version of a bandage.
References
[1] Palta S, Saroa R, Palta A. Overview of the coagulation system [J]. Indian J Anaesth. 2014, 58(5):515-23.
[2] Chee, YL. Coagulation [J]. The Journal of the Royal College of Physicians of Edinburgh. 2014, 44(1), 42–45.
[3] Guenova, Margarita; Balatzenko, Gueorgui. Hematology - Latest Research and Clinical Advances || Understanding the Clotting Cascade, Regulators, and Clinical Modulators of Coagulation. 2018.
[4] Sallah S. Inhibitors to clotting factors [J]. Ann Hematol. 1997, 75(1-2):1-7.
[5] Moreau ME, Garbacki N, Molinaro G et al. The kallikrein-kinin system: current and future pharmacological targets [J]. J Pharmacol Sci. 2005, 99(1):6-38.