Smooth Muscle Cells Markers
Smooth muscle cells (SMC) line the walls of hollow organs in the body, including the intestines, uterus, bladder, stomach and arteries. It lacks the characteristic cross-striations of cardiac and skeletal muscle, but contain contractile proteins organized in contractile units.
The primary function of smooth muscle cells is to help hollow organs contract. In the digestive system, smooth muscle cells are responsible for helping food pass through it and for pushing food up into the esophagus when vomiting occurs. In the urinary system, smooth muscle cells contract to push urine into the urethra and out of the body. In the cardiovascular system, vascular smooth muscle cells (VSMCs) are the stromal cells of the vascular wall, and, due to their myosin/actin interactions, they are also responsible for arterial contractile tonus and regulating blood pressure and flow in relation to specific metabolic demands [1].
Due to pressure-dependent radial hydraulic conductance, the arterial wall is constantly submitted to outward convection of circulating plasma molecules. This physiological outward convection of plasma peptides or macromolecules is the main source of extrinsic stimuli, which, with time, cause damage to arterial VSMCs. In response to acute and chronic stimuli, VSMCs may reprogram their expression pattern mainly by ligand–receptor interactions and epigenetic processes (Figure 1).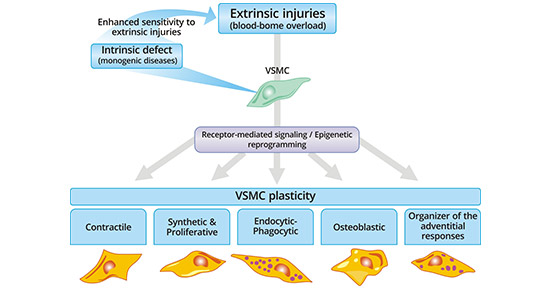 Figure 1. VSMC plasticity
*This diagram is derived from the publication on Cardiovascular Research [1]
Smooth muscle cells are characterized by specific protein cell markers, such as ACTA2, CNN1, TAGLN, TAGLN2, etc. The variety of proteins found on these cells provides specific mechanisms for targeting. CUSABIO list most smooth muscle cells markers on the following table, and click to see all the related molecules/targets and research reagents of them.
ACTA2, the vascular smooth muscle cell (SMC)-specific isoform of alpha-actin, is a major component of the contractile apparatus in SMCs located throughout the arterial system [2]. ACTA2 mutations are associated with structural disruption and functional impairment of contractile proteins, and predispose to a variety of diffuse vascular diseases including TAAD, CAD, ischemic strokes, and Moyamoya disease, as well as multisystemic smooth muscle dysfunction syndrome.

CALD1 (caldesmon), a calmodulin binding protein tonically inhibits the ATPase activity of myosin in smooth muscle and serves as a mediating factor for Ca2+-dependent inhibition of smooth muscle contraction.

CDH5 (VE-cadherin), also known as CD144, is a component of endothelial cell-to-cell adherens junctions, and it has a key role in the maintenance of vascular integrity [3]. E-cadherin is known to be required for maintaining a restrictive endothelial barrier – early studies using blocking antibodies to VE-cadherin increased monolayer permeability in cultured cells [4] and resulted in interstitial edema and hemorrhage in vivo [5].

CNN1 (Calponin-1) a basic smooth muscle protein, is specific to differentiated mature smooth muscle cells, suggesting a role in contractile functions. Calponin 1 is up-regulated in smooth muscle tissues during postnatal development with a higher content in phasic smooth muscle of the digestive tract.
References
[1] Michel, J.-B.; Li, Z.; Lacolley, P. Smooth muscle cells and vascular diseases [J]. Cardiovascular Research. 2012, 95(2), 135–137.
[2] Guo DC, Papke CL, Tran-Fadulu V et al. Mutations in smooth muscle alpha-actin (ACTA2) cause coronary artery disease, stroke, and Moyamoya disease, along with thoracic aortic disease [J]. Am J Hum Genet. 2009, 84(5):617-27.
[3] Giannotta M, Trani M, Dejana E. VE-cadherin and endothelial adherens junctions: active guardians of vascular integrity [J]. Dev Cell. 2013, 16;26(5):441-54.
[4] Corada M, Liao F, Lindgren M et al. Monoclonal antibodies directed to different regions of vascular endothelial cadherin extracellular domain affect adhesion and clustering of the protein and modulate endothelial permeability [J]. Blood. 2001, 97 (6): 1679–84.
[5] Corada M, Zanetta L, Orsenigo F et al. A monoclonal antibody to vascular endothelial-cadherin inhibits tumor angiogenesis without side effects on endothelial permeability [J]. Blood. 2002, 100 (3): 905–11.