Cardiomyocyte Markers
Cardiomyocyte, also called myocardiocyte or cardiac myocyte, is a myocyte that resides in the heart and develops from myoblasts with a central nucleus [1]. It is mainly responsible for the contraction of the heart to effectively execute the contraction-relaxation cycle by an intricate network of contractile proteins and ion transporters for this work [2]. Cardiomyocyte is smaller than skeletal myocytes and has abundant sarcoplasm.
As mentioned before, the primary function of the heart is to pump blood efficiently by virtue of an orchestrated contraction–relaxation cycle of the working myocytes. Regulation of contractility of the individual cardiomyocytes is achieved by a spatially defined program of ion channels and exchangers that accurately control Ca2+ entry into and out of the cell and the sarcoplasmic reticulum (Figure 1).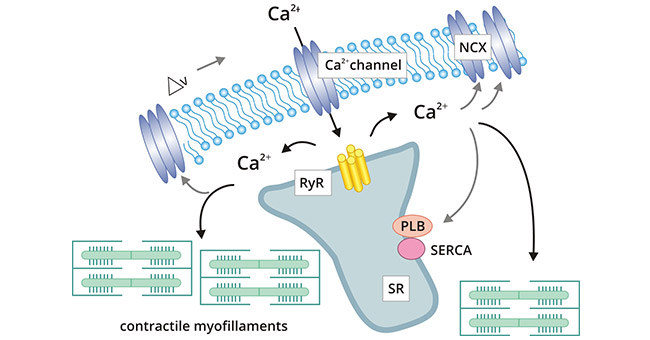 Figure 1. Model of Ca2+ regulation in cardiomyocytes
*This diagram is derived from the publication on The International Journal of Biochemistry & Cell Biology [3]
Cardiomyocyte markers are detected during development and diseases to determine the presence of cardiomyocytes. They may include enzymes, isoenzymes, isoforms and muscle proteins. CUSABIO list most cardiomyocyte markers on the following table, and click to see all the related molecules/targets and research reagents of them.
TNNT2 is a gene encoding a protein named cardiac muscle troponin T (cTnT). Cardiac TnT is the largest of the three troponin subunits (cTnT, troponin I (TnI), troponin C (TnC)) on the actin thin filament of cardiac muscle. The main function of cTnT is to regulate muscle contraction.

GATA4 is a gene encoding a member of the GATA family of zinc-finger transcription factors. The protein encoded by this gene is GATA Binding Protein 4 and is thought to regulate genes involved in embryogenesis and in myocardial differentiation and function, and is necessary for normal testicular development.

NKX2-5 is a gene encoding a homeobox-containing transcription factor named NK2 Homeobox 5. It functions in heart formation and development. In the development of heart, it acts as a transcriptional activator of ANF in cooperation with GATA4. Besides, together with PBX1, it is also required for spleen development through a mechanism that involves CDKN2B repression [4] [5].
References
[1] Whetzel PL, et al. BioPortal: enhanced functionality via new web services from the National Center for Biomedical Ontology to access and use ontologies in software applications [J]. Nucleic Acids Res. 39 (2011) W541–W545 (Web Server issue).
[2] Benjamin Keepers, Jiandong Liu, and Li Qian. What's in a cardiomyocyte – And how do we make one through reprogramming [J]? Biochim Biophys Acta Mol Cell Res. 2020. 1867(3): 118464.
[3] Elizabeth A. Woodcock; Scot J. Matkovich. Cardiomyocytes structure, function and associated pathologies [J]. The International Journal of Biochemistry & Cell Biology. 2005, 37(9), 0–1751.
[4] Pradhan, L., Genis, C., Scone, P., et al. Crystal Structure of the Human NKX2.5 Homeodomain in Complex with DNA Target [J]. Biochemistry. 2012, 51(32), 6312–6319.
[5] Koss, M., Bolze, A., Brendolan, A., et al. Congenital Asplenia in Mice and Humans with Mutations in a Pbx/Nkx2-5/p15 Module [J]. Developmental Cell. 2012, 22(5), 913–926.