COVID19 and Cardiovascular Diseases
Coronavirus disease 2019 (COVID-19), a novel beta-coronavirus, causes severe acute respiratory syndrome. It has become a global concern and public health issue due to its higher infection and mortality rate, particularly, the risk is very higher among the patients who have cardiovascular diseases (CVDs) [1]. So why is COVID-19 more likely to be exacerbated in patients with CVDs? And are the treatments of COVID-19 different between the patients and the patients with CVDs? Please continue to reading…
1. Are People with Cardiovascular Diseases at Higher Risk from COVID-19?
The answer is yes. They are not more likely to catch SARS-CoV-2 than anyone else. But if they do catch it, they are at greater risk of becoming seriously ill. We classify cardiovascular diseases into three risk classes:
High Risk
Very High Risk
At Highest Risk

Hypertension
Previous heart attack
Coronary heart disease
Angina
Diabetes
Heart failure
Heart valve disease
Previous stroke
Congenital heart disease

Poorly controlled heart or circulatory disease
Recent open-heart surgery (last 3 months)
Lung or kidney disease as well as a heart or circulatory condition
Heart failure restricting daily activities/causing hospitalization in the past year
Heart valve disease that is severe and causes symptoms, or waiting for a valve repair/replacement

Previous heart transplant
Pregnant women with significant heart disease
Anyone in the high-risk or very high-risk categories who is over 70 years old, a smoker, and/or overweight/obese
So what can be done to reduce the risk? Perhaps you could take the following suggestions:
Follow social distancing guidelines to reduce the chance of getting infected
Take heart and any other medications as prescribed and never stopped or changed medication at will
Drink less alcohol and eat less salt
Stop smoking
Exercise more and try to lose weight
2. What are The Mechanisms of Patients with Cardiovascular Diseases in COVID-19?
At present, the mechanisms underlying CVDs in patients with COVID-19 are not well defined. Possible mechanisms include severe hypoxemia, an excessive inflammatory reaction, dysfunctional ACE2 with upregulation of the renin–angiotensin system and cardiac toxicity due to drug-drug interactions [2] [3], as shown in the Figure 1.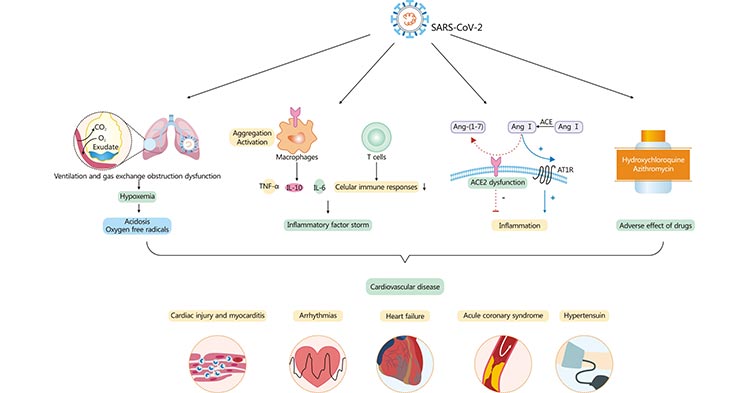 Figure 1. Cardiovascular involvement in COVID-19 – key manifestations and hypothetical mechanisms
*This diagram is derived from reference 2.
Hypoxemia. Infection of the respiratory tract (particularly type 2 pneumocytes) leading to insufficient oxygen supply is the main cause of hypoxemia [4] [5]. Recently, Wang et al. reported that pathologic investigations of fatal cases undergoing necropsy provide new evidence contributing to the severe dysfunction of ventilation and gas exchange obstruction in patients with COVID-19 [6]. The gross anatomy of the lungs showed moderate bilateral pleural effusion and pleural adhesion in 2 patients and hepatization of lung tissue was observed. Moreover, infection-induced increased metabolic requirements need an enhanced oxygen supply, which in turn results in severe hypoxemia. And hypoxemia, in turn, may lead to increased anaerobic fermentation and subsequently acidosis, oxygen free radicals, and ultimately cardiac injury.

Inflammatory factor storm. Cytokine storm is the systemic expression of a healthy and vigorous immune system resulting in the release of more than 150 inflammatory mediators. It plays a vital role in the pathogenesis of coronavirus-caused tissue damage and entails a vast amount of cardiac injury in patients infected by coronaviruses [7] [8]. Accumulating evidence indicates that SARS-CoV-2 anchors on trans-membrane angiotensin-converting enzyme 2 (ACE2) to enter macrophages leading to secrete chemokines and inflammatory cytokines including IL-6, IL-10 and tumor necrosis factor alpha (TNFα). It is supportive of the idea that macrophages act as direct host cells of SARS-CoV-2 and potential drivers of "inflammatory factor storm" or "cytokine storm" in COVID-19. You can click to view more information about cytokine storm…

Dysfunctional ACE2. ACE2 is not only a functional receptor of COVID-19 but also an important endogenous antagonist of the renin-angiotensin system (RAS) [9]. ACE2 catalyzes angiotensin II conversion to angiotensin-(1-7), and the ACE2/angiotensin-(1-7)/MAS axis counteracts the negative effects of the renin-angiotensin system (RAS), which plays important roles in maintaining the physiological and pathophysiological balance of the body [10]. Enough evidence indicates that coronavirus can lead to ACE2 dysfunction and subsequently abnormal activation of renin–angiotensin system, eventually resulting in a hyper-inflammatory reaction. In addition to the direct viral effects and inflammatory and immune factors associated with COVID-19 pathogenesis, ACE2 downregulation and the imbalance between the RAS and ACE2/angiotensin-(1-7)/MAS after infection may also contribute to multiple organ injury in COVID-19. More information of ACE2…

Adverse effect of drugs. Given the fast spread and high transmission rates of COVID-19, developing pharmaceutical drugs for treatment and prevention of COVID-19 is urgent. While ongoing and future studies should be actively supported, we should be cautious about the off-label use of previously approved drugs due to cardiac toxicity, especially in severe cases with multiple comorbidities and polypharmacy [11]. For example, some of the potential antiviral drugs used to treat patients with COVID-19 are known to induce cardiotoxicity [12].
3. What are the Treatments for Patients with Cardiovascular Diseases in COVID-19?
In fact, different cardiovascular diseases in COVID-19 have different treatments. We list the most common cardiovascular diseases in COVID-19 as follows:
Acute heart attack is characterized by rapid, lethal and short time to optimal treatment. Patients with a definite diagnosis of ST-segment elevation infarction (STEMI) who can be completely excluded from COVID-19 should be treated according to the usual procedures of a chest pain center. If a patient with suspected/confirmed COVID-19 is diagnosed with STEMI, thrombolysis is in principle preferred at the first hospital if the onset of the disease is within 12 hours. Patients with successful thrombolysis will continue to be observed in the isolation ward and subsequently transferred to cardiovascular medicine for elective coronary angiography if COVID-19 is ruled out; if COVID-19 is confirmed, they will be transferred to the isolation ward of the designated hospital for follow-up treatment.

Patients with heart failure are in a chronic state of water and sodium retention and immunosuppression, and any infection may cause an exacerbation of heart failure. These patients are more susceptible to COVID-19, and the infection is more likely to develop into a severe case. Heart failure and arrhythmias may result in patients with COVID-19 due to direct infection of the myocardium by the virus or indirect action and the inflammatory response storm. In patients with suspected/confirmed COVID-19 in combination with heart failure, it is important to monitor the patient's cardiac function and apply antibiotics early to prevent concomitant bacterial and fungal infections. While strictly controlling the patient's intake, use multiple diuretics and dosage forms in alternating and combined regimens to increase the patient's output and ensure a negative balance in the patient's output and output.

In patients with suspected/confirmed COVID-19 with hypertension, elevated catecholamines due to stress and anxiety, etc., can lead to increased blood pressure. Also, insufficient volume and electrolyte disturbances due to potential inadequate intake, fever and sweating can cause a fall in blood pressure. Therefore, medication should be adjusted when appropriate.
4. Can I Get the COVID-19 Vaccine if I have Cardiovascular Disease?
The most fundamental solution to the prevention of COVID-19 is herd immunity, which means the production of antibodies in the population. It can best be achieved by vaccination against SARS-CoV-2. With the start of mass vaccination for the COVID-19 in China, patients with cardiovascular disease want to know if they can get the COVID-19 vaccine. Here, we list several tips for the people with cardiovascular diseases:
In patients with simple hypertension, if the blood pressure is stable and does not fluctuate significantly, it is perfectly acceptable to administer the COVID-19 vaccine. If a person with hypertension happens to have large fluctuations in blood pressure, or if their blood pressure is not at the standard, then the vaccination should be given after the blood pressure has been controlled and is stable and at the standard.
For patients with coronary artery disease, it is required that the ischaemic symptoms of coronary artery disease are completely eliminated, i.e. there needs to be no associated ischaemic manifestations such as no other discomfort such as chest tightness or chest pain, at which point the COVID-19 vaccination can be considered. Coronary artery disease with discomfort, especially if you have coronary angina, is not a suitable time for the COVID-19 vaccination injection and requires active treatment of myocardial ischaemia and the injection should be considered after the symptoms have been controlled.
COVID-19 vaccination should be avoided before and after stent fitting surgery or cardiac coronary bypass surgery in patients with coronary artery disease. There is no definitive research data on how long after stent fitting or bypass the vaccination can be administered. According to theoretical analysis, it is safer to give the injection three months to six months after the procedure, as the stent is essentially endothelialised in the stent installer after three months and the bridge vessel anastomosis of the bypass is well healed by this time.
Heart failure. Acute heart failure can be considered if it is controlled and becomes chronic with no clinical manifestations such as shortness of breath or chest discomfort, but patients with severe underlying heart disease such as a very enlarged heart and frequent episodes of acute heart failure need to weigh this against chronic heart failure in a more controlled asymptomatic state to avoid unnecessary risks.
References
[1] Roy S, Mazumder T, Banik S. The Association of Cardiovascular Diseases and Diabetes Mellitus with COVID-19 (SARS-CoV-2) and Their Possible Mechanisms [J]. SN Compr Clin Med. 2020 Jun 25:1-6.
[2] Guoliang Li, Ardan M. Saguner, Jiaqi An, et al. Cardiovascular disease during the COVID-19 pandemic: Think ahead, protect hearts, reduce mortality [J]. Cardiology Journal. 2020, Vol. 27, No. 5, 616–624.
[3] Pastora Gallego, Francisco Javier Ruperti-Repilado, and Markus Schwerzmann. Adults with congenital heart disease during the coronavirus disease 2019 (COVID-19) pandemic: are they at risk [J]? Rev Esp Cardiol. 2020; 73 (10): 795–798.
[4] Grasselli G, Zangrillo A, Zanella A, et al. COVID-19 Lombardy ICU Network. Baseline characteristics and outcomes of 1591 patients infected with SARS-CoV-2 admitted to icus of the lombardy region, Italy [J]. JAMA. 2020. 323(16): 1574–1581.
[5] Zhou F, Yu T, Du R, et al. Clinical course and risk factors for mortality of adult inpatients with COVID-19 in Wuhan, China: a retrospective cohort study [J]. Lancet. 2020. 395(10229): 1054-1062.
[6] Wang C, Xie J, Zhao L, et al. Aveolar macrophage activation and cytokine storm in the pathogenesis of severe COVID-19 [J]. 2020.
[7] Huang C, Wang Y, Li X, et al. Clinical features of patients infected with 2019 novel coronavirus in Wuhan, China [J]. Lancet. 2020. 395(10223): 497–506.
[8] Zheng HY, Zhang Mi, Yang CX, et al. Elevated exhaustion levels and reduced functional diversity of T cells in peripheral blood may predict severe progression in COVID-19 patients [J]. Cell Mol Immunol. 2020. 17(5): 541–543.
[9] Hanzhao Zhu, Liyun Zhang, Yubo Ma, et al. The role of SARS-CoV-2 target ACE2 in cardiovascular diseases [J]. J Cell Mol Med. 2021. 25:1342–1349.
[10] Ni W, Yang X, Yang D, et al. Role of angiotensin-converting enzyme 2 (ACE2) in COVID-19 [J]. Crit Care. 2020 Jul 13, 24(1): 422.
[11] Chorin E, Dai M, Shulman E, et al. The QT interval in patients with COVID-19 treated with hydroxychloroquine and azithromycin [J]. Nat Med. 2020. 26(6): 808–809.
[12] Sanders, J. M., Monogue, M. L., Jodlowski, T. Z. & Cutrell, J. B. Pharmacologic treatments for coronavirus disease 2019 (COVID-19): a review [J]. JAMA. 2020.