Endothelial Cells Markers
Endothelial cells (ECs) line the inside of very blood vessel and form the interior surface layer (also called the endothelium) of blood and lymph vessels throughout the circulatory system. Endothelial cells play a wide variety of critical roles in the control of vascular function [1]. The commonly accepted roles of endothelial cells in homeostasis of body physiology are to safeguard transport logistics, control vascular permeability, and regulate vascular tone. Instead, they are active players in the formation of new blood vessels (angiogenesis) both in health and (life-threatening) diseases [2]. Additionally, endothelial cells also play an important role in coagulation and fibrinolysis. The Figure 1 shows representation of the role played by endothelial cells in coagulation and fibrinolysis pathways.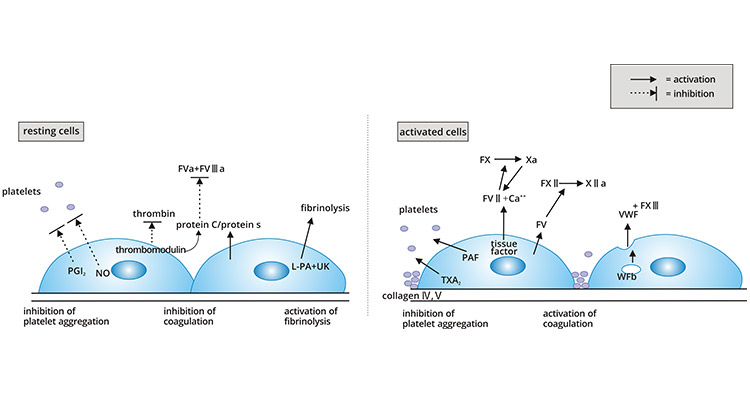 Figure 1. Schematic representation of the role played by endothelial cells in coagulation and fibrinolysis pathways
*This diagram is derived from the publication on JOURNAL OF CELLULAR PHYSIOLOGY [1]
Endothelial cells are characterized by specific protein cell markers, which range from receptor tyrosine kinases, such as VEGFR, to cell adhesion proteins, such as ICAM1. The variety of proteins found on these cells provides specific mechanisms for targeting. CUSABIO list most endothelial markers on the following table, and click to see all the related molecules/targets and research reagents of them.
References
[1] Carine Michiels. Endothelial cell functions [J]. JOURNAL OF CELLULAR PHYSIOLOGY. 2003, 196(3), 430–443.
[2] Guy Eelen, Pauline de Zeeuw, Lucas Treps et al. Endothelial Cell Metabolism [J]. Physiol Rev. 2018, 98(1): 3–58.
[3] Zambello R, Barilà G, Sabrina Manni S. NK cells and CD38: Implication for (Immuno) Therapy in Plasma Cell Dyscrasias [J]. Cells. 2020, 9 (3): 768.
[4] Glaría E, Valledor AF. Roles of CD38 in the Immune Response to Infection [J]. Cells. 2020, 9 (1): 228.
[5] Nielsen JS, McNagny KM. Novel functions of the CD34 family [J]. Journal of Cell Science. 2008, 121 (Pt 22): 3683–92.
[6] Berg EL, Mullowney AT, Andrew DP et al. Complexity and differential expression of carbohydrate epitopes associated with L-selectin recognition of high endothelial venules [J]. The American Journal of Pathology. 1998, 152 (2): 469–77.
[7] Suzawa K, Kobayashi M, Sakai Y et al. Preferential induction of peripheral lymph node addressin on high endothelial venule-like vessels in the active phase of ulcerative colitis [J]. The American Journal of Gastroenterology. 2007, 102 (7): 1499–509.
[8] Rothlein R, Dustin ML, Marlin SD et al. A human intercellular adhesion molecule (ICAM-1) distinct from LFA-1 [J]. Journal of Immunology. 1986, 137 (4): 1270–4.
[9] Yang L, Froio RM, Sciuto TE et al. ICAM-1 regulates neutrophil adhesion and transcellular migration of TNF-alpha-activated vascular endothelium under flow [J]. Blood. 2005, 106 (2): 584–92.
[10] Nakano A, Harada T, Morikawa S, et al. Expression of leukocyte common antigen (CD45) on various human leukemia/lymphoma cell lines [J]. Acta Pathol Jpn. 1990, 40(2):107-15.