Gonorrhea, also known as gonorrhoea, is a sexually transmitted disease (STD) that can infect both men and women, which caused by the bacterium Neisseria gonorrhoeae [1]. Neisseria gonorrhoeae is a species of Gram-negative diplococci bacteria isolated by Albert Neisser in 1879[2]. You can be infected from having sex with someone who is infected with gonorrhea. Some people call it "the clap." Gonorrhea usually causes pain and other symptoms in your genital tract, but it can also cause problems in your rectum, throat, joints, or eyes. Both men and women can get it, but men get it more often than women. It is a very common infection, especially among young people ages 15-24 years.
1. What are the symptoms of gonorrhea?
What are the symptoms in women?
What are the symptoms in men?
2. How does the gonorrhea transmit?
3. Gonorrhea treatment
What antibodies are utilized in gonorrhea treatment?
How to treat gonorrhea in pregnant?
4. Other popular questions about gonorrhea
What happens if I don't get treated?
What do I need to know if I get treated for gonorrhea?
How can I avoid getting gonorrhea?
How does the immune system response to gonorrhea?
1. What are the symptoms of gonorrhea?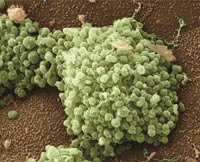 Fig. 1 The image of gonorrhea
*The image derive from JenniferAbbasi's article[3].
The incubation period of gonorrhea usually is 2 to 14 days, but the most symptoms usually appear within 4 and 6 days after exposing. But, gonorrhea can be tricky, because some people infected with gonorrhea never develop noticeable symptoms. Or the signs of gonorrhea may be so mild you don't even notice them. Sometimes people confuse gonorrhea symptoms with other infections. Because of them, lots of people don't even realize they have gonorrhea, and that's part of the reason why it's such a common infection. However, gonorrhea can lead to serious health problems and even infertility if you don't treat it. In this part, we present the symptoms of people who infects gonorrhea. Because of the difference between women and men, the symptoms between them also are different.
What are the symptoms in women?
Half of women don't develop any overt symptoms of gonorrhea. Whereas, when women do develop symptoms, they tend to be mild or similar to other infections, making them more difficult to identify. And gonorrhea symptoms show up within about a week of being infected. These includes: discharge from the vagina (watery, creamy, or slightly green), pain or burning sensation while urinating, the need to urinate more frequently, heavier periods or spotting, sore throat, pain with sexual intercourse associated with inflammation of the uterine cervix, sharp pain in the lower abdomen, and fever[4][5]. But the symptoms of sore throat is very rare. And if symptoms do show up, it's usually just a sore throat.
What are the symptoms in men?
Compared with women, men are more likely to have symptoms if they get gonorrhea for several weeks, although some men may never develop symptoms. The symptoms usually begin to be shown within a week after they get the infection. The most noticeable common symptom in men is often a burning or painful sensation during urination. As it progresses, other symptoms may include: greater frequency or urgency of urination, a pus-like discharge (or drip) from the penis (white, yellow, beige, or greenish), swelling or redness at the opening of the penis, swelling or pain in the testicles, and a persistent sore throat[6]. The infection will stay in the body for a few weeks after the symptoms have been treated. In rare instances, gonorrhea can continue to cause damage to the body, specifically the urethra and testicles. Pain may also spread to the rectum.
Beside that symptoms, Gonorrhea can also infect your anus if you have anal sex, or you may spread the infection to your anus from another part of your body (like by wiping after you go to the bathroom). Anal gonorrhea often doesn't have any symptoms. But if the symptoms show up, the signs of gonorrhea in your anus can include: itching in or around your anus, discharge from your anus, and pain when you poop.
2. How does the gonorrhea transmit?
People usually get gonorrhea from having unprotected sex (unprotected oral, anal, or vaginal sex) with someone who has the infection. It is the most common way of transmission. Gonorrhea is transmitted when semen (cum), pre-cum, and vaginal fluids get on or inside your genitals, anus, or mouth. Moreover, Gonorrhea can be passed even if the penis doesn't go all the way in the vagina or anus. Then, people with numerous sexual partners or those who don't use a condom are more likely at risk of infection. The best protections against infection are abstinence, monogamy, and proper condom usage.
Besides that, behaviors that make a person more likely to engage in unprotected sex also increase the likelihood of infection. These behaviors include alcohol abuse and illegal drug abuse, particularly intravenous drug use. Because these ,Neisseria gonorrhoeae, germs, can't live for more than a few seconds outside the body, so you can't get this STD by touching objects like toilet seats or clothes. But women who have gonorrhea can pass the disease on to their baby during a vaginal delivery. Babies born by C-section can't get it from their mother.
You can also get gonorrhea by touching your eye if you have infected fluids on your hand. Gonorrhea can also be spread to a baby during birth if the mother has it. Gonorrhea isn't spread through casual contact, so you can't get it from sharing food or drinks, kissing, hugging, holding hands, coughing, sneezing, or sitting on toilet seats. Many people with gonorrhea don't have any symptoms, but they can still spread the infection to others. So using condoms and/or dental dams every time you have sex is the best way to help prevent gonorrhea-even if you and your partner seem totally healthy.
3. Gonorrhea treatment
In the US, an estimated 820,000 new N. gonorrhea infections occur each year[7]. Gonorrhea is the second most commonly reported communicable disease[8]. So, the treatment of gonorrhea is urgent. In fact, gonorrhea can be easily cured with antibiotics, and your sexual partners need to be treated, too. If you don't treat gonorrhea, it can lead to serious health problems. In this section, we conclude several common questions about gonorrhea treatment.
What antibiotics are utilized in gonorrhea treatment?
In theory, gonorrhea is very easy to get rid of. If you infect, your nurse or doctor will prescribe antibiotics to treat the infection. Gonorrhea is usually treated with an antibiotic injection of Ceftriaxone one time to the buttocks or a single dose of Azithromycin by mouth. Once on antibiotics, you should feel relief within days. However, emerging some antibiotic-resistant strains of gonorrhea resist the antibiotics and are hard to treat. The antibiotic-resistant strains of gonorrhea is a growing challenge which we against[9]. For these cases, the people who is infected may requires more extensive treatment, with a seven-day course of an oral antibiotic or dual therapy with two different antibiotics, usually for a total of seven days of therapy. The antibiotics used for extended therapy are usually given once or twice a day. Your doctor will help you figure out which treatment is best for you. Some common antibiotics used include azithromycin and doxycycline. And currently, scientists are working to develop vaccines to prevent gonorrhea infection.
How to treat gonorrhea in pregnancy?
During pregnancy, your health is the most important thing to protect your growing baby. This can be more of a challenge for women who have sexually transmitted diseases and become pregnant. If you have gonorrhea during pregnancy, you may have a greater risk of miscarriage, preterm birth, preterm premature rupture of membranes and infection of the amniotic sac and fluid. But gonorrhea during pregnancy does not mean you will not have a healthy baby. You just want to work carefully with your doctor and take all the appropriate steps to ensure the health of your baby. Although prompt treatment reduces the risk of these problems as soon as possible. If left untreated, a gonorrhea infection in an infant can cause blindness or spread to other parts of a baby's body, causing such problems as blood or joint infections and meningitis.
An untreated gonorrhea infection increase your chances of getting or giving HIV some other sexually transmitted diseases when you're exposed to them, and raises your risk of a uterine infection after you have your baby. The gonorrhea in newborns most commonly presents on the eyes. As a preventive measure, the American Academy of Pediatrics and the U.S. Preventive Services Task Force strongly recommend (and most states require by law) that all babies be treated with medicated eye drops or ointments soon after birth.
4. Other popular questions about gonorrhea
Besides the questions in the previous sections, there are numerous FAQ about gonorrhea. In this part, we enumerate several question and corresponding answers.
What happens if I don't get treated?
Even though gonorrhea is common and doesn't always cause obvious symptoms, but untreated gonorrhea can bring about serious and permanent health problems in both women and men. In women, untreated gonorrhea can spread to your uterus and fallopian tubes and cause pelvic inflammatory disease (PID). There are some of the complications of PID, including Infertility, formation of scar tissue that blocks fallopian tubes, Long-term abdominal pain, and ectopic pregnancy. In men, untreated gonorrhea can cause a painful condition in the tubes attached to the testicles. In rare cases, this may cause a man to be sterile, or prevent him from being able to father a child. Rarely, untreated gonorrhea can also spread to your blood or joints. This condition can be life-threatening.
Untreated gonorrhea may make you more susceptible to infect HIV, the virus that causes AIDS, both women and men.
What do I need to know if I get treated for gonorrhea?
If you're getting treated for gonorrhea, these are several tips for you as follows:
a. Take all of your medicine and keep to the way which your doctor tells you, even if your symptoms relieve or go away sooner. The infection stays in your body until you totally finish the antibiotics.
b. Your sex partner should get treated for gonorrhea together, so that you don't re-infect each other or anyone else.
c. Don't have sex for 7 days. If you only have 1 dose of medication, you should wait until a week after you take it to have sex. If you're taking medicine for 7 days, you shouldn't have sex until you've finished all of your pills.
d. Get tested again in 3 months to assure your infection is gone.
e. Don't share your medicine with anyone. Your doctor may give you a separate dose of antibiotics for your partner. Make sure you both take all of the medicine you get.
How can I avoid getting gonorrhea?
Gonorrhea is transmitted via sexual fluids like semen, pre-cum, and vaginal fluids. So, in theory, the best way to avoid gonorrhea and other STDs is to not have vaginal, anal, or oral sex at all. But, maybe it is unrealistic. Besides that, it is a feasible way to have sex only with a long-term partner who does not have gonorrhea and who has sex only with you. Otherwise, use protection, such as condoms, for vaginal or anal intercourse and a dental dam for oral sex to lower your risk of getting gonorrhea (and certain other STDs).
How does the immune system response to gonorrhea?
Currently, scientists are working to develop vaccines to prevent gonorrhea infection. A vaccine for gonorrhea has been developed that is effective in mice[10]. And the mechanisms of interaction of Neisseria gonorrhoeae with cells of the immune system have been revealed.
Neisseria gonorrhoeae can interact with various immune cells to induce innate inflammatory reactions and suppress Th1/Th2-mediated specific immune responses. As shown in the fig. 2: (A) Phagocytosis by macrophages results in NLRP3 inflammasomes activated, activation of PMNs, increasing the production of IL-1 and activation of cathepsin B, which leads to pyronecrosis of APC[11]. (B) Interactions with dendritic cells lead to PDL-1 and PDL-2 up-regulated, which elicit apoptosis of cells bearing PD1. This up-regulation also causes release of IL-10[12], which has immunoregulatory properties and stimulates type 1 regulatory T cells (Tr1). (C) Interaction with CD4+ T helper cells induces secretion of IL-10, TGF-β, and IL-6[13]. IL-10 and TGF-β suppress the activation of Th1 and Th2 cells both directly, and through the activation of Tr1 cells. TGF-β and IL-6 drive the development of Th17 cells which secrete IL-17 and IL-22, leading to the recruitment or induction of innate defenses such as PMNs and anti-microbial peptides.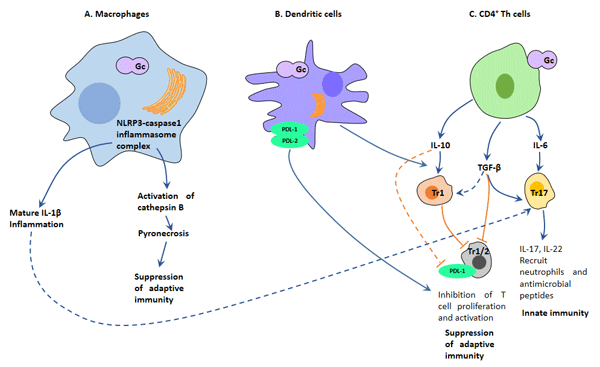 Fig. 2. Mechanisms of interaction of Neisseria gonorrhoeae (Gc) with cells of the immune system
Although the mechanism has been disclosed, it still does not be available for human use until further studies have demonstrated that it is both safe and effective in the human population. Development of a vaccine has been complicated by the ongoing evolution of resistant strains and antigenic variation, which means that the ability of N. gonorrhoeae to disguise itself with different surface markers to evade the immune system.
References:
[1] Morgan, MK; Decker, CF. Gonorrhea [J]. Disease-a-month: DM. 2016, 62 (8): 260–8.
[2] O'Donnell, Judith A.; Gelone, Steven P. Pelvic Inflammatory Disease [J]. Infobase Publishing. 2009.
[3] JenniferAbbasi. New Hope for a Gonorrhea Vaccine [J]. JAMA. 2017, 318(10):894-895.
[4] Smith, L; Angarone, MP. Sexually Transmitted Infections [J]. The Urologic Clinics of North America. 2015, 42 (4): 507–18.
[5] Ljubin-Sternak, Suncanica, et al. Review: Clamydia trachonmatis and Genital Mycoplasmias: Pathogens with an Impact on Human Reproductive Health [J]. Journal of Pathogens. 2014 (183167): 7.
[6] Brian R. Shmaefsky. Gonorrhea [M]. Infobase. 2009, p. 52.
[7] Satterwhite CL, Torrone E, et al. Sexually transmitted infections among US women and men: prevalence and incidence estimates, 2008 [J]. Sex Transm Dis. 2013, 40:187–93.
[8] CDC. Sexually transmitted disease surveillance 2013. Atlanta: US Department of Health and Human Services; 2014.
[9] Lai-King; Martin, Irene E. The laboratory diagnosis of Neisseria gonorrhea [J]. The Canadian Journal of Infectious Diseases & Medical Microbiology. 2005, 16 (1): 15–25.
[10] Jerse, AE; Bash, MC; et al. Vaccines against gonorrhea: current status and future challenges [J]. Vaccine. 2014, 32 (14): 1579–87.
[11] Duncan JA, Gao X, et al. Neisseria gonorrhoeae activates the proteinase cathepsin B to mediate the signaling activities of the NLRP3 and ASC-containing inflammasome [J]. J Immunol. 2009, 182:6460–9.
[12] Zhu W, Ventevogel MS, et al. Neisseria gonorrhoeae suppresses dendritic cell-induced, antigendependent CD4 T cell proliferation [J]. PLoS ONE. 2012, 7:e41260.
[13] Liu Y, Islam EA, et al. Neisseria gonorrhoeae selectively suppresses the development of Th1 and Th2 cells, and enhances Th17 cell responses, through TGF-beta-dependent mechanisms [J]. Mucosal Immunol. 2012, 5:320–31.