Neuropilin-1, also known as vascular endothelial cell growth factor 165 receptor (VEGF165R), CD304, belongs to the neuropilin family. Neuropilins (NRPs) were first discovered by Takagi et al. in frozen sections of nerve tissues of Xenopus laevis by immunofluorescence staining, and confirmed to be a non-tyrosine kinase transmembrane glycoprotein. NRP-1 was first discovered and paid attention to in the NRPs family. NRP-1 is divided into two forms, membrane neuropilin-1 (mNRP-1) and soluble neuropilin-1 (sNRP-1). NRP-1, known to all, usually refers to mNRP-1.
neuropilin 1 acts as a co-receptor for a number of extracellular ligands, including Sema3 (binding to the a1/a2 and part of the b1/b2 domain of the NRP-1), growth factor VEGF-A/B/D/E, placental growth factor 2, HGF, TGF-B1, bFGF and PDGF, (binding to the b1/b2 domain of NRP-1 receptor) and membrane receptors (such as filamentous protein, VEGF receptor, PDGF receptor and TGF receptor, binding to NRP- 1 The b1/b2 and c domains of the receptor). In addition, NRP-1 can interact with other transmembrane proteins such as integrins αvβ3 and β1 to activate a series of signal transfer pathways.
More interesting read related NRP1>>
Popular Product
Recombinant Human Neuropilin-1(NRP1) (Active) (CSB-MP016091HU)
Validated Data
Purity determined
by SDS-PAGE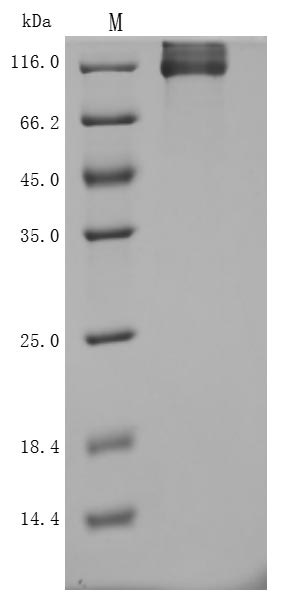 Greater than 95% as determined by SDS-PAGE.
The binding activity of NRP1-VEGF165 validated by functional ELISA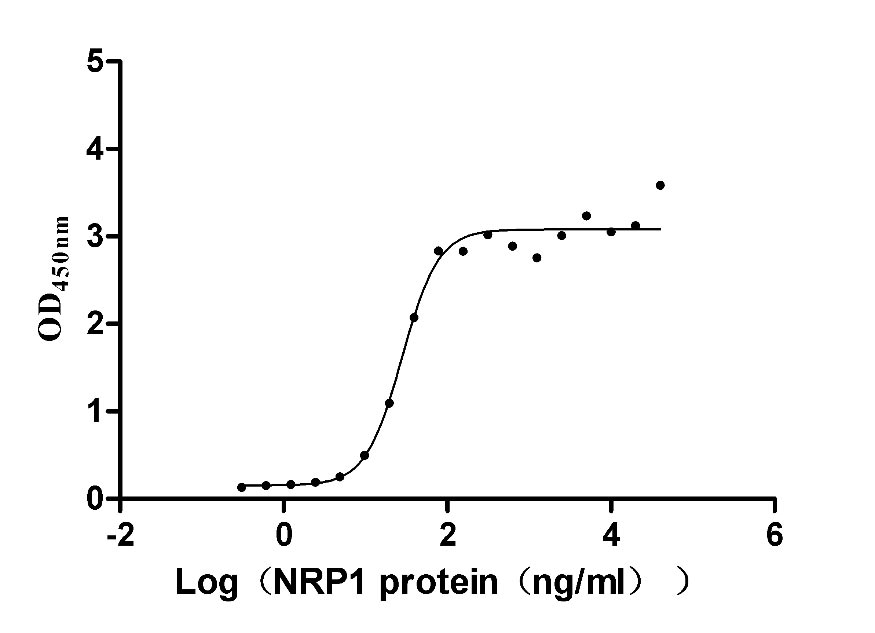 Immobilized human VEGF165 (CSB-MP025833HU(F4)) at 2 μg/ml can bind human NRP1, the EC50 is 22.68-34.55 ng/ml.
The following NRP1 reagents supplied by CUSABIO are manufactured under a strict quality control system. Multiple applications have been validated and solid technical support is offered.
NRP1 Antibodies
NRP1 Antibodies for Homo sapiens (Human)
NRP1 Antibodies for Arabidopsis thaliana (Mouse-ear cress)
NRP1 Antibodies for Saccharomyces cerevisiae (strain ATCC 204508 / S288c) (Baker's yeast)
NRP1 Proteins
NRP1 Proteins for Gallus gallus (Chicken)
NRP1 Proteins for Mus musculus (Mouse)
NRP1 Proteins for Xenopus laevis (African clawed frog)
NRP1 Proteins for Homo sapiens (Human)
NRP1 Proteins for Saccharomyces cerevisiae (strain ATCC 204508 / S288c) (Baker's yeast)
NRP1 Proteins for Rattus norvegicus (Rat)