Neurotransmitter Receptors, Transporters, and Ion Channels
Neurotransmitter Receptors, Transporters, and Ion Channels are usually expressed on the surface of post-synaptic cells to bind ligand-specific neurotransmitters and hormones. The expression and physiological properties of these membrane proteins shape the electrical and biochemical properties of individual neurons and neural circuits. These proteins are targets for drugs for the treatment of neurological conditions and also interact with addictive drugs such as nicotine, opioids, cocaine and amphetamines. So what are neurotransmitter receptors, transporters, and ion channels, respectively?
1. What are Neurotransmitter Receptors?
Receptors were first postulated by the British physiologist Langley in 1905. Langley's postulate was based on his observation that drugs can mimic both the specificity and potency of endogenous hormones and neurotransmitters, while others appear to be able to selectively antagonize the actions of such substances. A neurotransmitter is a molecule released by neurons or glial cells, which acts as chemical signals between nerve cells [1]. Based on chemical composition, neurotransmitters can be classified into several groups, including amines, amino acids, purines gases and peptides. The term neurotransmitter receptor is presumed to refer to proteins localized to synaptic membranes that are activated by a neurotransmitter [2]. They are key elements for brain function [3].
More recently the precise structures of a large number of different types of transmitter receptors have been determined using cloning and other techniques. These receptors can be divided into two categories, ligand-gated ion channels (also known as ionotropic receptors) and transmitter receptors coupled to an intra-cellular guanosine triphosphate-(GTP-) binding protein (also called metabotropic receptors) (Figure 1). Ligand-gated ion channels consist of different subunits that are inserted into the cell membrane (A2). Binding of the neurotransmitter to the specific receptor causes the channel to become permeable to certain ions. Most neurotransmitters do not bind to ligand-gated channels but to receptors coupled to G protein. The main difference between the two types of receptors is in the speed of the synaptic response. In the case of ligand-gated ion channels, the activation causes a rapid synaptic potential lasting only for milliseconds. Activation of G protein-coupled receptors results in responses that last seconds or minutes.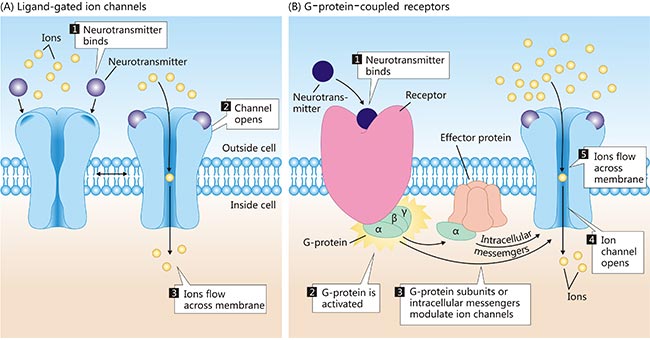 Figure 1. The diagram of main two types of transmitter receptors
2. What are Neurotransmitters Transporters?
Neurotransmitter transporters are a group of transmembrane proteins that inactive most neurotransmitters by uptake of the released chemical into the nerve terminal. This concept is only some 40 years old [4]. They regulate the concentration and distribution of transmitters within the synapse. In addition to the plasma membrane transporters, vesicular transporters in the membranes of neurotransmitter storage vesicles are responsible for maintaining vesicle stores and facilitating exocytotic neurotransmitter release. The cell membrane monoamine transporters are important targets for CNS drugs. The transporters for noradrenaline and serotonin are key targets for antidepressant drugs. Both noradrenaline-selective and serotonin-selective reuptake inhibitors are effective against major depression and a range of other psychiatric illnesses.
3. What are Neurotransmitters Ion Channels?
Neurotransmitters ion channels, usually called chemically-gated channels, are regionally located in the neuron and are functionally unique. At synapses, ions move across cell membranes through chemically-gated channels. These gates are opened or closed by neurotransmitters. The membranes of nerve cells contain two types of channels based on the mechanisms of controlling their gating (opening and closing): voltage-gated and ligand-gated channels. Voltage-gated channels respond to changes in the membrane potential of the cell. The voltage-gated sodium channel described for the heart is an example of the first type of channel. In nerve cells, these channels are concentrated on the initial segment and the axon and are responsible for the fast action potential, which transmits the signal from cell body to nerve terminal. There are many types of voltage-sensitive calcium and potassium channels on the cell body, dendrites, and initial segment, which act on a much slower time scale and modulate the rate at which the neuron discharges. For example, some types of potassium channels opened by depolarization of the cell result in slowing of further depolarization and act as a brake to limit further action potential discharge.
4. Featured Targets Related to Neurotransmitter Receptors, Transporters, and Ion Channels
CUSABIO collects and lists the related molecules/targets of blood-brain barrier permeability, click to see all the related molecules/targets and research reagents of them.
● Calcium-binding Proteins and Related Molecules
● Neurotransmitter G Protein-Coupled Receptors
References
[1] Snyder, S.H. and Ferris, C.D. Novel neurotransmitters and their neuropsychiatric relevance [J]. Am. J. Psychiatry. 2000, 157, 1738–1751.
[2] Snyder, S.H. Neurotransmitters, receptors, and second messengers galore in 40 years [J]. J. Neurosci. 2009, 29, 12717–12721.
[3] Ephrem Engidawork, Jana Aradska and Gert Lubec. Neurotransmitter receptor complexes: methods for bioanalysis, their potentials and limitations [J]. Rev. Neurosci. 2015.
[4] Iversen L. Neurotransmitter transporters and their impact on the development of psychopharmacology [J]. Br J Pharmacol. 2006, 147 Suppl 1: S82-8.