The nervous system is a system that plays a leading role in the regulation of physiological function. It is mainly composed of nerve tissue and is divided into two parts: the central nervous system and the peripheral nervous system. The central nervous system includes the brain and spinal cord, and the peripheral nervous system includes the brain and spinal nerves. Both the central nervous system and the peripheral nervous system are consist of two types of cells in nervous system, including neuron and neuroglia. One of them, neuron, also known as nerve cell, is a type of electrically excitable cell that receives, processes, and transmits information through electrical and chemical signals, and it is a specific feature of nervous system. Another one, neuroglia, also known as glial cell or glia, is non-neuronal cell in the central nervous system (brain and spinal cord) and the peripheral nervous system. Its main function is maintaining homeostasis, myelin formation, and providing support and protection for neurons[1]. In this article, we focus on the markers of them, we are prepared a table for you, which contains the hot research markers of neuron and neuroglia. We hope this form will facilitate your neurological research.
Classification
Both neurons and neuroglia have several different subtypes. Neurons exist in a number of different shapes and sizes and can be classified by their morphology and function. Neuroglia can be classified by their morphology.
1. The neuron classification
Neurons can be classified by function, locality, cell morphology and neurotransmitter, respectively. In this part, we illustrate the four different classification of neurons in details.
Function
Firstly, according to various function, the neurons are divided into three subtypes, named sensory neurons, motor neurons and interneurons. Among of them, sensory neurons, also known as afferent neurons, respond to one particular type of stimulus such as touch, sound and all other stimuli affecting the cells of the sensory organs or tissues, and converts it into an electrical signal via transduction, which is then sent to the central nervous. The second one, motor neurons, also known as efferent neurons, receive signals from the brain and spinal cord to control everything from muscle contractions to glandular output. As opposed to sensory neurons that arrive at the region. The third one, Interneurons, also called internuncial neuron, create neural circuits and connect neurons to other neurons within specific regions of the central nervous system. Interneurons can be further split into two subtypes through diversity structures: local interneurons and relay interneurons[2]. Local interneurons have short axons and form circuits with nearby neurons to analyze small pieces of information[3]. Relay interneurons have long axons and connect circuits of neurons in one region of the brain with those in other regions.
Locality
Secondly, the neurons can be sorted through distrinct locality, including central neurons and peripheral neurons. Moreover, central neurons can be further divided into several groups – spinal cord neurons, cortical neurons, hippocampal neurons, thalamic neurons, et al. - based on the different parts of brain.
Cell Morphology
Thirdly, most neurons can be anatomically characterized as unipolar, bipolar and multipolar in cell morphology. Morphologically similar neurons tend to be concentrated in a specific region of the nervous system and have similar functions. General speaking, a unipolar neuron is a type of neuron in which only one protoplasmic process extends from the cell body and is common in invertebrate nervous system. A bipolar neuron, also called bipolar cell, is a type of neuron which has two extensions, a dendrite and an axon, and is a prototype of neuron. Bipolar cells are specialized sensory neurons for the transmission of special senses, including hearing, seeing and smelling. A multipolar neuron, also known as multipolar neuron, is a type of neuron that possesses a single axon and many dendrites (and dendritic branches), allowing for the integration of a great deal of information from other neurons. These processes are projections from the nerve cell body. Multipolar neurons constitute the majority of neurons in the central nervous system.
Neurotransmitter

Finally, the most important one, neurons are classified by differnet neurotransmitters production. Early biologists believed that a neuron can only secrete a neurotransmitter, and neurons are classified into GABAergic neurons, glutamatergic neurons, cholinergic neurons, Dopaminergic neurons, and serotonergic neurons according to their secreted transmitters. Although it has been found that a variety of neurotransmitters can coexist in a single neuron, this classification remains useful. As shown in the Table 1, GABAergic neurons—gamma aminobutyric acid. GABA is one of two neuroinhibitors in the central nervous system (CNS), the other being Glycine. Glutamatergic neurons—glutamate. Glutamate is one of two primary excitatory amino acid neurotransmitter, the other being Aspartate. Cholinergic neurons—acetylcholine. Acetylcholine is released from presynaptic neurons into the synaptic cleft. Dopaminergic neurons—dopamine. Dopamine is a neurotransmitter that acts on D1 type (D1 and D5) Gs coupled receptors, which increase cAMP and PKA, and D2 type (D2, D3, and D4) receptors, which activate Gi-coupled receptors that decrease cAMP and PKA. Serotonergic neurons—serotonin. Serotonin (5-Hydroxytryptamine, 5-HT) can act as excitatory or inhibitory.
2. The Neuroglia Classification
Neuroglia, also called glial cells, are non-neuronal cells in the central nervous system (brain and spinal cord) and the peripheral nervous system. As the different structures, the neuroglia can be classified into three groups, astrocyte, microgalia and oligodendrocyte.
Microglia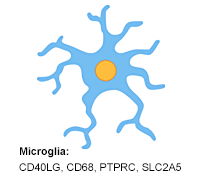 Microglia is a type of neuronal support cell (neuroglia) in the central nervous system of invertebrates and vertebrates that functions primarily as an immune cell. As the name microglia indicates, these cells are the smallest of all the neuroglia. Microglia nuclei are typically oval-shaped, and projecting out from their cell bodies are slender elongated processes that enable the cells to move via chemotaxis (moved along a chemical gradient). For many years the function of microglia was unclear. However, today it is known that microglia mediates immune responses in the central nervous system via acting as macrophages, clearing cellular debris and dead neurons from nervous tissue through the process of phagocytosis (cell eating)[12]. The phagocytic role of microglia is displayed during early embryonic brain development in which the microglia ingests cellular debris of excess neurons that have undergone programmed cell death. Microglia are involved in multiple sclerosis, including Parkinson's disease, Alzheimer's disease, retinal degenera-tive diseases, HIV dementia, and many other conditions.
Astrocyte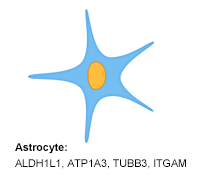 Astrocyte are characteristic star-shaped glial cells in the brain and spinal cord. They contiguously tile the entire central nervous system (CNS) and exert many essential complex functions in the healthy CNS. Astrocytes respond to all forms of CNS insults through a process referred to as reactive astrogliosis, which has become a pathological hallmark of CNS structural lesions[4]. Previously in medical science, the neuronal network was considered the only important function of astrocytes, and they were looked upon as gap fillers. Recently, emerging numerous evidences reveal that astrocyte plays a number of active roles in the brain and includes maintenance of the blood–brain barrier[5], transmitter uptake and release[6], regulation of ion concentration in the extracellular space[7], modulation of synaptic transmission[8], nervous system repair[9], et al. Besides that, accumulating studies have demonstrated that astrocyte plays a key role in several neurologic diseases, including Astrocytomas[10], autism spectrum disorders (ASDs), schizophrenia[11], and so on.
Oligodendrocyte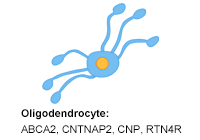 Oligodendrocytes, highly specialized neural cells, are the myelinating cells of the central nervous system (CNS), and like Schwann cells in the peripheral nervous system (PNS), ensheathe axonal processes by their processes[13][14]. They are the end product of a cell lineage which has to undergo a complex and precisely timed program of proliferation, migration, differentiation, and myelination to finally produce the insulating sheath of axons. In addition to myelinating oligodendrocytes, oligodendrocyte progenitor cells persist in the adult brain and are capable of regenerating myelinating oligodendrocytes. The key issues are to determine the factors that regulate oligodendrocyte differentiation and myelination, which are relevant to demyelinating diseases and basic neurobiology, such as multiple sclerosis.
The Markers and Function of The Cells in Nerve System
In this part, we conclude the markers of the specific neurons and neuroglia and show them in the table 1.
Table 1a The Markers of Neurons
types
Function
Target
Cholinergic neurons
A cholinergic neuron is a nerve cell which mainly utilizes the neurotransmitter acetylcholine (ACh) to send its messages and provides the primary source of acetylcholine to the cerebral cortex, and promote cortical activation during both wakefulness and rapid eye movement sleep.
ACHE
SLC5A7
CHAT
SLC18A3
Dopaminergic neurons
Dopaminergic neurons of the midbrain are the main source of dopamine (DA) in the mammalian central nervous system. Dopamine is connected to mood and behavior and modulates both pre and post synaptic neurotransmission. Their loss is associated with one of the most prominent human neurological disorders.
DBH
SLC6A2
SLC6A3
NR4A2
FOXA2
PRKN
KCNJ6
TH
LMX1B
TOR1A
GABAergic neurons
GABAergic neuron is one type of nerve cells, generates gamma aminobutyric acid (GABA) which is one of the two inhibitory neurotransmitters in the central nervous system (CNS), the other being Glycine. GABA is synthesized from glutamate neurotransmitters by the enzyme glutamate decarboxylase.
ABAT
GABBR1
PPP1R1B
GABBR2
SLC6A1
GAD2
SLC6A13
GAD1
SLC32A1
Glutamatergic neurons
Glutamatergic neurons produce glutamate, which is one of two primary excitatory amino acid neurotransmitter in the central nervous system (CNS), the other being Aspartate. Glutamate receptors are one of four categories, three of which are ligand-gated ion channels and one of which is a G-protein coupled receptor (often referred to as GPCR). Glutamate can cause excitotoxicity when blood flow to the brain is interrupted, resulting in brain damage.
FOLH1
SLC17A8
GRIN1
HDLBP
GRIN2B
GLS
SLC14A2
SLC1A1
SLC17A7
SLC1A6
SLC17A6
GOT1
Serotonergic neurons
Serotonergic neurons produce serotonin, which can act as excitatory or inhibitory. Of the four 5-HT receptor classes, 3 are GPCR and 1 is ligand gated cation channel.
FEV
TPH2
SLC6A4
Table 1b The Markers of Neuroglia
types
Function
Target
Astrocyte
Astrocyte, also known collectively as astroglia, star-shaped cell that is a type of neuroglia found in the nervous system in both invertebrates and vertebrates. They perform many functions, including biochemical support of endothelial cells that form the blood–brain barrier, provision of nutrients to the nervous tissue, maintenance of extracellular ion balance, and a role in the repair and scarring process of the brain and spinal cord following traumatic injuries. Astrocytes can be subdivided into fibrous and protoplasmic types.
ALDH1L1
GFRA2
ATP1A3
GFRA3
TUBB3
GFRA4
ITGAM
GFAP
CORO1A
PINK1
SLC1A3
S100B
SLC1A2
SOX2
LGALS3
BIRC5
GAP43
TNFRSF19
GFRA1
VIM
SLC7A11
Microglia
Microglia, known to react quickly in response to CNS injury or disease, proliferating and migrating into an injury site, are one of the three types of glial cells in the central nervous system (CNS). In contrast to neurons, astrocytes, and oligodendrocytes, they are not of ectodermal but rather of mesodermal origin.
CD40LG
CD68
PTPRC
SLC2A5
AIF1
Oligodendrocyte
Oligodendrocytes are neuroectodermally derived glial cells that have the major role of myelinating central axons. Their main functions are to provide support and insulation to axons in the central nervous system of some vertebrates, equivalent to the function performed by Schwann cells in the peripheral nervous system. Oligodendrocytes are found only in the central nervous system, which comprises the brain and spinal cord.
ABCA2
RTN4R
CNTNAP2
OLIG1
CNP
OLIG2
GALC
OLIG3
MAG
OMG
MBP
CLDN11
RANGRF
PDGFRA
RNF5
SOX10
References
[1] Jessen KR, Mirsky R. Glial cells in the enteric nervous system contain glial fibrillary acidic protein [J]. Nature. 1980, 286 (5774): 736–7.
[2] Carlson, Neil R. Physiology of Behavior (11th ed.) [M]. Pearson Higher Education. 2013, p. 28.
[3] Kandel, Eric; Schwartz, James; et al (2000). Principles of Neural Science (4th ed.) [M]. New York City, New York: McGraw Hill Companies. 2000, p. 25.
[4] Michael V. and Harry V. Vinters. Astrocytes: biology and pathology [J]. Acta Neuropathol. 2010 Jan; 119(1): 7–35.
[5] Figley CR, Stroman PW. The role(s) of astrocytes and astrocyte activity in neurometabolism, neurovascular coupling, and the production of functional neuroimaging signals [J]. The European Journal of Neuroscience. 2011, 33 (4): 577–88.
[6] Agulhon C, Fiacco T, et al. Hippocampal short- and long-term plasticity are not modulated by astrocyte Ca2+ signaling[J]. Science. 2010, 327 (5970): 1250–1257.
[7] Gabriel S, Njunting M, et al. Stimulus and Potassium-Induced Epileptiform Activity in the Human Dentate Gyrus from Patients with and without Hippocampal Sclerosis [J]. The Journal of Neuroscience. 2004, 24 (46): 10416–10430.
[8] Pascual O, Casper KB, et al. Astrocytic purinergic signaling coordinates synaptic networks [J]. Science. 2005, 310 (5745): 113–6.
[9] Anderson MA, Burda JE, et al. Astrocyte scar formation aids central nervous system axon regeneration [J]. Nature. 2016, 532 (7598): 195–200.
[10] Barker, AJ, Ullian, EM. New roles for astrocytes in developing synaptic circuits [J]. Communicative & integrative biology. 2008, 1 (2): 207–11.
[11] Sloan, SA, Barres, BA. Mechanisms of astrocyte development and their contributions to neurodevelopmental disorders [J]. Current Opinion in Neurobiology. 2014, 27C: 75–81.
[12] Nicolas G.Bazan, AnashehHalabi, et al. Basic Neurochemistry (Eighth Edition) [M]. 2012, Pages 610-620.
[13] B.M.Reuss. Encyclopedia of Neuroscience [M]. 2009, Pages 819-825.
[14] Monika Bradl, Hans Lassmann. Oligodendrocytes: biology and pathology [J]. Acta Neuropathol. 2010 Jan; 119(1): 37–53.