Neurodegenerative Diseases
In 2020, an estimated around 50 million people worldwide suffer from dementia. The two most common forms are Alzheimer's disease and frontotemporal lobar degeneration (FTLD), which develop when neurons in specific parts of the brain stop functioning, triggering memory loss and other behavioral or personality changes. Both belong to neurodegenerative diseases. The World Health Organization (WHO) predicts that without a cure, this number could increase by 10 million cases per year [1]. However, predicting the onset of these diseases is challenging because neurodegeneration can begin years before people experience any outward symptoms. So what are neurodegenerative diseases? And what are the mechanisms of neurodegenerative diseases?
1. What are Neurodegenerative Diseases?
Neurodegenerative diseases (NDDs) are a heterogeneous group of disorders that are characterized by progressive loss of selectively vulnerable populations of neurons, which contrasts with select static neuronal loss because of metabolic or toxic disorders. They affect millions of people worldwide. Neurodegenerative diseases can be broadly classified according to primary clinical features, with extrapyramidal and pyramidal movement disorders and cognitive or behavioral disorders the most common [2]. Few patients have pure syndromes, with most having mixed clinical features. Generally, NDDs are divided into acute neurodegenerative diseases and chronic neurodegenerative disorders. Acute neurodegenerative diseases mainly include cerebral ischaemia (CI), brain injury (BI) and epilepsy; and chronic neurodegenerative diseases include Alzheimer's disease (AD), Parkinson's disease (PD), Huntington's disease (HD), amyotrophic lateral sclerosis (ALS), different types of spinal cerebellar ataxia (SCA) and Pick's disease. You can click the article entitled "What You Should Know the Common Sense of Neurodegeneration" to know more common sense of neurodegeneration…
2. What is Mechanism of Neurodegenerative Diseases?
Neurodegenerative diseases are becoming increasingly prevalent, in part because the elderly population has increased in recent years [3].These diseases are diverse in their pathophysiology – with some causing memory and cognitive impairments and others affecting a person's ability to move, speak and breathe [4]. Although neurodegenerative diseases are typically defined by specific protein accumulations and anatomic vulnerability, neurodegenerative diseases share many fundamental processes associated with progressive neuronal dysfunction and death, such as proteotoxic stress and its attendant abnormalities in ubiquitin–proteasomal and autophagosomal/lysosomal systems, oxidative stress, programmed cell death, and neuro-inflammation. In this section, we focus on the common fundamental processes most popular with customer.
● Oxidative Stress and Neurodegenerative Diseases
Oxidative stress is caused by an imbalance in pro-oxidant/antioxidant homeostasis that leads to the generation of toxic reactive oxygen species (Figure 1). Toxic reactive oxygen species are atoms or groups with unpaired electrons, including hydroxyl radicals (OH-), superoxide anions (O-), nitric oxide (NO), etc. Oxidative stress has been implicated in the progression of Alzheimer's disease, Parkinson's disease and amyotrophic lateral sclerosis.
Lipid peroxidation is a sensitive marker of oxidative stress, and unsaturated lipids are particularly susceptible to oxidative modification. Lipid peroxidation is the result of attack by radicals on the double bond of unsaturated fatty acids, such as linoleic acid and arachidonic acid, to generate highly reactive lipid peroxy radicals that initiate a chain reaction of further attacks on other unsaturated fatty acids. The chain reaction leads to the formation of breakdown products including 4-hydroxy-2, 3-nonenal (HNE), acrolein, malondialdehyde and F2 -isoprostanes. Elevated HNE levels have been observed in AD [5] [6] and PD [7] brain tissue, whereas increased HNE has been observed in the cerebrospinal fluid (CSF) of ALS patients [8]. Acrolein, thiobarbituric acid-reactive substances (TBARs, the most prevalent substrate of which is malondialdehyde) and F2-isoprostanes are all increased in AD brains relative to age-matched controls [9]. Malondialdehyde is increased in PD brains, whereas increased TBARs have been observed in the plasma of ALS patients [10].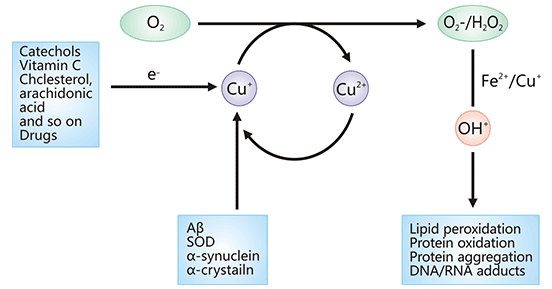 Figure 1. ROS generation by abnormal reaction of O2 with protein-bound Fe or Cu
*This diagram is derived from reference 11.
● Immune Inflammation and Neurodegenerative Diseases
As mentioned before, neurodegeneration is the primary pathological feature of acute and chronic neurodegenerative conditions such as Alzheimer's disease and Parkinson's disease, neurotropic viral infections, stroke, paraneoplastic disorders, traumatic brain injury and multiple sclerosis. Immune activation within the central nervous system (CNS) is a classical feature of ischaemia, neurodegenerative diseases, immune-mediated disorders, infections and trauma. Often, it may contribute to neuronal damage. Despite different triggering events, a common feature is chronic immune activation, in particular of microglia, the resident macrophages of the central nervous system. Apart from the pathogenic role of immune responses, emerging evidence indicates that immune responses are also critical for neurodegeneration [12].
Generally, the intrinsic immune system is a natural immune defense that has developed during the development and evolution of the germline. In contrast to the other specific immune response in the body, it is able to respond rapidly to a variety of harmful substances in order to protect the organism. The activation of the intrinsic immune system itself is a double-edged sword. Prolonged and uncontrollable stimulation by harmful substances (e.g. aggregated forms of Aβ), which activate the innate immune system, can have damaging effects on the brain.
3. Popular Targets of Neurodegenerative Diseases
CUSABIO collects and lists the related molecules/targets of neurodegenerative diseases, click to see all the related molecules/targets and research reagents of them.
● ALS Related Molecules
● Alzheimer's Disease
● Diabetic Peripheral Neuropathy
● Parkinson's Disease Related Molecules
● Multiple Sclerosis and Myelin Related Molecules
References
[1] Tuancheng Feng et al. A role of the frontotemporal lobar degeneration risk factor TMEM106B in myelination [J]. Brain, 2020.
[2] Dugger BN, Dickson DW. Pathology of Neurodegenerative Diseases [J]. Cold Spring Harb Perspect Biol. 2017, Jul 5; 9(7):a028035.
[3] Heemels M.-T. Neurodegenerative diseases [J]. Nature. 2016, 539, 179 10.1038/539179a.
[4] Aaron D. Gitler, Paraminder Dhillon, and James Shorter. Neurodegenerative disease: models, mechanisms, and a new hope [J]. Dis Model Mech. 2017 May 1; 10(5): 499–502.
[5] Selley, M. L., Close, D. R. & Stern, S. E. The effect of increased concentrations of homocysteine on the concentration of (E)-4-hydroxy-2-nonenal in the plasma and cerebrospinal fluid of patients with Alzheimer's disease [J]. Neurobiol. Aging. 2002, 23, 383–388.
[6] Butterfield, D. A., Castegna, A., Lauderback, C. M. et al. Evidence that amyloid β-peptide-induced lipid peroxidation and its sequelae in Alzheimer's disease brain contribute to neuronal death [J]. Neurobiol. Aging. 2002, 23, 655–664.
[7] Dexter, D. T. et al. Basal lipid peroxidation in substantia nigra is increased in Parkinson's disease [J]. J. Neurochem. 1989, 52, 381–389.
[8] Pedersen, W. A. et al. Protein modification by the lipid peroxidation product 4-hydroxynonenal in the spinal cords of amyotrophic lateral sclerosis patients [J]. Ann. Neurol. 1998, 44, 819–824.
[9] Arlt, S., Beisiegel, U. & Kontush, A. Lipid peroxidation in neurodegeneration: new insights into Alzheimer's disease [J]. Curr. Opin. Lipidol. 2002, 13, 289–294.
[10] Sayre, L. M., Smith, M. A. & Perry, G. Chemistry and biochemistry of oxidative stress in neurodegenerative disease [J]. Curr. Med. Chem. 2001, 8, 721–738.
[11] Barnham, Kevin J.; Masters, Colin L.; Bush, Ashley I. Neurodegenerative diseases and oxidative stress [J]. NATURE REVIEWS. 2004, 3(3), 205–214.
[12] Sandra Amor, Fabiola Puentes and David Baker. Inflammation in neurodegenerative diseases [J]. Immunology. 2010 Feb; 129(2): 154–169.