Neuroinflammation
Neuroinflammation is an inflammatory response in which the homeostasis of the central nervous system (CNS) is disrupted. It is a hot topic in contemporary neuroscience [1]. This inflammatory response may be caused by different etiologies, such as intracranial trauma and infection. The timely identification of pro-inflammatory factors in CNS disease is a key breakthrough point in the treatment of these disorders. Neuroinflammation involves many signaling pathway proteins, receptors and a variety of cells. CUSABIO collects and lists the related molecules/targets of blood-brain barrier permeability, click to see all the related molecules/targets and research reagents of them.
Popular Targets of Neuroinflammation Research
What is Neuroinflammation?
Neurinflammation, also known as neurological inflammation, is a condition in which the brain is inflamed initiated in response to a variety of cues, including infection, traumatic brain injury, toxic metabolites, or autoimmunity. It is central to the common pathology of several acute and chronic brain diseases, including Parkinson's disease, Alzheimer's disease, Amyotrophic lateral sclerosis and Huntington disease [2].
Differing from peripheral inflammation, neuroinflammation is a term used to describe the broad range of immune responses of the central nervous system. Peripheral inflammation triggers a neuroinflammatory response involving blood–brain (BBB) barrier, glia and neurons [3]. If the blood-brain barrier is compromised, harmful substances can enter the brain's fragile environment. This process is called "leaky brain syndrome", and once these substances enter the brain's environment, they activate microglia cells that cause inflammation. Symptoms of neurological inflammation are varied. The main symptoms include slowed metabolism/weight gain, cognitive disorders, diabetes, mood disorders and low energy/fatigue.
What are the Mechanisms of Neuroinflammation?
For the past decades years, increasing number of studies have advanced the mechanism of neuroinflammation and its role in neurodegeneration. Studies from epidemiologic, clinical and animal models also contributed in the various new mechanisms of neuroinflammation. The figure 1 shows various factors affecting the process of neuroinflammation which subsequently leads to the neurodegeneration. Among of them, it is becoming clear that activation of microglia and astroglia and the attendant expression of proinflammatory cytokines and chemokines often are associated with disease-, trauma-, and toxicant-induced damage to the CNS.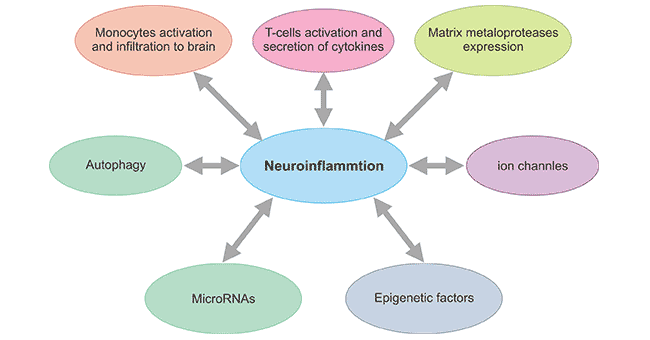 Figure 1. Emerging concepts affecting neuroinflammation
*This diagram is derived from reference 2.
It is widely accepted that, inflammation in the brain is induced by activated microglia and reactive astrocytes. Microglia, being the resident immune cells of the central nervous system, play an important role in maintaining tissue homeostasis and contributes towards brain development under normal conditions [4]. They are responsible for immune surveillance in the brain. Astrocytes control blood flow and extracellular neurotransmitter levels to ensure that the microenvironment in which they reside is optimal for neurological function. In the absence of stimulation or injury, neurotransmitters, neurotrophic factors, anti-inflammatory cytokines and intercellular contacts immunosuppress neuroglia through CD200/CD200 receptor interactions [5] [6]. However, when extracellular concentrations of potassium ions, ATP or adenosine are increased, microglia and astrocytes are stimulated to release a larger number of pro-inflammatory factors/cytokines, such as tumor necrosis factor (TNF-α), interleukin-1 (IL-1), nitric oxide (NO), and superoxide.
Under normal conditions, the brain is considered to be an immunologically privileged site. In fact, antigen presentation is actively inhibited, glial cells are maintained in a quiescent state, and immune components are excluded from the brain by the blood-brain barrier. However, once neuronal injury such as brain trauma and ischemia have occurred, activation of glial cells to produce pro-inflammatory factors and transformation of resting glia to reactive glia become prominent to induce a neuroinflammatory response. However, increasing lines of evidence have demonstrated that appropriate activation of the body immunity can exhibit neuroprotection in different types of neurons [7] [8]. Whether microglia elicit detrimental or beneficial effects to neurons may depend on the activation state of microglia.
Activation states of microglia can be classified into three classes: the resting state, the semi-activated state and the fully activated state. As mentioned before, resting microglia can function like a security guard for immune surveillance. Semi-activated microglia can produce trophic factor without producing free-radicals and function as a police officer to prevent any bad situation for further neuroinflammation and to protect citizen neurons without miss-firing by-stander neurons. Fully activated microglia can produce free-radicals including superoxide and nitric oxide as well as different proinflammatory cytokines, and function as army responsible to fight in a battle. Nevertheless, the by-stander neurons will be damaged unavoidably.
References
[1] O'Callaghan JP, Sriram K, Miller DB. Defining "neuroinflammation" [J]. Ann N Y Acad Sci. 2008. 1139: 318-30.
[2] Niranjan R. Recent advances in the mechanisms of neuroinflammation and their roles in neurodegeneration [J]. Neurochem Int. 2018. 120: 13-20.
[3] Lyman, Monty, Lloyd, Dafydd G., Ji, Xunming, et al. Neuroinflammation: The role and consequences [J]. Neuroscience Research. 2014, 79(), 1–12.
[4] Subhramanyam CS, Wang C, Hu Q, Dheen ST. Microglia-mediated neuroinflammation in neurodegenerative diseases [J]. Semin Cell Dev Biol. 2019. 94: 112-120.
[5] Chang RC, Chiu K, Ho YS, So KF. Modulation of neuroimmune responses on glia in the central nervous system: implication in therapeutic intervention against neuroinflammation [J]. Cell Mol Immunol. 2009, 6(5):317-26.
[6] Anthony Lyons; Keith McQuillan; Brian F. Deighan; et al. Decreased neuronal CD200 expression in IL-4-deficient mice results in increased neuroinflammation in response to lipopolysaccharide [J]. Brain, Behavior, and Immunity. 2009, 23: 1020–1027.
[7] Schwartz M, Kipnis J. A common vaccine for fighting neurodegenerative disorders: recharging immunity for homeostasis [J]. Trends Pharmacol Sci. 2004. 25: 407-412.
[8] Shaked I, Porat Z, Gersner R, Kipnis J, Schwartz M. Early activation of microglia as antigen-presenting cells correlates with T cell-mediated protection and repair of the injured central nervous system [J]. J Neuroimmunol. 2004. 146: 84-93.