What is OMA1?
Mitochondria are the main energy-supplying organelles of cells, with a high degree of dynamic activity. Under normal conditions, mitochondrial fusion and fragmentation are in equilibrium. Once the balance is broken, the fragmentation of mitochondria increases, resulting in an increase in pathological apoptosis.
OMA1 is a zinc ion metalloproteinase located in the inner membrane of mitochondria. It is also a redox-dependent protein with multiple transmembrane domains and zinc finger binding motifs. It is expressed by OMA1 gene, and OMA1 protease is an important regulator of OPA1, which cleaves OPA1 under cellular stress. The dynamic balance of mitochondrial fragmentation-fusion can be controlled by regulating the hydrolysis of intimal protein OPA1. OPA1 is a member of the mitochondrial molding protein family. The protein is located in the mitochondrial intima and is an important protein regulating mitochondrial intimal fusion.
The Structure of OMA1
Metalloproteinase OMA1 is located on chromosome 1p32.2-p32.1 and contains 9 exons. In humans, the protein encoded by the OMA1 gene consists of 524 amino acids.
The molecular weight of human metallo-endonuclease OMA1, is 60.1 kDa, and the amino acid of 1-13 is the signal peptide.
OMA1 and m-AAA protease have overlapping activity. The human lineal homologous gene of OMA1 is MPRP-1.
Mammalian OMA1 shows an extended carboxyl terminal and a positively charged amino-terminal domain, which is considered to be important for the activation of OMA1, because the mutation of the positively charged domain impairs the activation of OMA1 without affecting its proteolytic function. OMA1 itself has also been found to be cut and inactivated under pressure, which is attributed to autocatalytic processing or YME1L1-mediated cleavage.
The Expression of OMA1
OMA1 is widely expressed in the body, and is highly expressed in the heart, skeletal muscle, kidney and liver.
The Function of OMA1
When mitochondrial membrane potential or ATP is lost, OMA1 can degrade OPA1. This induced proteolysis is the main regulatory mechanism of proteolytic inactivation OPA1.
Under the condition of OMA1 deletion, the cleavage of OPA1 at S1 site is blocked, but the morphology of mitochondria is not greatly affected, but under pressure stimulation, mitochondria are fragmented, which requires OMA1 to cut OPA1. OMA1-deficient mice can survive but suffer from diet-induced obesity and abnormal thermogenesis, indicating that OMA1 plays an important role in OPA1 cutting in maintaining metabolic balance.
After stress, the activation of protease OMA1 will over-hydrolyze OPA1, and then promote mitochondrial breakage. If it persists, it will cause cell death and tissue degeneration in the body, and then lead to a series of diseases, such as autosomal optic nerve atrophy ((DOA)), Barthes syndrome, neurodegenerative diseases and cancer.
The Latest Research Progress
OMA1 is a metallo-endopeptidase, which initiates the proteolysis of OPA1 and deteriorates the structure and function of mitochondria. Researchers have demonstrated that HRI or HO stimulation can induce self-cleavage of OMA1 and change OPA1 from long to short, leading to mitochondrial breakage, cytochrome c release and apoptosis. The candidate compounds of OMA1 inhibitors were also selected: epigallocatechin gallate (EGCG) and betaine. The study also suggests the use of EGCG-induced OMA1 inhibition to treat cardiac IRI.
It is generally believed that mitochondria play an important role in tumorigenesis. Therefore, understanding the potential mechanism of mitochondria in cancer progression has potential significance for the development of new therapeutic strategies. Some studies have shown that the low expression of OMA1 is related to the low overall survival rate of breast cancer patients. The loss of OMA1 increases the migration characteristics of metastatic breast cancer cells, indicating that OMA1 plays a key role in inhibiting the metastatic ability of breast tumors. The decrease of OMA1 activity/level provides insight into the mechanisms leading to the development of breast cancer, promoting malignant progression of cancer cells and adverse clinical outcomes, which may be a possible prognostic marker and therapeutic target for the treatment of breast cancer.
Hot Products of OMA1
Recombinant Human Metalloendopeptidase OMA1, mitochondrial(OMA1) (Active) (CSB-CF856923HU)
Validated Data
Purity determined by SDS-PAGE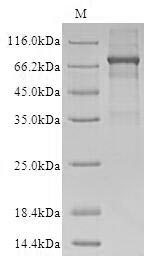 Greater than 90% as determined by SDS-PAGE.
Excellent Bioactivity Validated by Functional ELISA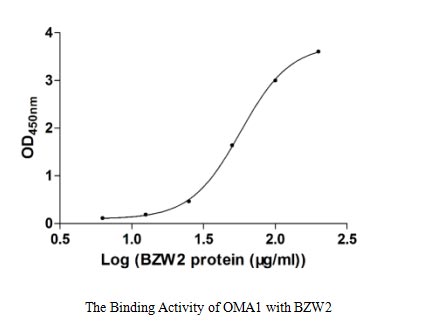 Immobilized OMA1 at 5 μg/ml can bind human BZW2, the EC50 of human BZM2 is 45.42-72.22 μg/ml.
The following OMA1 reagents supplied by CUSABIO are manufactured under a strict quality control system. Multiple applications have been validated and solid technical support is offered.