Cell differentiation is the process where a cell changes from one type to many different types. In the process of cell differentiation, there are differences in morphological structure and physiological function. All organisms begin from a single cell. For example, humans are derived from fertilized eggs, and this process involves the differentiation of embryonic stem cells. Cell differentiation occurs throughout life. For example, hematopoietic stem cells differentiate into various immune cells.
Abnormal differentiation of cells can lead to cancerous cells. Cancerous cells divide indefinitely, which forms tumors and endangers human health.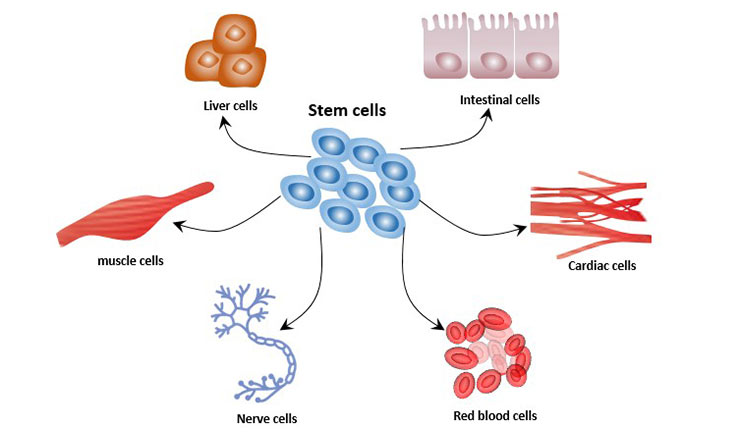 Figure 1 Cell differentiation of stem cells
MAPK is a mitogen-activated protein kinase, a class of protein kinases with dual phosphorylation of serine and tyrosine in the cytosol. The MAPK signaling pathway activates transcription factors and regulates gene expression through a cascade reaction (MAPKKK-MAPKK-MAPK). MAPK can cause the activation of transcription factors in the nucleus, participate in the process of signal transmission from the cell surface to the nucleus, and regulate cell proliferation and differentiation.
Currently, there are 4 known MAPK signaling pathways, including the extracellular signal-regulated kinase (ERK), c-Jun N-terminal kinase (JNK, also known as SAPK), p38 and ERK5 pathways.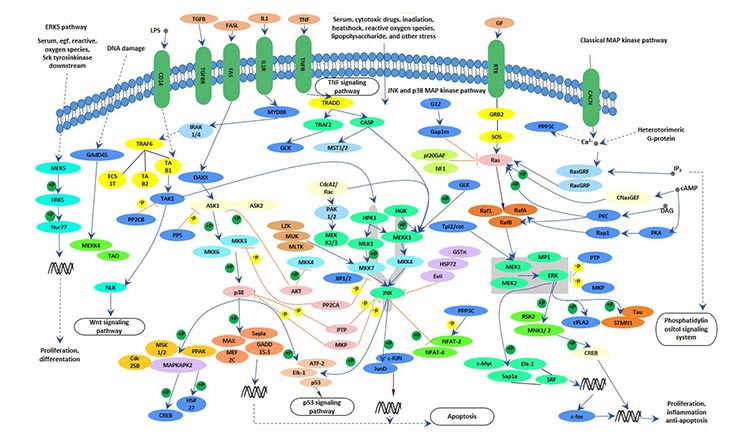 Figure 2 MAPK signaling pathway
For more information about MAPK signaling pathways, please refer to the following links: https://www.cusabio.com/pathway/MAPK-signaling-pathway.html
In the MAPK signaling pathway, the ERK pathway acts primarily through the Ras-Raf-MEK-ERK cascade.
The main process of this pathway: the growth factor activates the receptor by binding to the tyrosine kinase receptor, and the activated tyrosine kinase receptor activates the Ras protein, then the Ras protein phosphorylates the Raf, and the activated Raf phosphorylates the downstream MEK. MEK can phosphorylate and activate ERK, which is transferred into the nucleus and regulates gene expression by activating other kinases or transcription factors.
The ERK-MAPK signaling pathway plays a role in the differentiation of mesenchymal stem cells (MSCs) into adipocytes [1] [2]. In the early stage of adipocyte differentiation, ERK1/2 promotes adipocyte differentiation by promoting the expression of C/EBPα and PPARγ. In the late stage of adipocyte differentiation, activated ERK1/2 phosphorylates PPARγ to inactivate it and inhibit adipocyte differentiation.
This pathway can also affect the proliferation and differentiation of red blood cells. Studies have shown that ERK signaling pathway is also involved in signal transduction of osteoblast differentiation and proliferation.
1.2 JNK-SAPK pathway
The c-Jun N-terminal kinase (JNK), also known as stress-activated protein kinase (SAPK), is another subclass of MAPK in mammals. The JNK signaling pathway can affect a variety of life processes such as cell growth, cell differentiation, and cell death. JNK can change the mRNA level of osteocalcin, so the activation of JNK can induce osteoblast differentiation. JNK signaling pathway also plays an important role in regulating adipocyte differentiation.
1.3 p38 MAPK pathway
The p38 signaling pathway is an important component of the MAPK family. p38 MAPK can be activated by a variety of extracellular stress responses, including ultraviolet, radiation and proinflammatory factors.
p38 pathway plays a very important role in the osteogenic differentiation of mesenchymal stem cells (MSCs). Inhibition of the p38 MARK pathway down-regulates the activity of protein kinase C (PKC), which plays an important role in osteogenic differentiation of cells. In addition, transforming growth factor and bone morphogenetic protein BMP-2 induce Runx2/Cbfa1 transcriptional expression via the p38 MAPK pathway. Among them, Runx2 is a key target gene affecting osteogenic activity, and Cbfa1 regulates the differentiation of MSCs into osteoblasts at the transcriptional level.
The p38 signaling pathway regulates the differentiation direction of stem cells, which may be related to the regulation of the stability of p53 protein [3] [4].
The p38 kinase-activated cells can differentiate into mesoderm-derived tissue cells such as cardiomyocytes, skeletal muscle cells, and smooth muscles; while p38 kinase inhibited cell develop into ectodermal cells and eventually differentiate into neural cells.
In addition, the ERK5/BMK1 pathway, an atypical MAPK pathway, is involved in the regulation of adipocyte differentiation and fat metabolism.
The MAPK signaling pathway regulates cell differentiation through the participation of different pathways and different molecules.
In the phosphatidylinositol signaling pathway, extracellular signaling molecules bind to G-protein-coupled receptors, activating phospholipase C (PLC-β) on the plasma membrane, which makes the phosphatidylinositol (4, 5) bisphosphate (PIP2) hydrolyzed to inositol 1, 4, 5-trisphosphate (IP3) and diacyl glycerol (DG). Therefore, the phosphatidylinositol signal pathway (PLC) is also called "double messenger system".
IP3 turns on the calcium channel and initiates downstream signals. Ca2+ binds to calmodulin (CaM) to form a Ca2+-CaM complex, which activates adenylate cyclase (AC) and phosphodiesterase (PDEs); activates Ca2+-CaM-dependent protein kinase.
DG activates PKC, phosphorylates the serine/threonine residues of proteins, and produces different cellular responses, such as cell secretion, muscle contraction, cell proliferation and differentiation. PLC-γ pathway is also involved in the differentiation of red blood cells.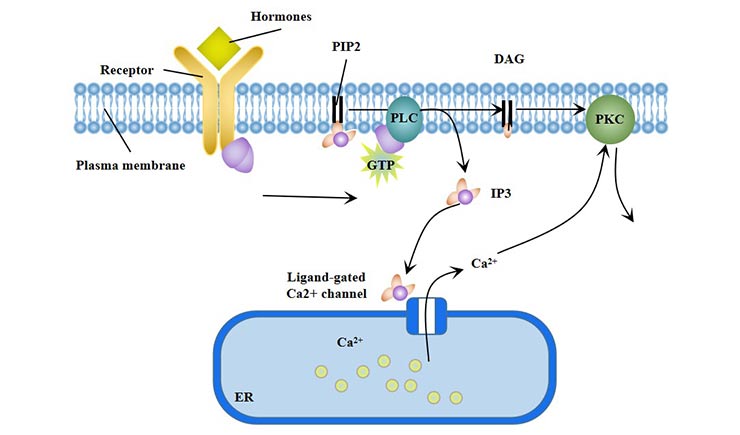 Figure 3 Phosphatidylinositol signaling pathway (PLC)
Cyclic adenosine monophosphate (cAMP) is an important intracellular signaling molecule, it activates the cAMP dependent Protein kinase A (PKA) and regulates the differentiation of cells. cAMP/PKA signaling can promote the adipogenic differentiation of MSCs [5] and inhibit its osteogenic differentiation.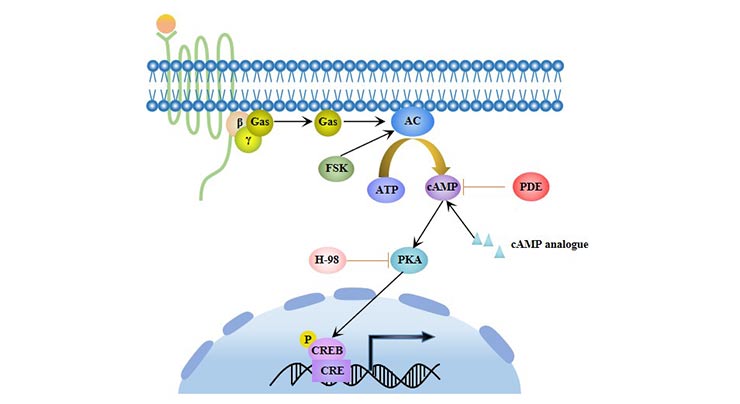 Figure 4 cAMP /PKA signaling pathway
JAK is a tyrosine kinase whose major substrate is the transcription factor STAT. The activated STAT translocates to the nucleus and binds to the DNA sequence, thereby regulating gene expression. The JAK-STAT pathway plays an important role in cell proliferation, apoptosis and differentiation.
The main process of this signal pathway is as follows:
Ligand binding to the receptor leads to the dimerization of the receptor. Dimerized receptors activate JAK, JAK phosphorylation STAT. Phosphorylated STAT forms dimers that enter the nucleus and bind to DNA sequences to regulate gene expression.
The JAK/STAT pathway plays an important role in the proliferation and differentiation of red blood cells [6].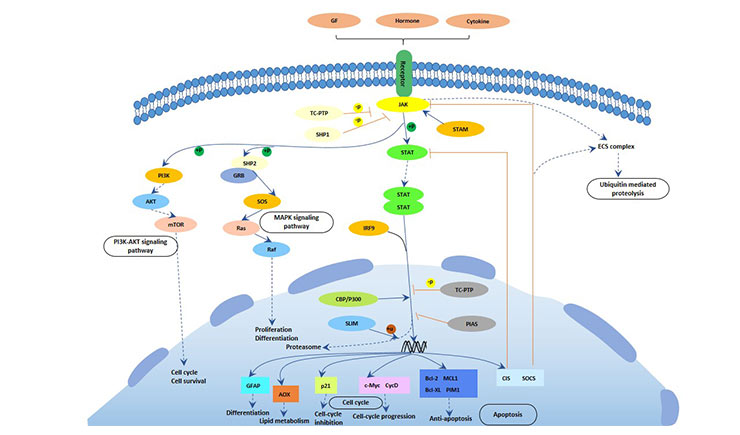 Figure 5 JAK-STAT pathway
Mammalian target of rapamycin (mTOR) is a conserved serine/threonine protein kinase with two main forms: mTORC1 and mTORC2. Activated mTOR plays a key regulatory role in cell proliferation, differentiation and metabolism.
mTOR is mainly regulated by the PI3K/Akt/mTOR signaling pathway and LKB1/AMPK/mTOR signaling pathway. These two signaling pathways are the main pathways regulating the proliferation and differentiation of testicular supporting cells. In the mTOR signaling pathway, the deletion of the mTOR gene leads to a decrease in the number of testicular supporting cells.
Studies have shown that PI3K-activated Akt kinase plays an important role in hematopoiesis. The PI3K pathway is also important in the regeneration of small intestinal stem cells and in promoting cell differentiation.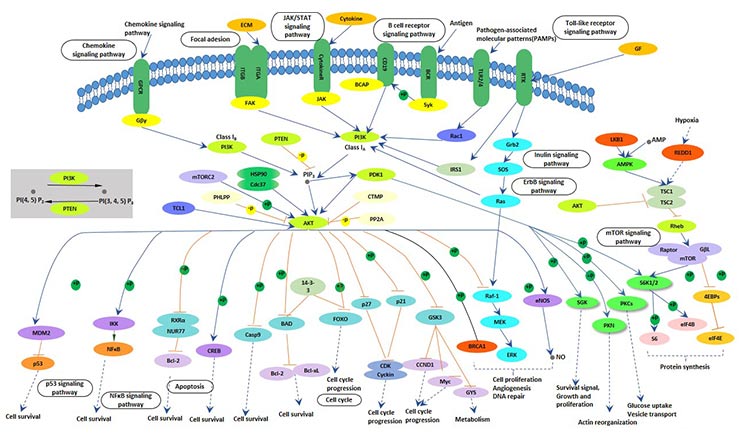 Figure 6 PI3K-AKT-mTOR signaling pathway
In the Notch signaling pathway, the ligand binds to the Notch receptor and causes a series of signal transduction reactions in the cell, which ultimately leads to differentiated cells or remains undifferentiated. Notch ligands include Delta-1ike (Delta-1ike1, 3, 4) and Jagged (Jagged 1, 2).
6.1 Canonical Notch Signaling Pathway
The unactivated Notch receptor releases a soluble intracellular domain (NICD) after three hydrolysiss. Subsequently, NICD is transferred to the nucleus, together with the DNA-binding transcription factor CSL and the nuclear transcriptional activator family MAML to form the NICD-CSL-MAML ternary transcriptional activation complex, which ultimately activates transcription of downstream target genes.
6.2 Notch Signaling Pathway and Cell Differentiation
In stem cells, Notch receptors are mainly distributed on the surface of stem cells. Notch pathway regulates stem cell differentiation and proliferation and plays an important role in organ development [7].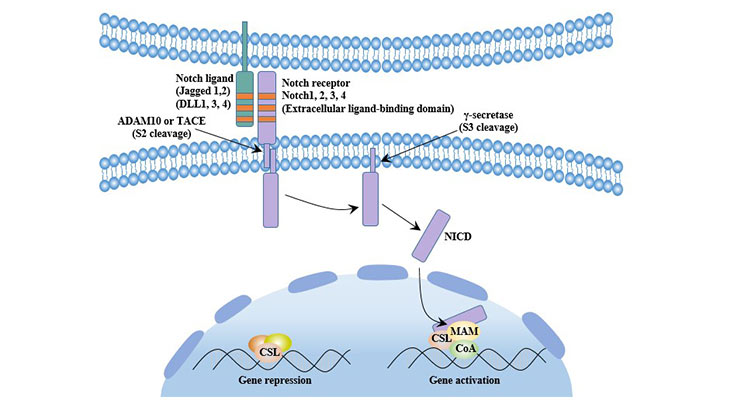 Figure 7 Canonical Notch signaling pathway
Notch signaling regulates the proliferation and differentiation of MSCs and promotes the differentiation of MSCs into osteoblasts. But overexpression of Notch may inhibit bone formation.The Notch pathway is also involved in the differentiation of intestinal stem cells.
Studies have proved that Notch signal and Wnt signal are involved in the differentiation of stem cells into cardiac myocytes, promoting the early differentiation of cardiac myocardium, but inhibiting the late differentiation. The opening and closing of the signal pathway at different times affects the fate of stem cells on the differentiation pathway. Therefore, small molecule compounds can be used to regulate specific signaling pathways, thereby triggering directed differentiation or enhancing differentiation-inducing efficiency [8].
Notch signaling also plays an important role in the immune system. Intervening Notch signaling can lead to blocked T cell differentiation.
6.3 Notch Signaling Pathway and CD4+ T Cell Differentiation
Notch signal can regulate the immune function of the body by regulating the differentiation and function of CD4+T cells, and plays an important role in maintaining the immune balance of the body and the development of various diseases [9].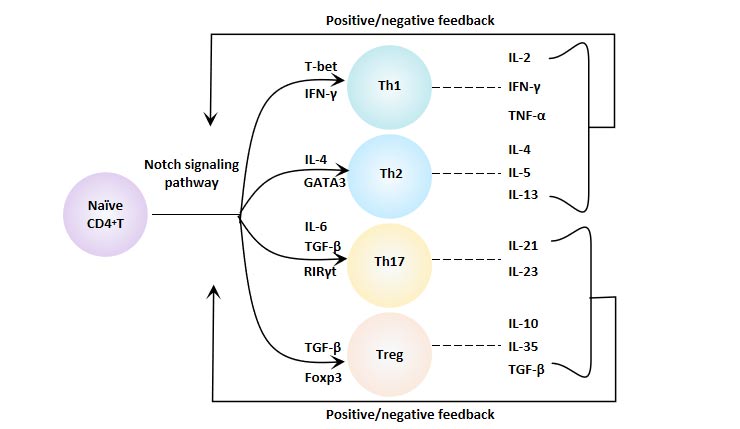 Figure 8 Notch Signaling Pathway and CD4+ T Cell Differentiation
6.3.1 Notch Signal and Th1 Cells
The Notch molecule directly regulates the T-bet gene coding by binding to the TBX21 promoter, thereby regulating the differentiation of Th1 cells. Notch signaling also promotes the differentiation of Th1 cells by interacting with nuclear factor-κB (NF-κB). In addition, Notch1 can also achieve "crosstalk" through the Akt/ERK/GSK3β signal axis, thereby enhancing the differentiation of T cells into Th1 [10]. Blocking the Notch pathway effectively limits the polarization of Th1 cells [11].
6.3.2 Notch Signal and Th2 Cells
The high expression of GATA-3 in T cells is closely related to the polarization of Th2 cells. The Notch ligand Jagged-1 expressed by immature dendritic cells can directly promote the transcription of GATA3 and induce the polarization of CD4+ T cells to Th2 [12]. Jagged-2 can drive the differentiation of Th2 cells in vitro, however, Th2 is not affected by Jagged-2 in vivo [13]. The Notch signaling molecule can promote the differentiation of Th2 cells through the IL-4 and the GATA3, respectively.
6.3.3 Notch Signal and Th17 Cells
RORγt is a Th17 cell-specific transcription factor. IL-17 and RORγt are direct transcriptional targets of the Notch signal. Jagged-1-Notch signaling can inhibit the expression of cytokines related to Th17 production, such as RORγt, IL-17A, IL-17F, thereby inhibiting the differentiation of CD4+ T cells into Th17 cells.
In general, Notch negatively regulates Th17 cell differentiation.However, when the body has a high metabolic demand, Notch can accelerate the release of Th17 cytokines by affecting the intracellular cytokine transport, so as to offset the original effect. Therefore, it is believed that Notch signaling plays an environment-dependent role [14].
6.3.4 Notch Signal and Treg Cells
The characteristic transcription factor of regulatory T cells (Treg) is Foxp3. The Notch signal regulates the expression of Foxp3 at the transcriptional level and regulates the induction of Treg cells by SCs. The study suggests that the Notch/RBP-J/FOXP3/RORγt pathway regulates the balance of Th17/Treg [15].
6.4 Notch Signaling Pathway and NSCs Differentiation
Neural stem cells (NSCs) are capable of self-renewal and multidirectional differentiation, and can differentiate into neurons, astrocytes and oligodendrocytes. Its proliferation and differentiation are regulated by Notch signaling pathway [16].
Activation of Notch signaling pathway inhibits NSCs differentiation into neurons and promotes NSCs differentiation into astrocytes, while blocking Notch signaling pathway promotes NSCs differentiation into neurons.
The Wnt signaling pathway is highly conserved and the core component of this signaling pathway is β-catenin.
When the Wnt signal is not activated, the intracellular β-catenin is phosphorylated and degraded by the proteasome.
When the Wnt protein binds to its receptor Frizzled and LRP, the β-catenin degradation complex is inactivated, β-catenin is released and accumulates in the cell. The accumulated β-catenin enters the nucleus and binds to transcription factor and T cell factor/lymphocyte enhancer factor (TCF/LEF) to initiate a series of genes related to proliferation.
7.1 Wnt Signaling Pathway and Adipocyte Differentiation
Activation of Wnt signaling pathway can inhibit the differentiation of fat cells [17], and once this pathway is out of control, obesity can occur [18].
Wnt signaling pathway is activated by interleukin-6 (IL-6) and tumor necrosis factor alpha (TNF-α), thereby inhibiting the degradation of β-catenin. β-catenin further inhibits downstream levels of C/EBP and PPAR, impairing or even preventing adipocyte differentiation [19].
The differentiation of fat cells was also affected by the PPARs signaling pathway and Hedgehog signaling pathway.
The PPAR family plays an important role in fat differentiation and metabolism. Among them, PPARγ, as an important transcription factor for adipogenic differentiation, can accelerate adipocyte differentiation and deposition [20].
Hedgehog (Hh) also plays a crucial role in cell differentiation.
Hh signaling is an essential regulator in the process of adipogenic differentiation, but not sufficient to trigger adipogenic differentiation [21].
7.2 Wnt Signaling Pathway and Cartilage Differentiation
Activation of Wnt signaling pathway can promote chondrocyte differentiation. During chondrogenic differentiation, the Wnt signaling pathway acts together with many other pathways.
In cartilage differentiation, TGF-β and Wnt signaling pathway together promote cartilage differentiation of mesenchymal stem cells.
In addition, Wnt signaling pathway can promote differentiation of small intestinal stem cells and differentiation of cardiomyocytes, and promote proliferation and differentiation of testicular support cells.
8. TGF-β Superfamily Signaling Pathway
The TGF-β superfamily regulates cell growth, proliferation, differentiation, migration and apoptosis, regulates embryonic development, participates in the body's immune response, and has multifunctional biological activities [22]. The TGF-β signaling pathway affects the proliferation and differentiation of testicular support cells.
References
[1] BOST F, Caron L, MARCHETTI I, et al. Retinoic acid activation of the ERK pathway is required for embryonic stem cell commitment into the adipocyte lineage [J]. Biochemical Journal, 2002, 361(3): 621-627.
[2] Liao Q C, Li Y L, Qin Y F, et al. Inhibition of adipocyte differentiation by phytoestrogen genistein through a potential downregulation of extracellular signal-regulated kinases 1/2 activity [J]. Journal of cellular biochemistry, 2008, 104(5): 1853-1864.
[3] Aouadi M, BOST F, Caron L, et al. p38 Mitogen-Activated Protein Kinase Activity Commits Embryonic Stem Cells to Either Neurogenesis or Cardiomyogenesis [J]. Stem Cells (Miamisburg), 2006, 24(5): 1399-1406.
[4] Hadjal Y, Hadadeh O, Yazidi C, et al. A p38mapk-p53 cascade regulates mesodermal differentiation and neurogenesis of embryonic stem cells [J]. Cell Death and Disease, 2013, 4(7): e737.
[5] Li H, Fong C, Chen Y, et al. Beta-adrenergic signals regulate adipogenesis of mouse mesenchymal stem cells via cAMP/PKA pathway [J]. Molecular and Cellular Endocrinology, 2010, 323(2): 201-207.
[6] Dan X. Protein tyrosine phosphatases in the JAK/STAT pathway [J]. Frontiers in Bioscience, 2008, Volume(13): 4925-.
[7] Saha S, Ji L, De Pablo J J, et al. TGFβ/Activin/Nodal Pathway in Inhibition of Human Embryonic Stem Cell Differentiation by Mechanical Strain [J]. Biophysical Journal, 2008, 94(10): 4123-4133.
[8] Willems E, Lanier M, Forte E, et al. A Chemical Biology Approach to Myocardial Regeneration [J]. Journal of Cardiovascular Translational Research, 2011, 4(3): 340-350.
[9] Yashiroohtani Y, Ohtani T, Pear W S. Notch regulation of early thymocyte development [J]. Seminars in Immunology, 2010, 22(5): 261-269.
[10] Verma N K, Fazil M H U T, Ong S T, et al. LFA-1/ICAM-1 Ligation in Human T Cells Promotes Th1 Polarization through a GSK3? Signaling-Dependent Notch Pathway [J]. The Journal of Immunology, 2016.
[11] Roderick J E , Gonzalezperez G , Kuksin C A , et al. Therapeutic targeting of NOTCH signaling ameliorates immune-mediated bone marrow failure of aplastic anemia.[J]. Rare Diseases, 2013, 210(1):1311-29.
[12] Liotta F, Frosali F, Querci V, et al. Human immature myeloid dendritic cells trigger a TH2-polarizing program via Jagged-1/Notch interaction [J]. Journal of Allergy and Clinical Immunology, 2008, 121(4): 1000-1005.
[13] Krawczyk C M, Sun J, Pearce E J. Th2 Differentiation Is Unaffected by Jagged2 Expression on Dendritic Cells [J]. The Journal of Immunology, 2008, 180(12): 7931-7937.
[14] Coutaz M, Hurrell B P, Auderset F, et al. Notch regulates Th17 differentiation and controls trafficking of IL-17 and metabolic regulators within Th17 cells in a context-dependent manner [J]. Sci Rep, 2016, 6: 39117.
[15] Li H, Wang L, Pang Y, et al. In patients with chronic aplastic anemia, bone marrow–derived MSCs regulate the Treg/Th17 balance by influencing the Notch/RBP-J/FOXP3/RORγt pathway [J]. Scientific Reports, 2017, 7: 42488.
[16] Woo S M, Kim J, Han H W, et al. Notch signaling is required for maintaining stem-cell features of neuroprogenitor cells derived from human embryonic stem cells [J]. Bmc Neuroscience, 2009, 10(1): 97-0.
[17] Baron R, Kneissel M. WNT signaling in bone homeostasis and disease: from human mutations to treatments [J]. Nature Medicine, 2013, 19(2): 179-192.
[18] Gong M, Liu C, Zhang L, et al. Loss of the TNFα function inhibits Wnt/β-catenin signaling, exacerbates obesity development in adolescent spontaneous obese mice [J]. Molecular and Cellular Biochemistry, 2014, 391(1-2): 59-66.
[19] Gustafson B, Smith U. Cytokines Promote Wnt Signaling and Inflammation and Impair the Normal Differentiation and Lipid Accumulation in 3T3-L1 Preadipocytes [J]. Journal of Biological Chemistry, 2006, 281(14): 9507-9516.
[20] Frazier-Wood A C, Ordovas J M, Straka R J, et al. The PPAR alpha gene is associated with triglyceride, low-density cholesterol and inflammation marker response to fenofibrate intervention: the GOLDN study [J]. The Pharmacogenomics Journal, 2013, 13(4): 312-317.
[21] Fontaine C, Cousin W, Plaisant M, et al. Hedgehog Signaling Alters Adipocyte Maturation of Human Mesenchymal Stem Cells [J]. STEM CELLS, 2008, 26(4): 10.
[22] Akhurst R J, Hata A. Targeting the TGFβ signalling pathway in disease [J]. Nature Reviews Drug Discovery, 2012, 11(10): 790-811.