Mesenchymal stem cells (MSCs) are a kind of adult stem cells that exist in various tissues (such as bone marrow, umbilical cord blood and umbilical cord tissue, placental tissue, adipose tissue, etc.) and have multidirectional differentiation potential.
It can differentiate into a variety of mesenchymal series of cells (such as osteoblasts, chondroblasts and lipoblast) or non-mesenchymal series of cells.
MSCs have low immunogenicity and generally do not cause host immune response. This characteristic makes it have a broad clinical application prospect in autoimmune diseases and various alternative treatments.
1. Origin and Distribution of Mesenchymal Stem Cells
MSCs were discovered by Friedenstein et al. [1] in 1987 from bone marrow stromal cells obtained by natural adhesion method. The concept of MSCs was first proposed by Caplan in 1988.
The heterogeneity of this group of MSCs cells is relatively large, so the developmental origin of MSCs cannot be determined. For example, dental pulp and skin belong to ectoderm origin, while bone marrow, adipose tissue and perinatal tissue belong to mesoderm origin.
MSCs exist widely in human tissues and can be derived from bone marrow, pancreas, skin, lung and other organs and tissues. MSCs are also found in many other tissues.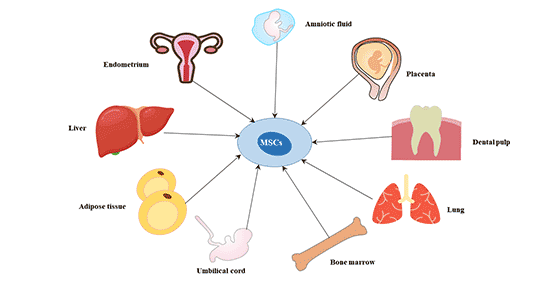 Figure 1 The origin of mesenchymal stem cells
2. Definition of Mesenchymal Stem Cells
After the concept of MSCs was proposed in 1991, a surge in the number of organizational types of MSCs has been reported over the next decade.
This requires a clear standard for the definition of MSCs.
In 2006, the International Society for Cellular Therapy (ISCT) developed the basic standard for the definition of MSCs, which is also the lowest identification standard for MSCs:
Under standard in vitro culture, it keeps attached state.
More than 95% of the cells expressing CD105, CD73 and CD90, and cells expressing CD45, CD34, CD14, CD11b, CD79a, CD19 or HLA- class II molecules should not exceed 2 per cent of the total [2].
It has the ability to differentiate into osteoblasts, chondrocytes and adipocytes under in vitro induction conditions.
The flaw in the standard is that there is no requirement on whether it can really differentiate in vivo, nor does it test whether its stemness can be maintained.
The molecular characteristics of MSCs from different sources vary greatly [3]. Caplan suggests to change it to medicinal signaling cells (MSCs) [4].
3. Biological Characteristics of Mesenchymal Stem Cells
MSCs are a typical group of cells capable of self-renewal and multidirectional differentiation.
In vitro and in vivo, it can be induced to differentiate into adipose tissue cells, cartilage tissue cells, connective tissue cells, bone tissue cells and neural stem cells. In addition, studies have shown that MSCs may also be induced to differentiate into endodermal cells (lung cells, muscle cells and intestinal epithelial cells) and ectodermal cells (epithelial cells and neurons) [5] [6].
MSCs have unique cytokine secretion function, such as IL-6, IL-7, IL-8, IL-11, stem cell growth factor, granulocyte-macrophage colony stimulating factor, TGF-β and so on.
In addition to the differentiation potential, MSCs have low immunogenicity and immunoregulatory effects.
The immunomodulatory mechanism of mesenchymal stem cells can be mediated by the secretion of soluble cytokines such as IL-10, TGF-β1, prostaglandin E2, hepatocyte growth factor, IL-2 and so on. CD8+ regulatory T cells were induced to play an immunosuppressive role.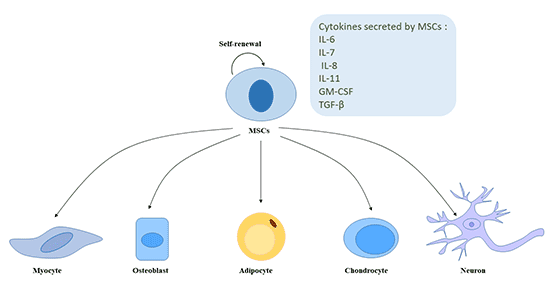 Figure 2 The self-renewal and multidirectional differentiation potential of MSCs
4. Immunomodulatory Effect of Mesenchymal Stem Cells
The effect of MSCs on immune system is mainly negative regulation.
Monocyte: Monocytes can differentiate into M1 Mφ for pro-inflammatory effect or M2 Mφ for anti-inflammatory effect. The secretion of IL-1RA, IL-10 and CCL-18 by MSCs promotes the transformation of M1 to M2, which plays an anti-inflammatory and negative role in regulating the function of T cells by affecting the formation of Treg.
Neutrophils: In vivo, MSCs can help clear bacteria by strengthening the antibacterial ability of neutrophils. In addition, it can also inhibit neutrophil apoptosis and prolong the life span of neutrophils.
Dendritic cells (DC): As the main professional antigen presenting cells in the body, dendritic cells can effectively stimulate the activation of T cells and B cells and stimulate the immune response of the body. It has confirmed in vitro experiments that MSCs can significantly reduce the differentiation of monocytes into dendritic cells and maintain the immature state of dendritic cells, so that DC cannot effectively activate the initial T cells and stimulate T cell proliferation.
T cells: MSCs inhibited T cell function mainly by releasing soluble factors, direct contact between cells, and inducing Treg generation, which showed a dose-dependent effect.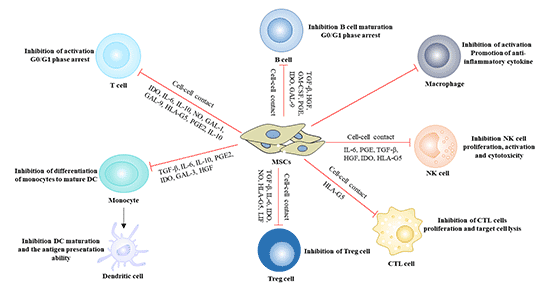 Figure 3 Immunomodulatory effect of mesenchymal stem cells
5. Cell Surface Markers of Mesenchymal Stem Cells
Specific functions of cells are related to their surface markers, which can reflect some basic characteristics of cells [7]. MSCs belong to a hybrid cell group, and their surface antigens are also nonspecific, expressing surface markers of mesenchymal cells, endothelial cells and epidermal cells. At present, the positive markers on the surface of human MSCs are CD10, CD13, CD29, CD90 and CD1, and the negative markers are CD14, CD34 and CD45 [8] [9].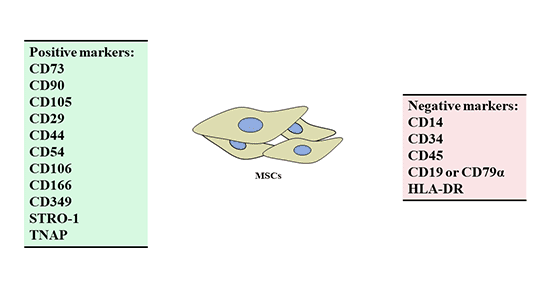 Figure 4 Positive and negative markers of mesenchymal stem cells (MSCs)
CD29: CD29, also known as integrin β1, VLA-β chain or gpIIa, is the receptor of a variety of extracellular matrix proteins. It is a single-stranded type I glycoprotein with a molecular weight of 130 kDa and belongs to the integrin family. It is widely expressed in most hematopoietic and non-hematopoietic cells, including leukocytes, platelets, fibroblasts, endothelial cells, epithelial cells and mast cells. As a fibronectin receptor, CD29 participates in a variety of cell-cell and cell-matrix interactions and regulates a variety of important biological functions, including embryonic development, wound repair, hemostasis and prevention of programmed cell death. Its expression is related to the migration of MSCs.
CD44: CD44, also known as Hermes, Pgp1, H-CAM or Hutch, is an 80-95 kDa glycoprotein. It is expressed in leukocytes, endothelial cells, hepatocytes and mesenchymal cells. CD44 is highly expressed in the memory stage of B and T cells and is considered to be a valuable marker of memory cell subsets.
CD44 is an adhesion molecule. It is involved in a variety of cellular functions, including lymphocyte activation, recycling and homing, hematopoiesis and tumor metastasis.
CD54: CD54, also known as ICAM-1, is a type I transmembrane protein with molecular weight 85-110 kDa, which is a member of the immunoglobulin superfamily. It is expressed in activated endothelial cells, high endothelial venules, T, B cells, monocytes / macrophages, granulocytes and dendritic cells. CD54 can be induced by IL-1 and TNF-α and expressed by vascular endothelial cells, macrophages and lymphocytes. CD54 plays a role in cell adhesion and participates in inflammation and leukocyte extravasation. CD54 has also been shown to be the main cellular receptor of rhinovirus.
CD73: CD73 is a 5-nucleotide exonuclease, also known as NT5E. It is a 69 kDa GPI anchored surface protein. CD73 is widely expressed in a variety of cells, including lymphocytes, endothelial cells, smooth muscle cells, epithelial cells and fibroblasts. CD73 can not only participate in the remedial synthesis of purine nucleotides, but also participate in transmembrane signal transduction and cell adhesion as an important immune signal molecule. The stable expression of CD73 on the surface of MSCs is one of the important surface markers to identify MSCs.
CD90 (Thy1): CD90, also known as Thy-1, is a GPI-anchored protein of 25-35 kDa. It belongs to the immunoglobulin superfamily. Human CD90 is expressed in nerve cells, CD34+ cell subsets, fetal hepatocyte subsets, fetal thymocyte subsets, fibroblasts, activated endothelial cells and some leukemic cell lines. Thy-1 is related to cell adhesion, differentiation and cell-cell interaction. It is a marker for the activation of human microvascular endothelial cells and is related to the formation of neovascularization [10]. It is also one of the important markers to identify human MSC [11].
CD105 (Endoglin)CD105, also known as endoglin, is a 90 kDa type I transmembrane glycoprotein from the zona pellucidin (ZP) family.
Endoglin is highly expressed in vascular endothelial cells, chondrocytes and syncytiotrophoblast cells of term placenta, but less expressed in hematopoietic stem cells, mesenchymal stem cells and neural crest stem cells, activated monocytes and lymphoid and myeloid leukemia cells. In angiogenic tissues, such as tumors, wound healing or dermal inflammation, the expression of CD105 on activated endothelial cells is increased. Endoglin is a type III receptor of TGF β superfamily ligands. CD105 plays an important role in the genesis and development of blood vessels. It can maintain the integrity of blood vessels [12].
CD106 (VCAM-1): CD106, also known as vascular cell adhesion protein 1 (VCAM1), INCAM-100 and L1CAM. The proteins encoded by CD106 are sialic glycoproteins with a molecular weight of 110 kDa, and are activated by cytokines such as IL-1 and TNF.
It is a member of the immunoglobulin superfamily and is expressed in inflammatory vascular endothelial cells, macrophage-like cells and dendritic cells, as well as normal and inflammatory tissues. Its expression is related to the stemness maintenance of MSCs [13].
CD166 (ALCAM): CD166, also known as CD6 ligand or activated leukocyte adhesion molecule (ALCAM), belongs to the immunoglobulin superfamily and is a transmembrane glycoprotein with molecular weight of 100-105 kDa.
It is expressed in activated T cells, activated monocytes, epithelial cells, fibroblasts and neurons. ALCAM/CD6 interaction may be involved in the development and regulation of T cells.
In addition, the interaction between ALCAM/CD6 and ALCAM/NgCAM may play a role in the nervous system. The expression of ALCAM is up-regulated in highly metastatic melanoma cell lines and may play a role in tumor migration. It can also participate in the development of embryonic hematopoietic system and the formation of capillaries, and plays an important role in maintaining the multi-directional differentiation potential of MSCs [14].
CD349 (Frizzled-9): CD349, also known as FZD9, is a member of the "Frizzled" gene family, and these proteins are receptors for Wnt signaling proteins. The loss of heterozygosity of FZD9 gene may be related to the phenotype of Williams syndrome. FZD9 is mainly expressed in brain, testis, eyes, skeletal muscle and kidney.
STRO-1: Stro-1 is also a common marker in studies, but has not been mentioned in many studies [15].
As part of the experimental study on the search for reliable markers of mesenchymal stromal / MSCs, Stro-1 antibodies were produced by one of several hybridoma strains produced by intrasplenic immunization of human CD34+ bone marrow cells. Stro-1 is considered to be the most famous MSCs marker, and its antibodies are mainly used in flow cytometry and possible MSCs staining.
TNAP: TNAP (tissue nonspecific alkaline phosphatase) antigen can react with W8B2 antibody. TNAP was selectively expressed on bone marrow MSCs.
CD34: CD34 is a transmembrane salivary mucin, which may be related to adhesion and anti-adhesion. It is one of the negative markers of mesenchymal stem cells, which has always been controversial [16].
The controversial point is that the isolated fresh cells (such as endothelial cells) express CD34, but CD34 gradually disappears with the increase of passage times, and a similar situation exists in hematopoietic stem cells [17]. In other words, the fact that MSCs does not express CD34 is caused by cell culture, which does not accord with its real state in vivo, so whether CD34 should be used as a negative marker of MSCs should be reconsidered.
5.1 Comparison of MSC Markers from Different Sources
At present, bone marrow-derived MSC (BM-MSC), umbilical cord-derived MSC (UC-MSC) and umbilical cord blood-derived MSC (UCB-MSC) are widely used in clinic. Different sources of MSCs not only have some commonalities, but also have some different characteristics.
The expression of most immune markers of UC-MSC was similar to that of BM-MSC, except that the expression of HLA-ABC and CD106 in UC-MSC was lower than that in BM-MSC.
This suggests that UC-MSC has lower immunogenicity than BM-MSC. The low expression of CD106 may be one of the distinguishing points between UC-MSC and BM-MSC.
The cell surface markers of UCB-MSC and BM-MSC were consistent. They all expressed cell adhesion molecules such as CD29, CD44 and CD105, but did not express CD13, CD14, CD34 and CD45.
6. Application of Mesenchymal Stem Cells
The characteristics of MSCs: Self-renewal, multi-directional differentiation potential. In addition, it has low immunogenicity.
Therefore, MSCs can be used as carrier cells for gene therapy to repair various tissues and organs, such as bone, cartilage, tendons, skin, nerve tissue and myocardium, as well as organ or tissue transplantation.
At present, it is widely used in the repair of bone, cartilage and joint injuries, hematopoietic stem cell transplantation in the treatment of graft-versus-host disease, autoimmune diseases, spinal cord injury and nervous system diseases.
References
[1] Friedenstein A J, Chailakhyan R K, Gerasimov U V. Bone marrow osteogenic stem cells: in vitro cultivation and transplantation in diffusion chambers [J]. Cell proliferation, 1987, 20(3): 263-272.
[2] Dominici M, Le Blanc K, Mueller I, et al. Minimal criteria for defining multipotent mesenchymal stromal cells. The International Society for Cellular Therapy position statement [J]. Cytotherapy, 2006, 8(4): 315-317.
[3] Mendicino M, Bailey A M, Wonnacott K, et al. MSC-based product characterization for clinical trials: an FDA perspective [J]. Cell stem cell, 2014, 14(2): 141-145.
[4] Caplan A I. Mesenchymal stem cells: time to change the name! [J]. Stem cells translational medicine, 2017, 6(6): 1445-1451.
[5] Kopen G C, Prockop D J, Phinney D G. Marrow stromal cells migrate throughout forebrain and cerebellum, and they differentiate into astrocytes after injection into neonatal mouse brains [J]. Proceedings of the National Academy of Sciences, 1999, 96(19): 10711-10716.
[6] Pittenger M F, Mackay A M, Beck S C, et al. Multilineage potential of adult human mesenchymal stem cells [J]. science, 1999, 284(5411): 143-147.
[7] Lu L L, Liu Y, Yang S G, et al. Isolation and characterization of human umbilical cord mesenchymal stem cells with hematopoiesis-supportive function and other potentials [J]. haematologica, 2006, 91(8): 1017-1026.
[8] Fakhry M, Hamade E, Badran B, et al. Molecular mechanisms of mesenchymal stem cell differentiation towards osteoblasts [J]. World journal of stem cells, 2013, 5(4): 136.
[9] Mohr S, Portmann-Lanz C B, Schoeberlein A, et al. Generation of an osteogenic graft from human placenta and placenta-derived mesenchymal stem cells [J]. Reproductive sciences, 2010, 17(11): 1006-1015.
[10] Saalbach A, Hildebrandt G, Haustein U F, et al. The Thy-1/Thy-1 ligand interaction is involved in binding of melanoma cells to activated Thy-1-positive microvascular endothelial cells [J]. Microvascular research, 2002, 64(1): 86-93.
[11] He J, Liu Y, Zhu T, et al. CD90 is identified as a candidate marker for cancer stem cells in primary high-grade gliomas using tissue microarrays [J]. Molecular & Cellular Proteomics, 2012, 11(6): M111. 010744.
[12] Gerlach J C, Johnen C, Ottoman C, et al. Method for autologous single skin cell isolation for regenerative cell spray transplantation with non-cultured cells [J]. The International journal of artificial organs, 2011, 34(3): 271-279.
[13] Phelps E A, García A J. Engineering more than a cell: vascularization strategies in tissue engineering [J]. Current opinion in biotechnology, 2010, 21(5): 704-709.
[14] Laschke M W, Harder Y, Amon M, et al. Angiogenesis in tissue engineering: breathing life into constructed tissue substitutes [J]. Tissue engineering, 2006, 12(8): 2093-2104.
[15] Kolf C M, Cho E, Tuan R S. Mesenchymal stromal cells: biology of adult mesenchymal stem cells: regulation of niche, self-renewal and differentiation [J]. Arthritis research & therapy, 2007, 9(1): 204.
[16] Lin C S, Ning H, Lin G, et al. Is CD34 truly a negative marker for mesenchymal stromal cells? [J]. Cytotherapy, 2012, 14(10): 1159-1163.
[17] Gangenahalli G U, Singh V K, Verma Y K, et al. Hematopoietic stem cell antigen CD34: role in adhesion or homing [J]. Stem cells and development, 2006, 15(3): 305-313.