Kinase is a kind of enzyme that transfers phosphate groups from high-energy donor molecules (such as ATP) to specific target molecules (substrates). This process is called phosphorylation. The phosphorylation state of proteins, lipids and carbohydrates affects their activity, reactivity and ability to bind to other molecules. Therefore, kinases are essential in metabolism, cell signaling, protein regulation, cell transport, secretion, and numerous other cellular pathways.
Kinase is divided into three categories according to the substrate type of kinase:
1. Protein Kinase
Among all kinds of kinases, protein kinase is the largest kinase group, which takes ATP or GTP as the donor of phosphate groups and transfers phosphate groups to specific substrate proteins.
1.1 Classification of Protein Kinases
Protein kinases are divided into many families according to their structures and functions. They can be classified into five categories according to the amino acid residues that are phosphorylated.
Serine/threonine protein kinases;
Tyrosine-specific protein kinases;
Histidine-specific protein kinases;
Tryptophan kinase;
Aspartyl/glutamyl protein kinase.
The detailed introduction is as follows:
Serine/Threonine Protein Kinase
Serine/threonine protein kinase is a large family of protein kinases, mainly including the following kinases: cyclin dependent kinase, mitogen-activated protein kinase, protein kinase D, nattokinase, DNA-dependent protein kinase and aurora protein kinases and pancreatic kininogenase.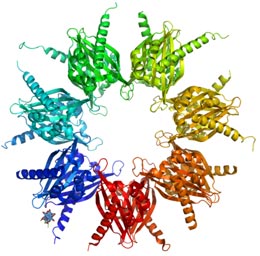 Figure 2 Crystal structure of calcium/calmodulin-dependent protein kinase
(an example of a serine/threonine-specific protein kinase)
Cyclin Dependent Kinase: Cyclin-dependent kinases (CDKs) are serine/threonine kinases. The CDKs subunit needs to be combined with the corresponding cyclin to activate. Activated CDKs exhibit protein kinase activity that phosphorylates different substrate proteins, thereby initiating or regulating the cell cycle.
CDKs play a central role in the cell cycle regulation network, and its main biological role is to regulate different phases of the cell cycle, from G1, S, G2 to M phase, and complete the cycle[1].
The substrate activated by CDKs mainly includes retinal glioma protein, tumor suppressor gene p107, p103, etc, which have important functions of promoting cell cycle phase transition, initiating DNA synthesis, running cell division, and promoting cell cycle operation. CDKs are also involved in the regulation of transcription, mRNA processing and differentiation of neural cells.
Table 1: Cyclin-dependent kinases that control the cell cycle in model organisms
Species
Name
Original name
Function
Saccharomyces cerevisiae
Cdk1
Cdc28
All cell-cycle stages
Schizosaccharomyces pombe
Cdk1
Cdc2
All cell-cycle stages
Drosophila melanogaster
Cdk1
Cdc2
M
Cdk2
Cdc2c
G1/S, S, possibly M
Cdk4
Cdk4/6
G1, promotes growth
Xenopus laevis
Cdk1
Cdc2
M
Cdk2
/
S, possibly M
Homo sapiens
Cdk1
Cdc2
M
Cdk2
/
G1, S, possibly M
Cdk4
/
G1
Cdk6
/
G1
*The Table is from Wikipedia
Mitogen-Activated Protein Kinase: Mitogen-activated protein kinases (MAPKs) are a class of serine/threonine protein kinases in cells that are essential components for controlling embryogenesis, cell differentiation, cell proliferation and cell death. MAPKs are involved in directing cellular responses to various stimuli such as mitogens, osmotic stress, heat shock and pro-inflammatory cytokines.
Mitogen-activated protein kinases are catalytically inactive in their base form, they require phosphorylation activation. MAP kinase is regulated by a phosphorylation cascade. It is regulated by a three-level cascade consisting of MAP kinase, MAPK kinase and MAPKK kinase [2]. Each MAPK kinase, however, can be activated by more than one MAPKK kinase, increasing the complexity and diversity of MAPK signalling.
Mammals express at least four distinctly regulated groups of MAPKs: Extracellular signal-related kinase (ERK)-1/2; Jun N-terminal kinase (JNK1/2/3); p38 protein (p38α/ß/γ/δ); ERK5. These proteins are activated by specific MAPKKs: MEK1/2 for ERK1/2, MKK3/6 for p38, MKK4/7 (JNK1/2) for ERK5, and MEK5 for ERK5.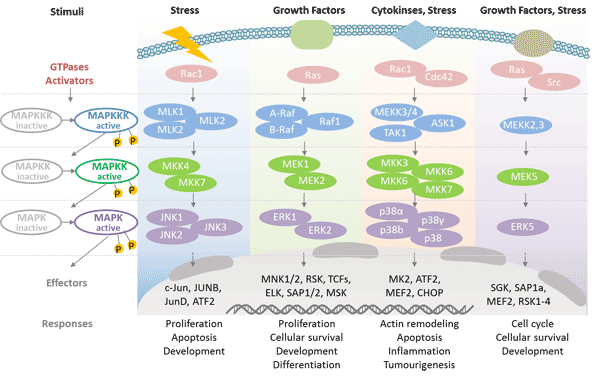 Figure 3 Cascade regulation of MAPK
Protein Kinase D: It belongs to a new class of Ser/Thr protein kinases that are activated by protein kinase C (PKC). PKD is involved in the regulation of cellular functions such as cell Golgi reverse membrane transport, cell growth, proliferation, migration, differentiation and apoptosis[3].
PKD and cardiovascular: PKD protects the myocardium and reduces the damage of cardiomyocytes induced by calcium overload[4]. Activation of PKD enhances myocardial contractility[5].
PKD and neurons: PKD affects the transport of transferrin receptor (TFR) and low-density receptor-related protein (LRP) in hippocampal neurons.
PKD and immune regulation: PKD is also involved in the regulation of the release of inflammatory factors.
PKD and tumor cells: PKD may promote tumor invasion and metastasis by regulating the expression of matrix metalloproteinase (MMP).
Pancreatic Kininogenase: Pancreatic kininogenase is a proteolytic enzyme belonging to the family of kinases in the human body. PKase can improve sensory or motor nerve conduction velocity through kinin, inhibit platelet aggregation, prevent blood clot formation, dilate blood vessels, enhance microcirculation, and reduce ischemia and hypoxia[6]. PKase has the same efficacy as prostaglandin E1 (PGE1) in improving pathological changes of diabetic peripheral neuropathy (DPN) and improving neurological function in patients with type 2 diabetes. Therefore, PKase will become a potential new drug for the treatment of diabetic neuropathy[7].
Tyrosine kinase
Tyrosine kinases are classified into non-receptor tyrosine protein kinases (NRTKs), receptor tyrosine kinases (RTKs) and nuclear tyrosine protein kinase.
Non-receptor tyrosine protein kinases (NRTKs): The important domains of non-receptor tyrosine protein kinases are mainly SH1, SH2, SH3, PH, PTB, etc, which play an important role in the catalytic reaction of the kinase, enzyme localization, activity regulation and interaction with other molecules.
Non-receptor tyrosine protein kinases are divided into 11 families with at least 30 members. They mediate signal transduction of various growth factor receptors, cytokine receptors, lymphocyte antigen receptors, and adhesion molecule integrins.
Non-receptor tyrosine protein kinase mainly including:
SRC kinase family: a product of the protooncogene c-Src, involved in antigen receptors, cytokine receptors and integrin-mediated transmembrane signaling.
JAK kinase family (Janus kinase): including JAK1, JAK2, JAK3 and TYK2. They mainly mediate transmembrane signal transduction of cytokine receptors.
Sky/ZAP-70 family: including Sky and zeta chain-associated protein-70. It mediates signal transduction of lymphocyte antigen receptors and certain cytokine receptors, and is important in lymphocyte differentiation, development and activation.
In addition, Receptor tyrosine protein kinase also includes CSK family, Tec family and adhesion plaque kinase family, ect. We conclude the non-receptor tyrosine protein kinase and show them in the table 2.
Table 2: Non-receptor tyrosine protein kinases
| | |
| --- | --- |
| ABL family | ABL1, ARG |
| ACK family | ACK1, TNK1 |
| CSK family | CSK, MATK |
| FAK family | FAK(PTK2), PYK2 |
| FES family | FES, FER |
| FRK family | FRK, PTK6(BRK), SRMS |
| JAK family | JAK1, JAK2, JAK3, TYK2 |
| SRC family | SRC, FGR, FYN, YES1, BLK, HCK, LCK, LYN |
| TEC family | TEC, BMX, BTK, ITK, TXK |
| SYK family | SYK, ZAP70 |
Receptor tyrosine kinases (RTKs): are the high-affinity cell surface receptors for many polypeptide growth factors, cytokines, and hormones. Approximately 20 different RTK classes have been identified.
Table 3: Receptor tyrosine kinases
| | | |
| --- | --- | --- |
| RTK class I | EGF receptor family | EGFR, ERBB2, ERBB3, ERBB4 |
| RTK class II | Insulin receptor family | INSR |
| RTK class III | PDGF receptor family | PDGFRA, PDGFRB |
| RTK class IV | VEGF receptors family | VEGFR1(FLT1), VEGFR2(KDR), VEGFR3(FLT4) |
| RTK class V | FGF receptor?family | FGFR1, FGFR2, FGFR3, FGFR4, FGFRL1 |
| RTK class VI | CCK receptor family | CCKAR, CCKBR |
| RTK class VII | NGF receptor family | NGFR |
| RTK class VIII | HGF receptor family | MET |
| RTK class IX | Eph receptor family | EPHA1, EPHA2, EPHA3, EPHA4, EPHA5, EPHA6, EPHA7, EPHA8, EPHA9, EPHA10, EPHB1, EPHB2, EPHB3, EPHB4, EPHB5, EPHB6 |
| RTK class X | AXL receptor family | AXL |
| RTK class XI | TIE receptor family | TIE1,TIE2 |
| RTK class XII | RYK receptor family | RYK |
| RTK class XIII | DDR receptor family | DDR1, DDR2 |
| RTK class XIV | RET receptor family | RET |
| RTK class XV | ROS receptor family | ROS1 |
| RTK class XVI | LTK receptor family | LTK |
| RTK class XVII | ROR receptor family | ROR1, ROR2 |
| RTK class XVIII | MuSK receptor family | MUSK |
| RTK class XIX | LMR receptor | LMTK2 |
| RTK class XX | Undetermined | / |
Nuclear tyrosine protein kinase
It involving transcriptional processes and regulation of the cell cycle.
Histidine protein kinase
Histidine protein kinase is a kinase that phosphorylates histidine in a substrate protein, mainly including:
Two-component histidine protein kinase, it can regulate the response to environmental stimuli.
Two-component mammalian histidine protein kinase: Branch chain α-ketoacid dehydrogenase kinase (BCKDHK) and pyruvate dehydrogenase kinase (PDHK).
Tryptophan kinase
Protein tryptophan residue as phosphorus receptor
Aspartyl /glutamyl protein kinase
The acyl group of the protein is the phosphorus receptor
1.2 Structure of Protein Kinase
Protein kinase includes catalytic domain, regulatory domain and functional domain. The catalytic domain includes 12 functional subdomains [8]. This catalytic core structure has three functions: Combined with protein and peptide substrates; combined with the phosphate donor ATP/GTP; catalyze the transfer of ATP or GTP γ-phosphate groups to the hydroxyl group of the receptor serine threonine or tyrosine.

Figure 4 The structure of protein kinase
1.3 Activity Regulation
Regulation of protein kinase activity primarily involves phosphorylation regulation and modulator regulation. The study found that almost all protein kinases can autophosphorylate, and protein kinases can also regulate kinases through mutual phosphorylation. Phosphorylation of the tyrosine residue of microtubule-associated protein-2 kinase (ie, MAPK) activates HDM kinase and MAPK kinase.
Modulator regulation: Many substances can regulate protein kinase activity, such as kinase A is regulated by cAMP level, kinase C requires Ca2+ phospholipid activation, and Mg2+ activates histone kinase. Intracellular protein kinase-specific inhibitors are also important components that affect protein kinase activity, such as 3-deoxyadenosine, hemin, etc.
1.4 Related Diseases
By regulating the activity, interaction and stable conformation of substrate proteins, protein kinase indirectly regulates cell functions and plays a key role in cell signal transduction pathways, immune responses, cell cycle regulation and energy balance.
The mutation and imbalance of protein kinase activity can lead to a series of diseases, such as cancer[9], diabetic complications[10], neurological diseases, neurodegenerative diseases[11] and cardiac dysfunction[12].
Abnormal expression of CDK can lead to digestive system tumors and[13] blood system tumors such as myelodys plastic syndrome (MDS) and acute myeloblasticleukemia (AML). In addition, abnormal expression of CDK is found in breast tumors[14], and other malignant tumors such as lung cancer[15], esophageal squamous cell carcinoma[16], such as malignant melanoma, liposarcoma[17], medulloblastoma[18], and prostate cancer.
1.5 Related Diseases
Diseases caused by mutations in protein kinases can be treated by targeting specific protein kinases. Protein kinases have become the drug targets for disease treatment[19], and the US Food and Drug Administration (FDA) has approved a number of protein kinase inhibitors for cancer treatment. Different protein kinase inhibitors have been used for different protein kinases.
Protease inhibitors have been used in the treatment of rheumatoid arthritis (RA). The current protease inhibitors are mainly non-receptor tyrosine kinase (JAK) inhibitors, spleen tyrosine kinase (Syk) inhibitors, mitogen-activated protein kinase p38 inhibitors[20][21]. In addition, some researchers have shown that protein kinases are switches that control obesity and diabetes.
Tyrosine kinase is also an important drug target because of its signaling role in cells[22]. Currently used anti-tumor PTK inhibitors are mainly pyrimidine compounds, protein peptide PTK inhibitors and terpenoids. In addition, thymidine kinase 1 (TK1) has been shown to be important in early detection of tumors, evaluation of efficacy, and prognosis.
References
[1] Schlegel U, Schmidt-Wolf I G H, Deckert M. Primary CNS lymphoma: clinical presentation, pathological classification, molecular pathogenesis and treatment [J]. Journal of the Neurological Sciences, 2000, 181(1): 1-12.
[2] Chang L, Karin M. Mammalian MAP kinase signalling cascades [J]. Nature, 2001, 410(6824): 37-40.
[3] Wang Q J. PKD at the crossroads of DAG and PKC signaling [J]. Trends in Pharmacological Sciences, 2006, 27(6): 317-323.
[4] Koncz P, Szanda G, Fülöp L, et al. Mitochondrial Ca uptake is inhibited by a concerted action of p38 MAPK and protein kinase D [J]. Cell Calcium, 2009, 46(2): 122-129.
[5] Bardswell S C, Cuello F, Rowland A J, et al. Distinct Sarcomeric Substrates Are Responsible for Protein Kinase D-mediated Regulation of Cardiac Myofilament Ca2+ Sensitivity and Cross-bridge Cycling [J]. Journal of Biological Chemistry, 2010, 285(8): 5674.
[6] Ye L, Zhang S, Greder L, et al. Effective Cardiac Myocyte Differentiation of Human Induced Pluripotent Stem Cells Requires VEGF [J]. Plos One, 2013, 8(1): e53764.
[7] Jin Y P, Su X F, Li H Q, et al. The Therapeutic Effect of Pancreatic Kininogenase on Treatment of Diabetic Peripheral Neuropathy in Patients with Type 2 Diabetes [J]. Experimental & Clinical Endocrinology & Diabetes, 2016, 124(10): 618-621.
[8] Hanks S K, Quinn A M. Protein kinase catalytic domain sequence database: identification of conserved features of primary structure and classification of family members [J]. Methods in Enzymology, 1991, 200(200): 38-62.
[9] Liu X, Winey M. The MPS1 family of protein kinases [J]. Annual Review of Biochemistry, 2012, 81(81): 561.
[10] Geraldes P, King G L. Activation of protein kinase C isoforms and its impact on diabetic complications [J]. Circulation Research, 2010, 106(8): 1319-1331.
[11] Su S C, Tsai L H. Cyclin-Dependent Kinases in Brain Development and Disease [J]. Annual Review of Cell & Developmental Biology, 2011, 27(1): 465.
[12] Young L H, Zaha V G. AMP-activated Protein Kinase Regulation and Biological Actions in the Heart [J]. Circulation Research, 2012, 111(6): 800-814.
[13] Al-Aynati M M, Radulovich N, Ho J, et al. Overexpression of G1-S cyclins and cyclin-dependent kinases during multistage human pancreatic duct cell carcinogenesis [J]. Clinical Cancer Research, 2004, 10(19): 6598.
[14] Lucas J J, Domenico J, Gelfand E W. Cyclin-dependent kinase 6 inhibits proliferation of human mammary epithelial cells [J]. Molecular Cancer Research Mcr, 2004, 2(2): 105.
[15] Sun Y, Tang J. Expression of Cyclin E and CDK5 in lung cancer [J]. Journal of Dalian Medical University, 2003, 25: 4-6.
[16] Nozoe T, Takahashi I, Baba H, et al. Relationship between intracellular localization of p34 cdc2, protein and differentiation of esophageal squamous cell carcinoma [J]. Journal of Cancer Research & Clinical Oncology, 2005, 131(3): 179-183.
[17] Hostein I, Pelmus M, Aurias A, et al. Evaluation of MDM2 and CDK4 amplification by real-time PCR on paraffin wax-embedded material: a potential tool for the diagnosis of atypical lipomatous tumours/well-differentiated liposarcomas [J]. Journal of Pathology, 2004, 202(1): 95-102.
[18] Mendrzyk F, Radlwimmer B, Joos S, et al. Genomic and protein expression profiling identifies CDK6 as novel independent prognostic marker in medulloblastoma [J]. Journal of Clinical Oncology, 2005, 23(34): 8853-8862.
[19] Sebolt-Leopold J S, English J M. Mechanisms of drug inhibition of signaling molecules [J]. Nature, 2006, 441(7092): 457-62.
[20] Goldstein D M, Gabriel T. Pathway to the clinic: inhibition of P38 MAP kinase. A review of ten chemotypes selected for development [J]. Current Topics in Medicinal Chemistry, 2005, 5(10).
[21] Gracie J A, Leung B P, Mcinnes I B. Novel pathways that regulate tumor necrosis factor-α production in rheumatoid arthritis [J]. Current Opinion in Rheumatology, 2002, 14(3): 270.
[22] Rask-Andersen M, Zhang J, Fabbro D, et al. Advances in kinase targeting: current clinical use and clinical trial [J]. Trends in Pharmacological Sciences, 2014, 35(11): 604-620.
[23] Tang W, Zhu G, Zhang C Y. Sensitive detection of polynucleotide kinase using rolling circle amplification-induced chemiluminescence [J]. Chemical Communications, 2014, 50(36): 4733-4735.