Tick-borne encephalitis virus
Tick-borne encephalitis virus (TBEV) is a small, tick-transmitted, single positive-stranded RNA virus and belongs to a member of the genus Flavivirus within the Flaviviridae family. H. Schneider, an Austrian physician, for the first time, described tick-borne encephalitis (TBE) in detail in 1931 [1]. In 1937, a Russian Far East expedition led by Zilber first isolated the pathogenic factor of TBE from humans, mice, and Ixodes persulcatus ticks [2]. And they identified Ixodes persulcatus as the possible vector. Gallia and his colleagues isolated the first European virus from human and Plasmodium in Czechoslovakia in 1948 [3]. The virus was later found in many other European countries, as well as northern China and northern Japan.
Structure
TBEV is an icosahedral lipid-enveloped RNA virus with a diameter of about 50 nm. The viral RNA and capsid (C) protein form the nucleocapsid (N), which is enclosed by a lipid envelope. Two virally encoded surface proteins, C protein, and membrane (M) protein are C-terminally anchored on the envelope (E). In immature virions, prM (a precursor form of M) and E form heterodimers, which protrude on the surface of virions. Whereas, mature viral particles are relatively smooth due to the formation of homodimers by the small protein M and protein E.
The viral genome is a positive-stranded RNA with a length of approximately 11 kb. The RNA is capped and contains a poly-A tail, which makes it unique among the flaviviruses. And the RNA consists of untranslated regions (5'-3' UTRs), between which lies a large open reading frame (ORF) that synthesizes a single polyprotein encoding three structural proteins (E, C, and PrM [a precursor of membrane protein]) and seven non-structural proteins (NS1, NS2A, NS2B, NS3, NS4A, NS4B, and NS5). The three structural proteins assemble the viral particle. The non-structural proteins are involved in the viral replication &package and subversion of the host pathway.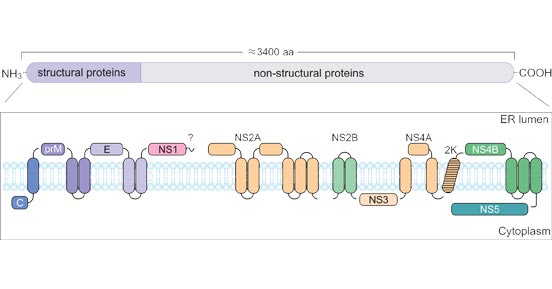 Figure 1. Schematic representation of the TBEV polyprotein and its cleavage products.
*This diagram is derived from the publication published on Viruses [4].
Classification
There are three main subtypes of TBE virus: the Far-Eastern TBEV-FE/genotype 1, the Central European (Western) TBEV-Eu/genotype 2, and the Russian Siberian TBEV-Sib/genotype 3 (spring-summer encephalitis) [5]. They are closely related in the gene, with a 5%-6% amino acid sequence difference. Besides, two additional genotypes, 4 and 5, from the Irkutsk were discovered. TBEV-Eu is transmitted by Ixodes ricinus (sheep tick), while the vector of TBEV-Sib and TBEV-FE are Ixodes persulcatus (taiga tick). And each genotype is distributed in its specific region, where it possesses an absolute species superiority.
Although the three subtypes have obvious genetic similarity, the diseases caused by individual subtypes are not the same as those caused by other subtypes.
Related Proteins
| Uniprot No. | Species | Product Name |
| --- | --- | --- |
| A0A075TBC5 | TBEV | Recombinant Tick-borne encephalitis virus Genome polyprotein, partial |
| P07720 | TBEV-FE/genotype 1 subtype (strain Sofjin) (SOFV) (Sofjin virus) | Recombinant Tick-borne encephalitis virus Far Eastern subtype Genome polyprotein, partial |
| P14336 | TBEV-Eu/genotype 2 subtype (strain Neudoerfl) (NEUV) (Neudoerfl virus) | Recombinant Tick-borne encephalitis virus European subtype Genome polyprotein, partial |
Diseases and Symptoms
Many hosts such as ruminants, carnivores, rodents, and birds are victims of TBEV and provide a reservoir from which the virus can be spread to humans [6]. TBEV is an important causative agent of tick-borne encephalitis (TBE), a central nervous system infection. TBE is more frequent in adults than in children and mainly restricted in Europe and North-Eastern Asia.
The progression of TBEV infection can be divided into three stages. TBEV incubates in the body for about 8 days after being bitten. Five days later, the infected patients enter the first stage of the course of the disease, also known as septicemia, in which people are infectious. Most patients show no symptoms at this stage, and a few develop flu-like symptoms, such as headache, fever, fatigue, and muscle & joint pain. Symptomatic patients usually recover after 7 days. About 10% of the symptomatic cases will further worsen to the second stage about a few days or months later, with encephalitis or meningitis, resulting in severe headache, sensitivity to light, dizziness, inattention, speech and walking problems. The older the afflicted people, the more serious the disease is likely to be. The virus can rarely cause paralysis in the arms and legs or even death.
Tick-borne encephalitis Outbreak
About 10000-13000 cases of TBE (meningitis, encephalitis, or meningoencephalitis) has reported annually in Europe and Russia [7]. The TBEV subtype determines the fatality rate. The case-mortality rate for TBEV-Eu infections is 1-2% and deaths occur within 5-7 days after the onset of neurological symptoms [6]. And TBEV-Eu is linked to neurological sequelae in up to 10% of patients. While TBEV-FE causes more severe diseases, with a high risk of neurological sequelae and a lethal rate of 5-20% [7]. 10-20% of infected patients suffer from long-term or permanent neuropsychiatric disorders [8].
In 1951, a TBE epidemic occurred in east Slovak town, Roznava, with 660 people infected, 271 of whom were hospitalized. This led to a prologue to the spread of TBE through food. The source of the infection was contaminated goat milk, which was mixed with unpasteurized milk from local dairy farms. A total of 7288 cases of TBE were reported in the Czech Republic in 1997-2008 [9]. 0.9% of the TBE cases were food-borne, among which the majority was affected by unpasteurized goats' milk. Family outbreaks had also been found. In 2017, 3079 cases of TBE were reported in Europe, including 9 associated fatalities.
Transmission
The TBEV infection rate of ticks is between 0.1% and 5%, which is usually much lower than that of Lyme Borreliosis. There are three transmission routes of TBEV.
Tick bites transmission:

TBEV is predominately transmitted by the bite of infected ticks, specifically hard ticks of the family Ixodidae. TBE occurs most frequently in rural areas and when ticks are active from April to November.

Food-borne transmission:

Alimentary dispersal of TBEV also occasionally occurs by ingesting raw dairy products from slaughtering viremic livestock [10]. TBE spread by food was first reported in Czechoslovakia in 1954. In the 1950s, the milk-borne transmission was common in the Czech Republic, and the resulting disease was known as 'biphasic milk fever' [11].

Interpersonal transmission:

There is no direct interpersonal spread. However, human-to-human transmission through breastfeeding, blood transfusion, and solid-organ transplantation has also been reported. A fetus can vertically obtain the virus from his infected mother.
Diagnosis
TBE is confirmed if at least met the following three criteria: the occurrence of clinical symptoms of meningitis, meningoencephalitis or meningomyelitis, cerebrospinal fluid pleocytosis that is up to 5 × 106 cells/L, and the presence of specific serum IgM & IgG antibodies against TBEV or IgG seroconversion. Although lowly sensitive and specific, imaging of the brain and spinal cord can also help the differential diagnosis.
Treatment and Prevention
There is no specific antiviral treatment for TBE. It could be substantially reduced with vaccination, an effective means of protection against TBEV-induced infection. Avoid traveling to countries or regions where TBE is epidemic. If you have to go, wear appropriate clothing, including long trousers and closed shoes, to prevent blood-sucking ticks from adhering to the skin. Watch to see if ticks stick to the skin and remove the attached ticks as soon as possible. Non pasteurized dairy products should also be avoided in these areas.
References
[1] Schneider H. Über epidemische acute meningitis serosa [J]. Wiener Klinische Wochenschrift. 1931;44:350–352.
[2] Zilber LA. Spring-summer tick-borne encephalitis [J]. Arkhiv Biol Nauk. 1939;56:255–261.
[3] Gallia F, Rampas J, et al. Laboratori infekce encefalitickym virem (in Czech). Casopis Lékaru Ceských. 1949;88:224–229.
[4] Pulkkinen LIA, Butcher SJ, et al. Tick-Borne Encephalitis Virus: A Structural View [J]. Viruses. 2018;10(7):350. Published 2018 Jun 28.
[5] Mansfield KL, Johnson N, et al. Tick‐borne encephalitis virus – A review of an emerging zoonosis. Journal of General Virology [J]. 2009;90:1781–1794.
[6] Kaiser, R. Tick-borne encephalitis [J]. Infect. Dis. Clin. North Am. 22, 561–575 (2008).
[7] Suss, J. Tick-borne encephalitis in Europe and beyond—the epidemiological situation as of 2007 [J]. Eur. Surveill. 13, 2–9 (2008).
[8] Kaiser, R. Tick-borne encephalitis: clinical findings and prognosis in adults [J]. Wien. Med. Wochenschr. 162, 239–243 (2012).
[9] Kríz B, Benes C, et al. Alimentary transmission of tick-borne encephalitis in the Czech Republic (1997-2008) [J]. Epidemiol Mikrobiol Imunol. 2009;58(2):98-103.
[10] Dorko E, Hockicko J, et al. Milk outbreaks of tick-borne encephalitis in Slovakia, 2012–2016 [J]. Cent Eur J Public Health. 2018;26 Suppl:S47–50.
[11] Gresikova M, Rehacek J. Isolierung des Zeckenenzephalitisvirus aus Blut und Milch von Haustieren (Schaf und Kuh) nach Infektion durch Zecken der Gattung Ixodes ricinus L. [Isolation of the tick encephalitis virus from blood ad milk of domestic animals (sheep and cow) after infection by ticks of the family Ixodes ricinus L.]. Arch Gesamte Virusforsch. 1959;9(3):360-4.