Human Coronavirus OC43
Human coronavirus OC43, also known as HCoV-OC43, is one type of coronavirus (CoV) with lower ability of infection. The respiratory symptom caused by HCoV-OC43 infection is usually similar to the common cold. It is first isolated by McIntosh et al. in 1967 from patients with upper respiratory tract infection by human embryonic trachea tissue culture (OC) Virus (IBV). According to the characteristics of the genome, CoV is divided into four genera (α, β, γ and δ). At present, CoV infecting human is divided into α (CHCoV-229E, NL63) and β (HCoV-OC43, HKUI, SARS-CoV and MERS-CoV).
What is The Structure of HCoV-OC43?
The total length of the genome of HCoV-OC43 is about 30.7kb, and the content of base pair GC is 36.9%. The 5' end has a hat structure, followed by a 65-98 bp leading sequence and an untranslated region (UTR) which is very important for replication and transcription. There is also a non-translation region at the 3'end, followed by poly (a) tail. The first 2/3 region of the genome encodes an ORF1ab containing 16 non-structural proteins (NSP), and the last 1/3 region encodes orf2a, HE, S, orfs5a, E, M and N (Figure 1). Orf1ab encodes nsp1-nsp6.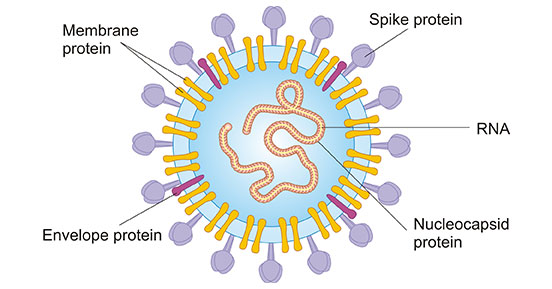 Figure 1. The structure of HCoV-OC43
*This diagram is derived from the publication on Nature Reviews
How does HCoV-OC43 Enter The Susceptible Cells?
Owczarek et al. found that the entry of HCoV-OC43 into human cells is largely achieved through the caveolin-1-dependent pathway of endocytosis, and the scission of virus-containing vesicles from the cell surface is dynamin-dependent [1] by confocal microscopy and molecular biology tools. Furthermore, the vesicle internalization process requires actin cytoskeleton rearrangements.
Notably, while host factors like interferon-inducible transmembrane proteins (IFITMs) often prevent the entry of coronaviruses like HCoV-229E, -NL63, SARS-CoV and MERS-CoV from entering cells through its various antiviral functions, IFITM2 and IFITM3 promote the entry and subsequent infection of HCoV-OC43 into human cells.
What are The Symptoms of HCoV-OC43 Infection?
HCoV-OC43 is responsible for up to 30% of all common colds in adults. Although HCoV-OC43 is predominantly associated with upper respiratory tract infections, there have been cases where it has been associated with a serious infection in immunocompromised children [2]. Like many other respiratory tract infections, HCoV-OC43 typically mild respiratory tract infections that can be spread to other individuals by coughing and sneezing.
CUSABIO, as an experienced manufacture in the production of recombinant antigens, is dedicated to supporting the study of infectious diseases. In terms of HCoV-OC43, CUSABIO provides a series of HCoV-OC43 recombinant antigens as follows:
All the products of HCoV-OC43 Spike Protein
All the products of HCoV-OC43 Nucleoprotein
References
[1] Owczarek, Katarzyna, Szczepanski et al. Early events during human coronavirus OC43 entry to the cell [J]. Scientific Reports. 2018, 8(1), 7124.
[2] Dijkman R, Jebbink MF, Gaunt E, et al. The dominance of human coronavirus OC43 and NL63 infections in infants [J]. J Clin Virol. 2012, 53:135–9.