Flaviviruses
The flaviviruses originated about 100,000 years ago in a common ancestor with a separation between mosquito-borne and tick-borne flaviviruses about 40,000 years ago [1]. They were originally considered as togaviruses on the basis of the similar structural constitution. Differences in gene sequence and replication strategy led the genus flavivirus to be classified into a member of the Flaviviridae, a family of positive, single-stranded, icosahedral enveloped RNA viruses that are found mainly in mosquitoes and ticks and can occasionally contract humans [2][3]. The name of flavivirus derives from the Latin flavus that means "yellow", consistent with the jaundice caused by yellow fever virus.
The genus Flavivirus is composed of more than 70 recognized arthropod-borne viruses (or arboviruses) serologically related and broadly distributed [4]. However, individual species are restricted to certain geographical distribution, which is dependent on the ecology of their vertebrate and invertebrate hosts.
Structure
The flavivirus virion is spherical particle about 50 nm in diameter, with an approximately 11 kb genome. The viral genome has a type I cap structure at the 5′-terminal portion, which also possesses the conserved dinucleotide sequence 5′-AG-3′-CU. Most flaviviruses, except for a few tick-borne Encephalitis virus (TBEV) strains, lack a poly-A tail at the 3′-end of the genome and end up with the dinucleotide 5′-CU-3′. The genome comprises an about 11 kb large open reading frame (ORF) coding for a single polyprotein that is post-translationally cleaved into ten proteins. Among these proteins, three structural proteins, including capsid (C), pre-membrane (prM), and envelope (E), make up the viral particles. Seven nonstructural (NS) proteins (NS1, NS2A, NS2B, NS3, NS4A, NS4B, and NS5) are required for viral replication & assembly and regulation of the host cell response.
Its RNA is contained within the capsid, constituting an isometric nucleocapsid [5]. The nucleocapsid is further surrounded by a lipid bilayer from the host cell plasma membrane, and two virally encoded membrane proteins E and PrM are anchored on the lipid bilayer. The E protein is responsible for the receptor-mediated endocytic fusion and subsequent cell entry, as well as direct viral assembly and budding [6]. Besides, the E protein of flaviviruses also harbors the antigenic determinants that induce neutralizing antibodies [7]. The PrM can block premature fusion of the virus during its trafficking out of the cell.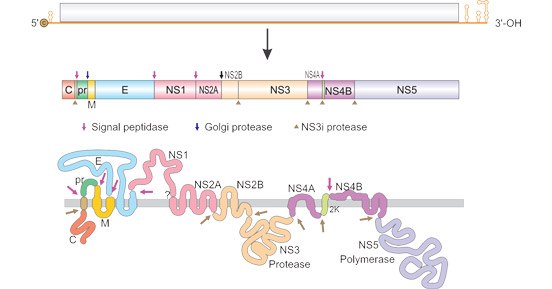 Figure 1. The structure of Flavivirus RNA
*This diagram is derived from viralzone.expasy.org
Replication
Flaviviruses invade target cells via bites by an infected vector. They enter the host cells through receptor-mediated endocytosis and then are transported into endosomes, where the mild acidic conditions stimulate the fusion of the viral membrane with the endosomal membrane, resulting in the disassembly of nucleocapsid and the release of viral genomic RNA in the host cell cytoplasm [7][8]. In the host cell cytoplasm, the released RNA exploits host cell machinery and functions to encode three structural proteins and seven nonstructural proteins, finally completing the replication and assembly of progeny viruses [9]. Flaviviruses are initially synthesizd as immature particles containing a precursor form of the M protein (prM), which is cleaved by the cellular protease furin to produce mature virions [10]. The mature infectious viral particles are released into extracellular medium by exocytosis.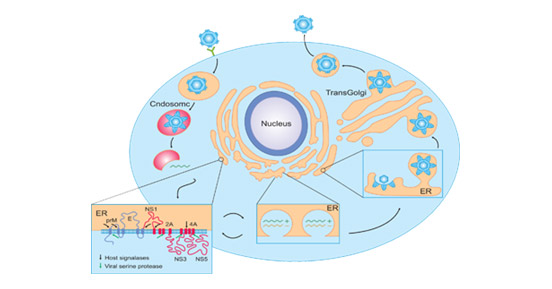 Figure 2. Flavivirus infectious life cycle
*This diagram is derived from the publication published on Cell Host & Microbe [17]
Related Proteins
| Target | Protein Name | Protease Involved | Function |
| --- | --- | --- | --- |
| C | Capsid | NS2B–NS3 protease | Packaging of the viral RNA during RNA assembly, nucleocapsid formation. |
| PrM | Premembrane | Furin | It acts as a scaffold to prevent the virus from prematurely fusing in the process of cell detachment. Glycosylated form plays the role of chaperones in the synthesis of E proteins and forms heterodimers with E proteins in immature virus particles. |
| M | Membrane | Signalase | Transmembrane protein, cleaved part of prM. |
| E | Envelope | Signalase | It is responsible for the receptor-mediated endocytic fusion and subsequent cell entry, as well as direct viral assembly and budding. E protein consists of 4 domains: the stem-transmembrane domain pair, and 3 domains found outside of the membrane referred to as ectodomains I, II, and III. |
| NS1 | NS1 | Signalase | RNA replication and immune invasion. |
| NS2A | NS2A | Membrane-bound host protease present in ER | Replication complex formation, virus assembly and elusion of host immune response. |
| NS2B | NS2B | NS2B–NS3 protease | NS3 protease cofactor. |
| NS3 | NS3 | NS2B–NS3 protease | Trypsin-like serine protease, helicase NTPase and RNA triphosphatase activities. |
| NS4A | NS4A | NS2B–NS3 protease | Replication complex formation and RNA replication. |
| NS4B | NS4B | Signalase | Replication complex formation and RNA replication. |
| NS5 | NS5 | NS2B–NS3 protease | It plays a central role in viral RNA replication and may also be an interferon (IFN) antagonist involved in fiavivirus pathogenesis. |
Classification
Flaviviruses are subdivided into three types: mosquito-borne viruses, tick-borne viruses, and no-vector viruses [11]. All human flaviviruses belongs to the first two types, and the third group holds a few viruses which have been isolated from mice or bats. However, there has no arthropod vector or natural transmission route has yet been demonstrated. Below list some emerging and re-emerging flaviviruses.
Classification
Virus
Host
eographical Distribution
Mosquito-borne flaviviruses
Yellow fever virus (YFV)
Primate populations and mosquito vectors (Aedes spp., Haemagogus spp., and Sabethes spp.
First discovered in Ghana; mostly in tropical Africa and tropical South America.
>Dengue virus (DENV)
Aedes mosquito and Ae. Albopictus mosquito
Tropical and subtropical areas.
>Japanese encephalitis virus (JEV)
Vertebrate, Culex tritaeniorhynchus mosquitoes
In northern temperate areas JE occurs in summer epidemics, whereas in southern tropical areas the disease is endemic and occurs year-round.
West Nile virus (MNV)
Mosquitoes, birds, mammals and reptiles, human
First identified in Uganda in 1937, the virus is commonly found in Africa, West Asia, and the Middle East.
St Louis encephalitis virus
Culex species mosquitoes, wild birds, human
Most cases occur in the eastern and central United States during the summer and early fall.
Murray Valley encephalitis virus (MVEV)
waterbirds and Culex annulirostris mosquitoes, Aedes normanensis mosquitoes, human
endemic to Australia and New Guinea
>Zika virus (ZIKV)
Aedes spp. mosquitoes, non-human primates, and human
Isolated in 1947 in the Zika Forest in Uganda; Outbreaks did not occur outside of Africa until 2007, when it spread to the South Pacific.
Kyasanur Forest disease virus
tick-borne Encephalitis virus (TBEV)
Ticks of the Ixodideae family and human
Endemic to Northern Eurasia and commonly seen across Europe.
>Powassan virus (POWV)
Ixodes scapularis and Ixodes cookei ticks, small or medium sized mammals, and human
First reported in 1958 in Powassan, Ontario; endemic in the northeast and upper mid-west of the United States, and cases have also been reported in Far-Eastern Russia. the only tick-borne flavivirus that is endemic in the western hemisphere
Louping ill virus (LIV)
sheep or castor bean tick, Ixodes ricinus, human
Upland areas of the British Isles, particularly in Scotland, Cumbria, Wales, Devon and Ireland
Omsk haemorrhagic fever virus (OHFV)
Dermacentor spp. ticks and small mammals, human
in forest-steppe zones of the Omsk, Novosibirsk, Kurgan, and Tyumen regions of western Siberia
Kyasanur Forest disease virus
Haemaphysalis spp. Ticks, human
In the tropical deciduous forests of the Karnataka State in South India
Diseases
Most flaviviruses are zoonotic pathgens and can cause various diseases. Here list some of common diseases caused by flaviviruses below.
| Virus | Disease | Signs/Symptoms | Mortality Rate |
| --- | --- | --- | --- |
| Yellow fever virus (YFV) | yellow fever (YF) and hemorrhage | Fever, headache, myalgias, nausea, anorexia, and fjaundice. may appear acutely ill and progress to liver failure and hemorrhagic manifestations, multiorgan system failure, and death. | About 14% |
| Dengue virus (DENV) | Dengue hemorrhagic fever (DHF) or dengue shock syndrome | Fever and severe joint pain, but more serious syndromes, dengue hemorrhagic fever or dengue shock syndrome, occur sometimes following dengue infection. Pyrexia, myalgia, vomiting, cephalalgia, abdominal pain, bleeding, low blood pressure, tachycardia, seizures | About 1-5% |
| Japanese encephalitis virus (JEV) | Viral encephalitis | Pyrexia, cephalalgia, vomiting neurologic dysfunction, muscle weakness, seizures, loss of motor function | About 25-30% |
| West Nile virus (MNV) | West Nile Fever, meningitis or encephalitis | Fever, cephalalgia, nausea, vomiting, myalgia, muscle weakness, lower back pain, loss of motor function ~80% of WNV-infected individuals are asymptomatic, 20 % of people experience a mild febrile syndrome. | About 3-15% |
| St Louis encephalitis virus | Saint Louis encephalitis | Most cases are asymptomatic or present with flu-like symptoms such as fatigue, headaches, nausea, vomiting and body aches. | 5% to 15% |
| Murray Valley encephalitis virus (MVEV) | Murray Valley encephalitis | The majority of infections are asymptomatic | 15–30% |
| Zika virus (ZIKV) | Closely associated with neurological sequelae, most commonly Guillain–Barré Syndrome, but also meningo–encephalitis and myelitis. | Most infected people are asymptomatic. Symptoms are generally mild and include fever, rash, conjunctivitis, muscle and joint pain, malaise or headache. | 8.3% [12] |
| tick-borne Encephalitisvirus (TBEV) | Tick-borne Encephalitis and life-long neurological complications | Most TBEV infections are asymptomatic, but the symptomatic cases typically have neurological manifestations, such as meningitis, encephalitis, and meningoencephalitis and, together, are referred to as tick-borne encephalitis (TBE) [13][14]. | TBEV-Eu 0.5–2% TBEV-Sib 2–3% TBEV-FE up to 40% [13][14] |
| Powassanvirus (POWV) | Powassan encephalitis | Initial signs are non-specific and can include fever, sore throat, sleepiness, disorientation, and headaches. POWV encephalitis is characterized by vomiting, respiratory distress, convulsions and long-lasting fever. | 10% |
| Louping ill virus(LIV) | Louping ill disease, encephalitis | Most exposures are asymptomatic or result in an influenza-like illness with fever, headache and some muscle stiffness. | less than 3% |
| Omsk haemorrhagic fever virus(OHFV) | Omsk hemorrhagic fever, neuropsychiatric sequelae | It has a first phase in which fever, generalized symptoms, and bleeding predominate. However, in patents who experience a second phase, neurologic symptoms can emerge. | less than 3% |
| Kyasanur Forest disease virus | Kyasanur Forest disease | Fever, headache, severe muscle pain, cough, dehydration, and gastrointestinal distress. | 2% to 10% |
Transmission
Although most pathogenetic flaviviruses are transmitted by infected mosquitoes or ticks bites, ZIKV can spread directly from person to person through sexual contact or vertically from mother to fetus [15]. Besides, TBEV infections can also occur via the consumption of unpasteurized contaminated dairy products [16]. Most flaviviruses are zoonotic and depend upon non-human animal vectors for their survival, replication, and dispersal with the exception of DENV which propagates mainly in humans. Transmission by mosquitoes between people has only been reported for dengue virus, yellow fever virus, and West Nile virus that cause diseases in which human beings are usually dead-end hosts.
Prevention and Treatment
Because most of the flaviviruses are dispersed by mosquito or tick bites between human beings, so blocking or reduce infectious sources - mosquitoes or ticks, is necessary. Mosquito eradication includes sanitation improvement, fumigation with insecticides and reduction in standing water areas where mosquitoes reproduce. It is the primary method of controlling mosquito-transmitted flaviviruses. In addition, preventing mosquito or tick bites is of importance. Vaccination is also necessary.
There is no specific treatment for these infections. Treatment involves managing the symptoms that develop.
References
[1] Pettersson J.H., Fiz-Palacios O. Dating the origin of the genus Flavivirus in the light of Beringian biogeography [J]. J. Gen. Virol. 2014;95:1969–1982.
[2] Westaway E.G., Brinton M.A., et al. Flaviviridae [J]. Intervirolgy. 1985;24:183–192.
[3] Strauss JH, Strauss EG. Virus evolution: how does an enveloped virus make a regular structure [J] Cell. 2001;105:5–8.
[4] Mukhopadhyay S, Kuhn RJ, et al. A structural perspective of the Flavivirus life cycle [J]. Nat Rev Microbiol2005;3:13–22.
[5] Chinmay G. Patkar, Christopher T. Jones, et al. Functional Requirements of the Yellow Fever Virus Capsid Protein [J]. J Virol. 2007 Jun; 81(12): 6471–6481.
[6] S L Allison, J Schalich, et al. Mutational Evidence for an Internal Fusion Peptide in Flavivirus Envelope Protein E [J]. J Virol. 2001 May;75(9):4268-75.
[7] F.X. Heinz, S.L. Allison. Structures and mechanisms in flavivirus fusion [J]. Adv. Virus Res, 55 (2000), pp. 231-269.
[8] S. Bressanelli, K. Stiasny, et al. Structure of a flavivirus envelope glycoprotein in its low-pH-induced membrane fusion conformation [J]. EMBO J., 23 (2004), pp. 728-738.
[9] Rice C. M., Lenches E. M., et al. Nucleotide sequence of yellow fever virus: implications for flavivirus gene expression and evolution [J]. Science 1985, 229:726–733.
[10] Rice C M. Flaviviridae: the viruses and their replication [J]. In: Fields B N, Knipe D M, Howley P M, Chanock R M, Melnick J L, Monath T P, Roizman B, Straus S E, editors. Virology. Philadelphia, Pa: Lippincott-Raven; 1996. pp. 931–595.
[11]G. Kuno, G.-J.J. Chang, K.R. Tsuchiya, N.Karabatso, C.B. CroppPhylogeny of the genus Flavivirus [J]. J. Virol, 72 (1998), pp. 73-83.
[12] C. Baronti, G. Piorkowski, et al. Complete coding sequence of Zika virus from a French Polynesia outbreak in 2013 [J]. Genome Announc, 2 (3) (2014), pp. e00500-e00514.
[13] Bogovic P., Strle F. Tick-borne encephalitis: A review of epidemiology, clinical characteristics, and management [J]. World J. Clin. Cases. 2015;3:430.
[14] Taba P., Schmutzhard E., Forsberg P., Lutsar I., Ljøstad U., Mygland A., Levchenko I., Strle F.,
[15] Steiner I. EAN consensus review on prevention, diagnosis and management of tick-borne encephalitis [J]. Eur. J. Neurol. 2017;24:1214-e61.
[16] Petersen LR, Jamieson DJ, et al. Zika Virus. N Engl J Med. 2016;374:1552–63.