Cytomegalovirus
Cytomegalovirus (herpesvirus type 5, CMV) is a double-stranded DNA virus and is a member of the Herpesviridae family, in the subfamily Betaherpesvirinae. CMV is a common virus that infects 50 to 80 percent of people at some time during their lives but rarely causes obvious illness. Diseases associated with HHV-5 include mononucleosis, and pneumonia. CMV infection can become dormant for a while and may reactivate later. The virus is carried by people and is not associated with food, water or animals.
Read on to learn more about Cytomegalovirus (CMV), including structure, the important proteins, infection Symptoms, transmission, Diagnosis and Treatment.
The Structure of Cytomegalovirus
Viruses in Cytomegalovirus are enveloped, with icosahedral, spherical to pleomorphic, and round geometries, and T=16 symmetry. The diameter is around 150–200 nm. Genomes are linear and nonsegmented, around 200 kb in length.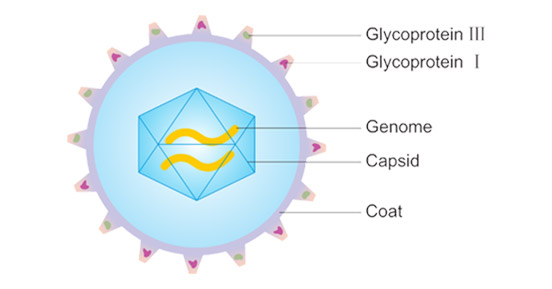 Figure 1. The structure of Cytomegalovirus
Proteins of Cytomegalovirus
Cytomegalovirus Infection
Human cytomegalovirus (HCMV) is the most prevalent congenital viral infection in the world. CMV usually causes an asymptomatic infection or produces mild flulike symptoms, it remains latent throughout life and may reactivate.
Most healthy people who are infected with CMV may experience no symptoms, some experience minor symptoms. People who are more likely to experience signs and symptoms of CMV include:
Newborns who became infected with CMV before they were born (congenital CMV).

Cytomegalovirus can cause serious illness in infants who are infected before birth. HCMV is a significant cause of central nervous system (CNS) and other developmental anomalies in congenitally infected infants. The risk of congenital HCMV infection and its associated fetal sequelae have been correlated with the immune status of the mother [1]. Microcephaly and polymicrogyria are the most prominent features of brain abnormalities in congenital HCMV infection [2]. These may result from the disturbance of cellular events within the neuroepithelium after viral infection, including proliferation of neuronal stem cells, differentiation of progenitor cells for neurons or glia, migration of differentiating cells, and cell loss during migration.

Infants who become infected during birth or shortly afterward (perinatal CMV).

Perinatal CMV infection is acquired by exposure to infected cervical secretions, breast milk, or blood products. Preterm infants who lack antibody to CMV can develop serious infection or can die.

People who have weakened immune systems, such as those who have had an organ, bone marrow or stem cell transplant, or those who are infected with HIV.

Most children and adults who are infected with CMV do not develop symptoms. Those who develop symptoms may experience an illness resembling infectious mononucleosis and have fever, swollen glands and feel tired. People with a compromised immune system (such as people with HIV/AIDS or those receiving chemotherapy) may experience more serious illness involving fever, pneumonia and other symptoms. In people who have advanced HIV, CMV can cause an eye infection called retinitis that can lead to blindness.
Cytomegalovirus Transmission
Cytomegalovirus can be spread from person to person by direct contact. CMV is easily spread through an infected person's saliva or other body fluids, such as urine, blood, tears, semen, and breast milk. CMV is spread from an infected person in the following ways:
From direct contact with saliva or urine, especially from babies and young children
Through sexual contact

From breast milk to nursing infants

If a pregnant woman is infected, the fetus may acquire the infection during the pregnancy, or the baby may acquire the infection during delivery.

Through transplanted organs and blood transfusions

People who have received an organ transplant are particularly susceptible to CMV infection because they are given drugs that suppress the immune system to prevent rejection of the transplant.
Diagnosis
Diagnosis of CMV infection is often unnecessary in healthy adults and children because treatment is unnecessary. Once CMV infection is suspected, doctors may detect the infection by culturing a sample of infected body fluid.
In newborns, the diagnosis is usually made by sending a sample of urine to a laboratory to grow (culture) and identify the virus.
Blood tests can be used to diagnose CMV infection in adults who have symptoms.Blood tests that detect antibodies to CMV can confirm a new infection. But these tests cannot confirm disease caused by reactivation of the virus, as often occurs in people with a weakened immune system.
CMV retinitis can be identified by examines internal eye structures to check for characteristic abnormalities using an ophthalmoscope.
Treatment
Healthy people infected with CMV usually do not need medical treatment, it subsided on its own.But if the infection is severe, antiviral drugs can be used. Antiviral therapy is used for individuals with low immune function due to eye infections or life-threatening diseases caused by CMV.
For cytomegalovirus retinitis, antivirals (valganciclovir, ganciclovir, cidofovir, phosphonic acid, or combinations thereof) can be given.
For HIV / AIDS patients, drugs used to treat HIV infection (antiretroviral drugs) can help prevent CMV infection.
For people who undergoing organ transplants, usually take antiviral drugs (such as ganciclovir, valganciclovir, or foscarnet) to prevent CMV infection.
References
[1] Fowler KB, Stagno S, Pass RF, et al. The outcome of congenital cytomegalovirus infection in relation to maternal antibody status [J]. N Engl J Med. 1992 Mar 5; 326(10):663-7.
[2] Perlman JM, Argyle C. Lethal cytomegalovirus infection in preterm infants: clinical, radiological, and neuropathological findings [J]. Ann Neurol. 1992 Jan; 31(1):64-8.