West Nile virus
West Nile virus (WNV) is a member of the family Flaviviridae, specifically from the genus Flavivirus, which also contains the Zika virus, dengue virus, and yellow fever virus. It is a mosquito-borne arbovirus that was discovered in 1927 in the West Nile sub-region of Uganda.
West Nile virus is primarily transmitted by mosquitoes, mostly species of Culex. The primary hosts of WNV are birds, but it can also affects mammals and reptiles. [1] People who get WNV usually have no symptoms or mild symptoms, up to 1% of those who become ill have serious and potentially fatal complications.
Read on to learn more about WNV, including structure, the important proteins, infection mechanisms, infection symptoms, transmission, diagnosis and treatment.
Virus Structure of West Nile virus
WNV is a positive-sense, single-stranded RNA virus. Its genome is approximately 11,000 nucleotides long. The coding region of the genome codes for three structural proteins and seven nonstructural proteins. The WNV genome is first translated into a polyprotein and later cleaved by virus and host proteases into separate proteins. [2]
Like most other flaviviruses, WNV is an enveloped virus with icosahedral symmetry.[3] The protein shell is made of two structural proteins: the glycoprotein E and the small membrane protein M. Protein E has numerous functions including receptor binding, viral attachment, and entry into the cell through membrane fusion.[4]
The RNA genome is bound to capsid proteins, which are 105 amino-acid residues long, to form the nucleocapsid. The capsid proteins are one of the first proteins created in an infected cell, it is a structural protein whose main purpose is to package RNA into the developing viruses. The capsid has been found to prevent apoptosis by affecting the Akt pathway. [5]
West Nile virus Infection
West Nile encephalitis is an infection of the brain that is caused by West Nile virus. First identified in Uganda in 1937, the virus is commonly found in Africa, West Asia, and the Middle East.
The majority (80%) of people infected with West Nile virus will experience no symptoms.
About 20% people who are infected will experience flu-like symptoms including fever, headache, nausea, muscle pain, and swollen lymph glands.
Other symptoms may include a stiff neck, rash, sleepiness or disorientation.
If the virus crosses the blood-brain barrier, however, it can cause life-threatening conditions. About 1% of patients develop complications in the central nervous system (CNS) that affect the brain and spine.
West Nile virus Transmission
The prime method of spread of the West Nile virus (WNV) is the female mosquito. When a mosquito bites an infected bird, the virus enters the mosquito's bloodstream and eventually moves into its salivary glands. When an infected mosquito bites an animal or a human, the virus is passed into the host's bloodstream, then it may cause serious illness.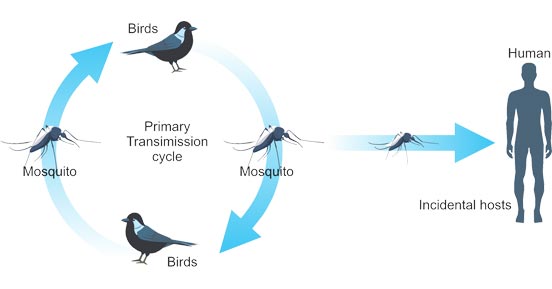 Figure 1. West Nile virus transmission cycle
Direct human-to-human transmission initially was believed to be caused only by occupational exposure, such as in a laboratory setting, [6] or conjunctival exposure to infected blood. [7] The US outbreak identified additional transmission methods:
Blood transfusions
Organ transplants
Pregnancy: An infected mother can infect her fetus, but the risk is very low.
Breast-feeding: There is a very small chance of passing on the virus through breast milk. So that the Centers for Disease Control and Prevention (CDC) advise mothers to continue breast-feeding.
Diagnosis
Diagnosis of West Nile virus infections is generally accomplished by serologic testing of blood serum or cerebrospinal fluid, which is obtained via a lumbar puncture. Initial screening could be done using the ELISA technique detecting immunoglobulins in the sera of the tested individuals. Definitive diagnosis of WNV is obtained through detection of virus-specific antibody IgM and neutralizing antibodies.
Treatment
No vaccine or specific antiviral treatments for West Nile virus infection are available. Most patients make a full recovery without medical treatment.
Rest and acetaminophen can be used to treat the symptoms associated with West Nile virus infection. Severe symptoms will require hospitalization and supportive treatment, such as assistance with breathing and intravenous fluids, pain medication and prevention of secondary infections.
References
[1] Mackenzie, John S, et al. Emerging Flaviviruses: The Spread and Resurgence of Japanese Encephalitis, West Nile and Dengue Viruses [J]. Nat Med, 10, S98-109.
[2] Kyung Min Chung, M Kathryn Liszewski, Grant Nybakken, et al. West Nile Virus Nonstructural Protein NS1 Inhibits Complement Activation by Binding the Regulatory Protein Factor H [J]. Proc Natl Acad Sci U S A, 103 (50), 19111-6.
[3] Suchetana Mukhopadhyay, Bong-Suk Kim, Paul R Chipman, et al. Structure of West Nile Virus [J]. Science, 302 (5643), 248 2003 Oct 10.
[4] Ryuta Kanai, Kalipada Kar, Karen Anthony, et al. Crystal Structure of West Nile Virus Envelope Glycoprotein Reveals Viral Surface Epitopes [J]. J Virol, 80 (22), 11000-8 Nov 2006.
[5] Matt D Urbanowski, Tom C Hobman. The West Nile Virus Capsid Protein Blocks Apoptosis Through a Phosphatidylinositol 3-kinase-dependent Mechanism [J]. J Virol, 87 (2), 872-81 Jan 2013.
[6] Centers for Disease Control and Prevention (CDC) (2002). Laboratory-acquired West Nile virus infections—United States, 2002 [J]. MMWR Morb. Mortal. Wkly. Rep. 51(50): 1133–5.
[7] Kevin Fonseca, Gerry D. Prince, Jeff Bratvold, et al. West Nile Virus Infection and Conjunctival Exposure [J]. Emerg Infect Dis. 2005 Oct; 11(10): 1648–1649.