Yellow fever virus
Yellow fever virus (YFV) is an RNA virus that belongs to the genus Flavivirus. Over 100 species comprise the genus Flavivirus, which includes other notable human pathogens, such as dengue virus (DENV), Japanese encephalitis virus (JEV), Zika virus (ZIKV), West Nile virus (WNV), Kyasanur Forest disease virus, and tick-borne encephalitis virus.
The yellow fever virus originated in Africa and circulated between Aedes aegypti mosquito and monkeys in the rain forests of Africa for thousands of years [1]. It is a potential deadly mosquito-borne flavivirus, which can be transmitted to humans through the bites of certain Aedes or Haemagogus species of mosquitoes. Today, yellow fever is on the rise. In 2013 the World Health Organization reported 127,000 severe cases and 45,000 deaths. It is estimated that 90% of yellow fever infections occur in Africa, with large portions of South America also considered at risk.
Read on to learn more about YFV, including structure, the important proteins, infection mechanisms, infection symptoms, transmission, diagnosis and treatment.
The Structure and Important Proteins
Mature YFV virion is an icosahedral particle about 40 nm in diameter. Like other flaviviruses, YFV contains a small glycoprotein-containing lipid envelope surrounding a nucleocapsid which encloses one viral RNA. The envelope of virus is inlaid with two virally encoded proteins: envelope (E) protein and membrane (M) protein. The E glycoprotein is the major component of the virion surface and is responsible for the receptor-mediated endocytic fusion and subsequent cell entry, as well as direct viral assembly & budding, and immunogenicity.
Figure 1. The immature (intracellular) and mature (extracellular) infectious virion.
The viral genome is a single positive-stranded, infectious RNA molecule, about 11 kb in length. This 11-kb molecule is made up of 5′- and 3′-untranslated regions (UTRs), between which lie a single open reading frame (ORF) encoding three structural proteins (capsid [C], premembrane [PrM], and envelope [E]) and seven nonstructural (NS) proteins (NS1, NS2A, NS2B, NS3, NS4A, NS4B, and NS5).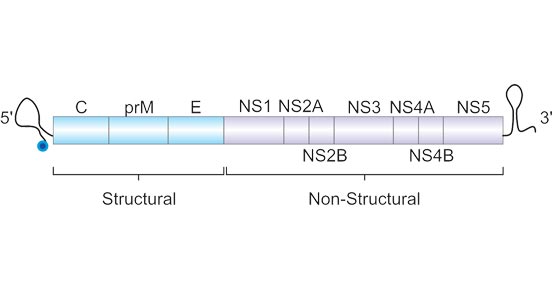 Figure 2. The yellow fever virus genome.
Related Proteins
Diseases and Symptoms
Yellow fever (YF) is an acute viral haemorrhagic disease caused by yellow fever virus infection and is identical to other viral hemorrhagic fevers (VHFs) in characteristics, such as Dengue hemorrhagic fever, Lassa fever, and Crimean-Congo hemorrhagic fever. This disease is endemic to tropical regions of Africa and the Americas because these areas are hospitable to the Aedes aegypti mosquito. The "yellow" in the name corresponds to jaundice, which afflicts some patients.
The clinical manifestations of yellow fever vary greatly, and the typical clinical process can be divided into the following four phases:
Infection phase: It is viremia period and lasts 3 to 6 days. Many cases are usually asymptomatic. The others develop early non-specific symptoms similar to those of common flu, including headache, fever, chills, muscle aches, anorexia, nausea and vomiting.
Remission phase: 3 to 4 days after onset, patients will have a 12-24 hour remission period. The health condition of most symptomatic patients improves and symptoms disappear. But within 48 hours, about 15% to 25% of patients will get worse again and enter the toxic stage.
Toxic phase: It is also called the stage of liver and kidney injury. This period lasts for 3 to 8 days. Patients' condition aggravate, appearing high fever with jaundice (yellow skin and eyes) or internal bleeding (mouth, nose, eyes, or stomach) and multiple organ failure including the liver, kidney and blood system. About 20% to 50% of patients entering the toxic stage will die within 7-10 days of onset.
Recovery phase: It lasts 2 to 4 weeks. Gradually, the patient's body temperature drops to normal, the symptoms disappear, and the function of various organs of the body recovers. But fatigue symptoms persist for weeks and jaundice and elevated aminotransferase for months. It has been reported that patients may also die during convalescence, mostly from arrhythmias.
Yellow Fever Outbreak Event
The first recorded yellow fever epidemic occurred in the Yucatan Peninsula of Mexico in 1648 [1]. For the next 200 years, yellow fever was widely epidemic in tropical America, the North American coastal cities, and Europe [2]. Since YF vaccine was developed and mass vaccination coverage was carried out, the number of infected cases were dramatically declined. Recently, there have been deadly outbreaks of YFV disease in Angola (2016), the Democratic Republic of the Congo (DRC) (2016), and Brazil (2017) [3].
If yellow fever virus is introduced into an immunodeficient population with human blood loving vectors, coupled with the absence of clear management guidelines and appropriate precautions, there is a great possibility of yellow fever outbreak in this area.
Table: Major historical outbreak events of the yellow fever.
| Year | County or Territory | Suspected YF cases | Deaths from suspected cases | Confirmed YF cases | Deaths from confirmed cases |
| --- | --- | --- | --- | --- | --- |
| 1945-1971 | Nigeria | | | 200000 per year | 30000 per year |
| 2005–2016 | Sudan | | | 1,508 | 368 |
| 2016 | Angola | 4347 | 377 | 884 | 121 |
| 2016 | Democratic Republic of the Congo (DRC) | 2987 | 121 | 78 | 16 |
| 2016-2018 | Brazil | | | 2050 | 681 |
Transmission
The yellow fever virus is mainly transmitted to people through the bite of infected Aedes or haemoarchaea mosquitoes [4]. Mosquitoes acquire the virus by feeding on the infected human or non-human primates and then spread it to other human or non-human primates. Infected people are infectious to mosquitoes (known as "viremic") shortly before the fever and within 5 days after the onset of the disease.
There are three transmission routes of yellow fever virus, including the jungle (sylvatic) cycle, the intermediate (savannah) cycle, the urban cycle [5][6]. They are known as yellow fever virus transmission cycles. In the jungle (sylvatic) cycle, mosquitoes of the forest canopy disperse virus to non-human primates (such as monkeys) and secondarily to humans entering the jungle. The intermediate (savannah) cycle in which virus enters rural towns and villages bordering jungle areas in Africa. In this cycle, the virus can be propagated from monkey to human or from human to human via mosquitoes. Within urban areas, YFV can rapidly spread due to mosquito–human–mosquito transmission (mainly refers to Aedes aegypti mosquitoes).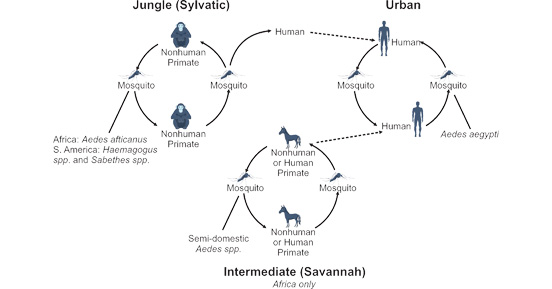 Figure 3. Three transmission routes of yellow fever virus
Diagnosis
It is difficult to diagnose yellow fever virus infection based on clinical signs and symptoms alone due to the similar characteristics in other diseases such as dengue fever, malaria, poisoning, etc.Yellow fever virus infection is confirmed if at least the following conditions are fulfilled: have an epidemiological history and corresponding clinical manifestations; the presence of yellow fever virus antibody IgM; positive yellow fever virus nucleic acid test; a fourfold or higher elevation in yellow fever virus antibody IgG in acute and convalescent serum in the absence of recent vaccination; other flavivirus infection is excluded at the same time. The early clinical manifestations of yellow fever are difficult to distinguish from dieases such as malaria, leptospirosis, viral hepatitis, hemorrhagic fever caused by other viruses. Therefore, rapid and accurate laboratory detection techniques are very important for early diagnosis of yellow fever. The World Health Organization (who) recommends at least one national laboratory in each country at risk for basic YF blood tests.
In endemic areas, suspected patients with symptoms of sudden fever, relative bradycardia, and jaundice should receive a series of tests, including complete blood count, urinalysis, liver function tests, coagulation tests, viral blood culture, and serologic tests, all which help in diagnosis.
Treatment and Prevention
At present, there is no specific treatment or antiviral drugs for YF infection. Supportive care for YF is actually ineffective, and even access to ICU does not seem to improve prognosis or change mortality. Mosquito bite prevention, effective vector control, and mass vaccination campaigns are three potent measures for yellow fever. Dispersal of yellow fever can be most effectively controlled by directly eradicating mosquitoes. In addition, vaccination in yellow fever–endemic countries is necessary.
References
[1] Carter HR. Yellow fever: an epidemiological and historical study of its place of origin. Williams & Wilkins; Baltimore (MD): 1931.
[2] Strode GK, ed, Bugher JC, ed, et al. Yellow Fever. New York, NY: McGraw-Hill Book Co; 1951.
[3] World Health Organization. Yellow fever. http://www.who.int/topics/yellow_fever/en/. Accessed April 26, 2017.
[4] Bryan CS, Moss SW, Kahn RJ. Yellow fever in the Americas. Infect Dis Clin North Am. 2004;18(2):275-29215145381.
[5] Centers for Disease Control and Prevention. Yellow fever. https://www.cdc.gov/yellowfever/index.html. Accessed April 26, 2017.
[6] Monath TP, Gershman M, Staples JE, Barrett A. Yellow fever vaccine In: Plotkin SA, Orenstein WA, Offit PA, eds. Vaccines. Philadelphia, PA: Saunders; 2012:870–968.