Poliovirus
Poliovirus, also called polio, is a virus that causes Poliomyelitis. The disease spreads widely and is an acute infectious disease. Viruses often invade the central nervous system, damage the motor nerve cells in the anterior horn of the spinal cord, and lead to flaccid paralysis of the limbs, which is more common in children. Poliomyelitis may seem like a distant memory for some living in this country, but it is still a terrible disease that is crippling communities around the world. What exactly is it? Why are we spending billions to vaccinate children? Is polio eradication even possible? View this article, you will find answers what you want to know.
What is The Structure of Poliovirus?
Polioviruses are single-stranded RNA viruses belonging to the genus enterovirus of the Picornaviridae family. A typical picornavirus is a small non-lipid-containing virion approximately 27 nm in diameter under the electron microscope [1]. It is stereosymmetric 12-sided. The center of the virus particle is a single-stranded positive-stranded ribonucleic acid, and the outer 32 capsid particles form an outer capsid. The capsid is naked and consists of four structural proteins, VP1, VP2, VP3, and VP4. The capsid protects the single-stranded plus-strand genome, which is approximately on average 7,500 nucleotides (nt) long. The uncertainty of the genome length is due to the heterogeneity of the 3'-terminal poly (A) tail [2].
The Figure 1 shows essential domains of the genome: the 5'-terminal covalently linked protein VPg (3B in the polyprotein), the long 5'-terminal nontranslated region (5'NTR) containing the cloverleaf (essential for genome synthesis), and the internal ribosomal entry site (IRES) that controls initiation of the polyprotein (open box) at nt 743. The polyprotein has been divided into three domains (P1, P2, P3) of which P1 is the precursor to four capsid proteins VP1–4. P2 and P3 specify replication proteins. cre mapping to the coding region of P2 is the essential cis-acting (RNA) replication element. The 3'NTR consists of two stem-loops and the 3'-terminal poly (A) tail of varying length [3].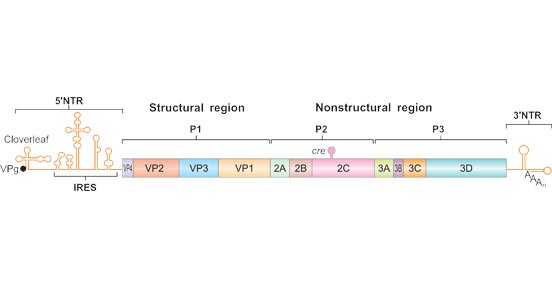 Figure 1. The essential domains of the genome of Poliovirus
*This diagram is derived from the publication published on Annu. Rev. Microbiol [4]
Related Proteins
Three serotypes of poliovirus are antigenically distinct– that just means that your body requires 3 different kinds of antibodies to fight all 3 types of poliovirus and having immunity to one type does not protect you from the other types. But all three have 70% nucleotide identity.
How do Poliovirus Spread from Person to Person?
Humans are the only known natural host, although primates and old world monkeys can be infected experimentally. Poliovirus is very contagious and transmitted through the fecal-oral route. It lives in an infected person's throat and intestines. Infected individuals can shed the virus into the environment for up to 35 days.
It enters the body through the mouth and spreads via:
Contact with the feces of an infected person.
Droplets from a sneeze or cough of an infected person (less common).
Moreover, you can get infected with poliovirus if:
You have feces on your hands, and you touch your mouth.
You put in your mouth objects like toys that are contaminated with feces.
The virus can live in an infected person's feces for many weeks. It can contaminate food and water in unsanitary conditions.
What are The Symptoms of Poliovirus?
The symptoms of polio are usually the same as mild, flu-like signs, such as fever, sore throat, headache, vomiting and fatigue. That is why people often mistake polio as a common cold. The scariest thing about this insidious virus is that approximately 75% of people with the poliovirus are asymptomatic. Most of the time, these people are not aware that they are carriers of this deadly virus. Only 25% of the people infected end up with minor sickness, and less than 1% of people become paralysed. Paralysis happens when the virus attacks the central nervous system, causing the muscles to weaken.
How to Prevent Yourself from Poliovirus?
As mentioned before, polioviruses occur as serotypes 1, 2 and 3, and immunity to one type is believed not to protect against the other two. Luckily, wild poliovirus types 2 and 3 have been eradicated in 1999 and 2019 respectively, so we can focus our efforts on tackling wild poliovirus type 1! Although poliovirus usually infects children under the age of 5, adults can get it too! However, the good news is that once you get immunity to the virus, the effect is lifelong. Therefore, the most effective way to prevent polio is vaccination.
Currently, there are two vaccines used to protect against polio disease, oral polio vaccine (OPV) and inactivated poliovirus vaccine (IPV). OPV is used in many countries to protect against polio disease and has been essential to the eradication effort. People who receive OPV may shed the virus and can infect others, especially those who are not vaccinated. In areas with low vaccination rates, the OPV virus can continue to infect new individuals. IPV protects people against all three types of poliovirus. IPV does not contain live virus, so people who receive this vaccine do not shed the virus and cannot infect others and the vaccine cannot cause disease.
References:
[1] PD Minor. Poliovirus biology [J]. Structure. 1996. 4(7): 775–778.
[2] van Ooij MJ, Polacek C, et al. Polyadenylation of genomic RNA and initiation of antigenomic RNA in a positive-strand RNA virus are controlled by the same cis-element [J]. Nucleic Acids Res. 2006, 34:2953–65.
[3] Wimmer E, Paul AV. 2010. The making of a picornavirus genome. In The Picornaviruses, ed. E Ehrenfeld, E Domingo, RP Roos, pp. 33–55. Washington, DC: ASM Press.
[4] Eckard Wimmer and Aniko V. Paul. Synthetic Poliovirus and Other Designer Viruses: What Have We Learned from Them [J]? Annu. Rev. Microbiol. 2011. 65:583–609.