Human Immunodeficiency Virus
Human immunodeficiency virus (HIV) is a retrovirus belonging to the genus Lentivirus within the family of Retroviridae, subfamily Orthoretrovirinae [1]. Like other lentiviruses, HIV causes chronic persistent infections in various mammalians such as human, horse, bovine, sheep, feline, and primate. As a pathogen, HIV works by attacking and damaging the human immune system. The discovery of AIDS in the early 1980s led to subsequent identification of HIV, which gradually spread globally.
Classification
Based on the genetic characteristics and differences in the viral antigens, HIV is divided into HIV-1 and HIV-2.
HIV-1 among nonhuman primates originated from a simian virus, SIVcpz, which infected several chimpanzee communities in Southern Cameroon [2]. This ancestor of HIV-1 was probably transmitted from chimpanzees to human hunters through the blood-borne transmission. HIV-1 contains four distinct lineages, including groups M, N, O, and P. The independent cross-species transmission events gave rise to different groups.
Group M: It was the first discovered group. Group M has influenced millions of people around the world and has been found in almost every country. As a major group, group M is responsible for the majority of the global HIV epidemic. In group M, there are at least nine different HIV-1 subtypes, including A, B, C, D, F, G, H, J, and K. Besides, different subtypes can form hybrid viruses by combining genetic material. These resulting hybrid viruses are called "cyclic recombinant forms" (CRFs).
Group N: Its discovery was traceable to chimpanzees, which emerged in the vicinity of the Dja Forest in south-central Cameroon. And group N was identified in 1998 and is even less prevalent than group O. So far, no more than 20 cases of group N infection have been reported, all from Cameroon.
Group O: It was found in 1990 and is mainly confined to Cameroon, Gabon, and neighboring countries, accounting for less than 1% of global type 1 HIV infection. Group O is far less prevalent than the M group. The direct source of the group O remains unknown, as no ape viruses are particularly closely related to this group. However, group O is virtually more closely related to SIVcpzPtt in comparison to SIVcpzPts, suggesting that group O derived in Western Central Africa, which was consistent with its current distribution.
Group P: It was discovered in 2009 in a Cameroonian woman living in France. Existing phylogenetic data show that group P originated frogorillas. Like group O, P group came from Western Central Africa, which is consistent to its current distribution.
HIV-2 was a new strain found off the West coast of Africa in 1986 [3]. HIV-2 is significantly different from the original HIV-1 strain. Although they possess almost the same set of genes and very similar pathological effects, HIV-2 is only a distant relative of HIV-1. Interestingly, HIV-2 is closely related to the Simian Immunodeficiency Virus (SIV) that causes immunodeficiency in domestic macaques. HIV-1, HIV-2, and SIV are believed to share a common ancestor, but both HIV-2 and SIV express an additional viral protein that HIV-1 lacks. HIV-2 is less contagious and progresses more slowly than HIV-1, leading to fewer deaths. And HIV-2 can be subdivided into groups A-H.
Structure
HIV is generally spherical, with a diameter of about 120 nm. The outer membrane of the virus is a bi-layer lipid envelope, which comes from the host cells and is embedded with the spikes of viral proteins gp120 and gp41. Gp41 is a transmembrane protein. Gp120 is located on the surface of gp41 and binds to gp41 through noncovalent interaction. Inward is the p17-formed spherical matrix, which holds the p24-constituted semicircular capsid in the center of the viral particle. The capsid presents high electron density under the electron microscope. The capsid contains the viral RNA genome, enzymes (reverse transcriptase, integrase, protease), and other components from the host cell (such as trnalys3, as a primer for reverse transcription).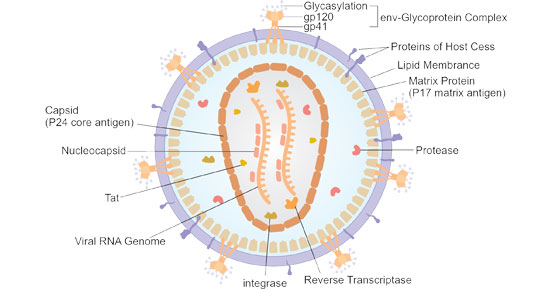 Figure 1. The diagram of HIV structure (Souring from Wikipedia)
The genome of the HIV is composed of two identical positive, single-stranded RNA, each of which is about 9.2-9.8kb in length. The two ends of each RNA are long terminal repeats (LTRs), which contain cis-regulatory sequences to control the expression of the virus. LTR has been proved to possess promoters, enhancers, and negative regulatory regions. The reading frame between LTRs contains nine genes encoding proteins essential to the assembly of new viruses.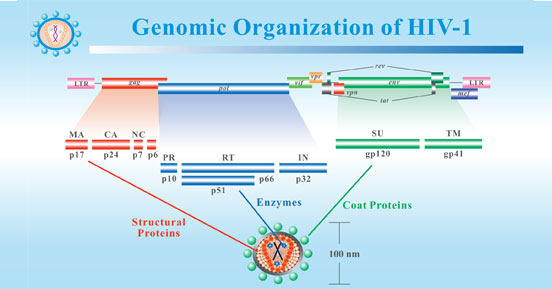 Figure 2. Genomic Organization of HIV-1
*This diagram is derived from the website of Stanford Education.
Table: The genes in the reading frame of HIV genome and their encoding proteins
Gene
Segments
Processed Protein Products
Description
gag
Pr55Gag
It is the precursor of the inner structural proteinsgag.
P17
Matrix protein (MA)
It constitutes the inner membrane layer.
P24
Capsid protein (CA)
It forms conical capsid.
P7
Nucleocapsid protein (NP)
It involves in the formation of the nucleoprotein/RNA complex.
P6
P6 is involved in the release of virus particles.
pol
Pr160GagPol
It is a precursor of the viral enzymes.
P51
Reverse transcriptase
It associates with the transcription of HIV RNA in proviral DNA.
P32
Integrase
It integrates the proviral DNA into the host genom.
P10
Protease
P10 cleaves the Gag (Pr55) and Gag-Pol (Pr160GagPol) precursor protein and take part in the release of structural proteins and viral enzymes.
p15 (66)
RNase H
It degrades the viral RNA within the viral RNA/DNA replication complex.
eve
PrGp160
It acts as a precursor of the envelope proteins SU and TM. It is cleaved by cellular protease.
gp120
surface glycoprotein (SU)
It helps the virus attach to the target cell.
gp41
Trasnmembrane protein (TM)
It acts as an anchorage of gp120. And gp41 mediates the fusion of viral and cell membrane.
tat
p14
transactivator protein
It acts as an activator of transcription of viral genes.
rev
p19
RNA splicing regulator
P19 modulates the export of non-spliced and partially spliced viral mRNA.
nef
p27
negative regulating factor
It influences HIV replication, enhancement of infectivity of viral particles and is involved in the downregulation

of CD4 on target cells and HLA cells on target cells.

vif
p23
viral infectivity protein
P23 is key for infectious virus production in vivo.
vpr
p15
virus protein r
It is one of components of virus particle. And it interacts with p6, facilitating virus infectivity and taking effect on the cell cycle.
Pathogenesis
Like all viruses, HIV can not replicate on its own. HIV must infect the CD4-containing target cells, such as T helper cells, macrophages, dendritic cells, and astrocytes. HIV most commonly enters the bloodstream by sexual intercourse or blood-borne transmission through the genital or colonic mucosa. The innate condition that the spikes of gp120 and gp41 protruding on the envelope of the virus enables HIV to lock on the CD4 receptor of CD4 T cells and enter the cells.
When the C4 domain of gp120 is attached to the CD4 molecule, the conformation of CD4 and gp120 changes, which opens an additional site for gp120 to bind to the co-receptor of the cell surface, such as chemokine receptor 5 (CCR5) or CXCR4. The binding of gp120 with CD4 and co-receptors results in conformational changes of gp120 and gp41. The N-terminal of gp41 is located on the viral membrane, forming a channel that inserts into the plasma membrane of the target cell because of its high hydrophobicity. The cell membrane and virus envelope eventually complete the fusion. The HIV genome is released into the host cell and then hijack the host cell's machinery to replicate its new copies. The progeny viruses are liberated out of the host cell through budding.
Diseases and Symptoms
AIDS, also known as acquired immunodeficiency syndrome, is a systemic, infectious disease resulting from immunological dysfunction caused by HIV infection. Once infected with HIV, you will be more prone to other diseases. As the immune system weakens, afflicted people tend to be more susceptible to opportunistic infections such as Pneumocystis carinii pneumonia, Toxoplasma gondii encephalitis, and several uncommon cancers like Kaposi Sarcoma.
The entire process from HIV infection to the onset of typical AIDS symptoms can be divided into three stages:
Acute infection period

The acute infection period is commonly called the window period. The main symptoms of window period include fever, rash, lymph node enlargement, muscle soreness, fatigue, night sweat, pharyngitis, etc. Some patients may also develop acute headache, nausea, vomiting, diarrhea. Because of the mild symptoms during the acute infection period, it is usually easy to be ignored.

After 2 to 6 weeks of being infected with HIV, serological tests can help to determine the presence of the HIV antibodies, which is the criterion for judging whether HIV is infected.

Incubation

The incubation period refers to the period from the beginning of HIV infection to the appearance of clinical symptoms and signs of AIDS. It lasts a few days to a few weeks, after which individuals develop acute-flu like symptoms. However, after this short illness period, individuals can remain asymptomatic for years. During the incubation period, people infected with AIDS may not display any clinical symptoms, but the incubation period is not a quiescent period, let alone safe, the virus is continuously propagating, with a strong destructive effect.

The average incubation period for AIDS is 2 to 10 years, so it is not easy to detect and prevent AIDS. Studies have shown that after the incubation period, 50% of people will develop AIDS within 8 years. And the incubation period of AIDS in children is short, averaging 12 months.

Pre-AIDS

Pre-AIDS is the period from the onset of symptoms and signs related to AIDS after the incubation period until the development of typical AIDS. During this period, patients appear obvious symptoms and signs related to AIDS, mainly manifesting as persistent lymphadenopathy in the head and neck, axilla, inguinal, posterior cervical, preauricular, retro auricular, femoral, submandibular lymph nodes, etc.

Typical AIDS Period

The typical AIDS stage is prone to various fatal opportunistic infections and malignant tumors due to the serious destruction of the immune system. As the immune system is further damaged by HIV, more persistent symptoms such as energy and weight loss, fever and sweating, persistent yeast infection, skin rash or peeling off, pelvic inflammation, short-term memory loss, and severe herpes infection occur.
Transmission
People living with HIV and AIDS patients are the infection source of AIDS. HIV mainly exists in the body fluids of the source of infection, such as blood, semen, vaginal necessities, cerebrospinal fluid, pleural and ascites fluid, amniotic fluid, milk. Daily contact, such as shaking hands, hugging, kissing, swimming, mosquito bites, sharing utensils, coughing, or sneezing, will not cause infection. Here are three main routes of transmission:
Sexual transmission

HIV infection is primarily transmitted through unprotected and unsafe sexual contact.

Blood-borne transmission:
Human being transfused with HIV-containing blood or blood products, needle sharing intravenous drug use, unsafe tattooing, and transplantation of infected tissues and organs, are at risk of HIV infection.

Mother-to-fetus transmission

Pregnant women infected with HIV can transmit the virus to their fetuses during pregnancy and delivery, and contracted mothers can also transmit the virus to their nursing children through breastfeeding.
Treatment and Prevention
At present, there is no cure for AIDS in the world, but proper treatment can delay the progression of symptoms, so AIDS should be detected, diagnosed, and treated early. Treatments such as antiretroviral therapy can keep the virus at a low level and help the immune system function properly. Some drugs can interfere with the self-replication of AIDS, and others can prevent the genetic material of the virus from entering immune cells.
Unfortunately, no effective HIV vaccines that prevent HIV infection or delay the progress of AIDS are available. Cutting off the transmission of AIDS is an important way to prevent and control AIDS. And Pre-exposure prevention can reduce the risk of HIV infection in high-risk groups.
References
[1] Luciw PA. Human immunodeficiency viruses and their replication. In: Fields BN, editor. Virology. 3rd ed. Philadelphia: Lippincott-Raven; 1996. pp. 1881–1952.
[2] Gao F, Bailes E, et al. Origin of HIV-1 in the chimpanzee Pan troglodytes troglodytes. Nature. 1999;397:436–441.
[3] Sharp PM, Hahn BH. Origins of HIV and the AIDS pandemic. Cold Spring Harb Perspect Med. 2011;1:a006841.