Macrophages are a common phagocytic cell and a member of immune cells. It is a white blood cell located in a tissue derived from monocytes. It is characterized by plasticity and versatility. It plays an important role in clearing senescent or apoptotic cells, phagocytosis of immune-related complexes and pathogens, and maintenance of homeostasis. The phenotype and function of macrophages may be polarized by microenvironment.
3. Transcription Factors and Signaling Pathways that Affect Macrophage Polarization
The phenotype and functional polarization of macrophages are regulated by many factors. Signal transducers and transcriptional activators that affect macrophage polarization are as follows: STATs, interfering regulatory factors (IRFs), nuclear factors (NF-kappab), activating proteins (AP1), peroxisome proliferators activating receptors (PPAR-gamma), and cAMP response element binding protein (CREB). They interact with each other to regulate the phenotype of macrophages.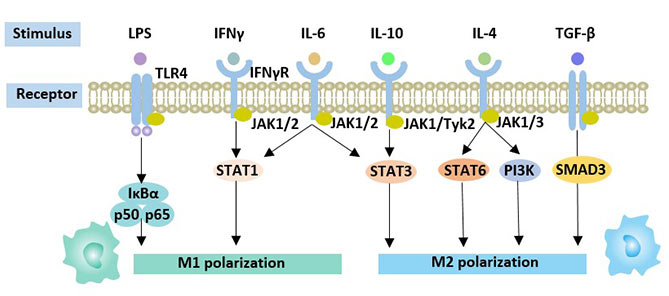 Figure 3 Factors affecting macrophage polarization
The Notch pathway regulates macrophage polarization by controlling gene expression, thereby modulating the immune response.
Myelo-derived macrophages activate Notch1 and NF-kappab under the stimulation of LPS and toll-like receptors, thus polarized M1-type macrophages. One molecular mechanism of Notch1-dependent M1 polarization is the transactivation of the M1 type gene by NICD1, resulting in the effect of Notch1 activation [8]. In addition, IRF5 is associated with M1 macrophage polarization and can be stimulated by inflammation in atherosclerosis [9], and nitrification of IRF5 protein leads to inhibition of IRF5-targeted M1 macrophage signaling gene activation [10].
The JAK-STAT signaling pathway is also closely related to the phenotypic activity of macrophages [11]. IFN (interferon) works through this signaling pathway. IFN-γ can induce polarization of M1 macrophages. The role of IFN-α/IFN-β-mediated signaling pathways in macrophage polarization is not well understood, but it is known to enhance anti-inflammatory effects under certain conditions.
PI3K pathway plays an important role in the survival of macrophages [12]. Different AKt kinases have different effects on macrophage polarization. Among them, AKt1 can be activated by PI3K, and the ablation of AKt1 leads to polarization of M1-type macrophages, while the ablation of AKt2 leads to polarization of M2-type macrophages [13][14].
In addition to the above signaling pathways, mitochondrial biosynthesis also plays an important role in macrophage polarization [15]. In addition, HGF promotes the transformation of macrophages from M1 to M2 by activating the JAK2/STAT3 signaling pathway. But its molecular mechanism is not clear.
References
[1] Germano G, Frapolli R, Belgiovine C, et al. Role of Macrophage Targeting in the Antitumor Activity of Trabectedin [J]. Cancer cell, 2013, 23(2): 249-262.
[2] Mosser D M, Edwards J P. Exploring the full spectrum of macrophage activation [J]. NATURE REVIEWS IMMUNOLOGY, 2008, 8(12): 958-969.
[3] Abramson S L, Gallin J I. IL-4 inhibits superoxide production by human mononuclear phagocytes [J]. Journal of Immunology, 1990, 144(2): 625-630.
[4] Biswas S K, Mantovani A. Macrophage plasticity and interaction with lymphocyte subsets: cancer as a paradigm [J]. Nature Immunology, 2010, 11(10): 889-896.
[5] Grohmann U, Belladonna M L, Vacca C, et al. Positive Regulatory Role of IL-12 in Macrophages and Modulation by IFN-γ [J]. The Journal of Immunology, 2001, 167(1): 221-227.
[6] Ginderachter J A V, Movahedi K, Ghassabeh G H, et al. Classical and alternative activation of mononuclear phagocytes: Picking the best of both worlds for tumor promotion [J]. 2006, 211(6-8): 0-501.
[7] Wynn T A, Chawla A, Pollard J W. Macrophage biology in development, homeostasis and disease [J]. Nature, 2013, 496(7446): 445-455.
[8] Xu J, Chi F, Tsukamoto H. Notch signaling and M1 macrophage activation in obesity-alcohol synergism [J]. Clinics and Research in Hepatology and Gastroenterology, 2015, 39: S24-S28.
[9] Saliba D, Heger A, Eames H, et al. IRF5: RelA Interaction Targets Inflammatory Genes in Macrophages [J]. Cell Reports, 2014, 8(5): 1308-1317.
[10] Lu G, Zhang R, Geng S, et al. Myeloid cell-derived inducible nitric oxide synthase suppresses M1 macrophage polarization [J]. Nature Communications, 2015, 6: 6676.
[11] Hall C J, Boyle R H, Astin J W, et al. Immunoresponsive gene 1 augments bactericidal activity of macrophage-lineage cells by regulating β-oxidation-dependent mitochondrial ROS production [J]. Cell Metabolism, 2013, 18(2): 265-278.
[12] Zizzo G, Cohen P L. IL-17 Stimulates Differentiation of Human Anti-Inflammatory Macrophages and Phagocytosis of Apoptotic Neutrophils in Response to IL-10 and Glucocorticoids [J]. The Journal of Immunology, 2013, 190(10): 5237-5246.
[13] Arranz A, Doxaki C, Vergadi E, et al. Akt1 and Akt2 protein kinases differentially contribute to macrophage polarization [J]. Proceedings of the National Academy of Sciences, 2012, 109(24): 9517-9522.
[14] Xu F, Kang Y, Zhang H, et al. Akt1-Mediated Regulation of Macrophage Polarization in a Murine Model of Staphylococcus aureus Pulmonary Infection [J]. Journal of Infectious Diseases, 2013, 208(3): 528-538.
[15] Macgarvey N C, Suliman H B, Bartz R R, et al. Activation of mitochondrial biogenesis by heme oxygenase-1-mediated NF-E2-related factor-2 induction rescues mice from lethal Staphylococcus aureus sepsis [J]. American Journal of Respiratory & Critical Care Medicine, 2012, 185(8): 851-61.
[16] Tedescoa S, Bolegoa C, Tonioloa A, et al. Phenotypic activation and pharmacological outcomes of spontaneously differentiated human monocyte-derived macrophages [J]. Immunobiology, 2015, 220(5): 545-554.
[17] Rebelo S P, Pinto C, Martins T R, et al. 3D-3-culture: A tool to unveil macrophage plasticity in the tumour microenvironment [J]. Biomaterials, 2018.
[18] Wang S, Zhang J, Sui L, et al. Antibiotics induce polarization of pleural macrophages to M2-like phenotype in patients with tuberculous pleuritis [J]. Scientific Reports, 2017, 7(1).
[19] Shabo I, Svanvik J. Expression of macrophage antigens by tumor cells [J]. Oxygen Transport to Tissue XXXIII, 2011, 714: 141-150.
[20] Stoermer K A, Burrack A, Oko L, et al. Genetic Ablation of Arginase 1 in Macrophages and Neutrophils Enhances Clearance of an Arthritogenic Alphavirus [J]. The Journal of Immunology, 2012, 189(8): 4047-4059.
[21] Raes G, Baetselier P D, Wim No?l, et al. Differential expression of FIZZ1 and Ym1 in alternatively versus classically activated macrophages [J]. Journal of Leukocyte Biology, 2002, 71(4): 597.
[22] Dragomir A C D, Sun R, Choi H, et al. Role of Galectin-3 in Classical and Alternative Macrophage Activation in the Liver following Acetaminophen Intoxication [J]. The Journal of Immunology, 2012, 189(12): 5934-5941.
[23] Lawrence T, Natoli G. Transcriptional regulation of macrophage polarization: enabling diversity with identity [J]. NATURE REVIEWS IMMUNOLOGY, 2011, 11(11): 750-761.
[24] Shabo I, Olsson H, Elkarim R, et al. Macrophage Infiltration in Tumor Stroma is Related to Tumor Cell Expression of CD163 in Colorectal Cancer [J]. Cancer Microenvironment, 2014, 7(1-2): 61-69.
[25] Sanyal R, Polyak M J, Zuccolo J, et al. MS4A4A: a novel cell surface marker for M2 macrophages and plasma cells [J]. Immunology and Cell Biology, 2017.
[26] Jablonski K A, Amici S A, Webb L M, et al. Novel Markers to Delineate Murine M1 and M2 Macrophages [J]. PLOS ONE, 2015, 10(12): e0145342-.