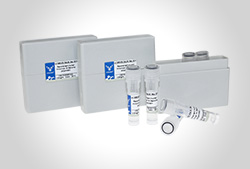 Recombinant Protein
Recombinant protein, a manipulated form of protein, is generated in various ways to produce large quantities of proteins, modify gene sequences and manufacture useful commercial products.
Over more than 11 years, CUSABIO's R&D team has established five recombinant expression systems from prokaryotic to eukaryotic to express the recombinant protein. We own protein expression technology based on a series of protein expression and purification technology, including protein expression technology shown by Baculovirus outer membrane proteins (OMP), and membrane protein expression technology, etc., and we have the ability to make a variety of difficult proteins.
The recombinant proteins we provide include cytokines (Interleukin, Interferon, Growth Factor, Tumor Necrosis Factor, Chemokine and Colony Stimulating Factor), Drug Target Protein (CD Antigen, FC Receptor, Immune Checkpoints), hormones, enzymes, viral antigens, allergens, human disease-related proteins, and animal and plant and microbial proteins, etc., of which there are 578 kinds of active proteins.
For five recombinant expression systems, vitro E.coli Expression system is CUSABIO's Unique Expression System. Compared with the traditional protein expression system, many processes are omitted in vitro E.coli, such as transformation of plasmids, cell culture, collection, crushing and centrifugation etc., which greatly improves the working efficiency. If you want to know more information about vitro E.coli, you can click here.
Although vitro E.coil expression system has many advantages, it doesn't mean the other expression systems are not good. Every expression system has its own superiorities. A sweet guy from CUSABIO has written an article- CUSABIO's Five Expression Systems- to illustrate the advantages and disadvantages of each expression systems. Then, you can choose a suitable expression system based on your experimental requirement.
In the process of developing recombinant proteins, a remaining challenge is that you will be faced with a bewildering array of choices except the expression system, such as the expression vector selection, the length of expressed protein (full-length or partially) and the protein with tag or not, etc. You have to make a lot of decisions when producing recombinant proteins. If you choose wisely, you'll obtain high-quality recombinant proteins and the follow-up experiments are more likely to be successful. But if you make a wrong decision, you may fail to get the recombinant protein you need or the quality and purity of the recombinant protein do not meet the requirements. Here, based on their experience of developing recombinant protein, protein expression engineers from CUSABIO have concluded several useful tips to help you make wise decisions, you can click the following links to enter the corresponding article.
Article 1: Production of Recombinant Protein
In this article, we aim to illuminate the definition of recombinant protein and how to produce a recombinant protein.
Article 2: How to choose a suitable expression vector?
The expression vector is a DNA molecule that carries a specific gene into a host cell and uses the cell's protein synthesis machinery to produce the protein encoded by the gene. Expression vectors allow high-level expression of foreign genes in host cells, and through years of development, expression vectors have become a mature and popular biotechnology. It is an essential element in the process of recombinant protein production. As the title shows, this article mainly summarizes several useful tips to choose a suitable expression vector.
Article 3: How to express a protein with bioactivity?
Depending on the application of the recombinant protein, we may put different requirements on its bioactivity. But how can we ensure that the protein is produced with bioactivity? This article will focus on this topic and offer some solutions.
Beside the above articles, we also have a collection of common questions of recombinant protein. You can click the following link to view. https://www.cusabio.com/m-306.html.
In addition, we also provide the recombinant protein expression service to our customers, you can click here to obtain more information.
Note: If you have any question about CUSABIO's protein, involving protein price, delivery and quality, you can click the orange button to leave a message online for us.