What Is The Cell Surface Marker?
Cell surface markers are special proteins expressed on the surface of cells or carbohydrates attached to the cell membrane that often conveniently serve as markers of specific cell types. For example, T cell and B cell surface markers identify their lineage and stage in the differentiation process (Figure 1). These lymphocytes differentiate into multiple cell subtypes, necessary for specific biological processes.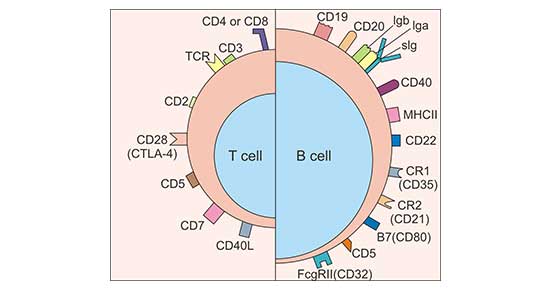 Figure 1 The cell surface markers of T cell and B cell
While some proteins have the task of allowing the transport of molecules across the membrane, cell surface markers play a role in inter-cellular communication and recognition. In this article, we also illustrate the cell surface markers from the following two sections:
What Is The Function of Cell Surface Markers?
Cell surface markers are used to classify cells according to their markers. This data, in turn, is used to identify different kinds of cells, from cancer cells to stem cells to cells infected with HIV. In short, cell surface markers are like a fingerprint, specific to each kind of cell, and capable of being identified according to what kinds of markers are present on the membrane.
Currently, the most common cell surface markers are CD antigen, also known as CD molecules and clusters of differentiation. In terms of physiology, CD molecules can act in numerous ways, often acting as receptors or ligands important to the cell. A signal cascade is usually initiated, altering the behavior of the cell (see cell signaling). Some CD proteins do not play a role in cell signaling, but have other functions, such as cell adhesion. CD for humans is numbered up to 371.
While CD molecules are very useful in defining leukocytes, they are not merely markers on the cell surface. While only a fraction of known CD molecules have been thoroughly characterized, most of them have an important function. In the example of CD4 & CD8, these molecules are critical in antigen recognition. Others (e.g., CD135) act as cell surface receptors for growth factors.
Cell Surface Markers in Drug Discovery
Beyond the mere identification of cells, cell surface markers also hold the potential to aid in drug discovery and especially personalized medicine. With the ability to identify individual cells according to surface markers, scientists are beginning to make breakthroughs in the development of new drugs.
Before the drug discovery introduction, we must have knowledge about immunophenotyping. Immunophenotyping holds immense potential in the field of drug discovery. Reverse engineering, the idea that we can discover the biological or technological principles of something by studying its external structure and operation, allows scientists to develop new drug targets. In other words, by studying the exterior surface cell markers, one can determine the internal structure of the cell, perhaps even at the genomic and DNA level.
The process of drug delivery starts with the identification of appropriate drug targets. Only then can suitable drugs be developed to specifically and effectively target diseases or problems. This step is greatly assisted by immunophenotyping in which the many clusters of differentiation are cataloged according to their presence in a sample. Once the targets, the surface proteins and carbohydrates, are identified, suitable drugs can then be developed to work on these specific molecules.
For example, new drug targets are being found on the surface of cancer cells. Besides being used for identification purposes, the clusters of differentiation serve as new targets for chemotherapeutic drugs. If drugs can be developed to work on the clusters of differentiation, it is possible that the cancer cells can be specifically targeted.