NK Cell
NK cells, also known as natural killer cells , are important immune cells in the body. They are not only related to anti-tumor, anti-virus infection and immune regulation, but also participate in the occurrence of hypersensitivity and autoimmune diseases in some cases. In this article, we collect several questions of NK cell as follows:
What is NK Cell?
NK cell is part of the body's immune system and is involved in destroying tumor cells or cells that are infected by viruses. A NK cell is a type of lymphocyte, or white blood cell, that is produced by the bone marrow and is part of the innate immune system rather than the adaptive immune system. The innate immune system responds to non-specific threats by attacking cells that it does not recognize as healthy human cells. The innate immune system can be regarded as the body's first line of defense, going into action while a more specific defense is organized, and NK cells play an essential part.
What is The Function of NK Cell?
NK cells are a type of lymphoid cell population critical to the innate immune system. Meanwhile, NK cells have an excellent ability to recognize stressed cells in the absence of antibodies and major histocompatibility complex (MHC), which means a much faster immune reaction. Due to this property, NK cells are especially important for harmful cells that are missing MHC I markers and cannot be detected and destroyed by other immune cells like T lymphocyte cells.
NK-cell functioning is controlled by a wide range of receptors that are expressed on the cell surface. In another word, whether or not the NK cell kills these cells depends on a balance of signals from activating receptors and inhibitory receptors on the NK cell surface (Figure 1). Activating receptors recognise molecules that are expressed on the surface of cancer cells and infected cells, and "switch on" the NK cell. Inhibitory receptors act as a check on NK cell killing. Most normal healthy cells express MHC I receptors which mark these cells as "self". Inhibitory receptors on the surface of the NK cell recognise cognate MHC I, and this "switches off" the NK cell, preventing it from killing. Cancer cells and infected cells often lose their MHC I, leaving them vulnerable to NK cell killing. Once the decision is made to kill, the NK cell releases cytotoxic granules containing perforin and granzymes, which leads to lysis of the target cell.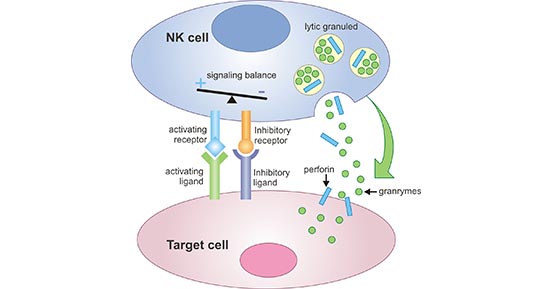 Figure 1. The Menchanism of NK Cell
What are The Feature of CAR-NK Cell Therapy?
As mentioned, NK cells are a type of MHC-independent lymphocytes that have a strong killing effect on tumor cells. Their recognition of tumor cells mainly depends on the cross-regulation of their surface-activating receptors and inhibitory receptors. After identifying tumor cells, NK cells kill tumor cells by releasing killing mediators of perforin and granzymes.
However, due to the decrease in the number and quality of NK cells in tumor patients and the existence of tumor escape mechanisms, their antitumor functions in vivo have not been fully exerted. CAR modification of NK cells is expected to enhance its ability to target tumor cells and develop effector cells with strong anti-tumor effects.
The main advantages of CAR-NK include:
No need to activate endogenous cytotoxic receptors of NK cells;
Selective identification of tumor-associated antigens;
Organic antigen-specific target cell lysis;
It has obvious advantages for the treatment of solid tumors, because solid tumors show different degrees of tolerance to unmodified NK cells, but they are sensitive to antigen-dependent NK cells.