Osteocyte
Bone is an amazing highly dynamic tissue in which old bone is permanently removed and replaced by new bone, in order to maintain the mineral homeostasis and the integrity of bone structure; this process, called bone remodeling, is orchestrated by osteoclasts and osteoblasts, respectively, and takes place in the "Bone Multicellular Units" (BMU). The BMU is formed by osteoblasts, osteoclasts, osteocytes, bone lining cells and blood vessels, and it is a special site where a team of bone cells work, as the Figure 1 shows [1] [2].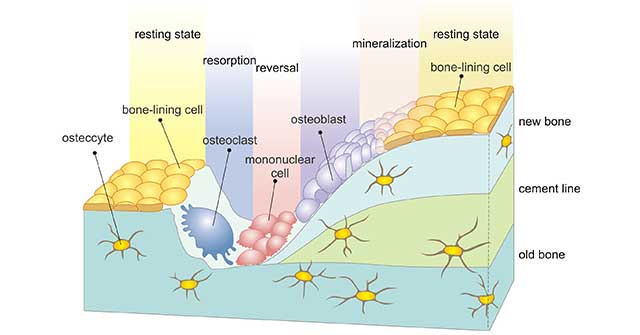 Figure 1. The Diagram of Bone Remodeling
In this article, we focus on osteocyte, a member of BMU. We collect the definition, structure and markers of osteocyte as follows:
What is Osteocyte?
Osteocyte, a cell that lies within the substance of fully formed bone. It occupies a small chamber called a lacuna, which is contained in the calcified matrix of bone. Osteocytes derive from osteoblasts, or bone-forming cells, and are essentially osteoblasts surrounded by the products they secreted.
Osteocyte is flat oval-shaped multi-protrusion cells, and the nucleus is also oblate and stained deeply. The cytoplasm is weakly basophilic. Under the electron microscope, there were a small amount of lysosomes, mitochondria, and rough endoplasmic reticulum in the cytoplasm, and the Golgi complex was not well developed. Bone cells are sandwiched between two adjacent bone plates or are scattered in the bone plates. There are gap connections between the protrusions of adjacent osteocytes. In the bone matrix, the oval-shaped cavity occupied by the bone cell body is called bone lacuna, and the space where the protrusions are located is called bone canaliculi (Figure 2).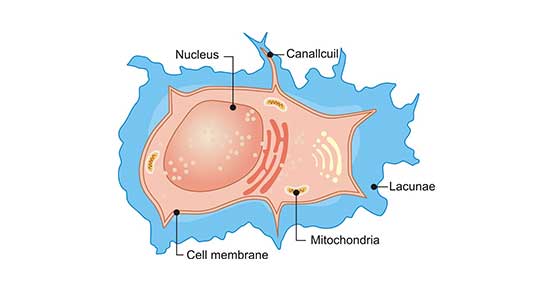 Figure 2. The Structure of Osteocyte
What is The Function of Osteocyte?
Although osteocytes are relatively inert cells, they are capable of molecular synthesis and modification. With the development of genetic tools, osteocyte functions have been identified via manipulating on the expression of several genes.
Osteocytes are regulators of bone formation. Osteocytes are capable of participating in the synthesis and mineralization of osteoid matrix. Osteocytes synthesize proteins involved in the bone formation, like COL-I or OCN, and the mineralization, like ALP [3].
Osteocytes are inductors of bone resorption. RANKL and CSF-1 expression supports osteoclasts formation. Both of them are necessary and sufficient molecules to drive to osteoclastogenesis. Moreover, accumulating researches conclude that osteocytederived RANKL is essential for normal bone remodeling [4]. When osteocytes were experimentally destroyed, the bones showed a significant increase in bone resorption, decreased bone formation, trabecular bone loss, and loss of response to unloading [5].
Osteocyte specific proteins such as sclerostin have been shown to function in mineral metabolism, as well as other molecules such as PHEX, DMP-1, MEPE, and FGF-23, which are highly expressed by osteocytes and regulate phosphate and biomineralization.
The Markers of Osteocyte
In the last section of this article, we list the most common markers of osteocyte on the following table. Osteocyte markers refer to several special proteins which distinguish osteocyte from other cell types.
References:
[1] Parffit, A.M. The mechanism of coupling: a role for the vasculature [J]. Bone. 2000, 26(4), 319-23.
[2] Tresguerres FGF,Torres J,López-Quiles J, et al. The osteocyte: A multifunctional cell within the bone [J]. Ann Anat.2019 ():151422.
[3] Nakashima, T., Hayashi, M., et al. Evidence for osteocyte regulation of bone homeostasis through RANKL expression [J]. Nat Med. 2011, 17, 1231-4.
[4] Xiong, J., Piemontese, M., et al. Osteocytes, not osteoblasts or linning cells, are the main source of the RANKL required for osteoclast formation in remodeling bone [J]. PLoS ONE. 2015, 10(9), e0138189.
[5] Metzger CE,Narayanan SA. The Role of Osteocytes in Inflammatory Bone Loss [J]. Front Endocrinol (Lausanne).2019 10():285.