Moncyte
Monocytes are the largest blood cells in the blood. At present, it is considered to be the precursor of macrophages, which can engulf and clear injured and aging cells and their fragments with obvious deformation movement. Monocytes are also involved in the immune response. Moreover, the amount of monocytes increasing has a key significance in clinic. In this article, we have collected some questions about monocytes, and hope these information help your understanding of monocytes.
What Is Moncyte?
Monocytes are a type of leukocyte, or white blood cell. They are the largest type of leukocyte and can differentiate into macrophages and myeloid lineage dendritic cells. This type has a large nucleus (Figure 1) that controls the activities of the cells, as well as a few granules in the cytoplasm. They are attracted to bacteria and other foreign matter, which they take in and destroy through phagocytosis. Hence, they are also referred to as phagocytes, a classification which they share with granulocytes, the most abundant of the white blood cells. Phagocytosis refers to the process by which a cell takes in large, solid materials.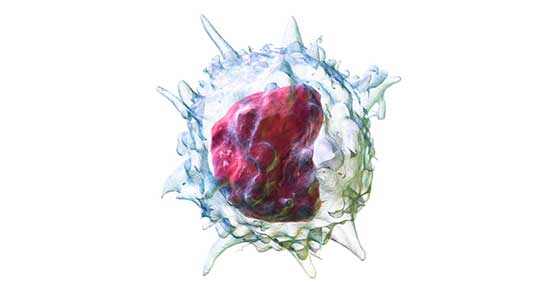 Figure 1. 3D Rendering of a Monocyte
Note: This picture is come from Wikipedia
What Is The Role of Monocytes?
Monocytes are a type of white blood cell. Like other white blood cells, monocytes are important in the immune system's ability to against microorganisms or pathogens, especially those that can cause malaria, tuberculosis, and typhoid, but also in facilitating healing and repair. Moving at great speed in the bloodstream, they collect debris or remains that accumulate from infection. The immune response, accomplished by both bone marrow-derived (B) and thymus (T) lymphocytes, is activated as well by some monocytes. Lymphocytes are white blood cells that make up the lymphatic system, or the body's second line of defense.
Monocytes are formed in the bone marrow and are released into peripheral blood, where they circulate for several days. They comprise about 5% to 10% of the circulating white blood cells in healthy individuals.
Monocytes are probably best known for their role in serving as something akin to reserve forces in the military. Some of them may be called up if needed, to form the precursors of two other types of white blood cells: tissue macrophages and dendritic cells.
What Is the Connection between Monocyte and Macrophage?
As mentioned, although monocyte is the precursor of macrophage, both monocyte and macrophage are types of white blood cells that are part of the immune system. Monocytes are mostly found within the blood, while macrophages occur within the tissues. Macrophages are created through the differentiation of monocytes. In most cases, monocytes float within the blood stream for up to three days before migrating to a specific tissue for macrophage differentiation.
What Are The Symptoms of High Monocytes?
High Monocytes, also known as elevated monocytes, refers to as "monocytosis", indicates that monocytes are being produced to fight infectious disease. Monocytosis can occur in various diseases such as malignant neoplasms, anemia, malaria and melanoma, and protozoal infections. Moreover, it also occurs in syphilis, progressive tuberculosis, viral hepatitis, sepsis, endocarditis, hyperthyroidism and nodularity Diseases such as arthritis.