Epidermal Stem Cell (EpSC)
The skin is the largest organ of the human body. Skin and its appendages ensure a number of critical functions necessary for animal survival. Skin plays an important role in resisting infections, radiation, preventing animals from water loss, and temperature change. In humans and other mammals, the skin has three parts - the epidermis, the dermis and the subcutis. The epidermis forms the surface of the skin. It is made up of several layers of cells called keratinocytes (Figure 1). The dermis lies underneath the epidermis and contains skin appendages: hair follicles, sebaceous (oil) glands and sweat glands. The subcutis contains fat cells and some sweat glands.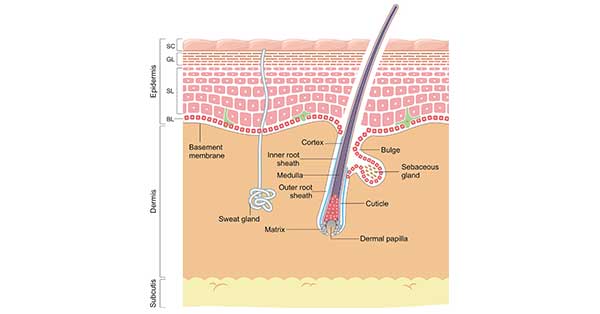 Figure 1. The Skin and Its Structure
The skin has a strong ability to repair and regenerate, which is directly related to the presence of epidermal stem cells (EpSC). Although the location, type, and number of epidermal stem cells have been reported differently, epidermal stem cells and follilar stem cells have mainly been studied. This article concentrates primarily on epidermal stem cells.
What are EpSCs?
Epidermal stem cells (EpSCs) are a type of cell population with infinite proliferation ability that can proliferate and differentiate into various functional cells in the epidermis. It is mainly located in the basal layer of the epidermis and belongs to adult stem cells. It has a strong ability to divide and proliferate to supplement senescent keratinocytes.
EpSCs possess two essential features common to all stem cells: They are able to self-renew for extended periods of time, and they differentiate into multiple lineages derived from their tissue origin. The self-renewal ability of EpSCs is manifested in the body, which can proliferate and differentiate to form a full layer of the epidermis and maintain itself, while in vitro it exhibits clonal growth. Although EpSCs have a strong ability to proliferate, they are in a relatively resting state under normal and stable conditions, divide slowly in the body, have a slow periodicity, and can have an unlimited number of cell cycles. As we get older, the number of EpSCs also decreases, so children's ability to heal wounds is stronger than adults, because children have more stem cells.
The Application of EpSCs
With the development of molecular biology, cell biology, tissue engineering and bioengineering, EpSCs rely on their unique biological advantages to play a role in skin renewal, tissue repair, tumor formation, gene therapy, cell therapy, etc. The important role shows its huge application prospects.
In terms of wound repair, as the seed cell of the skin, EpSCs may open up a new way of clinical treatment for skin repair and functional reconstruction, such as skin covers for clinical use, to meet the needs of patients with severe clinical burns.
In the field of certain skin diseases research, EpSCs are expected to play an important role in the study of skin tumors and epidermogenesis. For example, some gene mutations can cause abnormal expression of integrin and cause barriers between the epidermis and the dermis. This is one of the important causes of bullous epidermolysis. A comparative study of EpSCs in scar and normal skin tissues shows that the differentiation behavior of scar tissue EpSCs is disordered, and epidermal cells differentiate into terminally differentiated cells in advance during the differentiation process from the basal layer to the outer layer of the epidermis. Similarly, the development of squamous cell carcinoma is likely to begin with a disordered growth of epithelial stem cells.
Additionally, in gene therapy, obtaining high-efficiency transfection and persistent high-level gene expression is the key to successful treatment. Transfection of certain growth factor genes into human epidermal cells for wound transplantation will release sufficient growth factors in the wound and promote wound healing. Therefore, gene therapy may play a role in wound recovery.