Neural Stem Cell
Neural stem cells (NSCs) are self-renewing, multipotent cells that generate the basic cell types of the nervous system. Firstly, NSCs generate the common progenitor cells that differentiate neuronal progenitors and glial progenitors. And then the two progenitors differentiate into neurons, astrocytes, and oligodendrocytes, respectively, depending on environmental cues (Figure 1). These three types of cells are the main and important cell types in the central nervous system. Some neural progenitor stem cells persist in highly restricted regions in the adult vertebrate brain and continue to produce neurons throughout life [1] [2].
There are two ways of neural stem cell proliferation: symmetrical and asymmetric division. Symmetrical division produces two stem cells or two progenitor cells, and asymmetric division produces a new stem cell and a progenitor cell. Progenitor cells exist only for a short time only due to the presence of continuous migration and differentiation or post-proliferation. The resulting new cells can fuse into the original neural tissue and survive long-term in the body. These characteristics make NSCs an important element in maintaining the number of cells after central nervous system development, injury, disease, or natural cell renewal [3].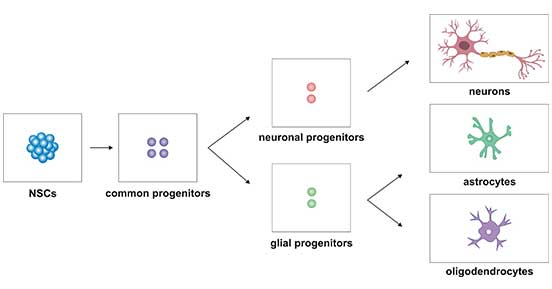 Figure 1. The Subtypes Of NSCs
Note that, in all neural tissues such as the brain and spinal cord, different types of NSC produce different types of progeny cells and their distributions are also different.
The Classification of NSCs
According to the differentiation potential and the type of daughter cells, NSCs can be divided into four types: neural tube epithelial cells, radial glial neurons, neuroblast, and neural precursor cells.
Neural tube epithelial cells have the strongest dividing ability, only exist in the embryonic period. They can produce radial glial neurons and neuroblasts. Radial glial neurons can divide to produce itself and produce neuron precursor cells or glial cells at the same time. Its main role is to produce projection neurons during the development of neurons in early childhood to complete the basic neural tissue cells such as the cerebral cortex and nucleus. neuroblast are the NSCs that mainly exist in the adult body can divide into neural precursor cells and neurons and various types of glial cells. Neural precursor cells are precursor cells of various types of neurons, such as microglia, are produced by glial cell precursors.
Based on different location, NSCs are divided into neural crest stem cells (NC-SC) and central neural stem cells (CNS-SC).
NSCs Therapy
The use of NSCs in research and medicine is becoming increasingly widespread. The discovery that neurons, astrocytes, and oligodendrocytes arise from NSCs located in specific regions of the brain, such as SVZ and hippocampus, reveals the potential of using NSCs to treat central nervous system diseases, including Parkinson's and Alzheimer's disease. Currently, the therapeutic mechanisms of NSCs include:
A variety of chemokines are released after tissue damage at the diseased site, which attract NSCs to the injured site and differentiate into different types of cells under the action of the local microenvironment to repair and supplement the damaged nerve cells. Damage to vascular endothelial cells and glial cells caused by ischemia and hypoxia increases local permeability. In addition, under the action of a variety of adhesion molecules, NSCs can penetrate the blood-brain barrier and aggregate at high concentrations in the injury;
NSCs can secrete a variety of neurotrophic factors to promote the repair of damaged cells;
NSCs can strengthen the connections between synapses and create new neural circuits.
The Markers of NSCs
Before NSCs therapy, NSCs isolation is the most important process. NSCs markers refer to several special proteins which distinguish NSC from other cell types. We list the most common markers of HSC on the following table.
References:
[1] Beattie, R, Hippenmeyer, S. Mechanisms of radial glia progenitor cell lineage progression [J]. FEBS Letters. 2017, 591 (24): 3993–4008.
[2] Tobias Bergström and Karin Forsberg-Nilsson. Neural stem cells: Brain building blocks and beyond [J]. Ups J Med Sci. 2012, 117(2): 132–142.
[3] Seaberg RM, van der Kooy D. Adult rodent neurogenicregions: the ventricular subependyma contains neural stem cells, but thedentate gyrus contains restricted progenitors [J]. J Neurosci. 2002; 22:1784–1793.