B cell
B cells, also known as B lymphocytes, are a type of white blood cell of the small lymphocyte subtype. Mature B cells mainly reside in the lymph nodes in the superficial layer of the lymph node cortex and in the red and white nodes of the spleen. B cells can differentiate into plasma cells under the stimulation of antigens. Plasma cells can synthesize and secrete antibodies (immunoglobulins), mainly performing humoral immunity of the body. In this article, we collect several question about B cell, and want to these information help you understand this kind of cell.
What is The Function of B Cell?
The function of B cell mainly includes two sections. On the one hand, they function in the humoral immunity component of the adaptive immune system by secreting antibodies. These antibodies serve as flags or the flares over a battle site. They recruit other defensive molecules in the bloodstream to the site, working toward killing the infection-causing organism. They also signal other immune cells to, in turn, wage war on the invader.
In addition to their essential role in humoral immunity, B cells also regulate many other functions essential for immune homeostasis. Of major importance, B cells are required for the initiation of T-cell immune responses by B cells antigen presenting and cytokines secreting. In mammals, B cells mature in the bone marrow, which is at the core of most bones. In birds, B cells mature in the bursa of Fabricius, a lymphoid organ where they were first discovered by Chang and Glick, and not from bone marrow as commonly believed.
What is The B Cell Differentiation?
The differentiation process of mammalian B cells can be divided into five stages: pre-B cells, immature B cells, mature B cells, activated B cells, and plasma cells. Among them, the differentiation of pre-B cells and immature B cells is antigen-untrusted, and the differentiation process is performed in the bone marrow. The antigen-dependent phase refers to mature B cells that are activated after antigen stimulation and continue to differentiate into plasma cells that synthesize and secrete antibodies. This stage of differentiation is mainly performed in peripheral immune organs.
Some of the activated B-cells become memory B-cells, which have very long lives in the bone marrow, lymph nodes and spleen. They remember the antigen they are specific for and are ready to respond quickly if they see it again. These are the cells that give us long-lasting immunity to different invaders. (Figure 1).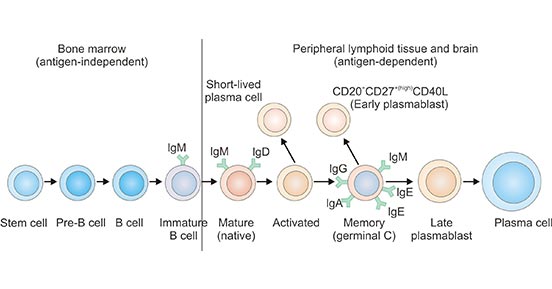 Figure 1. Overview of B cell lineage differentiation
How B-Cells Give Us Immunity?
A young B-cell, called a naive B-cell, circulates in the bloodstream, usually ending up in the spleen or lymph nodes. It gets activated by an antigen, which can be any substance the body thinks is foreign, such as a piece of a virus, or a patch of a bacterium's cutter capsule. T-cells are often involved in this process. The B-cell begins to transform into a plasma B-cell, whose specialized job it is to mass-produce the antibodies that match the activating invader—up to 10,000 antibodies per second.
Each plasma B-cell makes antibodies to only one antigen. They are very specific. Luckily, there are millions of them in our body so we can fight many different types of infection. Throughout the life of a B-cell, it makes these antibodies. They settle down mostly in the spleen and lymph nodes to pump out antibodies.
The Markers of B Cell
In the last section of this article, we list the most common markers of B Cell on the following table. B Cell markers refer to several special proteins which distinguish B Cell from other cell types.